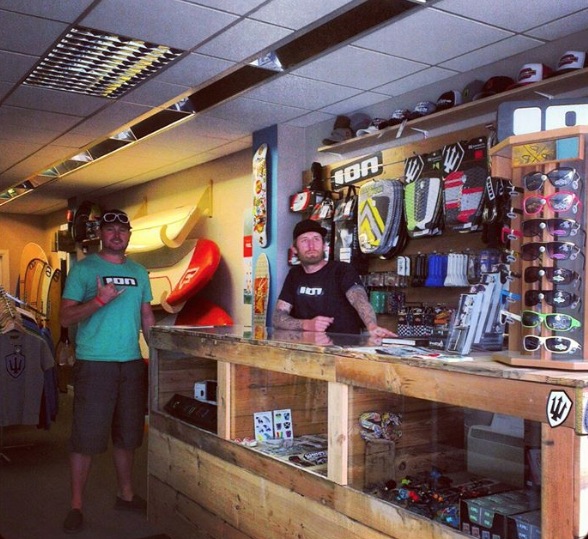 A round up of the things you didn't know in the world of SUP last week…
Starboard go surfing
Starboard have launched their first surfboard range of. See if you can spot who the SUP riders are in this video. They're still pretty good without a paddle in their hands!
Rowing on a SUP
Just when you think you've seen everything involving a SUP! The RowSurfer is an innovative drop-in/drop-on rowing system. It lets you turn a sailboard, surfboard, SUP, canoe or kayak into a rowing shell using a unique sliding rigger system. Visit www.rowsurfer.com for more information.
BSUPA spreading the word on SUP
Rich Marsh from BSUPA,  along with Drew Woods and Karl Hobbs of Action Van SUP Club,went into the BBC Radio Solent Studios to chat with and encourage presenters Sir Robin Knox-Johnson and Shelley Jory-Leigh of the The H2O Show to try out Stand Up Paddleboarding for themselves live on air. Whilst Shelley was straight on the board, Sir Robin tactfully stood to one side and asked the questions.
Missed it? Check out the podcast: www.bbc.co.uk/podcasts/series/h2oshow
Aaron Rowe rides Charlie Grey customs

Aaron Rowe recently made an appearance on the main land for the Battle Of The Thames and to pick up his CG custom board. But it didn't take him long to get back home to Jersey and get on the water with his new toy.
Charlie Grey is out in the States at the moment soaking up the SUP scene out there. He's hit the road and is enjoying the surf on his customs, and making friends with the local shredders. Think he's also loving the fact that he's got a truck with a 4 liter engine and can drive on the beach as well! The question is… has Charlie got a zinc suncream sponsor yet?- because it looks like he might be getting through a bit of it and needing one!
Joss bay go for launch
Joss Bay have opened the doors to their new shop. So if you're in the Kent area go check it out or on line at www.jossbay.co.uk/shop/
The 11 cities in 28hours
Can you imagine paddling for more then one day non stop?! Bart de Zwart knows that feeling after paddling the entire distance of the 11 Cities Race in one go. Here is what Bart had to say about his epic achievement.
After doing the 220km 11-City race 4 times and winning it 3 times, I wanted to try and do this course non stop. In the beginning of this year fellow racer Jasper van Overbeek put in a time of 37 hrs.  It was my  ambition not only to do it non stop but also to put in a very fast time so the record will stand for  a while.
2 days ago I started at 5.45 on a foggy and cold morning in Leeuwarden, the first of the 11 cities. The conditions looked good, light winds and not hot. My dad was going to be my support with short breaks every 3 -6 hrs to fuel up for the long paddle.
I used the Sprint 14′ x 25.5 the same board I used in the last 11-City tour. I felt good special y after winning both events at the Battle of the Coast last weekend. But this was very different and even more about mental strength than physical strength.
I started fast with a good rhythm which I kept up for a long time.  After about 90 km I started to feel the pain but I could still keep up the speed. My breaks got a little longer and I kept eating as much as I could to keep the fuel coming in. More and more Supporters were checking in to see how I was doing and making predictions what my time would be. my goal was to do it in 30 hrs. But 12 hrs in I was about 1 hour ahead of schedule. The weather was pretty miserable all day when the night started the rain came down hard and it was a pitch dark night which made it a little harder to find my way in all the small canals. I had my iPhone with gps loaded with a watermap which worked perfectly, very time I wasn't sure I pulled out the iPhone to make sure I was going the right way. During the night Anne-Marie  Reichman ( 11-city tour organizer and racer) gave me short massage while I was eating which gave some relief to the hammered muscles. I never crashed and could always keep a certain speed but i had a hard time after 21 hrs of paddling between 2 and 5 in the morning when I felt tired and sleepy at times. I knew once I would get to Dokkum  (the last city) I would be on my home stretch which would carry me to the finish. The last few hours flew by, also because a few friend paddle along side to be part of this. Finally at 10.06 am I crossed the finish line after 28 hrs and 21 min.  almost 9 hrs faster than the previous record. Big thanks to STARBOARD for making the fastest boards and Maui Jim for the great sunglasses, Black Project for a fast fin, Patagonia the best adventure clothing, Dakine and my wife for being her and with me.
Well that's a snippet of what's been going on in the world of SUP over the last week. Hope you've been out paddling enjoying the sunshine and the long bank holiday weekend. Remember as always to let SUPboarder know what you've been up to on Facebook and on our contact us page.