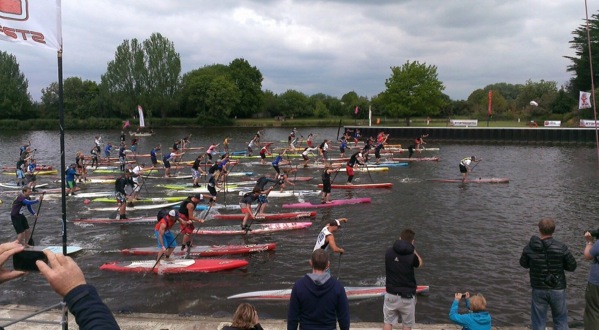 Blue Chip's Battle of the Thames 2013
Blue Chip hosted one of the World's largest SUP events this weekend, the latest in their Battle of the Thames series, with attendants coming from across the globe to compete.
Saturday 18th of May saw over 100 competitors take to the water at the Thames Sailing Club, London. These competitors included the biggest names in the sport: Ryan James, Paul Simmons and of course the 10x SUP World Champion – Jamie Mitchell, who is touring the UK this week.
The headline race of the day was undoubtedly the 10 mile event. Paul Simmons shot off straight away from the crowded start line and held the lead for over a mile before World Champion Jamie Mitchell ate away at that and eventually claimed the win in 1:45:22.
Despite falling early and getting trapped in the chaos of the pack, Ryan James came through in second, with early leader Paul Simmons finishing a close third in the 14ft class.
Oliver Shilston stole the win in the 12'6 class with Marie Buchanan taking the win in the Women's race.
The afternoon saw a variety of 'Sprint Leveller,' shorter one design races – the only rule being rounding the buoy on your left. This lead to some interesting tactics (and dunkings), but Mark 'Slasher' Slater ultimately took the victory, who entered the first turn at the back of the pack. Second place was claimed by Sam Ross, who fought bravely throughout the heats and soundly claimed his position.
A Barbeque followed, before an awards ceremony, honouring those who were victorious in their respective races. Fantastic prizes were given, although Jamie Mitchell didn't accept his, donating it back to next years event.
The day also included talks from two of the most experienced Stand up Paddle Boarders on the planet – Jamie Mitchell and Steve West – preaching their knowledge on the sport.
It was a "fantastic day" hosted by Blue Chip who received support from many other UK and International SUP clubs – even the weather cooperated.
For all the race standings visit: here
Event review by Calum Paton.