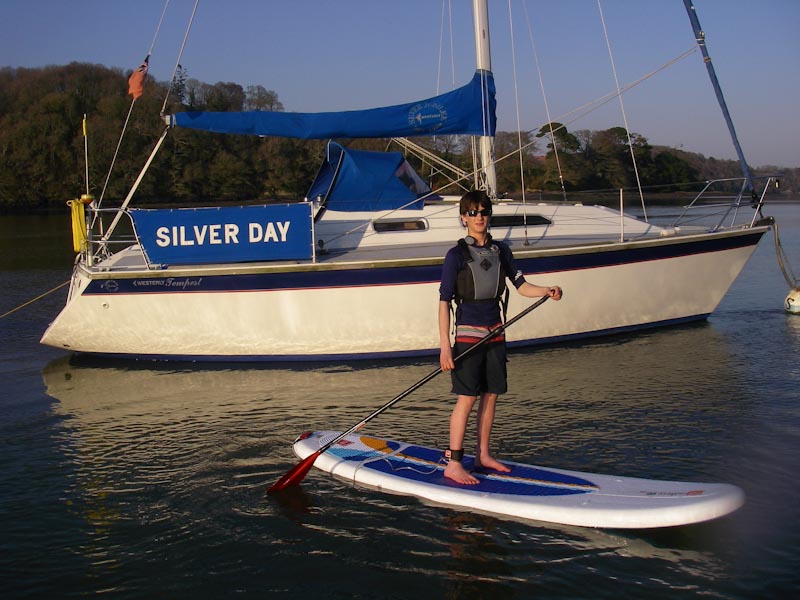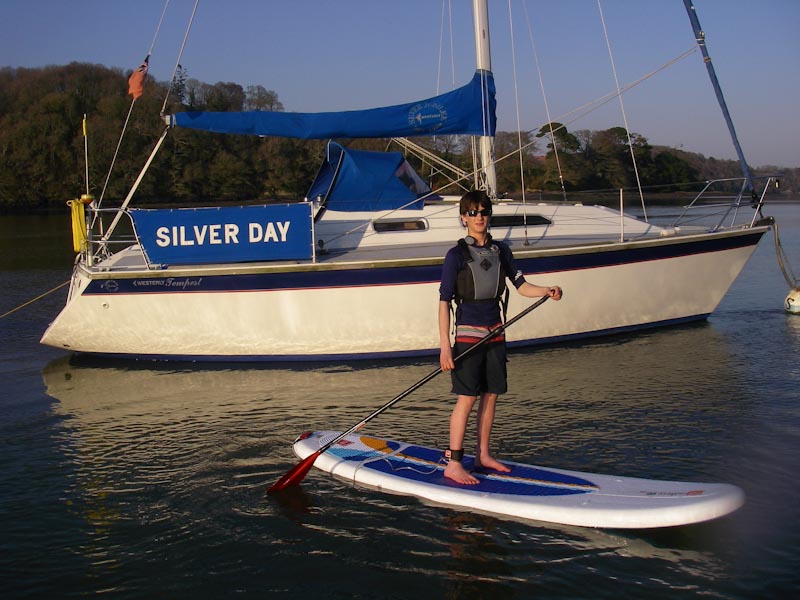 Stand up paddle boarding is the worlds fastest growing watersport, and is quickly getting the attention of watersport and activity enthusiasts alike, including the Hopper family from South Devon.  Not afraid to try something new, the Hopper family who usually holiday on their small yacht or in a holiday cottage somewhere near the sea,  recently took 3 SUP's with them for the first time. Here's their story about how they quickly became SUP addicts….
Adventure 1 | North Devon
The Landrover and box trailer were packed with lots of toys including five mountain bikes, rock-climbing kit, fishing kit, a sit-on kayak and wetsuits, but most excitingly of all, three inflatable Red Paddle stand up paddle boards. The holidays had arrived it was Friday evening and the Hopper family were heading to North Devon for a long Easter weekend.
We arrived at the holiday cottage with its private beach, late at night in the pitch dark. My children Isabel, Jodie and Ben piled out of the landie and raced inside to get out of the bitter North Easterly wind, while I, as normal was left to unload. But my excitement levels were high as I could hear the waves breaking on the rocks and I started to wonder what SUP style adventures awaited us.
I was up at the crack of dawn and amazingly so were my teenage children, maybe they were excited too! With a wind chill air temperature hovering around zero, winter wetuits, drycags, buoyancy aids and gloves were definitely the attire of the day. Ben and I unrolled the boards on the grass to get our first glimpse at the Red Paddle toys. We had a selection of Red Air SUP toys,  2 x 10' 6'' Ride , and a 9' 6'' Allwater . My first, very pleasant surprise was how quickly and easy they were to inflate. We used an Ezee pump to get most of the air in and then to my amazement, using the Ezee Pump HP, even Ben was able to squeeze 17 psi pressure into the boards. It wasn't long before the girlies and wifey (Heather) had joined us. By the time I had sorted out paddles and sit on kayak, using the built in handle to carry the board, Ben was already halfway down the beach. The boards were light and the handle was perfectly placed to keep the board balanced. This was pleasant surprise number two as we normally surf with long boards and have to double up to carry them.
A flattish sea and a bit of a swirling (albeit cold) wind was perfect for our first Hopper family SUP adventure. Lots of fun ensued involving standing up, kneeling, falling off, swapping boards, paddling two up and jumping off rocks onto the boards. It was great, safe, family fun involving lots of laughing. Jodie was the only casualty with a bruised knee, when she jumped off the rocks, missed the board and hit the bottom!
"I was up at the crack of dawn and amazingly so were my teenage children, maybe they were excited too!"
The next day, everyone was up for more and there was some surf to play with. Some of the sets were pretty big  and at this point I would normally spend my time anxiously worrying about who would be first to get hit by a board. However with the inflatable SUP there were no such concerns – another very pleasant surprise! Initially in the surf it was the 9' 6'' Allwater that seemed to cope the best. Its stiffening battens worked well – Ben caught lots of waves! I should have experimented with a bit more pressure in the 10' 6'' Ride (well that's my excuse anyway). I eventually kicked Ben off the Allwater and subsequently caught a few and got mangled in a few. More pleasant surprises, I liked not having to dive away from a hard board as there were no worries of getting a painful wack. Surf antics included surfing three up, with and without paddles, Isabel cart wheeling and Jodie surfing on her back! The children were loving it and so was I.

Three days of use and the boards didn't lose any pressure – very impressive. They deflated, rolled up and packed away easily in their carry bags. We headed home for a day's turnaround before heading off on our next SUP style family adventure on our 31 ft yacht – "Silver Day".
Adventure 2 | Yacht Cruising with a SUP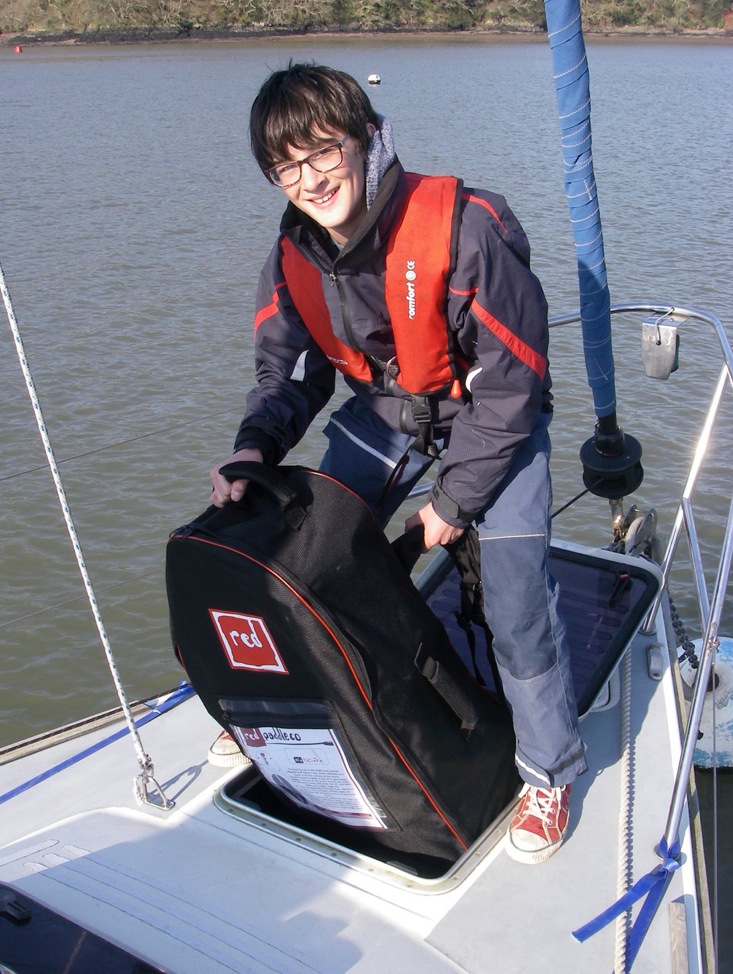 It was Ben and I who headed to the yacht first, which was moored on the river Dart. It was still blowing a strong North Easterly against the tide, so we brought Silver Day alongside the pontoon rather than use the small tender to ferry kit back and forth and risk getting everything wet. Using the inflatable SUP's on the yacht was something we were really interested in. We had experimented with using the tender as a toy, but it couldn't cope with the children's abuse of being jumped on, flipped and attempted sinking. We also tried the sit on kayak, but it was heavy to haul on and off the boat and always threatened to take chunks out my lovingly polished GRP hull. It was know as we were carrying the SUP's along the pontoon in their carry bags that we appreciated the comfortable shoulder and hip straps. Aboard Silver Day the Allwater and the Ride stowed easily in our wet locker – fantastic!
Back on the mooring, it was still blowing 20 plus knots, but by early evening the wind started to drop off. It was Ben who excitedly suggested it was time to inflate the boards. Just like before they were easy to inflate up on the deck and they were soon both trailing behind Silver Day while we got changed. I think Ben and I were both determined to believe that summer would arrive and so in an act of defiance to the air temperature we both wore just shorts, thermal top and buoyancy aid. However we both regretted the bare feet decision as the sea temperature was only six degrees. The wind had disappeared and we were left with a clear sky and stunning evening. In the flat water we both relished the serenity and paddled across the estuary and explored one of the creeks. We discussed the merits of the two paddles. Ben liked the three piece glass paddle as it had some flex, while I preferred the rigidity of the three piece carbon one. We both liked the fact that the paddles would whistle as they wind passed over the holes in the handle section. We also discussed different standing positions and both agreed that square on was the most comfortable. Using our kayak and open canoe skills we experimented with different paddle strokes, J, C and cross deck and edging to keep the board going straight. Our feet were getting cold so we floated with the tide back to Silver Day, watched the Herons hunt for fish, the sun set and the sky turning pink – magical!
"In the flat water we both relished the serenity and paddled across the estuary and explored one of the creeks."
With us all on board, the next morning we motored down river to Dartmouth. Expecting to use the SUP's again I tied them to the guard rails and push pit at the stern of Silver Day. Having anchor points at the nose and tail of the board made this easy and despite strong winds they neither moved nor got in the way. We had planned to go out to sea and anchor in one of our favourite spots, but the Easterly swell wasn't abating just yet, so we spent the night moored alongside a pontoon in Dartmouth and went to the cinema. Disappointingly we didn't get to use the SUP's again, nevertheless beyond all doubt they had proved themselves as fantastic toys for Silver Day – easy to store, easy to inflate, indestructible, soft and great fun.
Sadly our holiday had come to an end as we returned the SUP's to their respective owners. But we had tasted the fun a Red Paddle SUP could bring and loved it. As Heather put it, getting one was a "no brainer", so we have bought one and now we can't wait for our next family adventure – SUP style!
Roger, Heather, Isabel, Jodie and Ben Hopper
An iSUP is the perfect family holiday accessory. Great fun for all the family and easy to transport and store. Whether you're off on a road trip, renting a holiday cottage or cruising in your yacht… there's always space for an iSUP bag!
Let SUPboarder know what family holidays you've taken your iSUP on here.