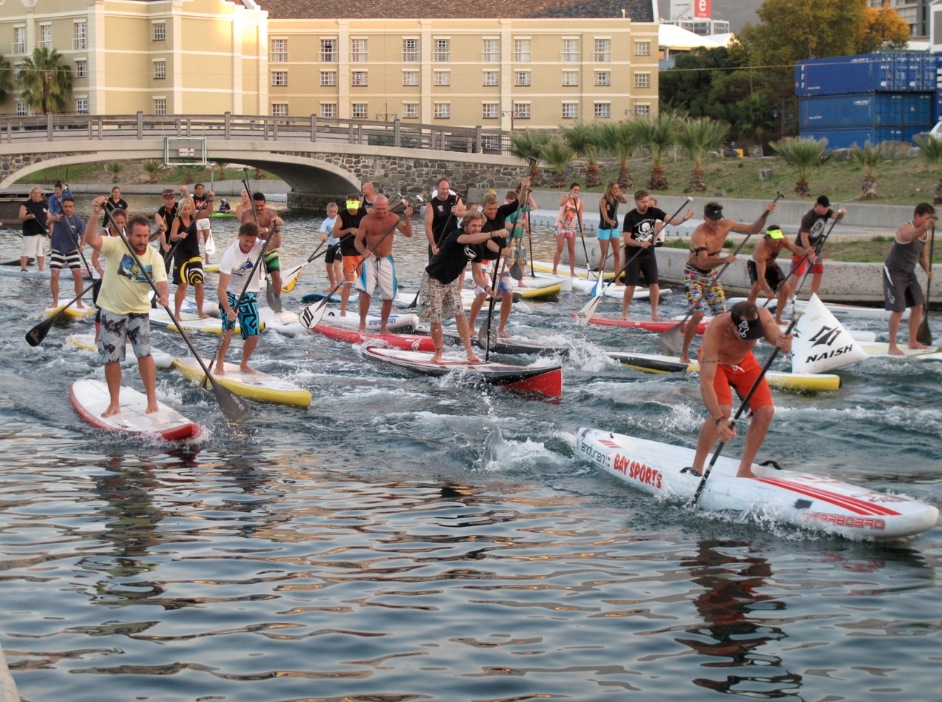 Stand up paddle board racing is growing every day, race calendars are getting packed, new events are coming onto the radar and more an more paddle boarders are getting the racing bug.  However, a slightly different concept of SUP racing has developed an extremely strong following in South Africa. Guy Bubb from SUP Cape town explains the 'City Slickers' time trial race concept;
SB/  We have been watching SUP Cape town and you seem to have a cool race format organised that is proving very successful?
GB/ Yes, City Slickers is one of our weekly time trials in Cape Town. It is run by Sup Cape Town every Thursday evening come rain or shine.  The time trial takes place on the Waterfront canal and we have 2 routes.   Route A is a 3 km loop with 1 buoy turn. Route B is  1.5 km with no turn. The canals allow us to paddle all year round as we have no concern of swell or open ocean dangers – our main enemy is the wind that can get very very strong throughout the summer season.
SB/  Why does the time trial race concept work so well?
GB/ With the winter months approaching the time trial is at its busiest as the down wind season ( that is also huge in Cape Town) has come to an end and the swell and ocean gets a bit messy. We have an average of 30 SUPpers in the event and can get up to 70 on some nights so gets pretty busy on the narrow canal.  The concept is really popular because the only competition is against your time as each paddler is out to beat his or hers personal best. The canals keep conditions really similar each time you 'race' so its easy to get a feel for how you are improving.
SB/ Why does the time trial format work so well compared to a traditional race format with a set start time?
The concept is great as people can turn up whenever they want (as long as we are here) and race the clock, and see how they did compared to someone who raced the course 10 minutes ago, an hour ago or a week before!  It makes racing more accessible – everyone is busy with their work and lives and can't always commit to a set race start time.  It just complements traditional racing formats.
SB/ Wow, 70 paddle boarders a night is an impressive number…Do you ever get any SUPer on SUPer competition going on during the time trials?
GB/ There is of course the odd personal competition between sup'pers but thats human nature and adds to the fun.  You can either choose to get involved in the banter or just get your head down and concentrate on your personal time.
SB / Who can get involved in the City Slickers time trial format?
GB / Sup Cape Towns events are for the whole family and all forms of SUPers. This gives everyone a chance to have fun learn and experience the best of sup'ping. With Sup Cape Towns Clubhouse based at the Waterfront it allows all its members to come down in the week train, learn the best techniques and get to improve on their times.  Everyone motivates each other to stay in shape and have fun doing so.
SB/ How long has City Slickers been running for?
GB/ City Slickers has been running for a year now and has been a great success and only grows each week. We aim to get the SUP families on the water together having fun and improving there skills.  Its a really great way for all the family to have fun.
SB/  Do competitors get the chance to see other peoples times, so they can see how they are perfoming?
GB/
Of course! All results and events can be viewed on our web site 
www.supcapetown.co.za
 if there are any visitors coming to Cape Town and  join us they are always welcome.  We also rent boards to anyone who does not have one.
SB/  Its sounds like a really successful concept – what else does SUP Cape Town offer?
We assist in rentals SUP tours, weekly events, run down winding sessions and river or lake sup'ping.  The weekly time trials have proved to be a really great way of getting a SUP community together and just doing some fun paddling mid week and getting to talk Sup.
SB/ Thanks Guy, its great to hear the new concepts of racing appearing in the SUP world. Keep up the great work.