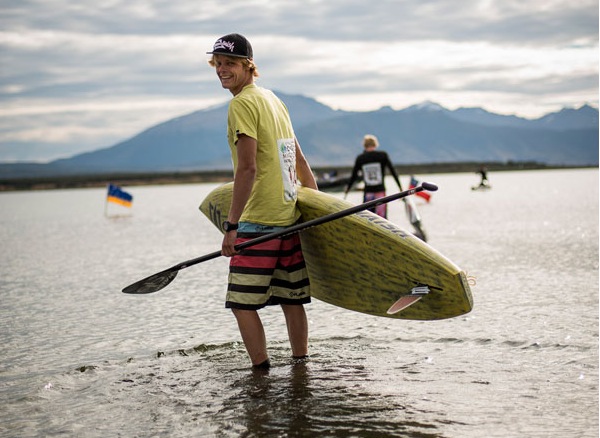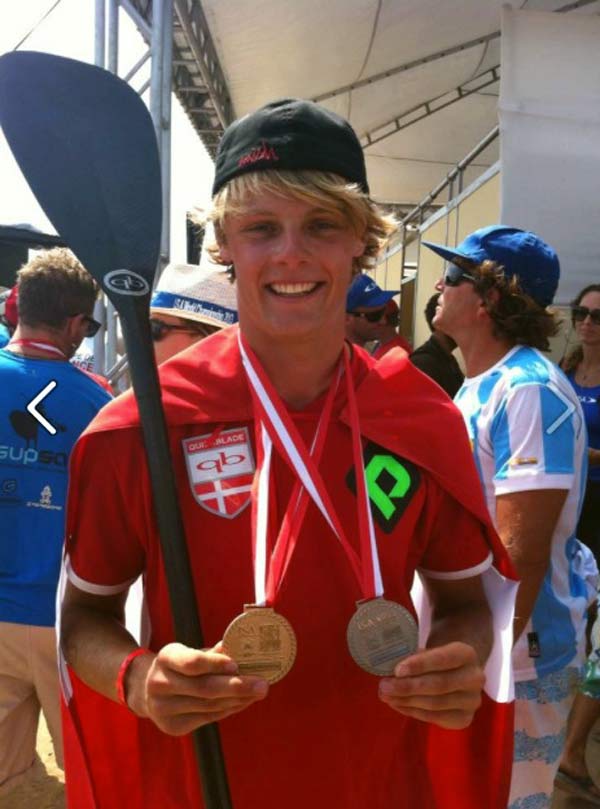 Casper Steinfath is the name on everyones lips right now… and rightly so. In 2013 Casper has already achieved some impressive results, including 1st (in the technical race) and 2nd (in the long distance race) at the ISA SUP World Championships in Peru, and 3rd at the first event of the Stand Up World Series in Patagonia. Casper showed the world that he deserves to be at the top. On the water and in competition mode Casper is a top athlete, showing his skill, tactics and stamina. Off the water he's a cool kid with plenty of time for everybody. There's nothing not to like about Casper… he's a true waterman, and an all-round nice guy! After his recent SUP successes SUPboarder had the opportunity to ask Casper some questions to find out a bit more about Denmark's true Viking.
SB/ Tell us about yourself.
Casper/My name is Casper Steinfath aka 'The Viking'. I am 19 years old and I live in Klitmøller, Denmark. Thanks to my family I have been a surfer all my life and today my life revolves around Stand Up Paddling. In 2012 I graduated from high school and now I compete professionally all over the world.
SB/Describe your average day at home?
Casper/
I haven't got many average days back home, but I guess they all start with a bowl of cereal and a wave check! The surf conditions are always changing in Denmark, so I try to plan my work and training schedule around what the waves are doing.
SB/How many boards do you have in your quiver (Surf and Race)?
Casper/My racing quiver consists of the Naish 12'6″ and 14′ Javelin LEs. I also use the Naish One inflatable board for quite a few races! On the surfing side I mostly ride the Naish 8'3″ Hokua, but I also keep the 7'6″, 8'0″ and 9'8″ Hokuas handy.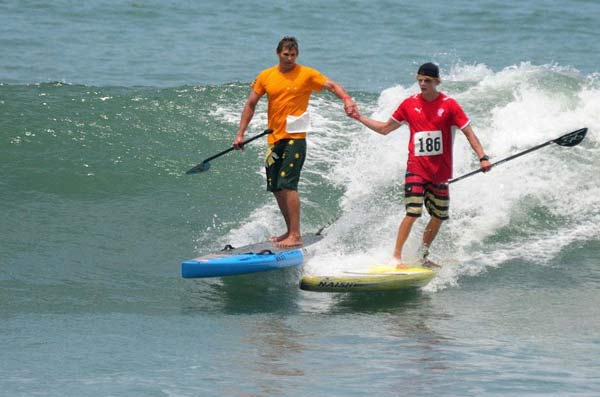 SB/What where your thoughts and feelings as you were coming in on the last wave with Jamie Mitchell at the ISA finals in Peru?
Casper/I was really shocked that he caught me on that last buoy turn! I was a bit bummed, but I have always looked up to Jamie as a hero and it just felt amazing to be riding right there next to him.
SB/Were you not just tempted to just push Jamie in? He has so many Gold Medals already…
Casper/Haha, it crossed my mind but that wouldn't be good sportsmanship. I wanted to beat him fair and square.
SB/Marie Buchanan from the UK demonstrated an impressive performance in the SUP racing at the ISA coming 6th overall …What are your thoughts on inflatables SUPs? Have you ever tried one?
Casper/Inflatable SUPs are awesome! They make traveling easy and storing them is no problem at all. I have been riding the Naish inflatables for a few years and they just keep getting better and better. Marie Buchanan definitely showed they are also competitive.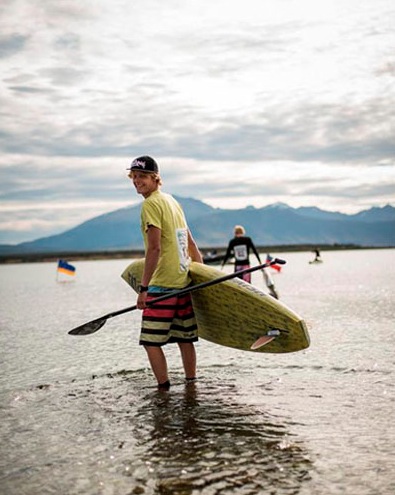 SB/Have you got any tips you can share with the SUPboarder readers about SUP racing?
Casper/Well where should I start? haha. I guess the most important thing is to feel comfortable with and know your racing equipment very well. Learn to race comfortably in all kinds of different conditions and always keep a smile on your face. This will make you stronger. And NEVER give up!!
SB/The SUP scene in Denmark…  is it growing and are there any names we should be keeping our eye out for coming out of Denmark?
Casper/SUP is really starting to catch on in Denmark. I see more and more people out there on the water having fun. There is a solid crew of young Danish guys to watch out for. Christian Andersen, Oliver Hartkopp and my brother Peter Steinfath are all some names you will be seeing more of!

SB/What other sports do you enjoy?
Casper/Surfing, skateboarding, swimming, running to just name a few. I love sports.
SB/Who has influenced you most in SUP?
Casper/Many people have influenced me over the years, but my team mate Kai Lenny has by far influenced me the most. Seeing all what he does really inspires me to train harder and push my limits!
SB/What next?
Casper/I just finished an unforgettable trip to South America. Now I'm heading to California for my next adventure. Traveling is never boring!
SB/SUP surf or race… if you had to choose one?!
Casper/I can't surf a race board? Gotta stick with SUP surfing.
SB/Best results to date?
Casper/Gold medal in the Technical Race and silver medal in the Long Distance Race at the 2013 ISA SUP World Championships in Peru.
SB/What have been your biggest SUP achievements so far?
Casper/As a small kid I dreamed of traveling the world doing something I loved. SUP has made this dream come true and I am truly grateful to see wonderful places all over the globe and meet new interesting people during my travels. Aside from this, completing the SUP 11 City Tour twice is one of my greatest achievements.
SB/Where is your favourite place to SUP in the world?
Casper/Chicama in Peru. Such a long perfect wave!
SB/What did you do before SUP and how did you get into it?
Casper/I grew up surfing and around 5 years ago my uncle Tim Dye from California introduced me to the magic of SUP. He gave my dad, brother and I a board to share and slowly we all got more and more hooked by it.
SB/Where do you do most of your SUP training?
Casper/I do most of my training back home in Klitmøller, Denmark, but during the winter months I travel to warmer places like Hawaii and Portugal to find optimal training conditions.
SB/What events do you have planned for 2013?
Casper/2013 is going to be a super busy year for me! I will be following the SUP racing and surfing World Tours full time and also do other key events in Europe, America and Hawaii. I am looking forward to competing in more than 30 competitions this year!
SB/What paddle length are you using in wave and race / sprint/ long distance?
Casper/Not sure on the exact length of all my paddles, but the length definitely varies. For the surf I have my paddles a few inches over head. This shortens the reach of the paddle and let's me do really tight turns on the waves. My race paddles are cut so that I can fully stretch my arm and rest my palm comfortably on the top of the handle when standing the paddle on the ground.
SB/What blade size are you using for wave / race? Can you explain why?
Casper/I have been using the Quickblade 100 sq inch blades for both surf and race for a few years and they are awesome. I use the 100 sq inch blades because this size allows me to keep a steady stroke rate while applying lots of power. I am not big and strong enough to benefit properly from a bigger blade, but I am currently testing the smaller 90 sq inch blades. Stand Up Paddling is young and we still have a lot to learn . I'm really excited to see how far the sport of SUP will go!
It sounds like Casper has a busy year ahead, which means one thing…. lots more exciting SUP action for 2013! So stay tuned to SUPboarder for all the news and videos from the man himself, Casper Steinfath, aka The Viking.