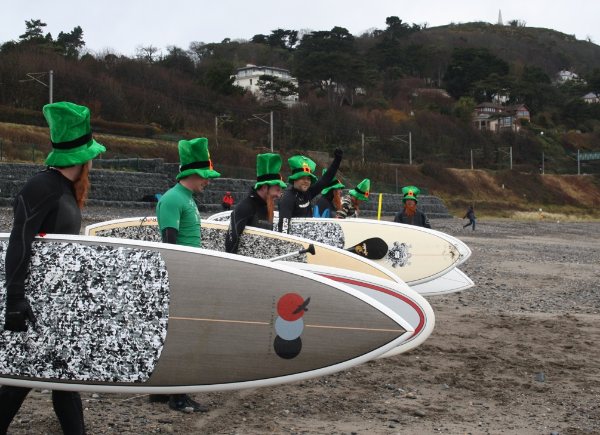 Last weekend (16th and 17th March) saw another busy weekend of SUP, despite the changeable weather – sunshine, showers, and the occasional hail storm! On Saturday BaySUP had the final of their Frostbite Race Series. And the Irish SUP Club enjoyed some fun festive racing in Dublin.
BAYSUP FROSTBITE COMES TO A CLOSE FOR ANOTHER EPIC SEASON – BY NICK WATT – THE BAY STAND UP PADDLEBOARD CLUB
What a fantastic end to the BaySUP Frostbite Race Series Local in Bournemouth with some nail biting racing going down in all categories. The final race was moved to Christchurch river as the seafront had a big swell hit with head high shore dump and onshore winds!
As we got to the river the sun came out and the water was glassy flat so we were in for a gruelling slog. The course was 5.5 miles which was a little warm up for the Head of The Dart coming up next month. Ryan James got off to a great start and held the lead from Paul Simmonds for the majority of the course in the 14' class.
Behind were Mark Slater and Pete Holliday battling for the 12'6 series title and who ever crossed the line first was take the series. It was all down to the final race for these boys for the 3rd year running. Pete took the lead for the first half of the race, Mark for the second then it was a sprint for the finish line with Mark taking it by just a couple of seconds. Behind Pete & Mark were a fast, close pack made up of Nick Watt, James Hardy and Andy Joyce all on 14' battling for the last 3rd place spot. Nick Watt had a hard time keeping Andy Joyce and James Hardy at bay given that Andy was needing to beat Nick for the second place spot in the series and James Hardy was very thirsty for a podium finish in the stage 5 race. No pressure then for Nick but he managed to keep ahead of them both but only won by half a board length over James Hardy with a lung busting finish. A super exciting race with competitors giving it 100% which is what it's all about. Colin Elston also had a blinder on his new board by beating Zac Wharton for the first time. Although Zac took the 3rd spot in the 12'6 for the series!
In the ladies division Marie Buchanan still tanned from Peru and still buzzing from her amazing trip managed to put a great performance in. Jo Hamilton-Vale took the ladies series title so well done Jo but we only had 2 ladies compete over the series (and both of them are not even local!!). Come on ladies get involved!!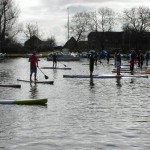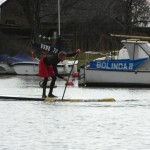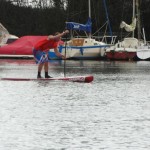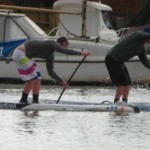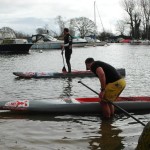 Here are the results:
Stage 5 – 14ft
1. Ryan James (Starboard International)
2. Paul Simmonds (Starboard UK)
3. Nick Watt (Starboard UK)
Stage 5 – 12'6
1. Mark Slater (Fanatic)
2. Pete Holliday (BIC)
3. Colin Elston (Rogue UK)
Frostbite 2012/13 Series Winners – 14ft
1. Ryan James (Starboard International)
2. Nick Watt (Starboard UK)
3. Andy Joyce (Rogue UK)
Frostbite 2012/13 Series Winners – 12'6
1. Mark Slater (Fanatic)
2. Pete Holliday (BIC)
3. Zac Wharton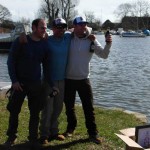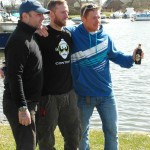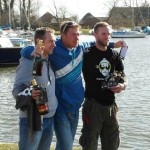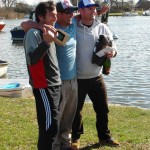 This has been a great series to run and it always keeps the scene alive in the winter months. Thank you to everyone who entered these races as you have really shown great support for the series which Baysup loved putting on. The variety of the races has been something which worked well and we have managed to do flatwater, technical/battle of the paddle style and a downwinder which has given people the opportunity to experience different formats rather than the same thing all the time. There is also a great community atmosphere at these races whereby people have helped with all sorts from time keeping to laying the course and taking pics – true club spirit.
Thank you to our supporters who have been fantastic throughout the entire series:
Andy Joyce and the crew at Surf Steps Surf School (www.bournemouthsurfschool.co.uk)
Barbara from Nutrichef (www.nutrichef.com)
Sam and Paul from Starboard UK & Red Paddle Co (www.tushinghamsails.com)
Rik from Mistral UK (www.whasup.co.uk)
Shaun from Sorted Sorted Surf Shop (www.sortedsurfshop.co.uk)
Nick and Matt The SUP Store (www.thesupstore.co.uk)
We'll be running another series in 2013/14 but right now we are looking forward to not paddling in freezing cold conditions and will be running some super exciting events in the summer as well as our regular weekly training and twice monthly social paddles. Follow us on Facebook to keep up with all the event news.
Mahalo's
The Bay Stand-up Paddleboard Club
www.baysup.co.uk
www.facebook.com/baysup
IRISHSUP ST PADDYS DAY RACING
The rain and snow didn't stop a few of the guys in Dublin enjoying some St Patricks Day SUP racing off Killiney Beach, Dublin. Paul Byrne from Irish Sup, sent SUPboarder these great photos from last weekend, showing that racing doesn't have to be serious!
If your SUP club/school held an event last weekend make sure you let the SUPboarder readers know about it… so they don't miss out on the next one! Find out how your SUP club/school can contribute to SUPboarder here.
Or if you want to find out where your nearest SUP club/school is… check out the SUPboarder SUP Club/School Directory.
The SUPboarder Event Calendar is a great way to find out about all the SUP events happening this year.