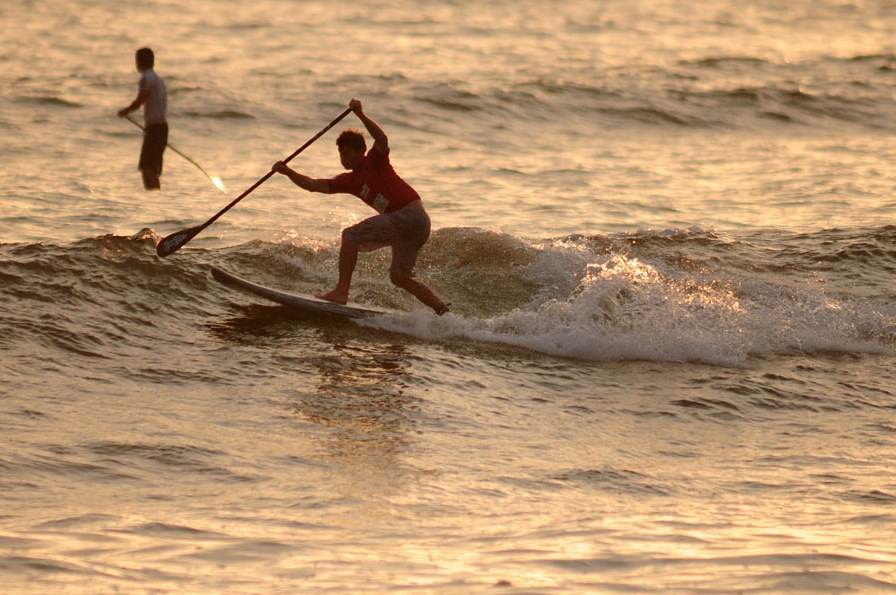 Welcome to SUP Weekly, a round up of all best SUP news from the UK, Europe and Globe.  Keep reading for the low down on the Ion Downwind experience, Atlantic Crossings, opportunities to become Sponsored, and loads more!
The biggest news this week is of course the ISA worlds, that finished yesterday after a full power week of action packed competition.  Its probably fair to say that due to the brilliant live feed from the ISA, you have been far less productive at work for the whole week.  It has been a great show case of SUP surfing and racing from around the world and great to see the investment from the ISA to get the live feed up and running, allowing hundreds of thousands of stand up paddle boarders around the world to share the action.
If your boss caught you watching the live stream and you need to catch up on the action, all of the ISA press releases are in the SUPboarder ISA News Feed, including the Final Results.
Here is SUPboarder's pick of the best images from the event;
This slideshow requires JavaScript.
The ISA worlds will have certainly been a great place to be to see how gear is being developed in all SUP disciplines – here is Eric Terrien, top French Racer introducing the theory behind his Siggy race fin prototype.  If you haven't already seen last weeks SUP WEEKLY there is an interesting video on wave fins theory there that is a must watch.
One SUP discipline that was not featured in the windless Peru worlds in SUP down winding – you may have seen our video feature earlier this week on the ION downwind experience  which certainly looks like the extreme end of down winding!  We have received confirmation from the team that their waiting period has now begun – here is what they have to say;
Waiting Period_1 to 30 March 2013
"From today, March 1st, the long wait is on for 10 top riders, all SUP « downwind » addicts. During the whole month, the « ION Downwind Xperience » crew based around Toulon is tracking down the ideal forecast that will launch the 1st extreme SUP adventure on the Mediterranean sea! 30 miles to run from la Ciotat to Hyères, a long downwinder that will push the riders at the end of their efforts.
 
The expected forecast for this unique and intense mission is a strong NNW wind (Mistral) of about 40 mph over a rough sea ! March often see this kind of wind conditions according to the statistics, but who knows?
 
The 10 athletes involved on this great adventure (see list underneath) are coming from all over France and Europe. From that time, they are all very vigilant and ready to take off to Six Fours as soon as the organization warns them for the pre-alert 4 to 5 days before the D-day."
Stay tuned to whats going on at the teams Facebook page.
Now back to the UK where Keith Wraight of Inland SUP is planning on raising a bit of money for charity with his SUP – Keith will be paddling to work on red nose day, raising money for a great cause and hopefully making a few people laugh in central Birmingham when he turns up to work with his SUP and paddle.  If you want to support Keith visit his red nose day page here.
Now, calling all paddlers looking for Sponsorship! Nookie Paddle Sports Equipment recently got in contact as they are looking for team riders for their 'Nookie Team' .  Nookie are looking for SURF and RIVER paddle boarders who can get great pictures and promote the brand so if you think you have what it takes, get in contact. 
Bit of a blast from the past now and it looks like someone successfully paddle boarded across the English channel in 1878… the double hull and double bladed paddle make it questionable as a SUP, but it looks similar…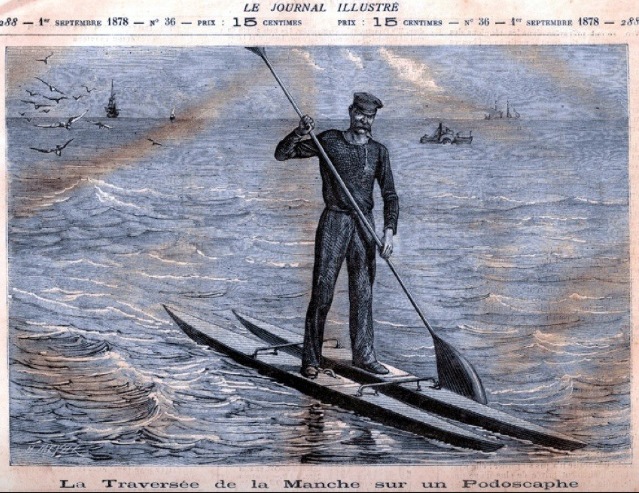 Keeping with adventure SUP and Great Britain's Charlie Head made the National headlines in the autumn for rescuing Bam Bam the dog on his epic Penzance to London Paddle board mission.  Charlie is part of the team taking on Greenland in the Polar Bears and Paddle boards mission but his real mission is an Atlantic crossing on a SUP! However, it looks like Mavericks Big wave Champ Chris Bertish from South Africa is also attempting the challenge.  We look forward to seeing who will complete the epic challenge first! Check out Chris's introductory video on the next page;
We will be bringing you an exclusive, in depth video interview on Charlie Head soon, exploring the motivations behind his trips and some great stories from the past adventures, so stay tuned.
For UK SUP, the week has delivered some great conditions, SUP North West completed a fun looking paddle on the River Lune, from the Golden Ball pub (Snatchems) to Skerton weir and back (10k).  Check out their page for all the pictures.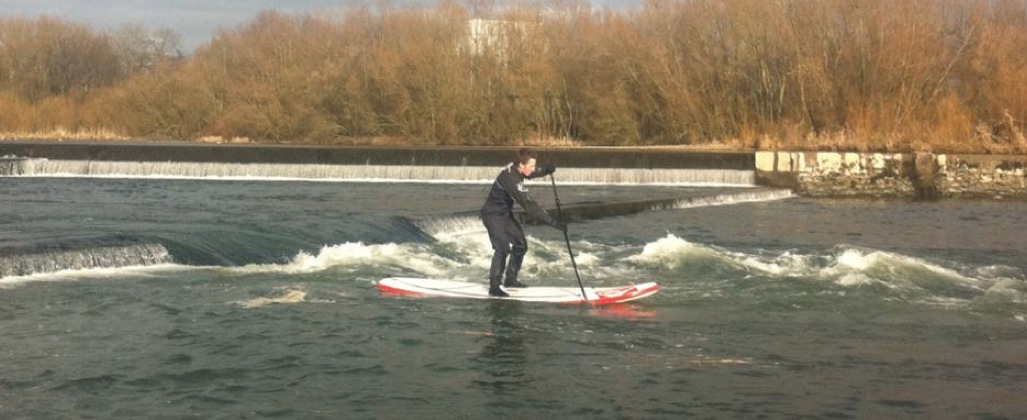 The SUP season is just around the corner with the weather warming up nicely.  If you are looking at buying a new board for the up coming season, check out Tez Plavenieks' comparison of two of the Fanatic Models, the AllWave 9.2ft and Fanatic Fly 10.6ft.  Tez is an experienced SUPer and this is certainly worth a read.
For all the new gear, you might want to consider some new 'plastic' to pay for it… and why not tailor it to your passion for SUP with a picture of you paddling?  Barclay's are offering personalized Debit cards for their account holders.

And finally to celebrate an inspiring performance in Peru, here is SUPboarder's favorite Team GB and Team Ireland images from Peru as well as the fantastic cheers of the world video that sums up the team spirited ISA 2013 worlds- enjoy! If the event has got you motivated for a bit of competition, check out the events pages and set yourself a challenge!
This slideshow requires JavaScript.
Happy Paddling,
/SB