https://www.youtube.com/watch?v=15EIFF3JN1c
Last weekend (Sunday 3rd February) Central SUP held their second race in 'The Midlands 5ive Series'. This race was cancelled the previous week due to high river levels and iced over canals. Although not perfect SUP conditions, the weather last weekend allowed them to run a great event.
Over to Scott Warren from Central SUP for a full race review;

It was another Midlands 5ive round, filled with close racing, exciting finishes and very quick times, in less than perfect conditions. After postponing the race by one week due to flooding, the river levels on Sunday were at their optimum for racing upon. However with strong winds blowing up stream it looked to be a tricky and hard going event for all taking part, and never mind the windblown spectators and officials standing on the side lines.
One thing that is certain about the Midlands 5ive race series is that each event looks set to be filled with dramas and close racing. Back that up with a great atmosphere, some fantastic post-race pasties and a good chat about all things SUP and it's easy to see why many faces from Round 1 have returned. Round 2 was set to take place at the end of January so the reschedule meant a few people couldn't return to try and improve their places on the overall leader board. There was however plenty of familiar faces and a couple of new entries ready to test themselves in the tough conditions.
With the first kilometer of the race against the flow and a gusting tailwind of around 25 knots, some skill was involved to keep going in the right direction towards the buoy at the half way point, and then heading downstream into the same gusting headwind was a real test of stamina for all as everyone pushed for the line.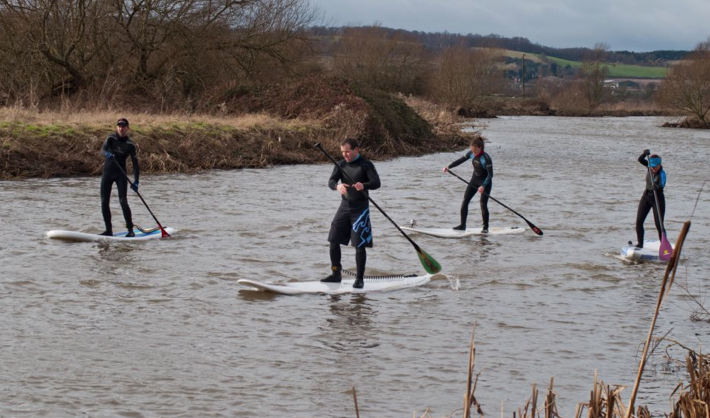 As Chris Kenyon from Central SUP lined everyone up ready for the start, it was difficult just to hold position against the wind, but soon all nine paddlers were ready for the off. Straight away James Adamson dived for the cover of the right bank trying to get out of the wind into calmer waters, with Paul Williamson heading quickly along the other side of the river leading the way. In midfield there was a real battle with Keith Wraight getting the jump initially after a great start over the remaining paddlers, setting him up for a strong finish compared to his previous time set in Round 1.
As the field approached the halfway buoy and entered the relative shelter of the trees James and Paul were in a real scrap for the lead. Paul went wide at the buoy allowing a cunning James to sneak through on the inside, getting up to speed quickly going with the rivers flow. Just behind, Simon Day was putting in a solid effort to get himself in contention after getting bogged down at the start. Neil Myers again proved to be a strong paddler, holding off late charges from Laura Scully and Adam Dawson, with an under the weather Stacey Smithson close behind.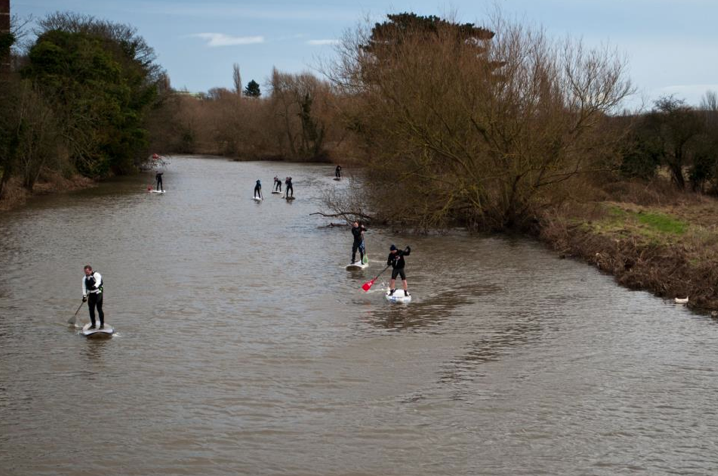 James looked strong for the win making use of the calmer sheltered left side to keep out of trouble while Paul unfortunately hit a submerged branch which turned out to be snagged on the bottom, sending him shooting off into the path of a fast paddling Simon as they headed for the line. This meant James crossed the line in blisteringly quick time of 12.09 the quickest so far of the series by nearly a minute. Paul and Simon where a dead heat crossing the line just eight seconds later to stop the clock at 12.17 taking a joint 2nd place overall.
In midfield the race was even more exciting with close racing the whole length of the course. Laura tried her hand at drafting, which proved to be highly worthwhile saving some vital energy for the slog into the gusting headwind, as well a sneaky inside move at the buoy almost knocking Stacey from her board and nipping inside Adam. Both Laura and Neil finished joint 3rd with a quick time of 13.17 smashing both of their previous times. The next two places where Adam and Stacey coming in at 13.21 and 13.26 respectively with very strong second legs downstream. Keith finished in a time of 13.53 which was a staggering three and a half minuets quicker than his Round 1 time much to the delight and applause of those already finished.

After a quick rest and smiles all round it was time to paddle back up to Central SUP HQ for a brew, pasties and sharing the stories we had just made. It was fantastic to be in amongst the racing, and getting involved is the best way I can think off to see just how much everyone competing and supporting enjoyed the racing. I personally can't wait to see who takes the overall series win and who might be challenging for a top spot next time out for Round 3 on the 24th of February. If Rounds 1 and 2 are anything to go by its one not to miss!
 For more information about Central SUP and their events

 To find out about events in your local area check out the SUPboarder events calendar… there's something on there for everybody, whatever your paddling ability.