Last weekend there were 3 SUP events planned across the country. The variety of weather across the UK meant not all events were able to go ahead as planned, but it sounds like they still had fun!
Saturday 26th January – the BaySUP Frostbite Race Series, stage 3 in Bournmouth, and the WESUP Winter Fun Race Series, stage 5 in Falmouth.
Sunday 27th January – the Central SUP, Midlands 5ive Winter SUP Race Series, stage 2 in Tamworth.
SUPboarder has been talking to the event organisers, and here's what they had to say;
Nick Watt from BaySUP sums up the Frostbite stage 3 event 26/01/13;
Last Saturday we saw stage 3 of the BaySUP Frostbite race series held at Surf Steps Surf School on Bournemouth seafront. This series is open to all levels and has been a great success over the years with the concept now holding races in various parts of the country. Its aim is to build localised racing for throughout the country – keep it simple, keep it cheap and keep it fun!
The forecast leading up to this race was looking interesting with moderate WSW winds which are perfect for downwind paddling. We have an ideal stretch of coastline along Poole Bay for downwind paddling. The start is from Sandbanks heading east with Boscombe being a popular finish point or possibly further on to Hengistbury Head. It's an ideal spot for downwind paddling as the Purbecks shelter most of sandbanks so the water starts out very flat and builds once you head east and become more exposed. Depending on the wind strength, by the time you hit Branksome, you'll be surfing bumps and having a blast. By the time hit Bournemouth, you'll be hooting with excitement!
So the format was decided as a downwind paddle from Sandbanks to Boscombe which is 7.5k. The sea state at 9am was rather calm and looked like a downwinder would be off the cards. However it started to pick a little and you really don't need much wind to produce some bumps. So to keep things a little different from the usual formats we see, we decided to get a downwinder underway . We always aim to make the most of the conditions we are presented with and also make the races as safe as possible.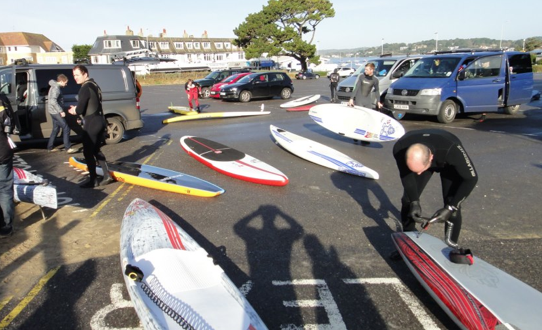 Everyone was pretty stoked to be doing a downwinder as it was a few peoples first time. This kind of paddling is not like hitting the river or just cruising along the seafront as you are paddling from point to point and the logistics of car and people dropping can take longer than the paddle itself (it's also way more exciting)! We had 17 people registered all riding 12'6 or 14' boards. Not everyone had boards but the support of SUP Store, Starboard UK, Rogue UK, Surf Steps and Sorted Surf Shop meant that people could borrow a board if they didn't have their own. Support from brands and businesses is crucial to ensuring maximum participation.
After the race briefing and a Nutrichef flapjack (thanks Barbara),  the 'faffometer' kicked into overtime due to  the logistics of loading boards onto vans, getting changed and then heading to Sandbanks for the start. Considering there were 17 boards to load onto 3 vans, it went very smoothly. Big thanks to Shaun Taylor, Rich Watts and Paul Simmons for the transportation – without you guys we wouldn't have been able to paddle this format. We all jumped into the vans and headed to Sandbanks. The guys that were in Shaun's van got the short straw as Frenchy's wetsuit boots had a toxic stench which was not healthy, not sure how we made it out alive.
With a bit more faff unloading we were ready to start the race. We did a water start and headed south for the channel buoy then turning left to head east for Boscombe. Paul Simmons, Ryan James and Pete Holliday had a great start making it to the buoy in a small pack and then it was up to the individuals as to which route was best to take. Some stayed offshore and others remained close – hard to say which is the best route. As the wind was WNW, you needed to be in a good position so the wind was on your back and not forcing you into a cross wind situation as no one was using rudders on their boards.
Paul and Ryan who are 2 of the country's best paddlers, were on a mission and made a good lead early on. Behind were a small pack made of Pete Holliday, Andy Joyce and Nick Watt and the main pack behind paddling well. The water was still smooth until we got to Branksome where some bump started to appear on the surface of the water. From here it was about linking the bumps to maximise your speed and also conserve your energy levels. Nick, Andy and Pete were pretty close for quite a while but Nick soon made a break by catching some good bumps. There are not many race formats where you can ride swell and have a break from your paddling – gliding on the bumps allows you to still go fast and conserve your energy. Once the ride finishes, you put the hammer down and look to where the next one is so you can keep gliding/surfing.
At Bournemouth pier the bumps were building a little more which allowed paddlers to increase their speed and vital rest time even more.  The first finishes were Ryan and Paul.
A controversial finish took place with Paul taking the wrong finishing route by exiting the water at the wrong groyne and running to the finish which cost him a 15 second penalty. A few minutes behind Ryan and Paul were Nick Watt with Andy Joyce close behind. These guys were all on 14' boards which due to longer waterline can obtain more glide and speed. Behind Andy was Marie Buchanan on a 12'6 who smashed it beating many of the guys! Marie is shortly heading off to Peru to represent Great Britain in the World SUP Games (good luck Marie and all the team).
Here are the full results from the day's great racing:
A few people had never downwind paddled before and it was great to see them thoroughly enjoy this fantastic side of the sport.  A phenomenal effort by everyone and another great BaySUP race. We believe this was the first downwind only SUP race in the UK.
Big thanks to everyone who entered this race, it was great to see regular races so we must be doing something right! There are a few guys who travelled from South Devon, Lyme Regis and Sussex so thanks for your support.
Also big thank you to our supporters – Surf Steps Surf School, The SUP Store, Sorted Surf Shop, Rogue UK, Starboard and Nutrichef.
Stage 4 is on Saturday 23rd February with the Grand Final on Saturday 16th March.
 The Bay Stand Up Paddleboard club.
Central SUP, Midlands 5ive Winter SUP Race Series, stage 2 in Tamworth 27/01/13;

Central SUP have been up against the weather lately… battling either rain, or freezing temperatures! Latest weekend they had to unfortunately postpone their event due to high river levels, and the frozen canals meant racing on them wasn't an option either. However that didn't stop the keen Central SUP paddlers from getting out on the water/ice and getting their paddleboard weekend fix! Chris & Scott from Central SUP sent us some photos of their ice SUPing on the canal. Well done guys…that shows a true love for the sport! (or you're all mad!)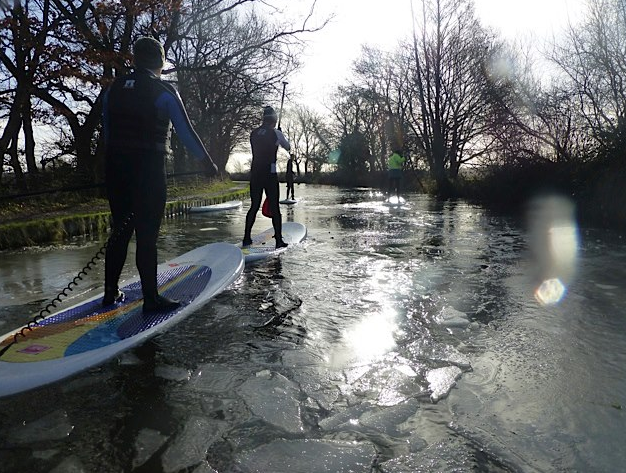 The Midlands 5ive Winter SUP Series stage 2 event will now take place on Sunday 3rd February.  All the great action and days events will start with the usual Sunday club paddle at 10am.