Happy New Year everyone!
"Conditions in the UK and the majority of Europe for the first week of 2013 has been much better for SUP than the stormy end to 2012 – perfect for burning off the last few weeks of eating."
New years day saw some perfect windSUP action in west Cornwall, where Paul Monnington was caught riding some beautifully clean lines at Marizion.  Paul is a keen windsurfer, but currently recovering from an operation on his leg preventing him from using his regular windsurfing gear, so instead uses his SUP to get his time on the water when its windy.  Anyone interested in doing any windSUP should check out the great video from Starboard, which includes some tips on how to get started.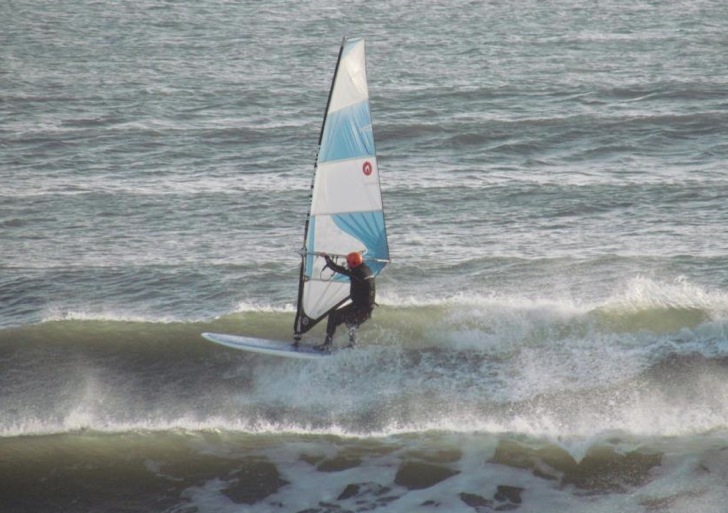 If you have found yourself a week into 2013 and still looking for a new years resolution, then why not make it a paddle resolution – SUPboarder has put together a few very achievable resolutions just for you.  If your resolution is to do more SUP, get a smaller wave SUP, get into racing or just once and for all clear out the garage then SUPboarders new FREE Private and Trade used SUP for sale page  should be able to help you out.
Again, in the South west of the UK, WeSUP have announced the change in date for their winter race series to 12th January and 26th January so it coincides with the ITV coming to do a news feature on the Falmouth based SUP club – if you want a taste of what racing is like at WeSUP check out the video from the WeSUP 2012 Battle of the Brands Race day and for a taste of stardom, don't miss their winter series!  If you want to find SUP events close to you or start planning your year, then check out the Events calendar  that we are updating weekly.  If you have an event for the calendar then send it over via the contact page and we will post it.
SUPboarder rider and feature writer Ben Swails has also received the fantastic news that he is fit to get back on the board after a nasty shoulder injury knocked I'm out at the end of 2012.  Ben is preparing for the2013 race events including the 11 cities  tour in Europe that he completed last year.  For the pick of the best 2013 events, check out Ben's 2013 race calendar preview  or pick your own event in the SUPboarder events calender
If your new years resolution is to get fitter or perhaps cycle not drive to work, then why not reconsider and SUP to work…check out this little video:
The world of competition has been unsurprisingly quiet over the festive period with athletes from the Stand Up World Tour Location X finals all finally getting home after the Brazil and BVI events.  We did discover this nice little video from the Waterman League about the journey current World Champion Leco Salazar took to the title – Some great SUP surfing – top backside riding from Leco!
And finally – keen south coast UK paddleboarder Nick Coleman has been spending his Christmas break in South Africa, it appear that Nick is so excited to be on the water that he is even using his SUP in the pool.  Bringing a whole new level to  inflatable SUP fishing!  Nick tells us he has taken his inflatable SUP out to SA, one of the great benefits of an iSUP – check out our Inflatable Vs. Hard board comparison to learn about more ways to use an iSUP.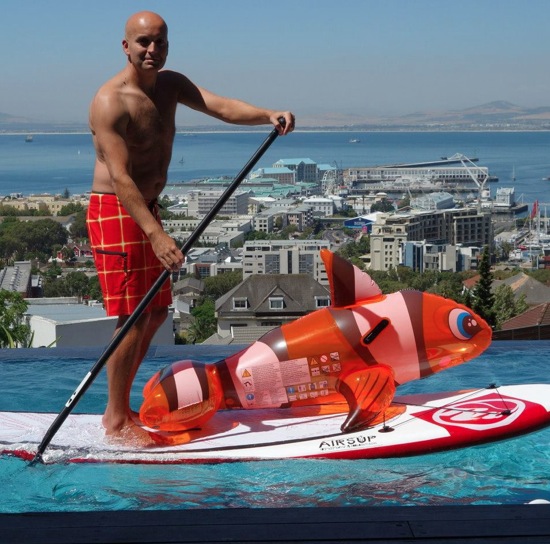 We will be bringing you all the top news to you as it happens this week as well as some brilliant features  – don't forget that SUPboarder is for YOU, the SUPboarder's so if you have magazine feedback or want to submit pictures, video or articles then get in touch.
Thanks to Steve Seale for sending in our great feature image of North Cornwall for this weeks SUP weekly!