2013 is here… and it's time to make that New Years Resolution. So why not make one that you really want (and are able!) to keep this year. Why not make a 'Paddle Resolution?'
Here's a few paddle resolutions that might float your board this year.
Take up racing
With more and more local clubs and school starting their own racing events, it's never been easer to get into paddleboard racing. SUP racing can be not only for the elite athlete at national level, but also the weekend competitor at their local lake. It really is a great way to get fit and meet new people, whilst enjoying the watersport you love. You don't need to have a top of the range carbon fibre board (although I'm sure every one of us would like one!) Any board that floats and allows you to have some fun racing on will do! Plus, if you paddle your 10ft board that you got for £350 and you beat someone on a £1600 race board… it's amazing how great you'll feel! Even if you don't win, it's such a buzz charging to the first mark with a load of other paddlers on your tail.The good thing about going racing at the weekend is it gives you a focus.
It's no longer a"I need to get fit"… it's a "I want to get fit!"
Whether you want to get in the top 10 this year, or improve your fitness, you'll be amazed what you can achieve in a month. Getting fit without a real reason is so hard, and so boring! But getting fit whilst paddleboarding is so much fun.So give SUP racing a go in 2012. Stay up to date with all the local races around the UK on our events page. And let us know how you get on, on our Facebook page and maybe we will see you at the nationals later in the year.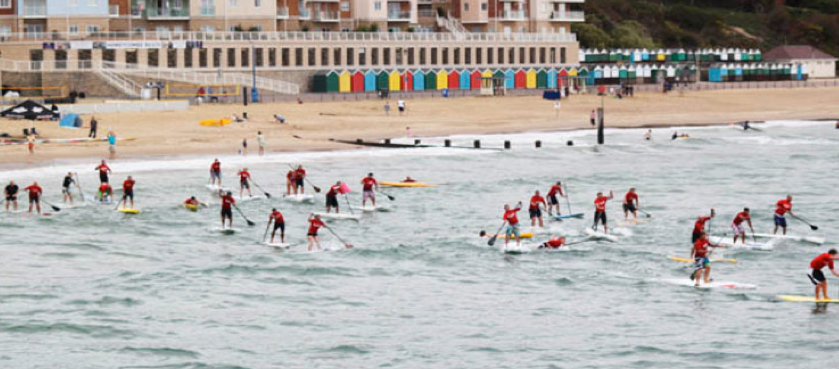 Go on an adventure
Plan a journey down you local canal or river, or go a bit further afield. Take a week off work and go to France, Scotland or the Lake District. Take a tent, some equipment in dry bags, a couple of friends, and paddle a place that no one has paddled before.
Paddling down your local river on your day off, is a great way to see nature, explore, and get out and about… all for free! That's the great thing about paddleboarding… its amazing how much water is out there to be explored (especially after the wet year we've just had!)
Take the family on a paddleboarding trip down the estuary. It makes a change to the weekly family walk (and I'm sure the kids will find it more fun!)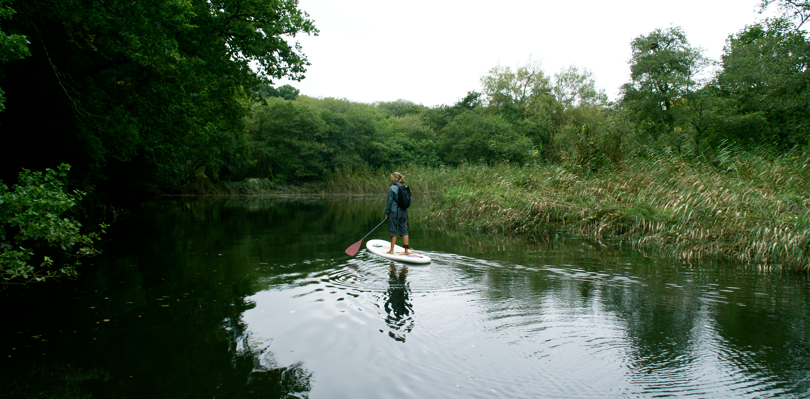 Get into waves this year
When you have your SUP skills mastered on the flat water, then it's time to try and get out in some waves. Find yourself a nice quiet surf beach with some empty waves, and go out and give it a go. When you first go out into ways you're probably going to be falling off quite a bit. So if there are less people around, you won't have to worry about hitting anyone else or getting in their way. If you have a big board then taking a helmet is advisable and it's always best to paddle with a friend.Maybe you've being SUPing in waves for a few years and you feel it's now time to take your surfing to the next level. Focus on what you want to achieve (obviously making sure it's achievable!) Then get out there and give it a go. If you find that you're not getting anywhere with the manoeuvre, take a step back, and try to find out what you're doing wrong. If a friend has a video camera, get them to film you and watch it to try and determine what's going wrong. Or watch afew SUP videos showing the move and how it should be done!  Also a SUP surf lesson is a great way to get a particular move sorted. Go to them with what you would like to learn. It's great what you can achieve in 1 hour on the water with good tuition.
Remember… when it comes to SUP surfing you can never bend your knees enough!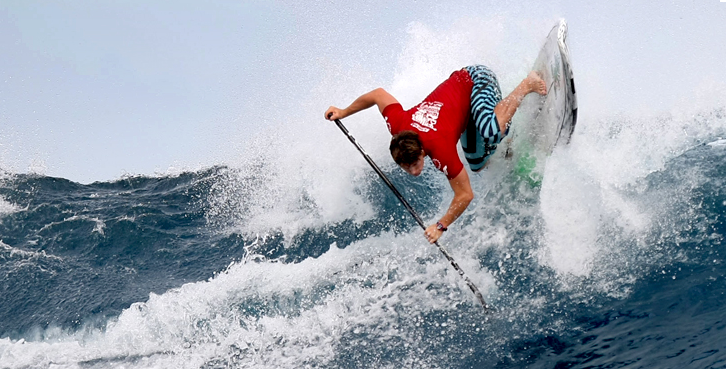 Get a friend into stand up paddleboarding
You know how much fun SUPing is… so why not make 2013 the year to get a friend into it too? With more and more, good affordable kit coming on the secondhand market, it's a great time to start paddleboarding. Paddleboard schools, with top of the range beginner equipment and experienced staff, are all over the country now. So there is no excuse not to get a friend out paddling this year!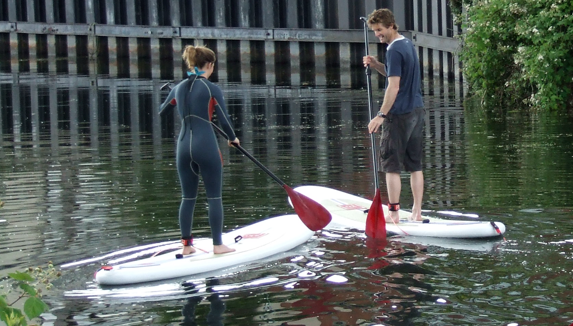 Make a SUP film
There is so much affordable, quality waterproof video equipment on the market these days. Perfect to put in your backpack and paddle down the river or go for a surf with friends. Making a SUP film can be fun and easy. Plan what you want to film and how you are going to film it. Swap the camara with your friend so you all get a go behind and infront of the camara. Edit it at home on your computer either using imovie on mac or movie maker on windows. Then upload it to youtube or vimeo etc… let Supboarder know too and get famous! If you make the cut we will even put your video on our video page for the rest of the paddleboarding world to see!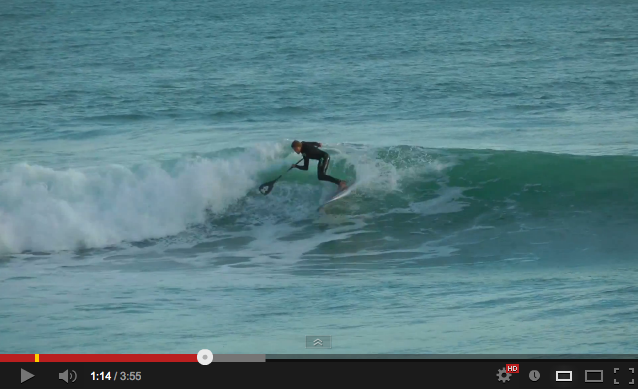 So… why not make a New Years Resolution that you want to stick too this year!
Remember to contact SUP boarder know what you've been up to, via email or Facebook.
Have a great year and try something new in 2013.