Struggling to get into the Christmas spirit because you're dreading having to do your christmas shopping?!! If that sounds like you then don't panic… Sup Boarder have put together a "Top 10 Gift List" to help take the stress out of Christmas. You'll be sure to find something here for all sup boarders!
Surftech SUP and Paddle Sling £59.95
Makes carrying your SUP equipment to the water as easy as it can be! Side pocket for storage, adjustable straps, and exterior velcro paddle strap, keeping your hands free. www.surftech.com
Stand Up Paddle – A Paddlers Guide (Steve West) £33.54
"A uniquely powerful, insightful publication, unlike anything yet written or produced in relation to what is currently heralded as the fastest growing watersport the world over".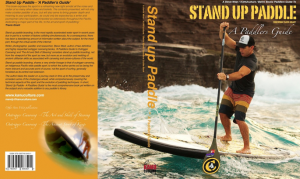 At 510 pages, this is a substantial publication. Not just a few token paragraphs about how to paddle, or what paddle to consider… but pages and pages of in-depth information suitable for even the most seasoned professional SUP educator or paddler. Covering technical, historical, cultural and contenious evolutionary perspectives and plenty more, this book sets the bar at a new level.  www.kanuculture.com
Exped bag 15L and 25L  £32.00
100% waterproof single compartment packsack perfect for taking paddleboarding.  Packs small when not in use, simple fold and roll closure, clear window in the back panel allows you to find contents quickly, closed cell EVA foam back for added comfort, comfortable and adjustable shoulder/sternum/hip straps, key clip inside, available in numerous colours, strong grab handle, and generous external elastic bungee cord for additional storage.  www.exped.com
Mystic Open Palm Mitts £19.95
XS-XXL. 2mm lightweight neoprene pre-shaped mittens providing cover to the back of your hand against wind chill. The open palm allows for direct grip without causing forearm cramp like many full palm neoprene gloves.
www.mysticboarding.com
Xcel Change Mat and Bag £19.95
A quality 90cm diameter changing mat/bag allows you to change out of your expensive winter wetsuit without damaging it. Then the drawstring system concerts the matt quickly and easily into a wet bag with your wet wetsuit already inside.  A great way of keeping your wetsuit out of the mud and your car boot dry! The perfect gift to compliment a new wetsuit! www.xcelwetsuts.com
FCS Box Adapter £23.95
A must have in every Sup'ers kit box! The FCS adapter allows you to change from a US box to a standard FCS box in seconds. Ideal for changing your fins and how your board feels without spending a fortune on a new board! www.surffcs.com
That First Glide – an inspirational tale DVD £24.95
If you're not already into paddle boarding, you will be after watching "That First Glide".  Filmed in Hawaii, Fiji and Tahiti "That First Glide" is a must see documentary movie for everyone. It features most of the premier athletes that got the sport off the ground. However who really was the first to do Stand Up is still a mystery and the film is already creating controversy as to who was really the first!
74 mins in length. Produced & directed by Mike Waltze.
www.ThatFirstGlide.com
Go Pro Hero 3 Camera Surf Edition £359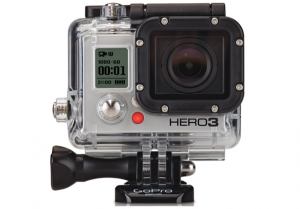 The GoPro HD is a revolutionary board-mountable HD video camera. The rechargeable lithium ion battery gives you 2 1/2 hrs of recording, and the SD HC card allows you to easily capture every wave in full HD. The huge variety of mounts and accessories mean you can use it anywhere and capture everything! Check out the new range of HD Hero 3 cameras and accessories.
www.gopro.com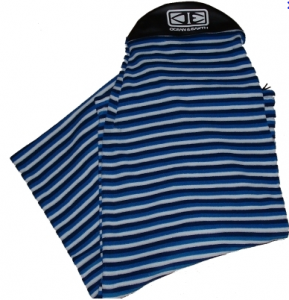 Ocean & Earth Sup Sock RRP £56.95
This board sock will help protect your paddleboard from minor scratches and knocks, help keep wax off car seats and other boards, and also to protect your board from discolouring in the sun.
The Stubby K4 Fin 8-14cm £22.50
The smallest US box fin currently available on the market. Very durable, reasonably priced and made in the UK! Before you change your board why not try changing your fins?…it's amazing how different your board will feel.
www.k4fins.com