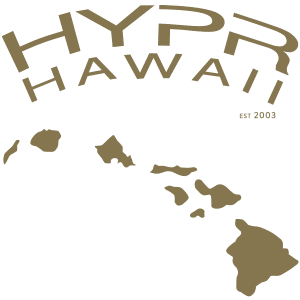 Hypr Hawaii
Ian Foo and Lauren Turnbaugh founded Hypr Hawaii SUP and Surf in Kona, Hawaii, in 2003. With their love for getting out on the water and knowing that the Hawaiian landscape is best viewed from the sea, they have been pioneers of the stand up paddle board resurgence that started on the beaches of Hawaii and has now spread across the world.
Hypr is derived from the two words that sum up the inspiration for the boards – Hawaii and Performance. We decided to spell it our way so you know when you are buying one of our boards you are buying the best in high performance – HYPR!
Through years of experience of human powered paddle sport with an ocean mana mindset, Ian and Lauren have created a range of boards that are accessible to everyone. So whether you are new to the sport or an experienced stand up paddler, you can rest assured that a Hypr Hawaii paddle board will give you a next level paddling experience.
The hull of the board has a unique 10mm deep double concave which increases lift, improves tracking,and makes these boards extraordinarily stable for their width. This advanced hydrodynamic design channels the water flow over the fins, givesing a smoother, faster, and more stable glide.
Our patented hull design is also truly something special. After the first few strokes of the paddle, the upward sloping chines move the lateral waterline inward to effortlessly lift the board. Match that with the bottom of the rail edges that slope upwards and you get speed from the moment you take off. In fact, the rails have a 3" slope towards the inner chine on each side which makes the board feel 6" narrower while on the move, creating the fastest in high performance hull design.