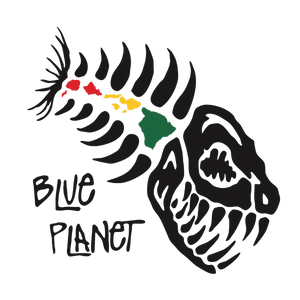 Blue Planet
With humble beginnings tracing back to the swap meets of Aloha Stadium, Blue Planet Surf caught its first wave in 1993. Robert Stehlik founded Blue Planet Surf with a simple philosophy: Create surf equipment for surfers, by surfers.
What started as a two-man operation on the island of O'ahu has grown into a worldwide SUP and surf brand. With key distributors now in Australia, Canada, Europe, Philippines, Japan, Fiji, Guam and beyond, getting on the water with Blue Planet has never been easier.
The name, Blue Planet, was derived from the awe-inspiring view from an airplane window on a return flight to Hawai'i. While cruising at 36,000 feet, Rob reminisced how more than two-thirds of the earth's surface is covered by water. It is only fitting that the same two-thirds of the earth that inspired Rob so many years ago, continues to inspire him today as Blue Planet extends its reach across oceans, rivers, lakes and waterways.
Blue Planet gear is available at two company owned surf shops on Oahu, one in Honolulu and one in Haleiwa.  You can also find Blue Planet internationally at authorized dealers, and online at blueplanetsurf.com and on Amazon.