Brendon Prince will be undertaking a NEW challenge. On the 25th JULY, to coincide with World Drowning Prevention Day, he will be attempting to spend 7 NIGHTS & 8 DAYS at SEA on a paddle board.
Press Release
With no support and no supply drops, Brendon must 'LIVE' on the board with everything he needs for this demonstration of paddling and survival whilst using the conditions to stay safe. Not allowed to land, Brendon must paddle, eat, sleep, repeat on the board for 7 NIGHTS /8 DAYS. The challenge will be promoting awareness for water safety and Brendon will be raising money for the water safety in education charity- Above Water.
Brendon will leave Torquay Harbour at noon on 25th July 2023.
Brendon must stay on the board to eat, sleep…everything?!? Only getting off the board if he falls in or if the board/equipment needs attention. He will not put a foot on land for the full 8 days/ 7 nights. The challenge is all about the JOURNEY not the DESTINATION. Brendon will leave Torquay Harbour at NOON on Tuesday 25th July (weather permitting) and will paddle with the conditions. North, South, East…only the weather will decide?
To undertake such a challenge, a different type of board is required. Brendon has chosen the LIVE Expedition L4 (from Florida, only one outside US) for the challenge. This double hull board has the capacity to paddle at 6km per hour but can still comfortable hold 320kg. Brendon and all his kit it just over 200kg, which would be too much weight for most boards but for the L4 Brendon has a spare 100kg. Brendon must take EVERYTHING needed for the challenge from the off as he is not allowed to be resupplied mid challenge. This is why he will be carrying 40kg of water and 25 kg of food plus all his kit and technology for comms, monitoring safety and 24/7 surveillance so you can watch Brendon night and day!
Brendon believes our Blue Space should be kept BLUE, to demonstrate good practice Brendon will not be putting any waste into the ocean. All litter and personal waste will be bagged and returned to land for proper disposal at the end of the challenge.
The challenge is raising money through JUSTGIVING for the water safety charity ABOVE WATER.
Brendon Prince is the International Stand Up Paddle Boarder (SUP) of the Year 2022. Holder of 8 SUP world records including first person to SUP the entire UK coastline and longest SUP journey of 4000km.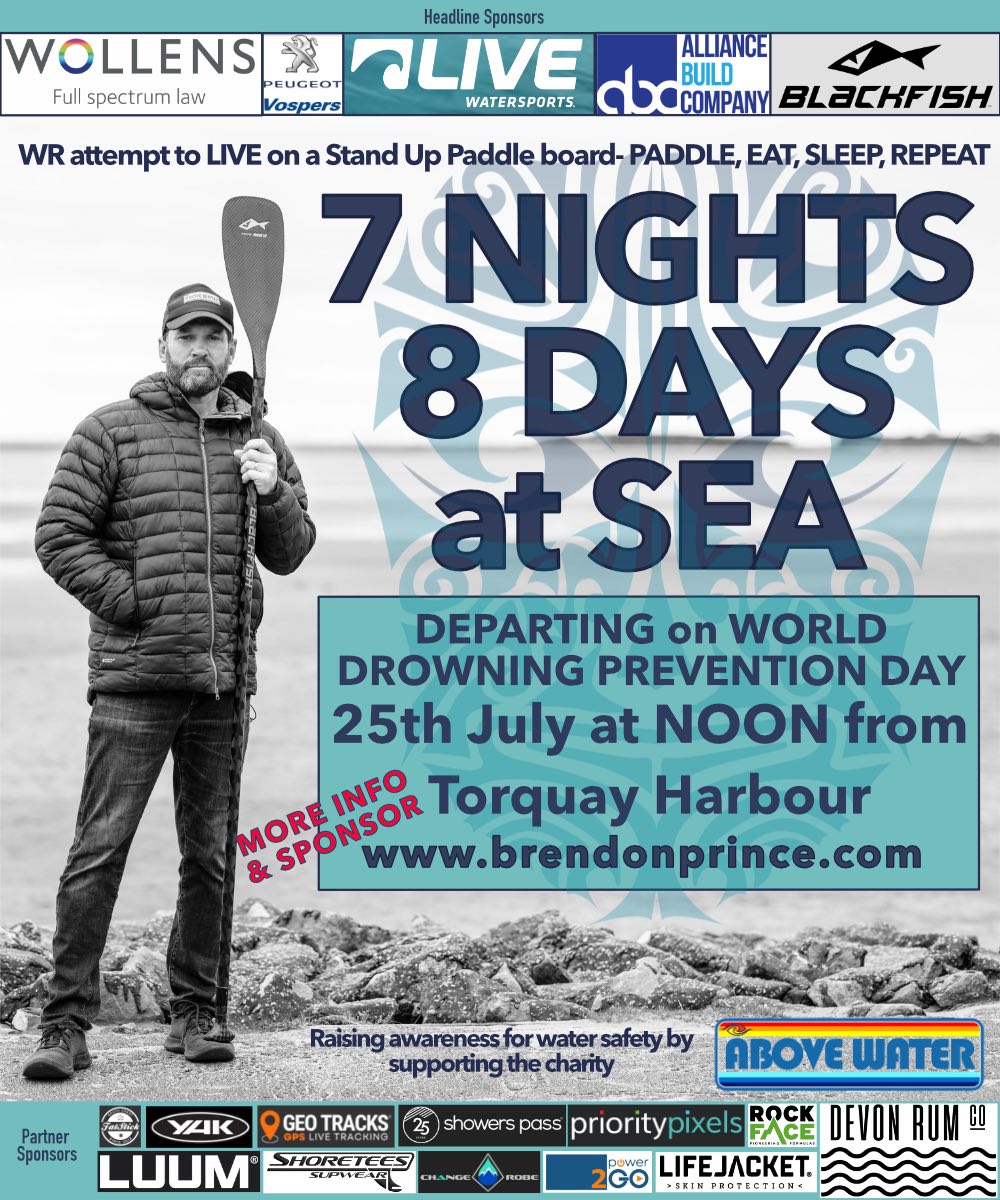 Watch Our Videos About Brendon