Team Australia continued their reign atop the sports of Stand Up Paddle and Paddleboard to earn their sixth Gold Medal in seven years at the 2018 ISA World SUP and Paddleboard Championship in Wanning, China.
Overall Team Ranking
Gold – Australia
Silver – USA
Bronze – France
Copper – Spain
5 – New Zealand
6 – Japan
7 – Italy
8 – Denmark
9 – South Africa
10 – Great Britain
Team Relay
Gold – Australia
Silver – USA
Bronze – New Zealand
Copper – Denmark
Men's SUP Distance
Gold – Michael Booth (AUS)
Silver – Bruno Hasulyo (HUN)
Bronze – Vinnicius Martins (BRA)
Copper – Daniel Hasulyo (HUN)
Women's SUP Distance
Gold – Olivia Piana (FRA)
Silver – Terrene Black (AUS)
Bronze – Shakira Westdorp (AUS)
Copper – Yuka Sato (JPN)
Men's SUP Sprint
Gold – Arthur Santacreu (BRA)
Silver – Trevor Tunnington (NZL)
Bronze – Connor Baxter (USA)
Copper – Noic Gariou (FRA)
Women's SUP Sprint
Gold – Tarryn King (RSA)
Silver – Caterina Stenta (ITA)
Bronze – Jade Howson (USA)
Copper – Terrene Black (AUS)
The Gold Medal for Australia extends their win streak to three in a row and represents a historic first Gold in the event's history to be awarded in Asia.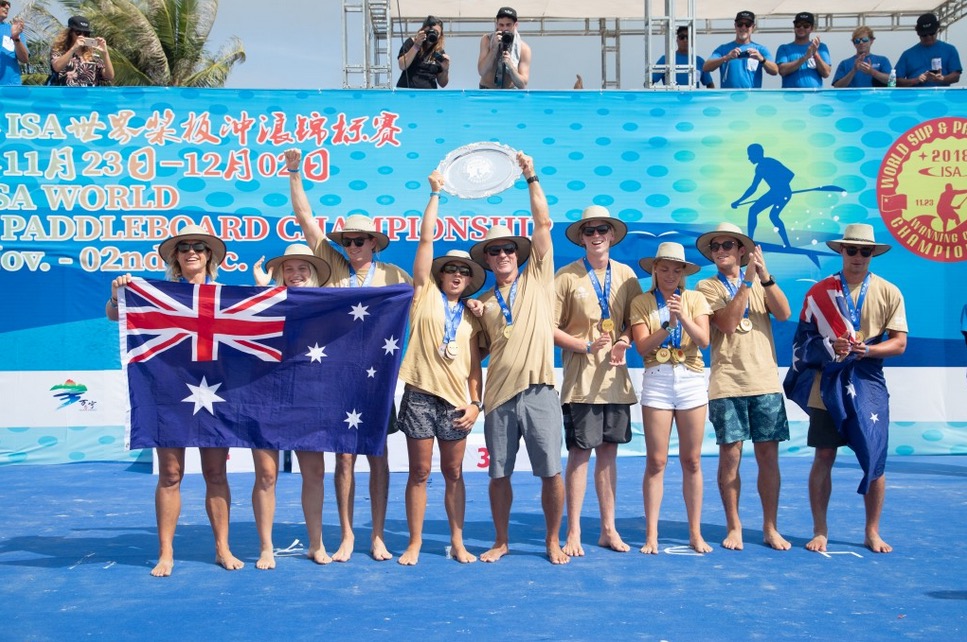 "We really wanted to win the relay and we came out today and put the nail in the coffin," said Australia's Team Captain Shakira Westdorp.
"We have a lot of fun and put the hard work in the water. We are great friends and you can't manufacture that. I think that is why we keep on winning the overall team points."
USA earned the overall Silver Medal, their best finish since earning the Gold in 2015, Team France earned the Bronze, and Team Spain earned the Copper.
Team Australia put the icing on the cake with a Relay Race Gold Medal on Sunday, followed by USA with the Silver, New Zealand with the Bronze, and Denmark with the Copper.
In a great display of the ISA's push for the global growth of SUP, ten nations from all five continents – the Americas, Europe, Africa, Asia, and Oceania – earned individual medals throughout the week of competition.
Australia's dominant performance was buoyed by five individual Gold Medals from Westdorp(SUP Surfing), Grace Rosato(Paddleboard Technical and Distance Races), Lachie Lansdown(Paddleboard Technical Race) and Michael Booth(SUP Distance Race). To go along with the five Golds, Australia earned eight other individual medals from star athletes such as Terrene Black, Sam McCullough, and Harry Maskell.
Rosato shined as the only athlete to take two Golds and Westdorp showed her versatility by winning medals across two disciplines (SUP Surfing Gold and SUP Distance Race Bronze).
Team USA, the only nation to ever dethrone Australia (2015 in Mexico), was the only competitor to threaten Australia for the pole position.
USA came up short with the Silver, but their young contingent of medalists 18 years and under shows a promising future and a changing of the guard for Team USA.
18-year-old Ryan Funkand 16-year-old Jade Howsonswept the Gold Medals for USA in the SUP Technical Race Junior Divisions, while 15-year-old Kailyn Wintersearned the Bronze in the Women's Paddleboard Distance Race.
The final day of competition at Shenzhou Peninsula featured the Relay Race, where 14 nations competed in a four-lap course that features a man and woman each from the SUP and Paddleboard disciplines to comprise a team of four.
Each athlete took a turn in the relay, navigating around the buoys before sprinting up the beach to tag their teammate into the race.
Team Australia emerged victorious, followed by USA with the Silver.
Bronze came down to a final, thrilling sprint between New Zealand's Trevor Tunningtonand Denmark's Casper Steinfath. Tunnington edged out Steinfath by fractions of a second to take the Bronze for his nation, leaving the Copper for Denmark.