Naish Maliko 14'x24" Pro Carbon / £2399
In this SUPboarder review we look at the race board Naish have been putting all their work into. The Naish Maliko is available in both 12'6" and 14"and shaped for all water states, from flat water to open seas. The Naish Malkio has a very simple design shape, with no big concaves or V's like on many other boards. Because of that it might not be the most stable board on the race market BUT it feels effortless to paddle and is amazing at riding even the smallest of bumps &swells.
Board details:
Length        14′
Width         24″
Volume      244l
Fin set up  US box and 8.75′ race fin
Weight       12.8 kg
Rider size   85kg & under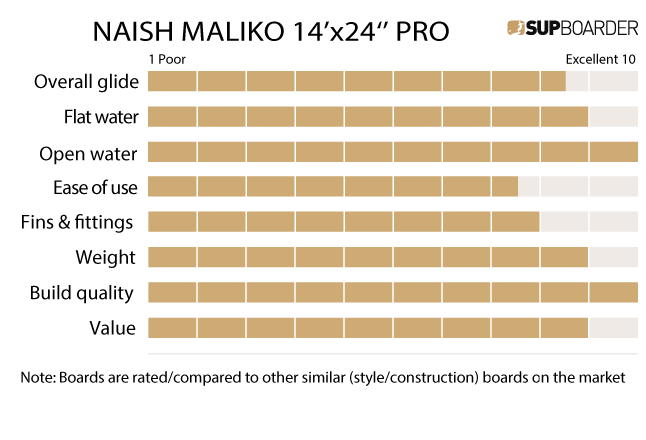 Other sizes in board range;
12'6 x 24"
12'6 x 26"
14′ x 26"
14′ x 28"
Our photo gallery
Read on for brand video, details and website www.naishsurfing.com
Drawing a clear and consistent line to victory at such renowned races as the Maui2Molokai, Molokai2Oahu 2-man Relay, Columbia Gorge Paddle Challenge and so many more…this competitive race shape is a clear standout for the high-performance scene. Always evolving to be faster, forgiving and more efficient with each season, the Maliko 14'0" is the result of meticulous engineering and impeccable construction. Its rocker is designed to catch each bump with ease for quicker acceleration and higher top speed. Its rounded nose efficiently and effortlessly assists riders in moving through glides granting you more speed and less fatigue on each run.