GeoSUP is a mobile app available on IOS, developed by the passionate team of SUP experts at SUPboardermag.com.  Launched in 2017, GeoSUP tracks and records your paddles, and allows you to share your experiences with others in the GeoSUP community, as well as follow other peoples paddling experiences.  Furthermore, all sessions are collated in a world map, so you can search locations for great paddle spots all over the world. You'll never get bored of stand up paddleboarding when you've got GeoSUP!
We interviewed SUPboarder co-founder and lead on GeoSUP, Will Rogers as well as the development team, Marcus from Squareapple and Simon from Studiose, who have all been working hard behind the scenes for many years to bring GeoSUP to life.  Hear what they had to say about the GeoSUP journey and what's still to come!…

Lucy: When did the idea for GeoSUP come about?
Will: We came up with the concept in early 2011, even before we had decided to launch SUPboarder.
Lucy: Why did you want to bring GeoSUP to life? What was the vision?
Will: Simply, we wanted to help make the worlds most accessible board sport MORE accessible!! The rise of SUP got me completely inspired. I wanted to see what other people were doing, where they were exploring, what wind/tide conditions works etc…but there was very little out there to help.
We also knew that this incredible sport was going to attract many millions of people in the years to come, and for many it would be their first board sport/watersport because paddleboarding is so accessible.  But even in a very simple sport, challenges exist to the newcomer e.g knowing where to go, which spots work in which wind, where to launch/park, hazards and dangers. These were all things a community of people could contribute to and share, helping others stretch their legs, get inspired and be able to SUP more!   
At that time, I used Strava a lot for cycling and liked what it did, but we wanted to really develop something that included the community aspect and 'spot finder' which we felt would really be great for SUP particularly as a young sport with lots of newcomers entering it. We also wanted to design a tracking app specifically for the needs of SUP, not just use something designed for cycling and running.
"We wanted to show people at all levels within the sport where SUP can take them.
 And w

ho's better to do that than the paddling community?!"

 

Using GeoSUP you can see exactly where others are paddling near you, as well as further afield, allowing you to discover new spots at home, whilst on holiday, or on a work trip with your iSUP.  You can get inspired by the feed and see people paddling some insane long distances, or short mini adventures. It can motivate you to push yourself to the next level. When I'm adventurous or push my paddling boundaries, it makes me feel really, really good.  And I think the same is said for many of us. We just need to do it!

For me personally, I love all disciplines of SUP, but I'm particularly keen on SUP adventure and I was getting tired of finding new paddle spots using google maps. I wanted GeoSUP to be a tool to help me easily find an adventure.  I still remember the first time it did…. I saw this session in the feed near Bath, UK and I went and did it – it was a wonderful feeling!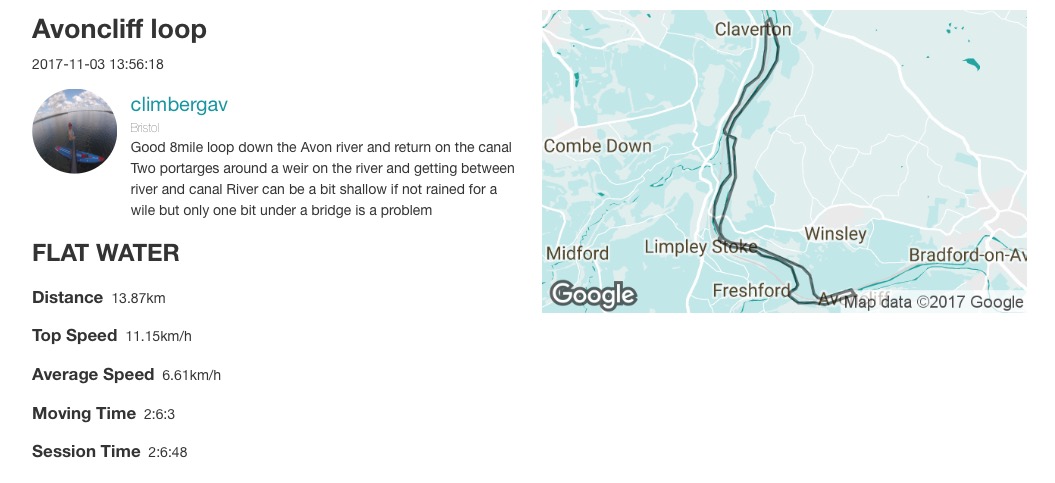 View this Avoncliff loop paddle on the GeoSUP world map website here : https://www.geosup.com/app/www/ext/share.php?sid=1001&wid=13
Lucy: GeoSUP launched in 2017, yet you came up with the concept in 2011, why did it take so long?!
Will: Back in 2011, SUP was just getting started in the UK. We had seen similar community based products available in other sports such as climbing, but these sports were way more established.  A lot of discussions led us to conclude that not enough people were SUPing yet, the market wasn't ready for GeoSUP. In the same year, the concept of SUPboarder was tabled, as it was clear that a magazine was needed to support the growth of the sport. So we went ahead and contracted with a developer to create SUPboarder.   
But, we wanted to keep the idea ticking over so asked the developer to prototype GeoSUP. The first GeoSUP in 2012 was a browser based solution that we tested with friends, family and other SUPers, but it soon became clear that it needed to be app based to take advantage of the incredible technology packed into smart phones that was rapidly developing.  App development was a scary and expensive prospect for us, and we parked the idea because there was no way we could fund it. Instead we focussed our efforts on establishing SUPboarder as a leading magazine.
Lucy: So what changed?
Will: We were looking for a new developer to support the growing traffic and development needs of SUPboarder. Our search led us to Squareapple who we also told about our plans for GeoSUP. When Squareapple said they also had the capability to develop apps, we were sold on developing a partnership and we quickly dusted off and updated the GeoSUP brief.
Lucy: You mentioned GeoSUP has some SUP specific features? Tell us more.
Will: As long as you have an internet connection, GeoSUP will capture wind data as it records your location. Wind is one of the biggest environmental factors when SUPing, so it's important to capture.
"The app is 100% for paddleboarding, so the community is all passionate paddlers with one thing in common… SUP!"
Lucy: Where did the name GeoSUP come from?
Will: We took inspiration from Geocaching which is an outdoor recreational activity where participants use GPS to hide and seek containers called caches all over the world.  A big part of GeoSUP is finding spots to paddle, so it seemed to fit well.
Lucy: Marcus, tell us about your involvement as lead developer.
Marcus: GeoSUP is a really exciting app to be involved with. It's been a long journey bringing it to life, but amazing to see the app being used and submitting so many interesting sessions all over the world. We know it's not 100% perfect yet, but we are working on improvements all the time and of course battling to keep up with mobile technology changes. I'm not a big board sports guy, but learning to SUP while we developed the app was amazing. My novice level helped us create an app that was also useful for beginners getting into the sport.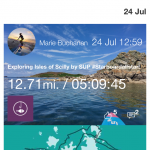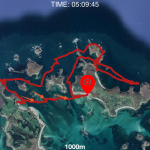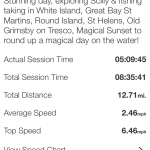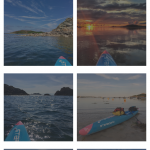 Lucy: Simon, you designed the look of the app and how users interact with it. What was the goal from a design point of view?
Simon: Studiose was approached to design the user interface for GeoSUP and I started paddleboarding while we were working on the project. I'm now a regular paddler with my wife and children, and we're looking at buying our second board now! Being 'easy-to-use' was critical in the design of the app as it would firstly be used before getting on the water with cumbersome kit. We made it quick to start recording a session by making the 'START' button the first thing the user sees after opening the app. We designed a simple, yet bold UI that's responsive to operate while on the water with the phone protected inside a waterproof case. Users can quickly view and share their SUP session data for all to see and enjoy, and to become part of a global community – which is ultimately the overall goal for GEOSUP.
Lucy: So Will, who is GeoSUP best suited for?
Will: GeoSUP is a great tool for anyone who's into SUP.  Its packed full of features to help you get more from your paddleboarding…..Record and track your progression, find and follow friends, see what others are doing on their SUPs, find new spots, see how you rank against others, promote your SUP business, promote yourself as a SUP athlete… The list goes on!
Over the last 18 months we've learnt a lot from the users and we've plans for loads more developments and improvements.
Lucy: Go on, tell us more about what's next for GeoSUP?!
Will: We are hoping to start development for android very soon, as there's a lot of demand for it now.  We will also make some improvements to app stability and add some new features to improve the experience. There's also demand for smart/gps watch integration/syncing particularly from the racing community.  We are also looking into that but a lot of SUPers who really benefit from GeoSUP don't have this type of technology and like to paddle with their phone from a safety point of view. More phones are waterproof now as well, so there's less and less barrier to having it on the water with you.
We will also see elements of GeoSUP integrated into the next generation SUPboarder website that will launch this autumn – when we survey our readers one of the biggest requests is tips on places to SUP, and GeoSUP helps with just that. SUPboarder reviews, comparisons and head to head board tests will also use GeoSUP more and more going forward.  Real data is very useful to support these reviews and tests, and recording them on GeoSUP keeps everything transparent so the consumer can see exactly how the kit performs.
"GeoSUP is still very much developing with lots of exciting new features and improvements planned. The GeoSUP adventure has only just started! Watch this space!"
Find out more about the app here: www.geosup.com
Or download at the app store here: itunes.apple.com