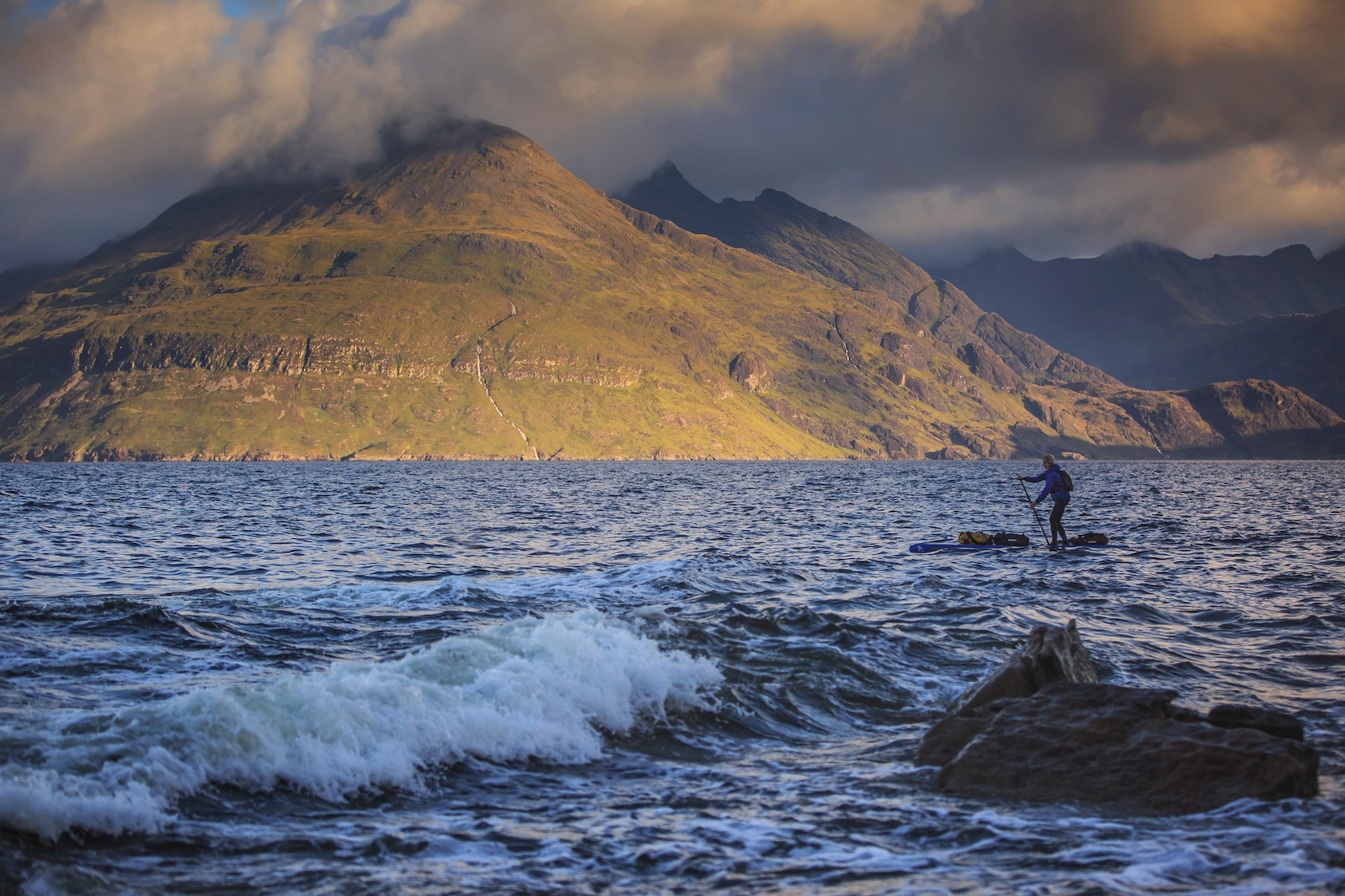 Lands End to John O'Groats is a famous challenge with cyclists, hikers and runners, reaching from the Southernmost tip of Cornwall, England to the Northern most point of mainland Scotland – the entire length of Britain.
It has never been attempted before on a SUP. And possibly for good reason!… until now.
This year passionate adventure UK paddler and environmentalist Cal Major has set herself the epic challenge to SUP the gruelling 1000 mile route. With the coastline facing every direction, being exposed to the ever changing winds, big oceanic swells and tidal races around innumerable headlands it's going to be tough and take her approx 4 months. But Cal explains why she's taking on this big challenge and how you can get involved too and help make a difference…
For the last few years I have been building up to this challenge; it's been the one always at the back of my mind. Starting in May 2018, I'll combine 4 months of challenging paddling, camping on beaches and eating mostly rice! 
But why?
To connect people throughout Britain to the issue of plastic pollution. I want to highlight that in the UK we are never too far from plastic affecting our waterways and coastline.
8 million pieces of plastic enter the ocean each day. It is estimated that by 2050 there will be more plastic in the ocean than fish by weight.
Plastic pollution has received a lot of press recently, and big steps are being taken to help reduce its impact, but we need to continue this momentum in order to effect long lasting behavioural and policy change. The majority of plastic pollution is single use plastic items such as packaging which is used for a matter of minutes before being discarded. Since 80% of marine litter originates from land-based sources, the more we use on land, the more has the potential to contaminate the ocean. By incorporating some canal and estuary paddling as well, I hope to strengthen the connection between plastic pollution in land and that in the ocean, documenting its potential to head out to sea via inland waterways.
"Despite the severity and ubiquity of plastic pollution, we can all be a big part of the solution."
In the UK we use 38.5 million plastic bottles every single day. Switching to a refillable water bottle and refusing to buy plastic water bottles will have a huge impact on the amount used on land.
There is a growing movement of individuals, charities, businesses and communities who care deeply enough about this problem to be making changes to the single-use plastic we use on land. Collaboratively this is making waves and putting pressure on governments and companies to follow suit. I hope to bring some positivity and solutions to the plastic pollution crisis, and to grow the number of voices demanding that we stop using so much unnecessary plastic in the first place. 
The Surfers Against Sewage Plastic Free Coastlines campaign is making huge steps in local communities to reduce single use plastic usage at source, creating pride at being able to come together as communities to protect the environment. I'm looking forward to linking up with these the length of the country. To Join The Resistance against Single Use Plastic, or to get involved in your local Plastic Free Coastlines community, visit www.plasticfree.org.uk
"People protect what they love" – Jacques Cousteau
We are blessed with some incredible coastline in the UK. A desire to protect our environment comes from a love of that environment, and a reconnection to how special it is both to our physical and mental wellbeing.
"I hope that by reconnecting people to the beautiful outdoor spaces surrounding our island, we can nurture a desire to protect them."
The oceans sustain our life on Earth with the oxygen they produce, and we simply cannot afford to be destroying them at the rate we are. Our lives and choices on Earth are so intrinsically linked to the natural world, and I hope to remove the disconnect between these.
I will have a live tracker so you can follow my progress, and I hope to have people join me at beaches along the way for mini beach cleans and to talk about how we can all be part of the solution to the problem. I will also be welcoming any food parcels!
I will aim to use no single use plastic on the expedition. This is going to be a challenge in itself, and I've been busy making 4 months of rations. I'm looking forward to keeping you posted on how this goes!
"From previous expeditions I know how tough this is going to be both mentally and physically."
It's a blooming long way, and a long time to maintain motivation and perseverance, especially in our famous UK "summer" weather, which can turn ugly at the drop of a hat. My friends and family have always pulled me through my previous expeditions, when my brain and body power is depleted from constant battling through wind, currents, swell, cold, rain, fog, hunger… They've always believed in me and offered whatever support they can, physical or emotional. This expedition is in memory and in honour of my closest friend, and biggest fan, who at the end of last year lost her battle with depression. I will be raising funds for Vetlife, a charity very close to her heart, and the Samaritans, both of whom offer invaluable lifelines in times of difficulty.
You can follow the expedition on Facebook: Paddle Against Plastic UK, or check out the website, www.paddleagainstplastic.com
Thank you for your support.
Cal Major
SUPboarder caught up with Cal to find out what kit she'll be using, what she'll be carrying in her kit bag(s!), and how she's been training for this epic paddle….
Kit list:
Board:
Starboard Pinetek 12'6″ x 29″
Starboard carbon adjustable paddle
Finisterre Duffel bags 40L x 3 (dry bags)
Safety kit:
Leash (keep everyone happy)
Palm Equipment Glide Personal Flotation Device
Palm Equipment throwline (18m rope)
Knife
Waterproof phone case and phone
PLB – personal locator beacon
Inland flares
VHF radio (submersible and floating)
Navigation:
Compass,
Garmin Explorer GPS
OS Active maps
Tide tables
Other tech:
Gopro and spare batteries and memory cards
Panasonic GH4 camera and spare batteries
Solar charger
Battery packs
Clothing etc:
Bureo polarized sunglasses
Woolly hat and buff
Palm Equipment Neoflex leggings and shorts, Vantage coat, Force booties, Blaze Longjohn
T-shirts and shorts (feeling optimistic!)
Olas Ocean leggings (surf leggings made out of recycled ocean plastic)
Dryrobe
Patagonia 14L rucksack with hydrapack
Camping:
Stove, pan, matches, gas canister
Klean Kanteen water bottles and food containers
2 man tent
Thermarest Neo-Air sleeping mat
Tundra women specific ethical down sleeping bag
Roll top dry bags from Palm Equipment and Finisterre
Finisterre merino base layers, insulated jacket, jumpers and waterproof coat
Merrel sandals
Food:
Klean Kanteen food canisters and water bottles
Vivo Life protein and thrive powders
Outdoor food Firepot meals
(both above working on compostable packaging – trialling this)
Home-made rations including dehydrated vegetables and fruit
A LOT of peanut butter and coconut oil
Training:
In preparation for this paddle I'm partly relying on base-level fitness from having done expeditions like this before and SUPing regularly, interspersed with a lot of swimming, gym sessions to work on my weak point as identified by sports physio, specific SUP training including interval training on the estuary (short but high intensity sessions often against tide), surfing and longer distance paddles when the weather permits. I have also been using a SUP treadmill (paddle attached to resistance band) at home when too windy outside to train on the water. I also practice Yoga every day to help prevent injury and improve my overall strength.
Cal plans to set off in May 2018 so any day soon, given the right forecast. The SUPboarder team wishes Cal all the best with her epic paddle, and hope's the British weather is kind!
Remember to check out Cal's Paddle Against Plastic website if you'd like to find out more about her paddle, how you can support her, and the great work she's doing towards Plastic Pollution awareness.