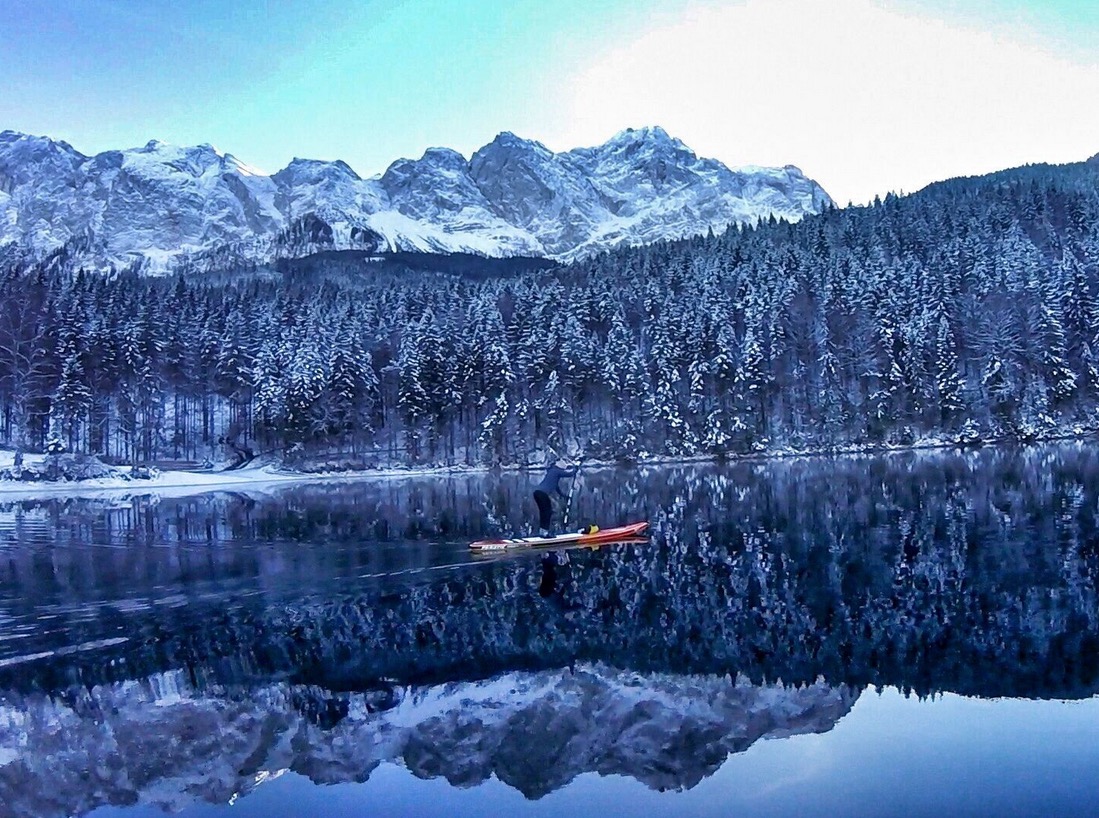 It's winter in Germany. Especially in the Alps there's a lot of snow and the temperatures are freezing. The nature that is revealed by this season is amazing and with the right equipment you will be totally fine, so there's absolutely no reason not to go Stand Up Paddleboarding in winter.
Anja Moerk from Girls On SUPs tells us about her last adventure:
Some tourists are passing by as I am unpacking my inflatable SUP board in the parking area next to lake Eibsee in Bavaria. Some of them are smiling and asking questions, some are staring and shaking their heads while others are just ignoring me (most probably because they think I'm totally nuts). Well, Stand Up Paddling in winter is not for everyone. For me however it is a wonderful thing to do.
I'm trying not to slip on the icy ground as I am carrying my board along the lakefront to the little spot where I can access the water. Lake Eibsee is lying in front of me like a huge mirror. My heart is jumping when I do my first paddle strokes along the lakeside. It's the perfect winter wonderland: Ice crystals on the rocks, the beautiful old fir trees all covered by snow and the sun slowly crawling up behind Germany's highest mountain Zugspitze. My breath is visible in the ice-cold air.
I am paddling about half a mile, before I'm turning around for the first time. The view is so stunning, it's taking my breath away. The massive mountain, the lakeside with the trees covered by snow – all perfectly mirrored in the glassy lake. While so many people wouldn't go Stand Up Paddling in freezing temperature for a lot of money, I just feel so blessed doing my passion in winter as well.
If you want to go exploring in winter too, there are several things you need to consider:
Choosing the right outfit is important. A drysuit is ideal with some layers of functional clothing underneath, waterproof socks and thick neoprene boots, a scarf to warm your neck, a beanie and waterproof gloves.
You should also wear a safety buoy you can inflate if something happens to your board. Always think of the worst case when you prepare your trip: What would happen if I fall? Would I be able to get back on my board within seconds? Would I be able to reach a warm spot (like the car) quickly? (…and so on).
Most important: Do not overestimate yourself. You should be fit, an experienced paddler and a good swimmer.
I never paddle alone in winter to make sure somebody could help me when something unpredictable happens – and I recommend the same to you.
Wear a leash, so you don't lose your board if you fall.
Take some warm tea and something to eat with you on board.
If you realize, you didn't dress warm enough and you start to feel cold, get back on land and come back for another tour with the right outfit. Do not put yourself in danger at any time.
I know, this is a lot to think of, but it's definitely worth it. You will see things most people will never see in their entire lives. You will feel peace and freedom like you never did. And finally you will see so many funny faces when you are back with a big smile on your face, trying to roll up your frozen SUP board after your trip. Winter paddling – yes or no? Oh hell, YES!
Anja Moerk is a German SUP blogger (www.suplife.blog). She lives in Munich, Germany and paddles waters in Bavaria and around the globe with her friend Julia. See more pictures on Instagram: @girls_on_sups