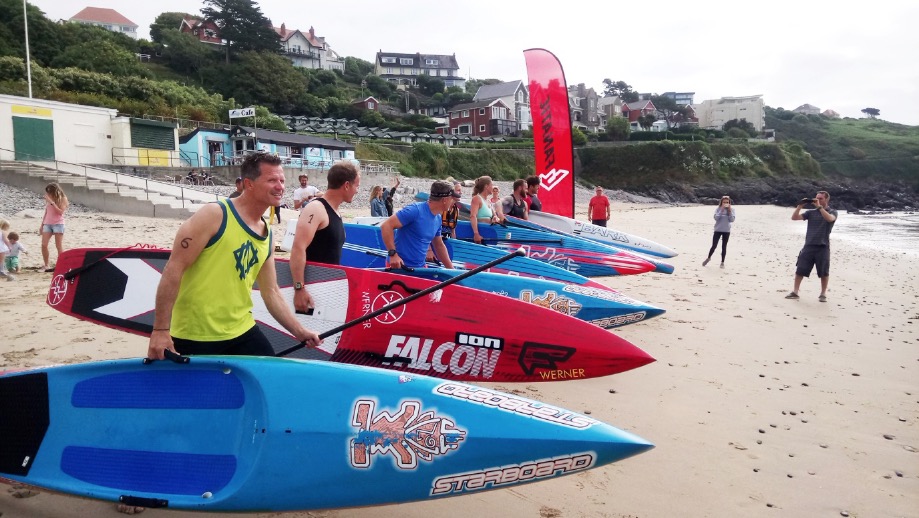 WSF Sup Qualifier, in association with Fanatic, SUP Hut and ION
Langland Bay, 09/07/2017 
Since the independence of Wales as a surfing nation from the UK, the WSF has been very active in making sure Wales has a team present at all European and World events, in all disciplines of surfing.
With the ISA SUP World championships only just round the corner, the qualifying events were the next focus of the WSF Sup division.
This weekend it was Sup Tech racing: a 2km course in and out from the beach including a beach run: 3 complete laps.
Despite the late notice of the event, organiser were met by a healthy turnout over three divisions (Gentlemen's, Ladies , and Open Prone), all bright faced ready for the early start.
The sun was peaking out and the tide was high, but beginning to drop out.
Men's SUP and Prone set out together, followed by the ladies, after a short interval..
Competitors were treated to a zigzag course around the entire bay of Langland(not that they were paying much attention to scenery as they slogged it out), in warm and slightly muggy conditions.
The leads in both Men's and ladies were close for the first two laps but the absence of any noticeable swell, left little to unfoot anyone or give paddlers any gains.
Chris Vaughan, Andy Darylmple, and Jonathon Roberts formed a tight group for lap one, but as the group got going Chris and Andy moved ahead and sat within 4 board lengths of each other for the final two laps. The dropping tide was welcomed by no one, as the beach run was getting longer by each lap, but beach supporters and crew were on hand offering waters and a torrent of support, spurring everyone on.
Kerry Baker and Mi Richardson, were in a similar battle as the men's, and both could have done with being in the men's race, showing that the gender gap is becoming a thing of the past.
Our lone but hardened prone paddler: Adam England (he is welsh though), struck out on a constant and finishing pace, and got the job done, with his infectious grin beaming every time he came round to the beach.
The Final Technical racing standings: 
Prone Paddle:
1st Adam England
Ladies SUP:
1st Kerry Baker
2nd Mi Richardson
Gentlemen's Sup
1st Chris Vaughan
2nd Andy Darylmple
3rd Jonathon Roberts
4th Sean Smith
A big thanks go out to all involved, everyone was there on a volunteer basis, and to give up their valuable free time is something not to be overlooked.
Thanks to Swansea City Council for granting our permission to run the event..
Our greatest appreciation should also go out to the key Sponsors:
SUP hut: for the trophies, use of their race tackle and buoys, and continual support of WSF SUP Fanatic SUP International: for their unwavering support of the sport and their supply of ample prizes K66 and IO N: for investing from the ground up in our nations sport.