A beautifully shot and truly inspirational SUP film showing that with passion and a desire to explore you really can go out of your comfort zone, and paddle anywhere and in any conditions! Kai and Lena's trip to Norway was more extreme and challenging than they'd expected but they still left with some amazing memories and the desire to go back for more! Read on to find out more about their chilly Norwegian SUP adventure…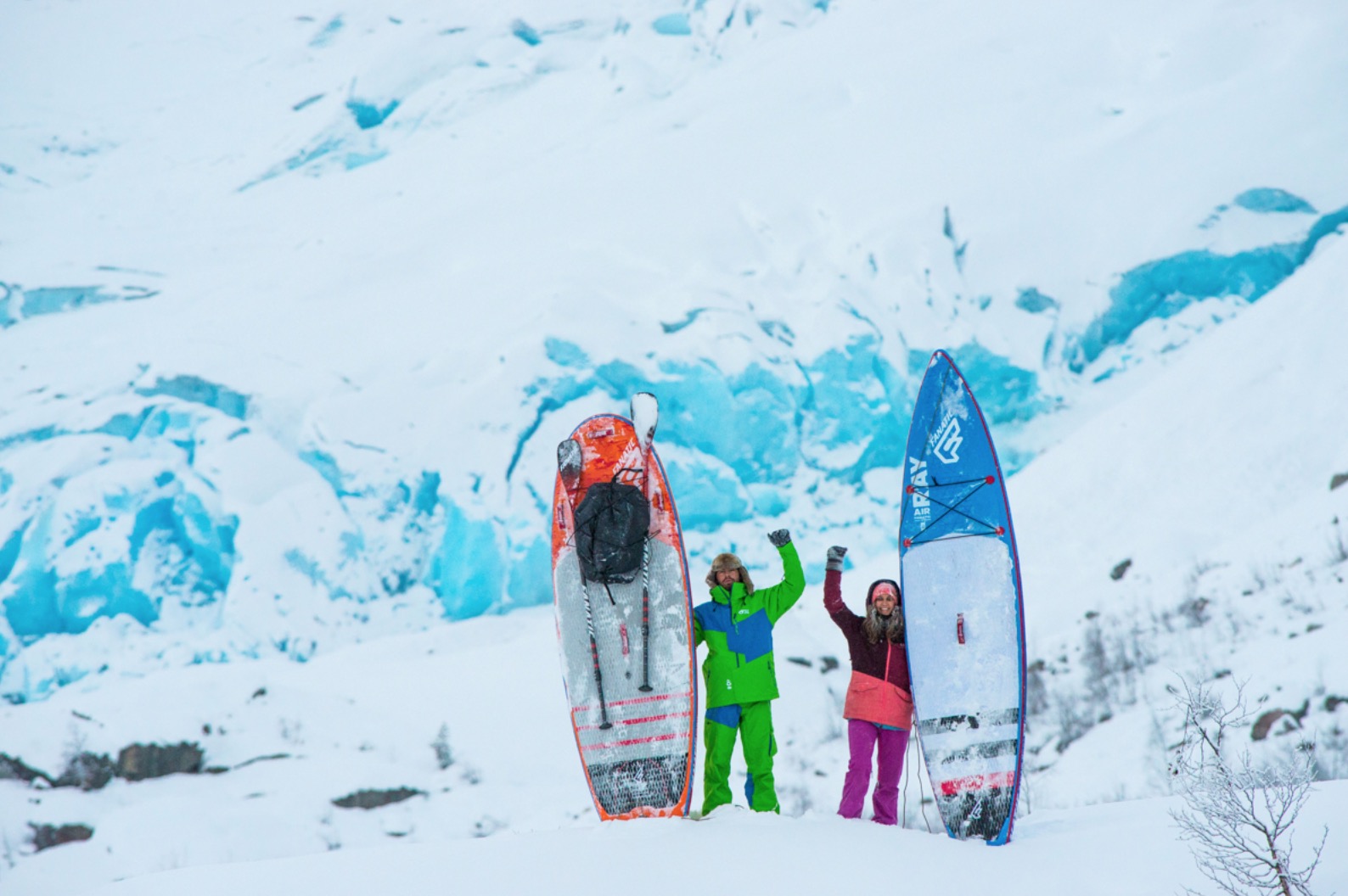 In January, in the middle of winter in Europe, the two Fanatic riders Kai-Nicolas Steimer and Lena Albrecht decided to discover Norway – not scared of fighting conditions with temperatures far below zero degree. But not equipped with snowboard or skiers as you might think. No, they started their adventure-trip to Europe's biggest glacier with their iSUPs, drysuits, an off-road-trailer and a twenty square meter tent accompanied by Lars Jacobsen, a photographer from Hamburg and Maximilian Stolarow, a cameraman from Berlin.
The two athletes had the idea to discover places far away from their hometown Hamburg and far away from well-known, warm destinations that you normally combine with Stand Up Paddling – ready for real adventures. Exploring landscapes nobody discovered with a SUP so far, not meeting a single soul on the way, was their idea.
After three days setup time with a lot of organisation and research they decided to start the trip with one car and one trailer loaded with their tent and heaps of watersports-equipment. They took the ferryboat from Hirthals, in the north of Denmark, to Langsund in Norway. From there, they left the well-known roads to drive through beautiful, lonely valleys and frozen landscapes with lakes and rivers covered in ice and snow. Finding a place to stay for the night, with just a thin a tent in that rough landscape was quiet challenging. They knew it would be cold, however neither of them expected minus 21° during the first night! The icyness didn't only affect their bodies, but also froze almost all of their food and the gas for their stove. That´s when they started to doubt if it was the right idea after all. But even though they were worried about having underestimated the temperatures and rough nature, they were still fixed on their goal: to discover Europe´s biggest fjord  with their SUPs.
Facing their destination the four of them carried on driving north, always looking for lakes or rivers, which weren't fully covered with ice so they could sneak in a little paddle session.
After a long trip through deserted, snow-covered landscapes driving along roads that were hard to pass, they arrived at Sogne Fjord. The lonely and quietness which covered the whole landscape was immense, it felt kind of scary for the city slickers from Hamburg and Berlin.
When waking up and looking out of their tent the next morning, it felt like the whole area was asleep under a big blanket of snow. Motivated to discover that impressive landscape, Kai and Lena immediately inflated their SUPs to paddle Europe's deepest and longest fjord. It was for sure the most exciting paddle session they had ever had, challenged by trying to avoid falling into the ice-cold water and overwhelmed by the silence around them, the stunning scenery of the nature and the rough cliffs along the waterline without meeting a single soul. It definitely was a scary but really outstanding experience for the two Fanatic riders. After a successful tour they completed the day at a campfire looking into a stunning natural scenery.
It´s quite different to paddle in the hibernal Norway than in the middle of Hamburg city the two paddlers found out during their next session. Since it wasn't possible to pass the road to the glacier lake by car, they had to pull their SUPs (fins taken out) along the snow-covered ground throughout icy woods to get from their camp to the glacier-lake.
Arriving at the lake they were stunned. The unreal beauty and the deep, shining blue of the glazier was absolutely impressive. They stopped in front of the completely frozen lake to enjoy this awesome scenery. Unfortunately there was no water but just ice and so they had to move on, searching for a place to paddle.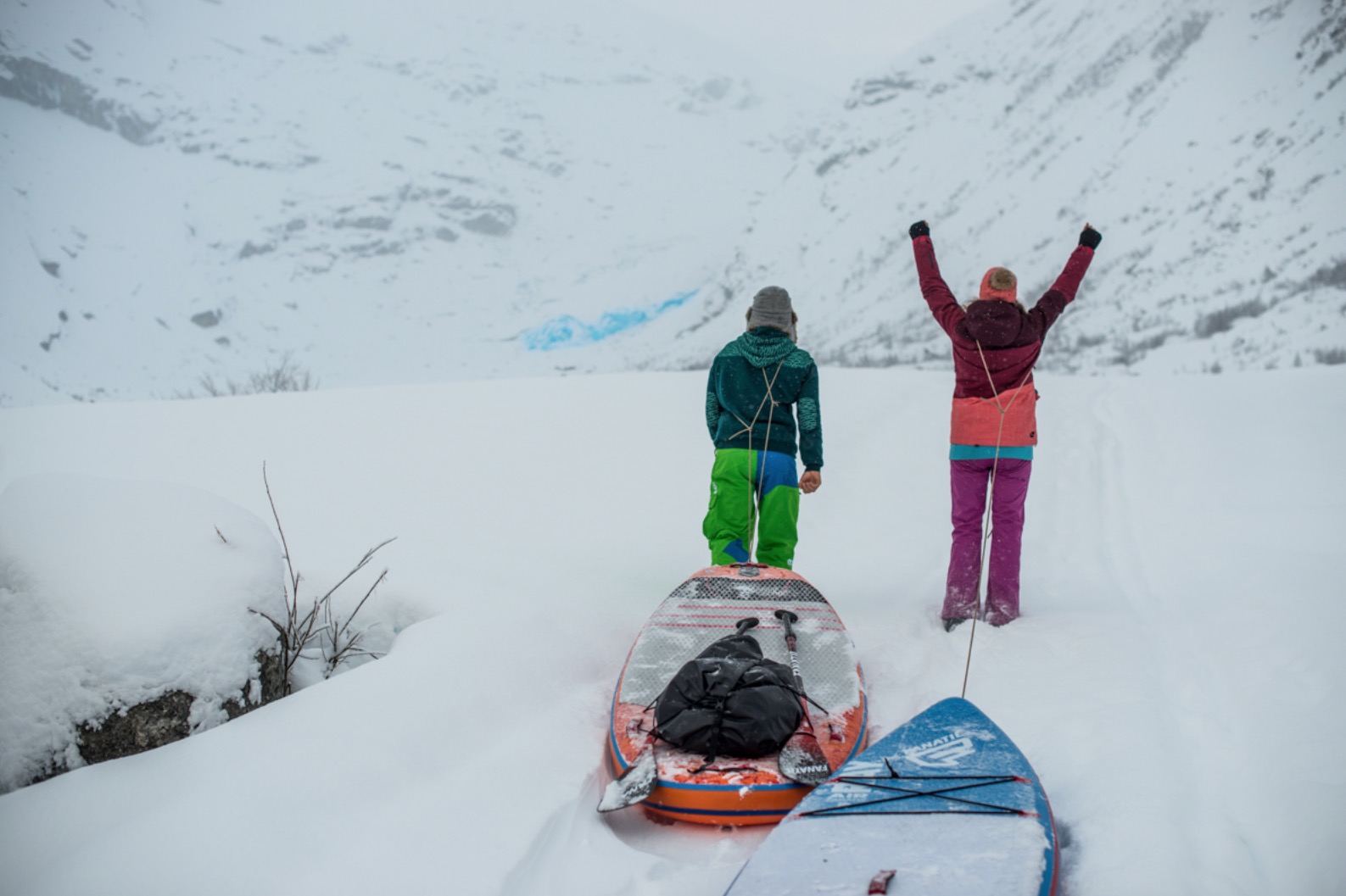 Eventually they returned to their camp without paddling, but with 14km of walking through deep snow. The weather changed, the temperatures dropped and it started snowing. Totally hungry and exhausted they arrived back at the car. Even if the conditions pushed them close to their limits, their call for adventures was unrestrained.
The way back home guided the team along the coastline, where they found some nice swell arriving from Scotland. Even minus 11°C could not keep Kai away from SUP surfing those perfect shoulder-high waves with his Stubby, which was another new experience for him.
But after all, the rough nature and cold did not stop the two paddlers but opened their eyes once more for the versatility and passion of SUP. They are looking forward to many more SUP adventures in landscapes no paddler has seen before!
Photos : Lars Jacobsen
Video : Maximilian Stolarow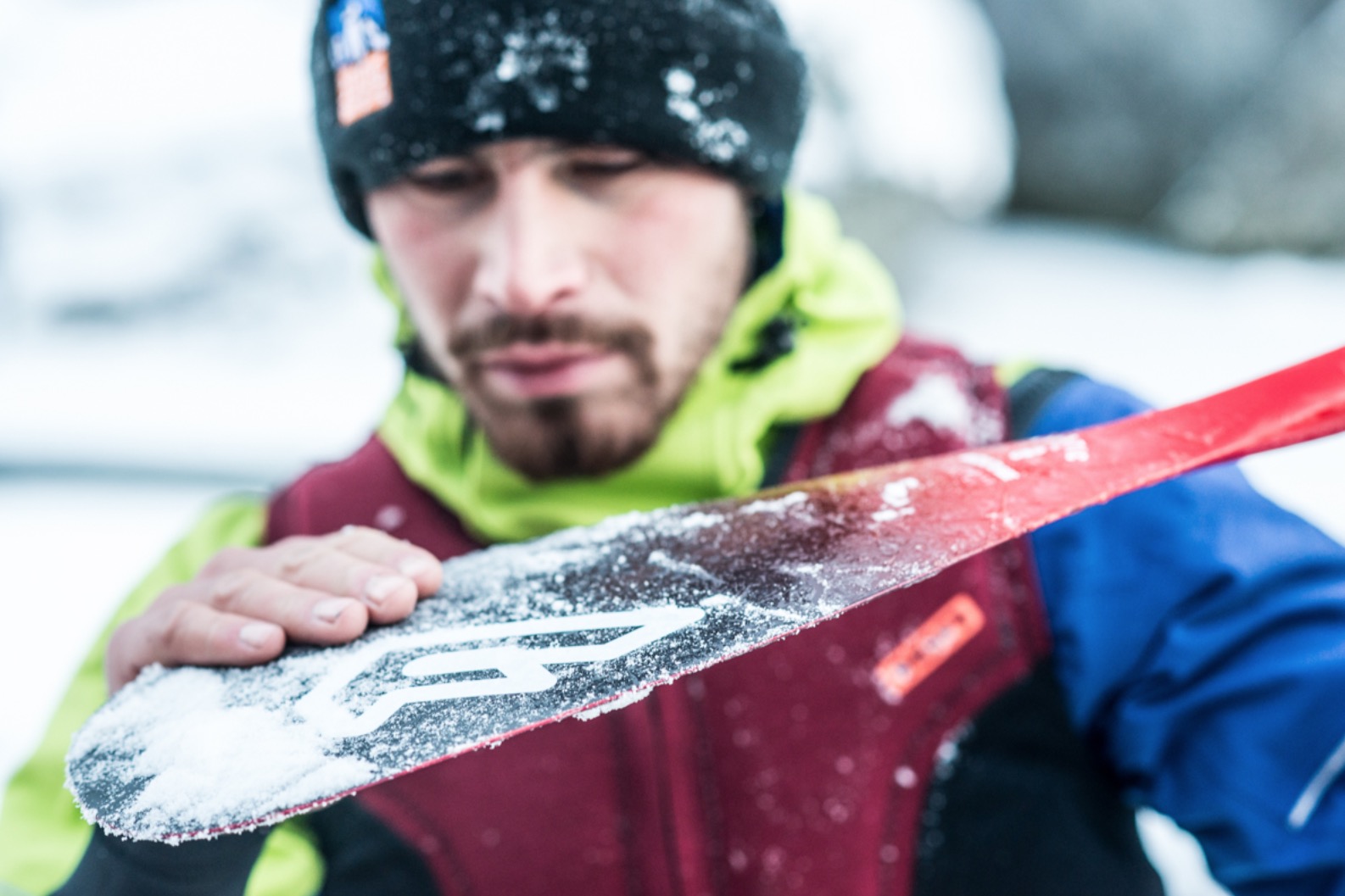 Interview with Kai:
How did you get the idea of going SUPing in most icy temperatures?
Oh, anyone can do it in summer/warm temperatures. We just wanted to try something different. It certainly has a lot to do with our desire for adventure. Norway is not a standard destination but overwhelming. We paddled in a solitude, a dead silence, something we have never experienced before. We were on the Sogne Fjord, the longest and deepest fjord in Europe, where we did not even meet a fishing boat. Left and right there were massive cliffs – simply amazing.
What equipment did you take?
Very warm clothing, thick wetsuits and our drysuits. And of course our inflatable SUP boards which are practical in many ways: light, handy, but also more robust than the hardboards.  I had the Fanatic Ray Air Premium, a great touring SUP, about 11 feet long and quite wide. Having good stability allowed me to look at the beautiful landscape and not be too focused on paddling.
Could you paddle everywhere there?
Many lakes were frozen or only partially open. At the glacier we had to pull our boards behind us over the surface of ice. This was also a tremendous experience. The blue colour of the glacier was outstanding and you could already see it from far away. And in Stavanger seaside I surfed with my Stubby Wave SUP at minus 11 ° C in shoulder high waves. That's what I love so much about SUPing: diversity.
Would you recommend Norway?
Absolutely. I would go back there any time – but next time maybe with slightly better preparation! This trip we decided quite spontaneously. We googled the destination, organized the trailer, packed our gear and after three days we started. The weather forecast really looked like it would be a little warmer – but it was not. Those more sensitive to the cold should perhaps not sleep in a tent, because keeping the temperature warm is quite difficult. But there is also nothing better than waking up on a fjord in Solitude, that´s for sure.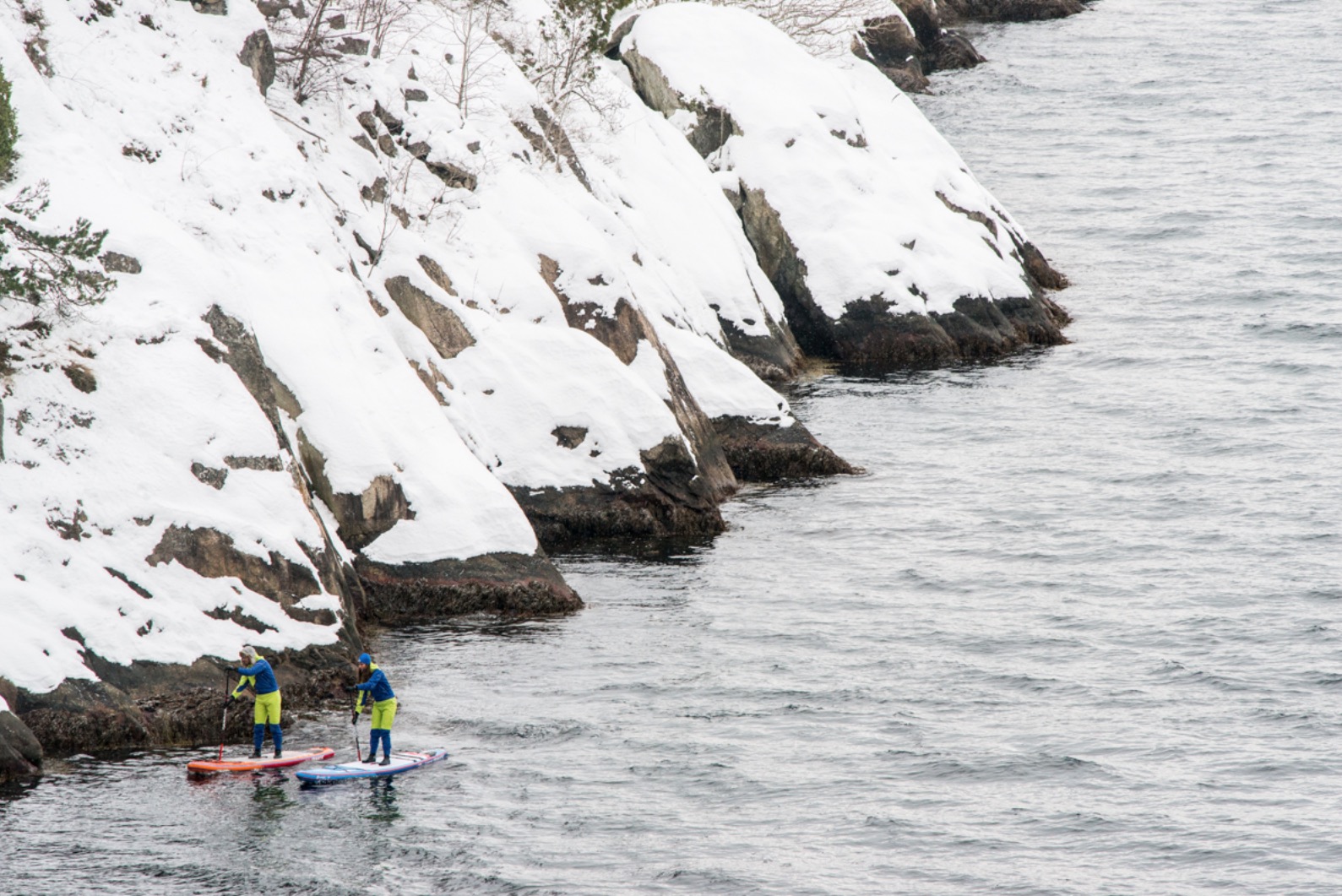 So get planning, grab your iSUPs and go exploring. You'll be glad you did!
For some inspiration check out more SUP travel features on SUPboarder. And find out more about the Fanatic inflatable boards here.