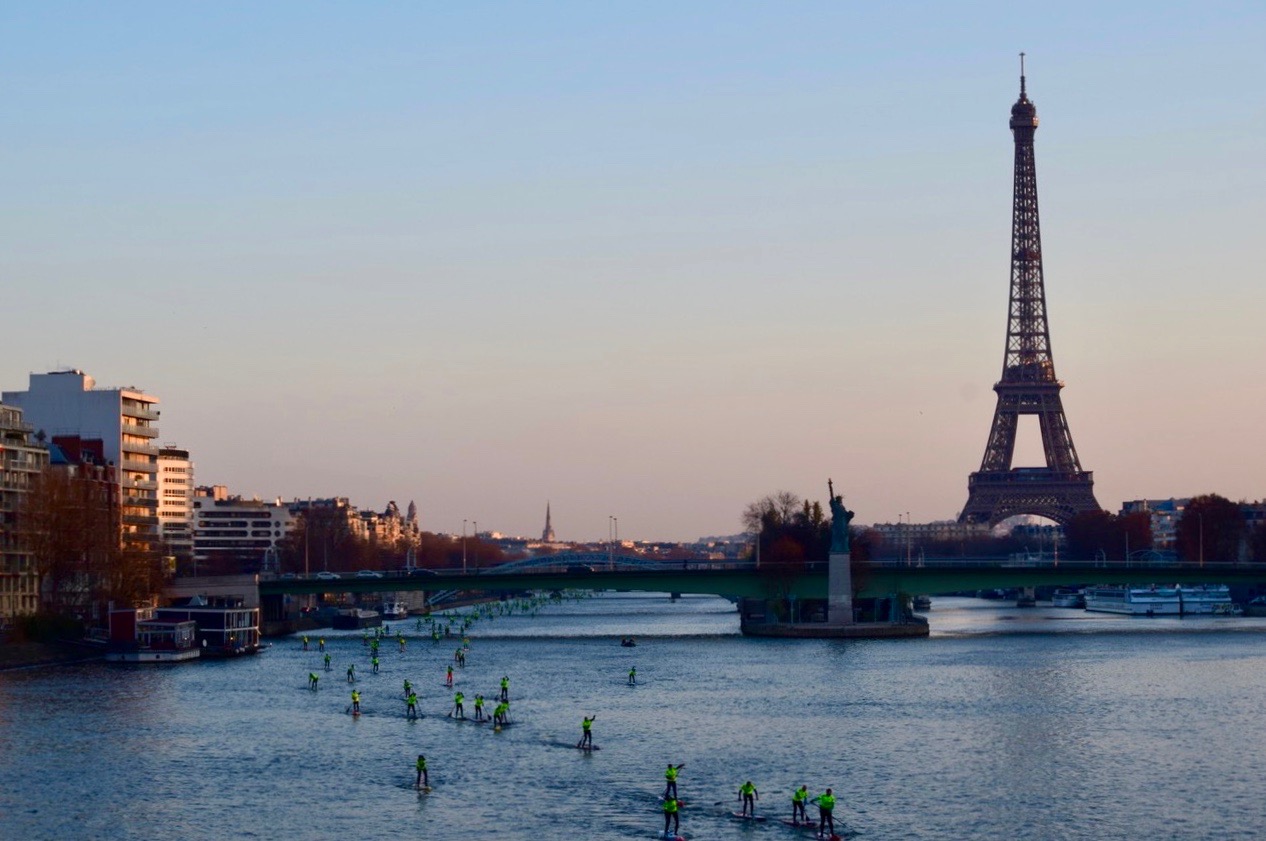 Every year, hundreds of paddlers head to Paris to take part in the 'Nautic SUP Paris Crossing.' The 11km leisure course & 14km pro race course which follows the River Seine through the heart of Paris, past the Eiffel Tower and many other great monuments is certainly an opportunity not to be missed. This year South Devon paddler Crispin Jones, was one of the lucky 600 participants to be chosen to line up on the frosty start line on Sunday 4th December 2016 and be part of this epic race. Crispin gives us a great account of the day and explains why it was worth the wait!…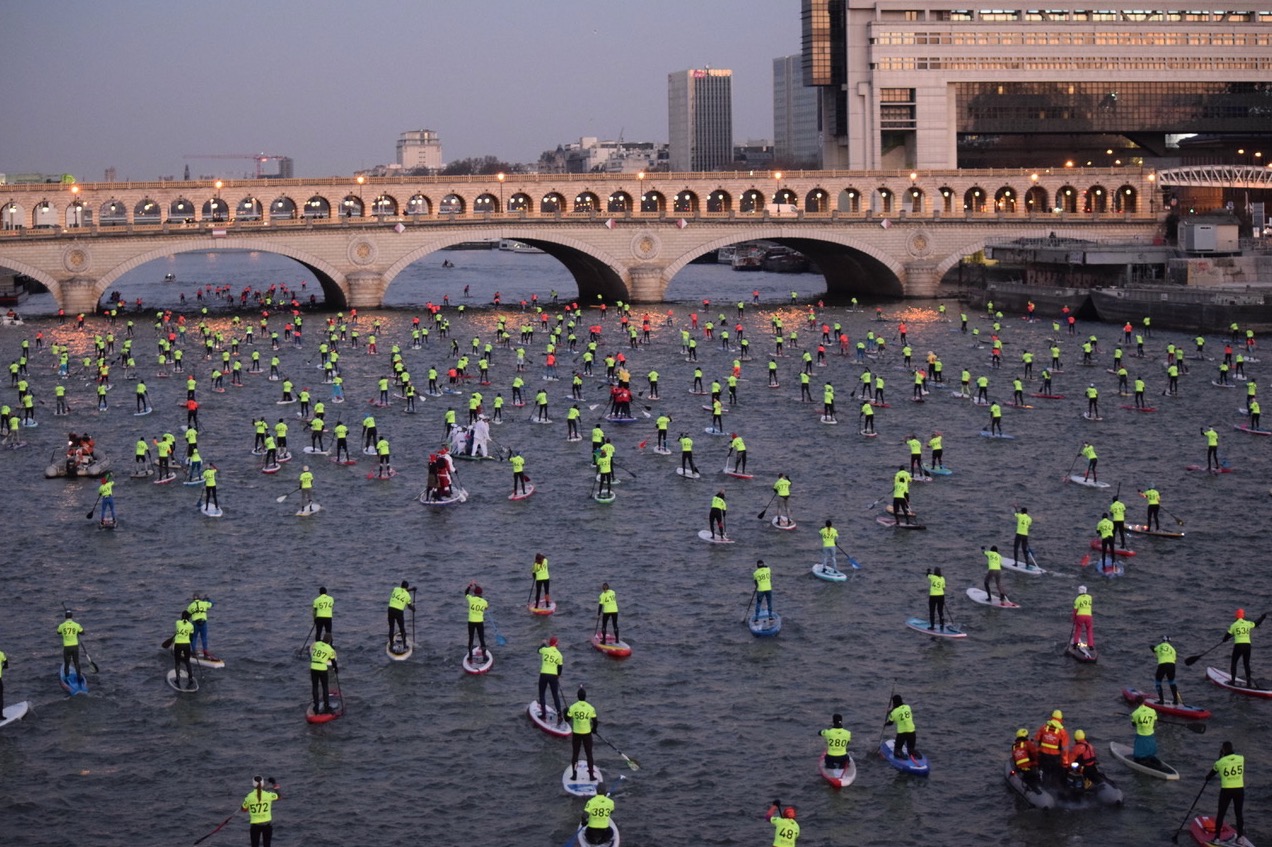 It's taken 4 years but finally I have competed in the famous Paris Crossing! The previous 3 years I was not quick enough to register for one of the fastest to sell out SUP events in the world. This year however was slightly different. The organisers changed the format so regardless of when you signed up it was always going to be luck of the draw. Just wanting to be part of the race itself I opted for the leisure class as it had 400 slots up for grabs as opposed for the 100 open pro slots, 100 were also pro slots for invitation only.
The SUP event is actually part of the Nautic Paris Boat Show but certainly seems to be doing well for itself hosting 600 paddlers from around the world to take part in the unique chance to paddle on the Seine, something that is prohibited the other 364 days of the year. If you have a real passion for the water it certainly is a great opportunity to see lots of interesting stuff, from windsurfing, canoeing, kite surfing, engines, wave pools, motor cruisers, maybe the odd SUP or perhaps your next yacht to sail off around the world on.
Anyone that has been to any races knows that it takes time to get a board prepped and ready to get on the water, so credit to the organisation for getting the mammoth task of 600 people to be ready on the start line the other side of the city with their gear before 08:00 on a Sunday morning.
After a bit of a panicky Saturday with my flight delayed for 3 hours and thinking I'd miss the sign in deadline of 5pm I was finally in Paris and launching onto the Seine with the sheer mass of other paddlers. It was a chilly start to the day with a light north easterly wind making it feel even colder. Even I wasn't wearing shorts… that's just how cold it was!
Still in the relative darkness it was time to go, so some way off the start line amidst hundreds of yellow shirts I got down to the task at hand. What had seemed like a picturesque and calm river soon turned into a boiling torrent of choppy water. The first 4km of the race was actually fairly challenging trying to stay upright. It meant that it was difficult to get the power down, bracing paddle strokes were common in order to stop me from taking an icy plunge into the Seine, and even witnessing others falling in made me feel chilled to the core. Around the 4km mark though it settled down as the pro fleet turned to do a lap around the Ile de la Cite, where the Notre-Dame overlooks the water, the pro fleet got the pleasure to paddle passed it twice though. With the water slightly less of a roller coaster I could gain more speed and really try to pull back some places from my bad start. I guesstimated some 120 paddlers were ahead of me at this stage and just kept focused on picking off group by group.
After 10 minutes or so of overtaking small clusters of people bib number 306 Laurent Chenivesse came passed me at a good speed. His hard board made good use of the smoother conditions now and so I paddled hard to get on his draft and the speed increase was really noticeable. Although the whole course is very picturesque the highlight was always going to be when the Eiffel Tower came into view. Thankfully due to its size you can see it for a good few km of the race so no chance to miss it even if you are concentrating on drafting.
Although making good progress drafting Laurent it wasn't for as long as I had hoped, as a boat came passed at a serious rate of knots and the wash meant I lost the draft. But it was good while it lasted and I continued to pip past as many people as possible under my own steam once more, A final surge to beat another 5 competitors meant I placed 31st in the leisure division and 3rd international in a time of 1:04:21. All in all, a great time to be had at this race. It is well organised, and there is plenty to do and see whilst on and off the water.
I'd like to thank Starboard, Tushingham, TeaPigs and Onit pro for their continued support and Red Paddle Co's equipment for safely seeing me across the line. 12'6×28 Race and 3 piece alloy travel paddle. Remember if you're down in South Devon pop into Waterborn at any time for a chat. Thanks for reading and see you on the water!
Words – Crispin Jones
Photos – Katy Round Smith (Waterborn)
If you're into racing or just want to have the opportunity to paddle past the impressive Eiffel Tower then the Nautic SUP Paris Crossing is definitely a SUP event to add to your 'to do list'!  With 600 paddlers taking part you can be sure there'll be an amazing vibe on the water, aswell as amazing surroundings.  A race not to be missed! Well done Crispin.