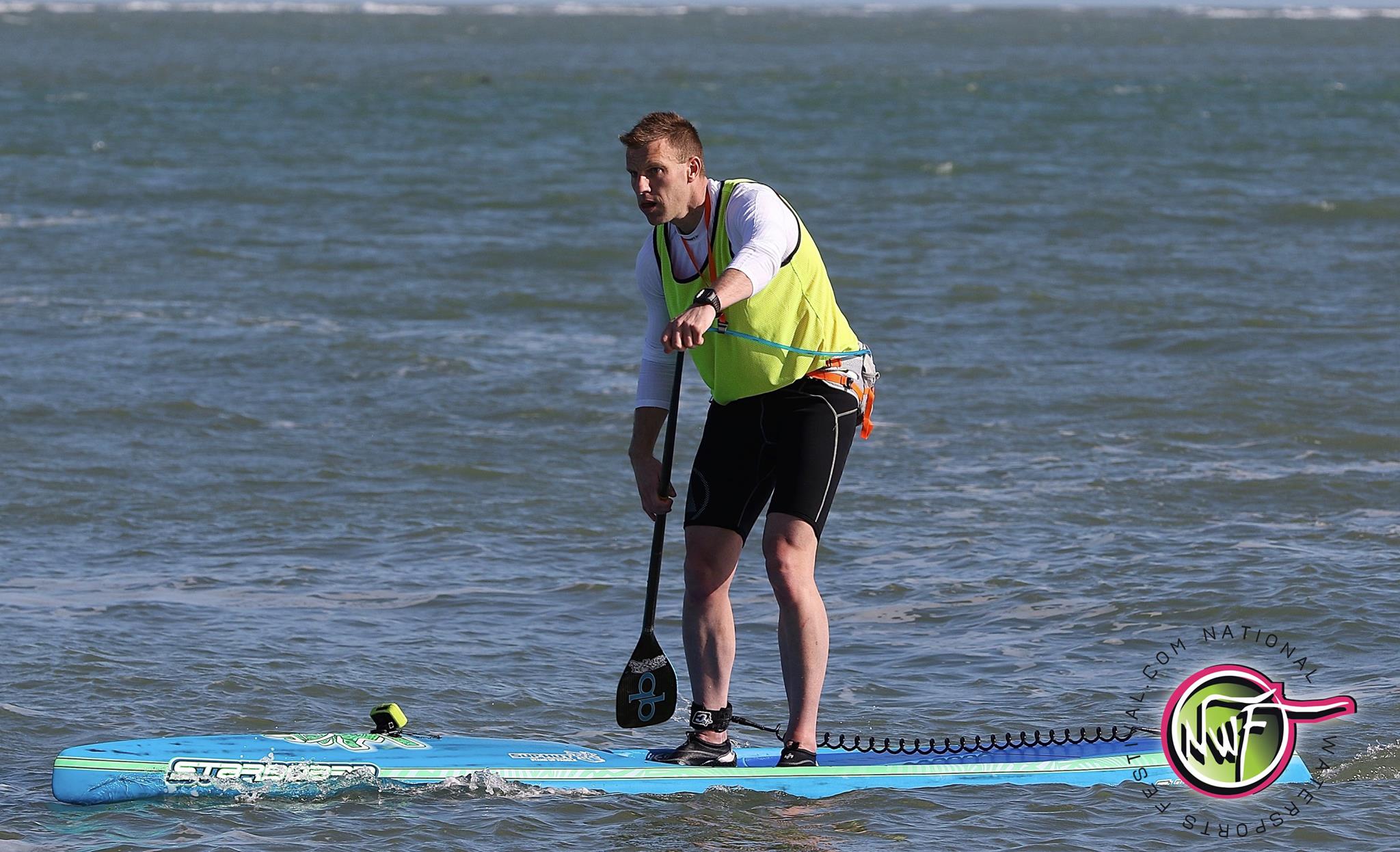 Every year Hayling Island provides the backdrop for a 14 mile challenge, originally a windsurfing event it has grown to include outriggers and more recently SUP.  Conditions for the 2016 event, held on Good Friday were ideal for SUPboarder contributor Dr Bryce Dyer's first attempt at the round island challenge;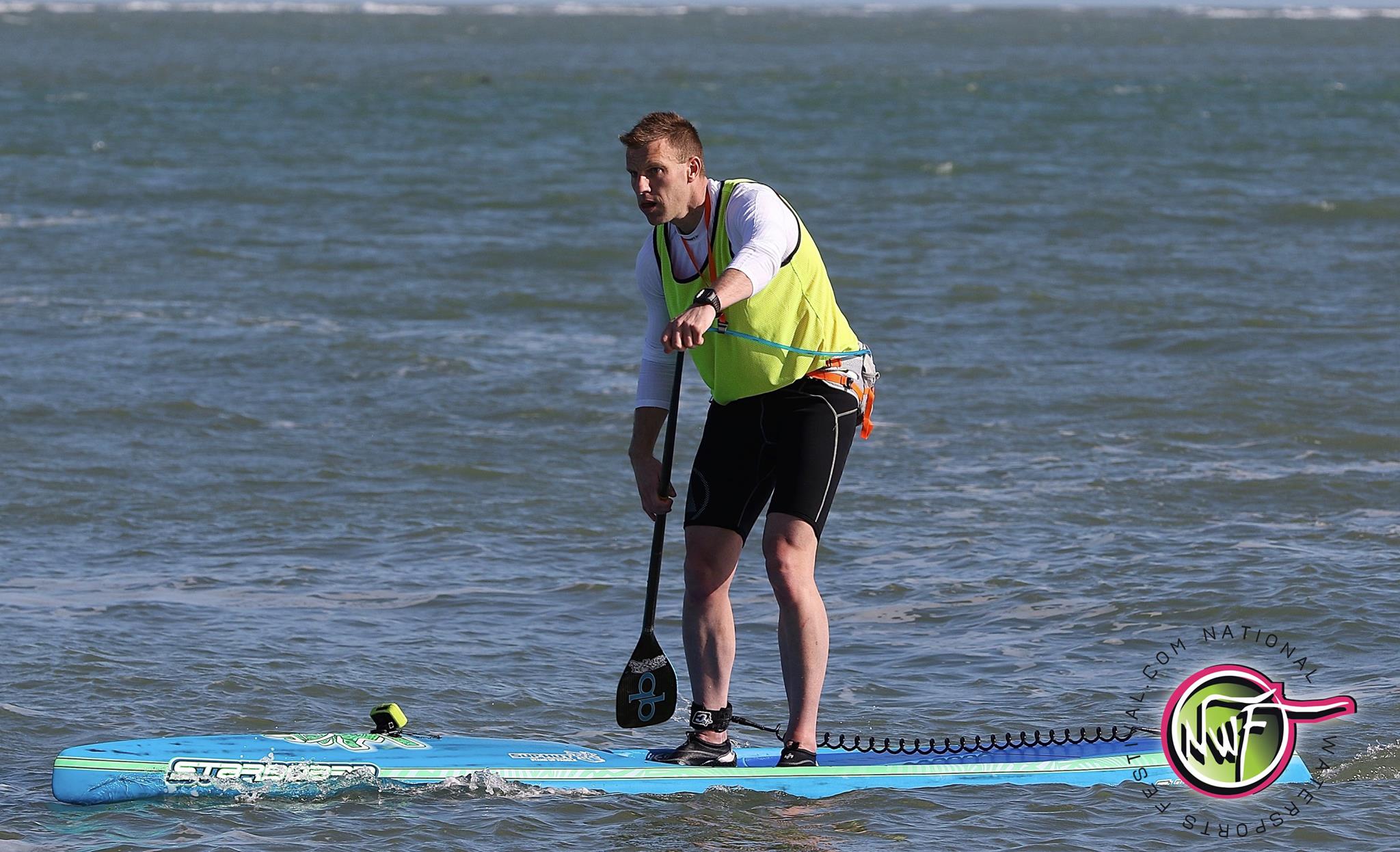 With the race choices for a SUP race in the UK typically polarised between an open water affair or the calmer waters of a river or lake, it's great to see that the race calendar is starting to provide the odd unusual choice. If you have a board, you fancy a challenge and going longer is your thing, the 14 miles of a complete anti-clockwise circumnavigation of Hayling Island might well be what you are looking for. If not, well, read on because I don't charge by the pound for this kind of insanity that, like a pair of trousers bought straight after Xmas, I personally underestimated the size of.
Hayling is the spiritual home of windsurfing and going round this island (located just to the east of Portsmouth) has formed the basis of many craft races there for decades. SUP's were invited for the first time last year which saw a small number make it round. The race itself is an oddity and with its changing weather and waters, requires some degree of strategy to its completion. For example, one side of the island is generally quite sheltered and would lend itself well to a flatwater board. However, the final south facing leg is in exposed open water which might lend itself better to use of a board that is a little more conservative in its width and its handling. Then there are the tides – just positioning yourself 20 or 30 yards either side of someone else could see a little more (or less) current induced speed. It was a lot to think about. Come to think about it now, I wish I'd written that down at the time.
This year saw a large field that was approaching 50 paddlers with about the same number of windsurfers plus 9 six man outrigger canoes. Incidentally, one of the OC6's was filled with the current cream of UK male 14ft SUP paddlers and, at a glance, looked similar to getting 6 gorillas riled up on sugar, sticking them in a wardrobe together and then telling them there was only one banana left. Watching them leg it off the start line appeared to be the perfect marriage between athleticism, excitement and aggression that would likely require at least two weeks of yoga to calm them all down. It was an awesome sight.
For those of us on the boards though, there was plenty of diversity in the equipment being used with everything from short and wide inflatables to long and narrow sprint boards. Likewise the same applied for the course. Other than the 'gold' full circumnavigation, there were also 'bronze' or 'silver' shorter versions which gave everyone some choice to the level of challenge they would want. Going by the start I had later, I'd wished they'd have had a 'tin' version which would involve me paddling 100 yards to the car and then sulking until someone was foolish enough to ask me what was up (only then to be faced with being beaten to death by my own paddle).
As for the start itself, our start time in particular the conditions saw a little confusion with many of us not sure whether we'd actually started or not. I'd compounded my own confusion by deciding to get mixed up with a few yachts (which was a bit like a hobbit picking a fight with Godzilla) which saw me end up bobbing around chaotically and waving goodbye to everyone else whilst I was still trying to get my act together. By the time I finally got going, I was down in around 25th place, had conceded a couple of minutes of decent paddling to the leaders and I was thinking whether it might have been more prudent to bring a week's worth of packed lunches for the length of time I could be out there.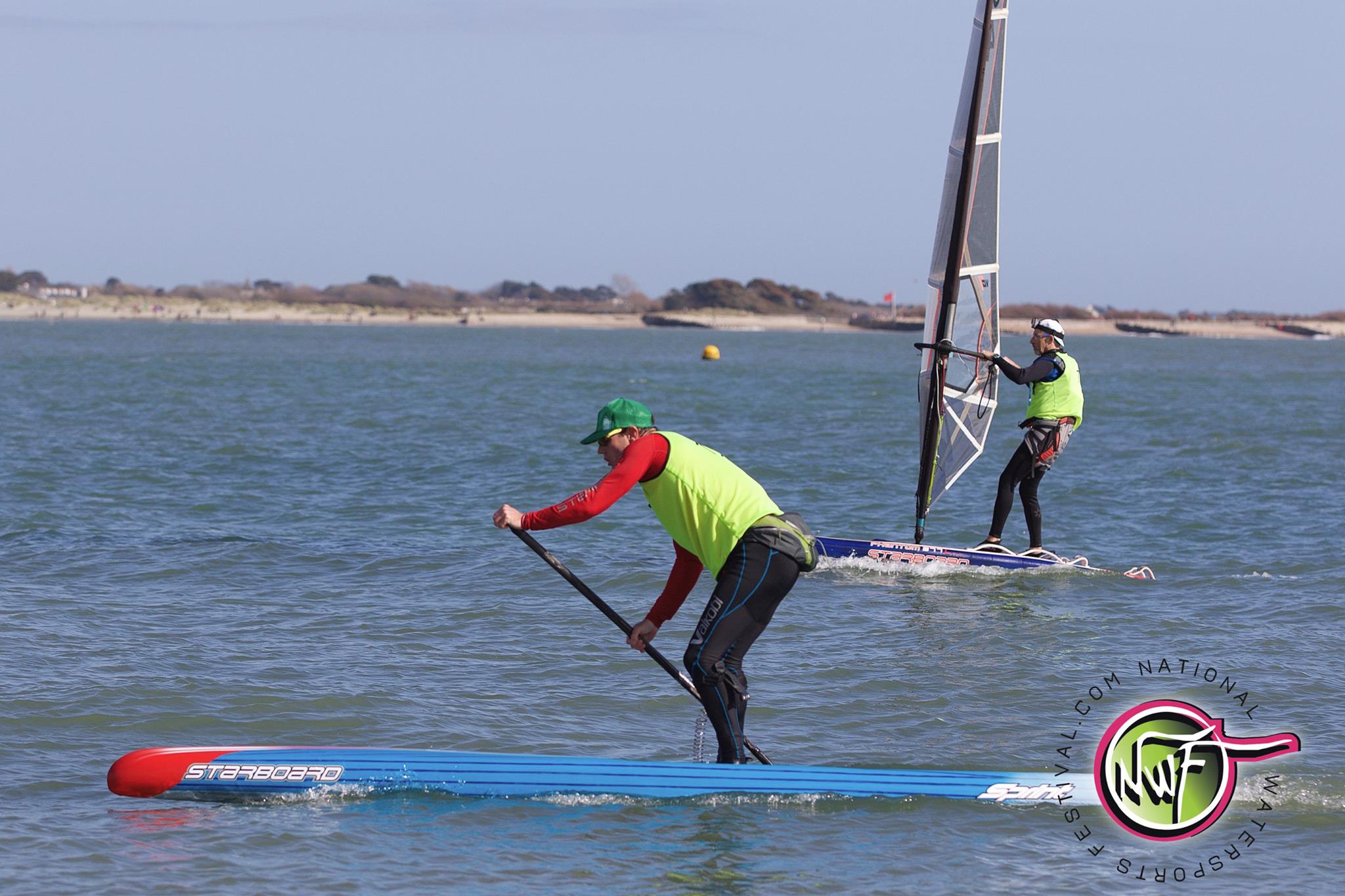 It took 15 minutes of paddling before we finally cleared the chop and busyness of the main shipping lane and to be fair, my lungs and sense of balance had also finally arrived at my party so I was starting to see some fast progress back through the field. In fact, like all our great moments of personal glory, there wasn't anyone around to see my awesome display of athleticism (which I was felt was a little unfair bearing in mind half of Hampshire had born witness to my abysmal display of the same sport around half an hour before). With the waters getting calmer I was now holding well over 9Km/h and moving swiftly back up through the field. By the time I'd got over to the far side of the island, I was in the top 15. By the time we hit the end of the final south facing sheltered straight, I'd caught and passed a few including Jimmy Lewis's team paddler Jason Sawyer and Starboard team members Jamie Harman and Carl Thomas and was now sitting pretty in 6th. I rued my poor start as the 2 minute loss would have seen me up within range of the lead group at this point.
However, we then entered the final open water section which was exposed, a little lumpy and with the tide starting to work against us. This was the point whereby I knew that most of my winter spent primarily working on my horsepower whilst not working on my sea legs was going to bite me in the tail. Inefficiency and fatigue did their worst and my result was cramp and frequent thoughts of switching sports to crochet. It wasn't so much the fact there were waves, it was the fact they were coming at you from every direction with nobody letting you know which direction was going to be next. It felt like playing 'Blind Man's Buff' whilst getting fired upon by riot police using water cannons.
It has to be said though, even if you ignore their sheer speed alone, the technical and balancing skills of the likes of Starboard's Marie Buchanan or Paul Simmons to get a flatwater board (with little more width than I have with my shoes) round that island was incredibly impressive and really showcased what classy paddling looks like. Their experience in rougher seas paid off and as the likes of Fanatic's Mark Slater or Tim Harley on his narrow JP both revelled in the chaos, some others abandoned or opted for an early shower. At this point, I was having to spend moments literally on my knees as I was now at the rather embarrassing point that I was finding it rather hard to stand up at all. We all were having problems though and whilst I thought that I would get swamped by those from behind as I tired, in the end I only lost one place and that was due to a huge error I made as we rounded the last point into the channel. Others had clung to the shoreline as tight as they could whereas I'd stayed further out as I thought the surf would be more manageable. I strayed too far out though whereby I then got pinned stationary by standing waves caused by an outrushing tide. Jamie Harman (who had seemed to be making short work of the surf for some time) kept well out of the tide and ducked under me. To be fair, I didn't mind too much at the time as the sports drink had long since run dry, my tank was now empty and I was now motivated by even the delights of knitwear.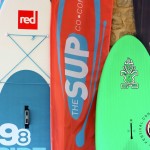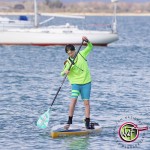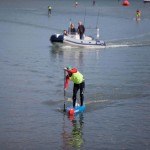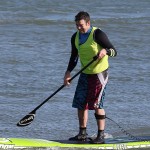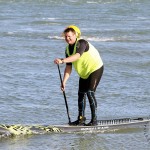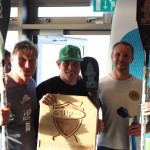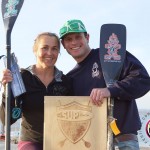 I finally crossed the finish line in 7th overall. I'd made some errors but had lots of positives to take from the race too and plenty to build on. I can only recall two other sporting events I'd ever done over the last 4 decades that I'd personally found so demanding (one was a triathlon up in the Alps that ultimately involved me staggering around like an extra from the 'Walking Dead' and the other was an 800m race when I was 8 when I'd not realised that a crowd-pleasing opening 25 metre sprint might not end well for the remaining 775 metres).
For those that might consider this race in the future, I'd highly recommend it. It is demanding both physically and technically if you go for the full gold course but the shorter course options provide something for everyone and use the mainly sheltered sections of waterways.
Most paddlers would be looking at around 3-4 hours to get round the gold course and it's a great achievement to aim for. The Starboard team riders of Paul Simmons and Marie Buchanan were the first male and female home in 2hrs 25 and 2 hrs 38 respectively. As an aside, women's distance monster Jo Hamilton-Vale was out training then and did an awesome 2 laps of the island on her Naish inflatable. I would have been despondent about this based on the state I was in at the time if had I'd have any energy left to form any facial expressions with.
The event was incredibly well organised with plenty of safety cover. Also for those that want to see what actually happened, all paddlers were issued live satellite trackers and you can now actually relive our race here – Race tracking from Sailracer
For a data junkie like me, this kind of feature was a fantastic addition to the day's experience. I can see this becoming an iconic race over time and a good thing to train for through the long winters in the future. As always, thanks to my supporters The SUP Hut, Quickblade paddles, Nielsen-Kellerman and Red Venom compression wear.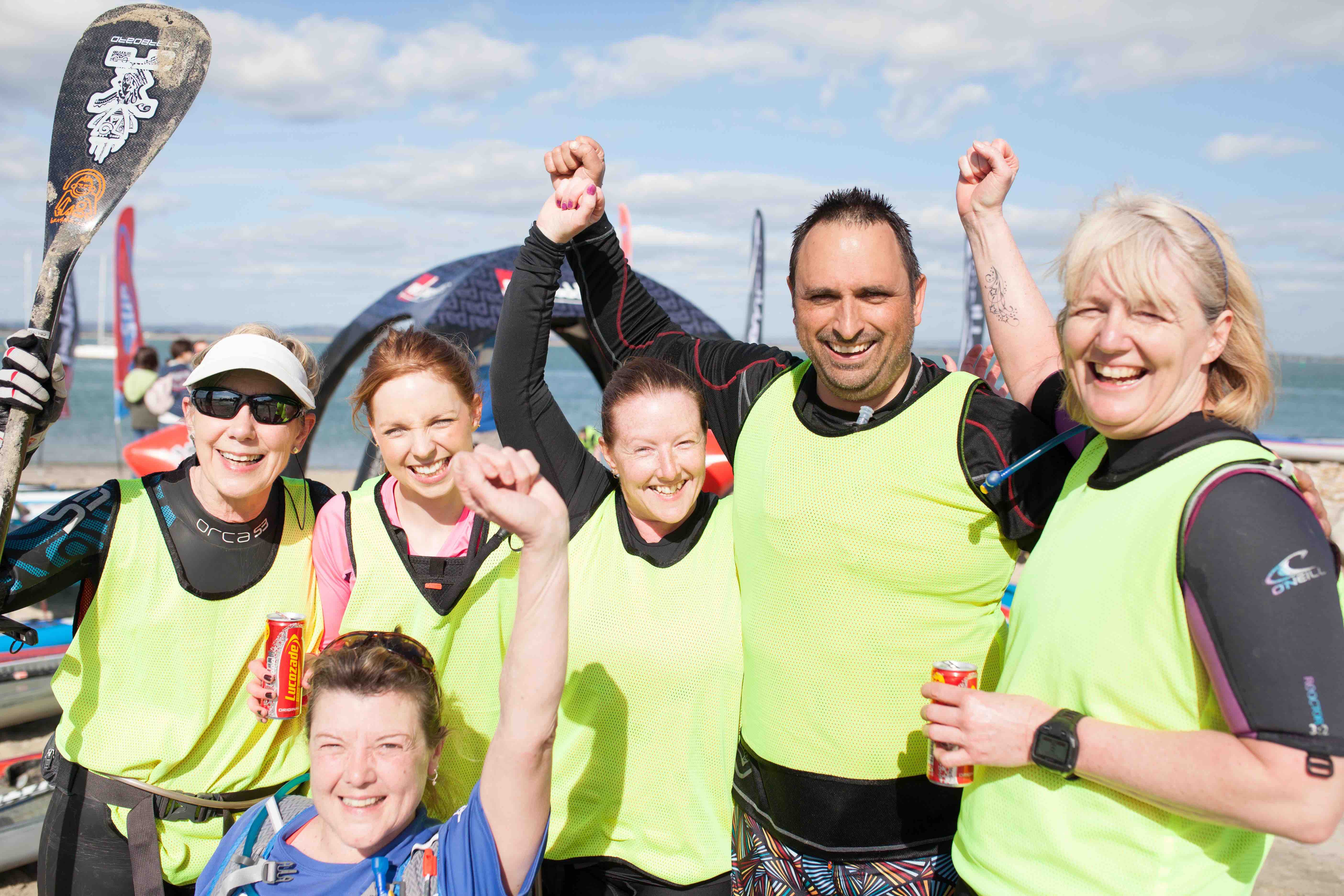 The Round Hailing Island challenge is one of those events that is rare in the UK, challenging paddlers with it's mix of open and sheltered water and variable conditions along the entire route. With such good support for the race and such an active SUP community in the area Hayling will become one of the must-paddle events on the UK SUP calendar. 
The full results from the three SUP events;
the 14 mile 'gold' event – The Starboard SUP Round Hayling Island
the 9 mile 'silver' event – The Red Paddle Co Bridge and Back
the 4 mile 'bronze' event – The SUP Company Fun Challenge
along with the windsurf and outrigger results can be found here and another account of the race, from Starboards PJ Simmons can be found on the Tushingham site, here.
Words – Dr Bryce Dyer
Images – Allan Cross (watermarked with National Watersports Festival logo) and The SUP Company.