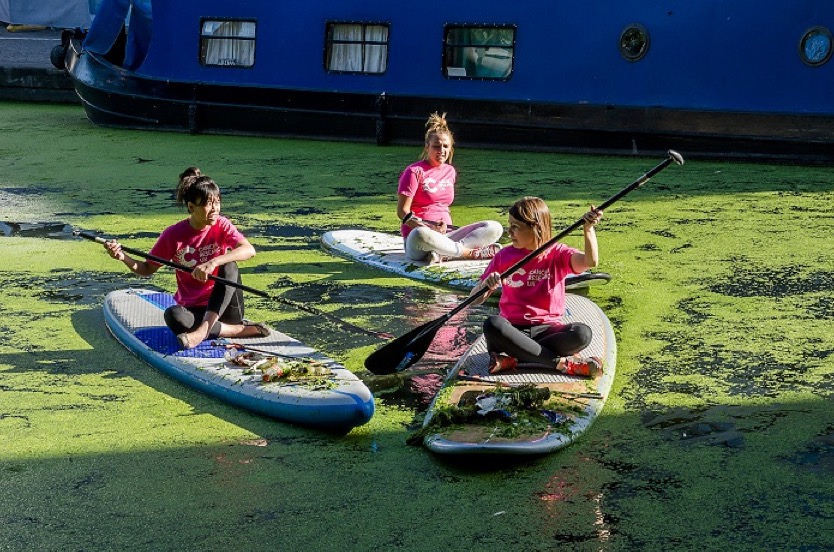 We are increasingly aware of the work that SUP boarders around the world are doing to raise awareness of our impact on the environment, for example the Plastic Tides Team sampling water in the US and with social media campaigns like the One Piece Plan. Catrin Hughes has been working with Active 360 in London on highlighting the issue of plastic on our waterways and here she tells us more…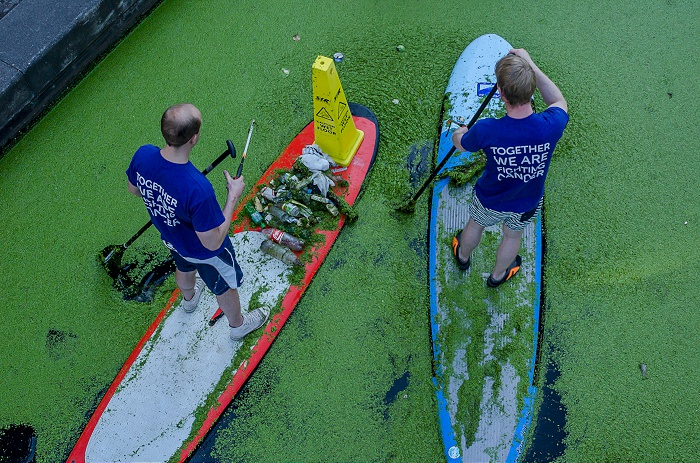 Stand up paddle boarding, whether on the sea, river, lake or canal, is about being a little closer to nature. It's about time away from the hum drum of the everyday and enjoying the beauty of the natural world. However, this is easily ruined as a plastic bottle or carrier bag floats by.
Plastic is not just one use, its forever
From the UK canals to the Indian Ocean, plastic is a huge problem. In the UK over £1 million a year is spent on keeping just the canals clean. This is money that could be better spent on infrastructure or improving services for customers and visitors. The Canal and River Trust are partially funded by the tax payer so in part it is your money that is going to remove other people's rubbish.
"Plastic waste is a growing threat to our waterways and oceans." Said Paul Hyman, the founder of stand up paddleboard company Active 360. "I spend a lot of time on water in very, beautiful places and it saddens me to these places blighted by plastic."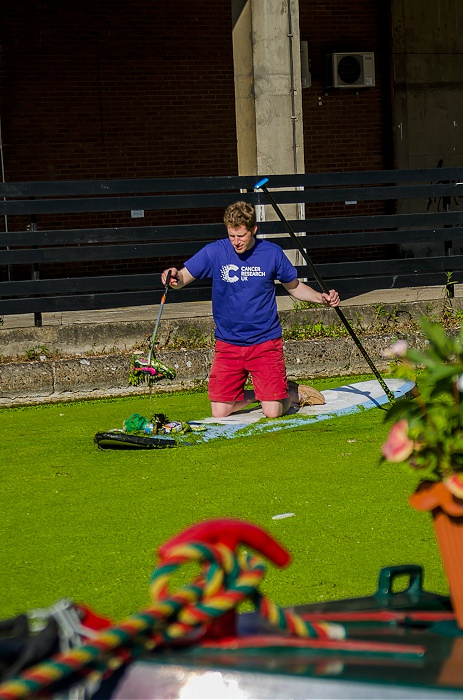 To help the UK canals along a little with their fight against plastic, estate agents Hamptons International – Paddington branch, with the help of Active 360 regularly got on some paddle boards this summer to help clear rubbish from the Grand Union Canal. To them the plastic blight is not just an unpleasant sight on the way to work each morning – it damages their business – because who wants to buy a flat with a view of a plastic filled canal.
'We are always looking for ways to give something back to our residents and work actively to improve the appearance of our areas,' said a Hamptons International spokesperson.
This just goes to show how plastic is not just an environmental concern it can also hit you in your pocket.
The economics
The £1million spent on tiding up Britain's canals is minute in comparison to elsewhere. Local authorities spend over £18 million a year clearing litter which is mostly plastic from the UK's beaches.
However, in this era of austerity there is little in the way of a clamp down on the use of plastic packaging which causes most of this waste or any levy on the companies that over use the material. One measure that could be a game changer is the 5p charge for a plastic bag that came into effect in England in October 2015.
According to waste reduction body, Wrap, for the fifth year in the row the number of plastic bags used in the UK per year rose from 8.3bn in 2013 to 8.5bn in 2014. Before you despair in 2006 annual plastic bag used was 12.2 bn. So it has got better – but it's still a staggering amount of bags.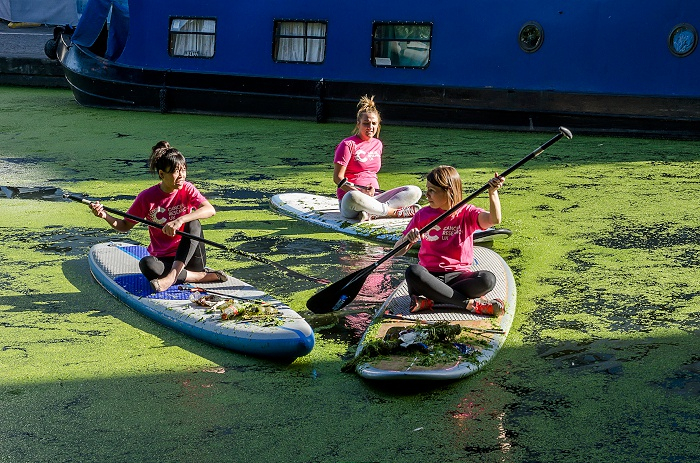 Will putting what is basically a tax of plastic bags help reduced the amount bags we use? If other countries are anything to go by it will. When Wales introduced the 5p plastic bag levy in 2011 supermarkets widely reported a 96% drop in the consumption of single use plastic bag.
Resource minister, Rory Stewart told the Guardian recently that the charge will reduce plastic and help the economy "The charge will also boost our growing economy by delivering savings of £60m in litter clean-up costs and £13m in carbon savings."
But should it really be us, the consumer and the tax payer, that should be footing the bill? If the stats are right then yes, we should at least foot some of the bill.
According to Surfers Against Sewerage (SAS), a charity that lobbies against marine litter 40.4% of marine litter is from the public so maybe we as well as the companies who are obsessed with wrapping everything in as much plastic as possible have some blame to bear.
The environmental damage
The biggest loser in our insatiable consumption of plastic is the environment. No one likes to see rubbish when they paddle, be that on urban canals, rivers meandering through the countryside or SUP surf in the sea but this is just a mild inconvenience compared to what it's doing to our wild and marine life.
Plastic does not decompose. It breaks down into microplastics and it is expected that plastic in this form will be with us for thousands of years. It is this microplastic that can cause most of the problems from the bottom of the food chain to the top.
According to SAS eight million individual items of marine litter enter the sea every day and over 1 million sea birds and 100,000 marine mammals die every year from ingesting or being entangled marine litter, which is mainly plastic.
And its not just birds, fish and mammals that are being affected by this, a study by Ghent University in Belgium found microplastics in mussels and oysters.
The plastic problem just keeps on getting bigger. The Pacific Ocean is the home of the biggest collection of plastic in the world. Known as the Great Pacific Garbage patch it's twice the size of Texas. All this plastic is brought through by currents called gyres.
The tide is on the turn
Despite these frankly depressing statistics the tide is finally beginning to turn and leading the way is California.
SUPing like surfing is a very popular sport in California and the state's tax payers are shelling out a staggering $25million (£16 million) a year on just clearing up plastic bags alone.
This economic cost and environmental cost has driven California to bring in a number of strict measures to restrict plastic making its way to the sea. The state recently signed a bill to ban micro beads from personal care products and the city of San Francisco has banned the sale of bottled water on city property.
These measures may not solve the problem but it's a start if less plastic makes it in to the worlds water ways then we all benefit.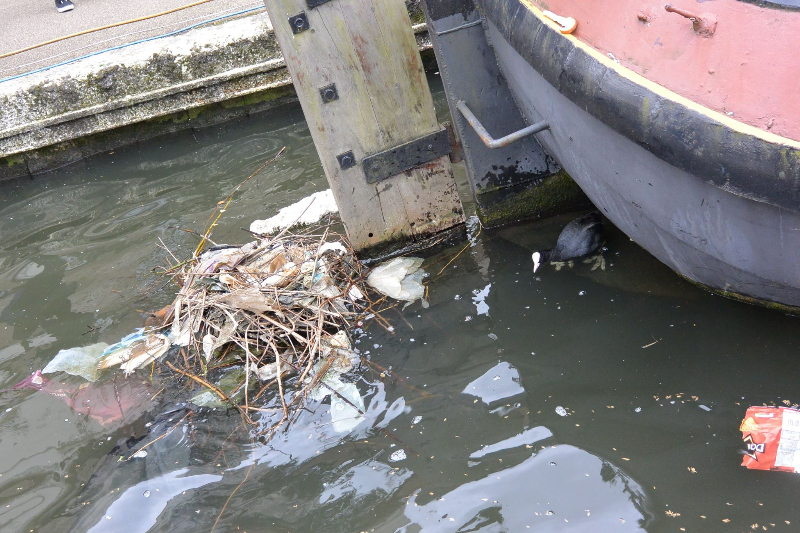 How can you reduce your plastic use?
Avoid buying plastic bottles especially water bottles. Use reusable water bottles. Not only are they better for the environment but they save you money too. You will find reusable bottles in many outdoor, fitness shops and in some supermarkets.
Also we the consumer need to put pressure on manufactures and business to reduce their packaging
"We need to reduce demand for plastic packaging by not buying over packaged goods and putting pressure on manufacturers to seek out alternatives to plastic. Cleaning up waterways are a good starting point as when people clear the stuff up they become aware of how it spoils their environment, " said Hyman
Other ways you can reduce are plastic consumption are:
Use reusable bags and say no when the cashier asks "do you want a bag."
Don't drop your litter. Put your it in the bin or get it recycled. If there isn't a bin take its home with you. It's your rubbish.
Sign up for

Active 360

Canal Cleans
Help out at SAS beach cleans
Words: Catrin Hughes
Small changes to the way we consume plastic are relatively easy to make and if we ALL made them then we could slow the impact that waste plastic has on our environment, not just the litter we see when paddling but the unseen impact on marine life and ultimately, the sea food we eat.