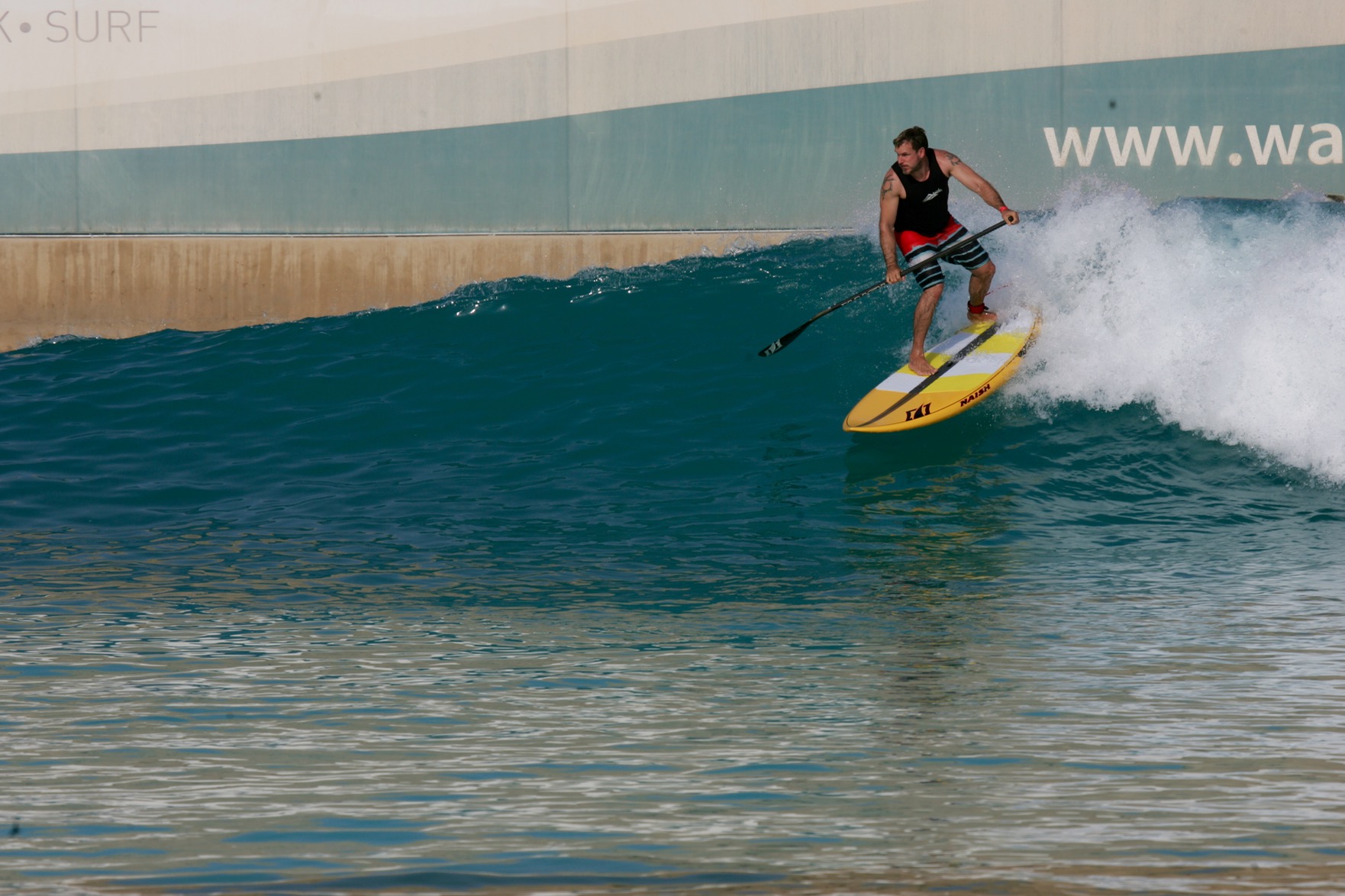 Recently the SUPboarder team embarked on a 'quick surf trip' of 'epic proportions'. And this well executed plan wasn't at risk of any flat spells – waves were booked and guaranteed. Over to Will Rogers to tell the story with some amazing photography from Silver Surf Sports…
WR/ Some plans are hatched through sensible logical decision making, driving us to well structured execution of plans. And some are hatched through, well, way too many people with too many crazy ideas living together on a surf boat in the Maldives for too long! This plan came from the latter! After days of surfing perfect waves in the Maldives, post surf sunset discussions naturally moved on to 'the next trip'. The crazy plan that repeatedly kept coming back into discussion was one to surf not your typical wave, not a freshwater wave or one that was breaking over reef or sand, but to experience the unique man made wave in the United Arab Emirates at Wadi Adventure.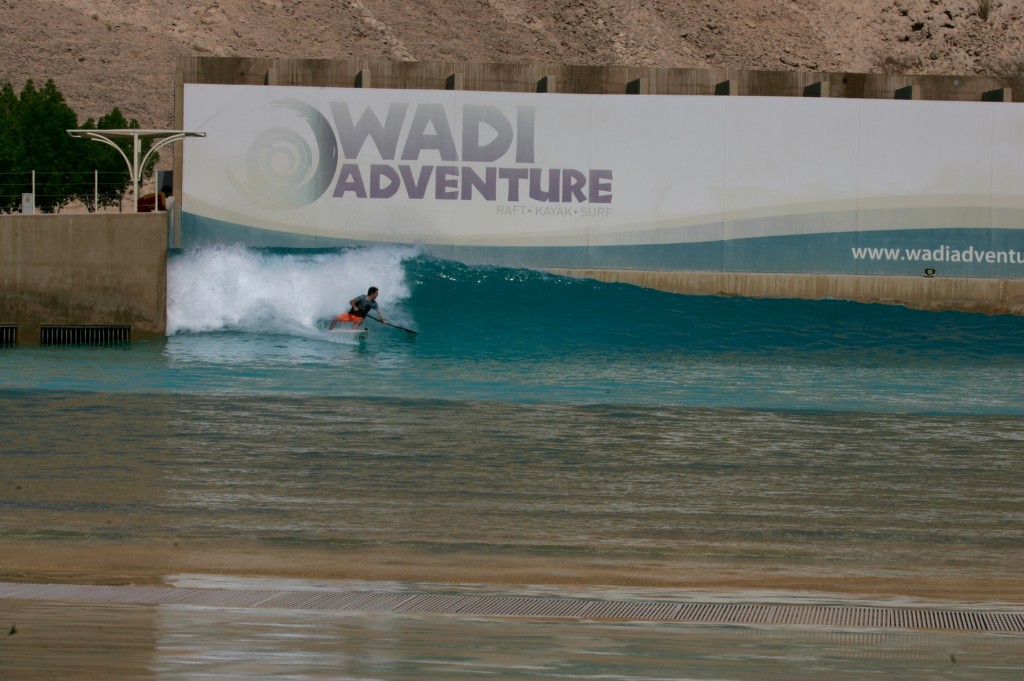 A perfectly peeling head high wave was booked for 10am on a September morning in the arid UAE desert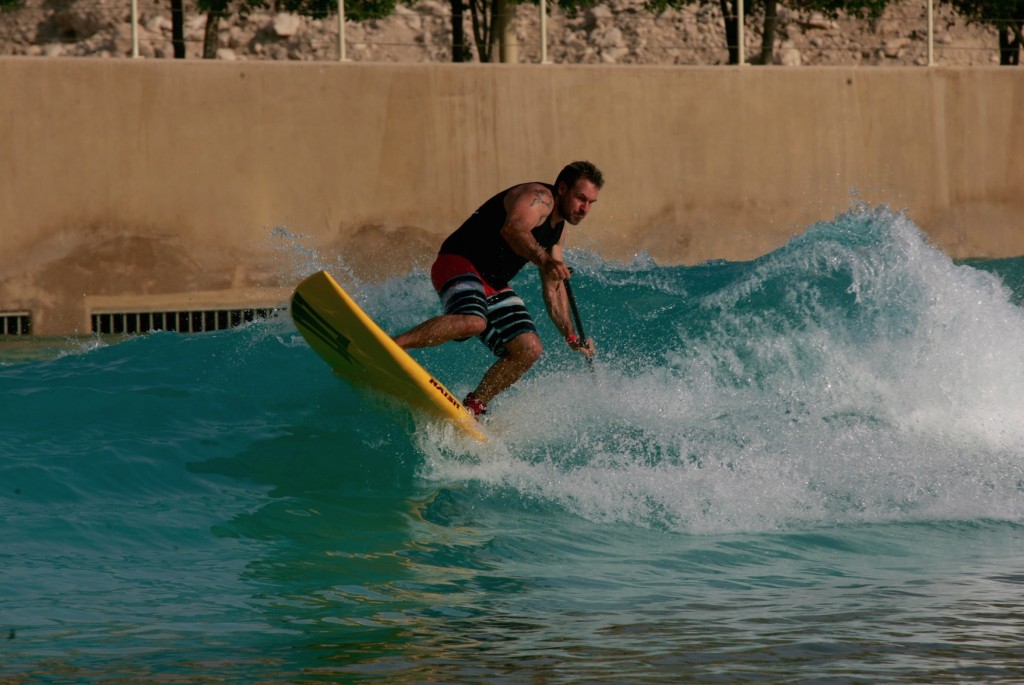 Wadi Adventure offers surfers a truly unique experience, a man made wave built in the desert, miles from the ocean. The ride is mechanical and every wave is the same. Just set the size and direction and then wait for the hundreds of tonnes of water to launch you into your ride. This mechanical experience could present us with a fantastic opportunity. The consistent waves removes one of the factors that makes surfing a wave so incredibly challenging thus addictive, but presents huge opportunities for us to focus on making improvements. Imagine if after surfing the perfect wave, tailored to the size you want, another was going to pop up exactly the same in 90 seconds time. Wouldn't that make improving your surfing so much easier? Tweaking your skills every time through repetitive learning?
Coupled to that, surf trips even close to home can be expensive. With often hours of driving, the cost of fuel, accommodation and food etc… soon adds up. And the waves that are forecast are not guaranteed to deliver – could a long weekend surfing in the desert give us more quality waves per £ than a surf trip in the UK?
Pondering on those two questions the SUPboarder team along with Silver Surf Sports set about booking a trip; flights, accommodation, airport parking and WAVES…. A perfectly peeling head high wave was booked for 10am on a September morning in the arid UAE desert followed by another every 90 seconds, for a total of 11 hours over two days! As crazy as a wave in a desert sounds, there were no gambles on the forecast for this surf trip… it was a sure thing.
No salt thanks…
As the trip grew closer conversations turned to kit – board selection would be slightly different for this trip. Getting hundreds of tonnes of water to the middle of the desert is hard enough, so there's no way it's going to be salty sea water. We would be surfing a fresh water wave, making us question our ability to ride our standard surf SUPs in water where typical board volumes would feel 10% less in the wave pool. To be safe we all took two surf SUPs, choosing our second board to be slightly higher volume than our preferred 'sea water' board. At 65kg I took my larger board, my 85 litre custom Escape, and Jan coming in at 90 kg took out his Naish Hokua 7'10×32 LE and Hokua 8'10 LE (107l).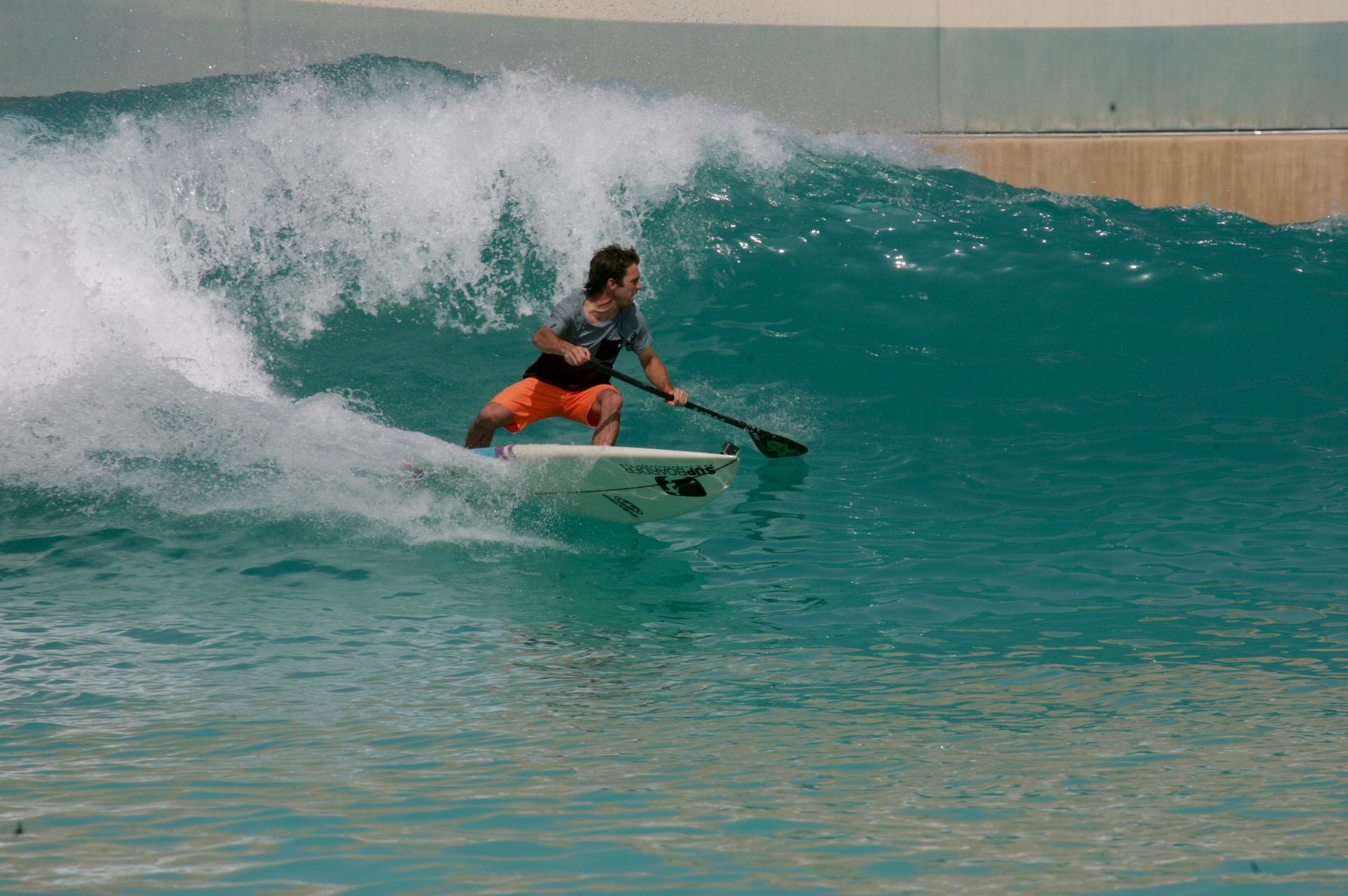 The learning curve…
Arriving in the desert, our crew was understandably buzzing. Quickly setting up our fins and waxing our boards in the melting desert heat we were straight in for our first session. The team at Wadi Adventure met us and explained how it worked. Quite simply, sit in the place marked by a convenient sign and wait for the valves to blow, start paddling, then surf.
I was up first and quickly realised this was not going to be a walk in the park! Straight away the challenge of remaining in a fixed position on my tiny SUP became incredibly evident. The huge advantage of being easily mobile on a 'normal' wave on a SUP suddenly became a handicap. Added to the stressful situation was a 4 metre solid concrete wall just a few inches from me. If I didn't get my board trim right, the wave would pick me up and throw me straight into it! As I heard the first wave coming I started paddling and nervously braced myself for the ride of my life… sure enough I was unbalanced and fell as the steep take off stunned me. Luckily on a wipe out the wave is pretty forgiving, tending to drag you away from the concrete wall of doom.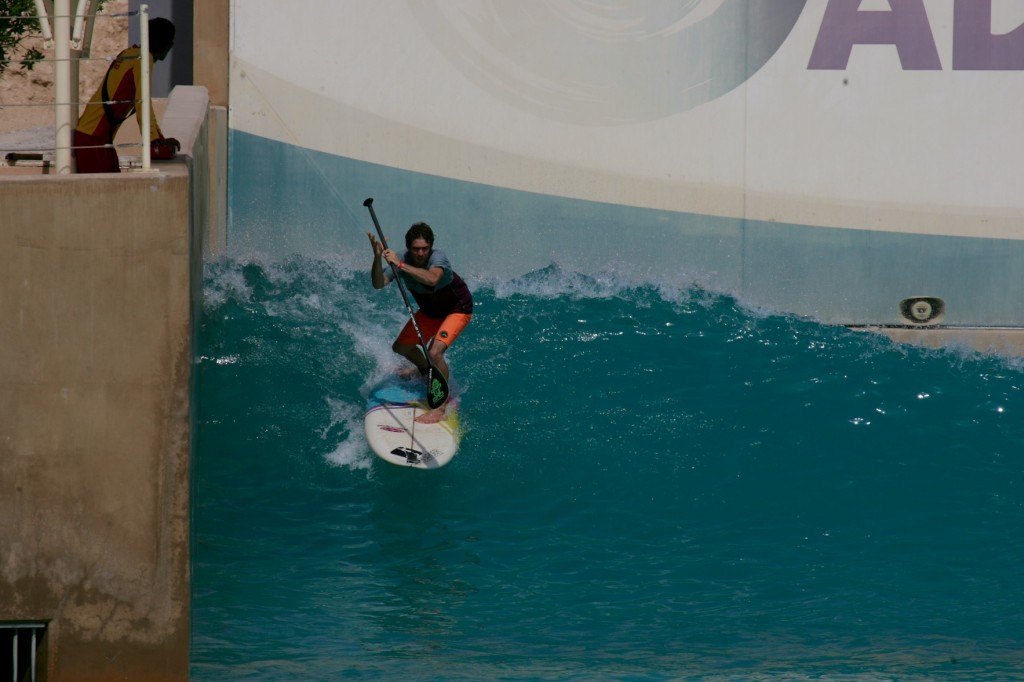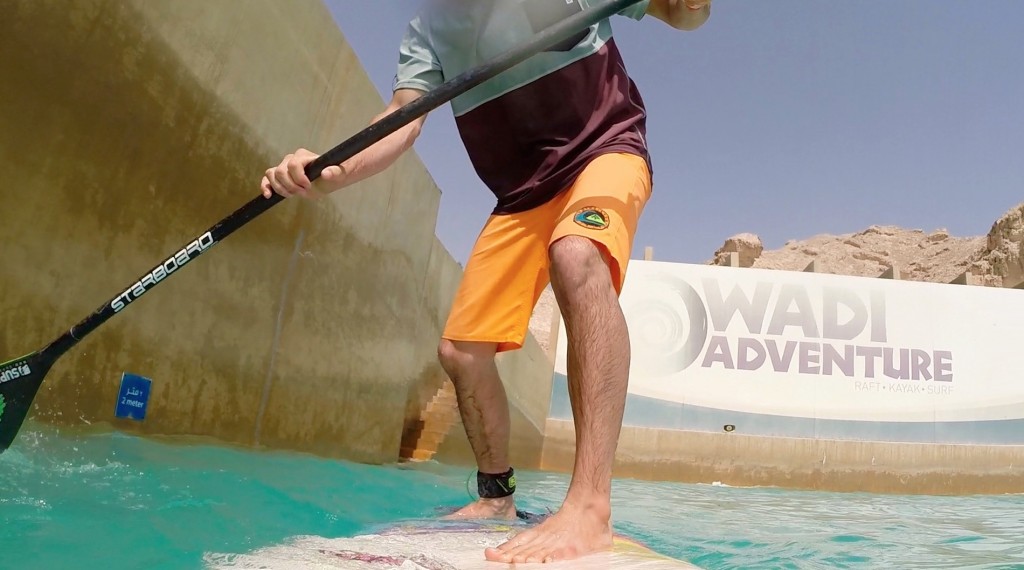 For attempt two, I had to wait just 90 seconds. Revising my wobbly timing and approach to the take off position, and implementing a series of circles timed to 90 seconds, this time I was on it and my expectations were not wrong – this wave was serious fun!
After a few waves we both started to settle in and were quickly starting to learn the wave, focus on improvements and tweaking fins to optimise our rides. The atmosphere was incredible. As we caught waves and tried out moves our group and the lifeguards at Wadi filled the arena with encouragement and healthy banter.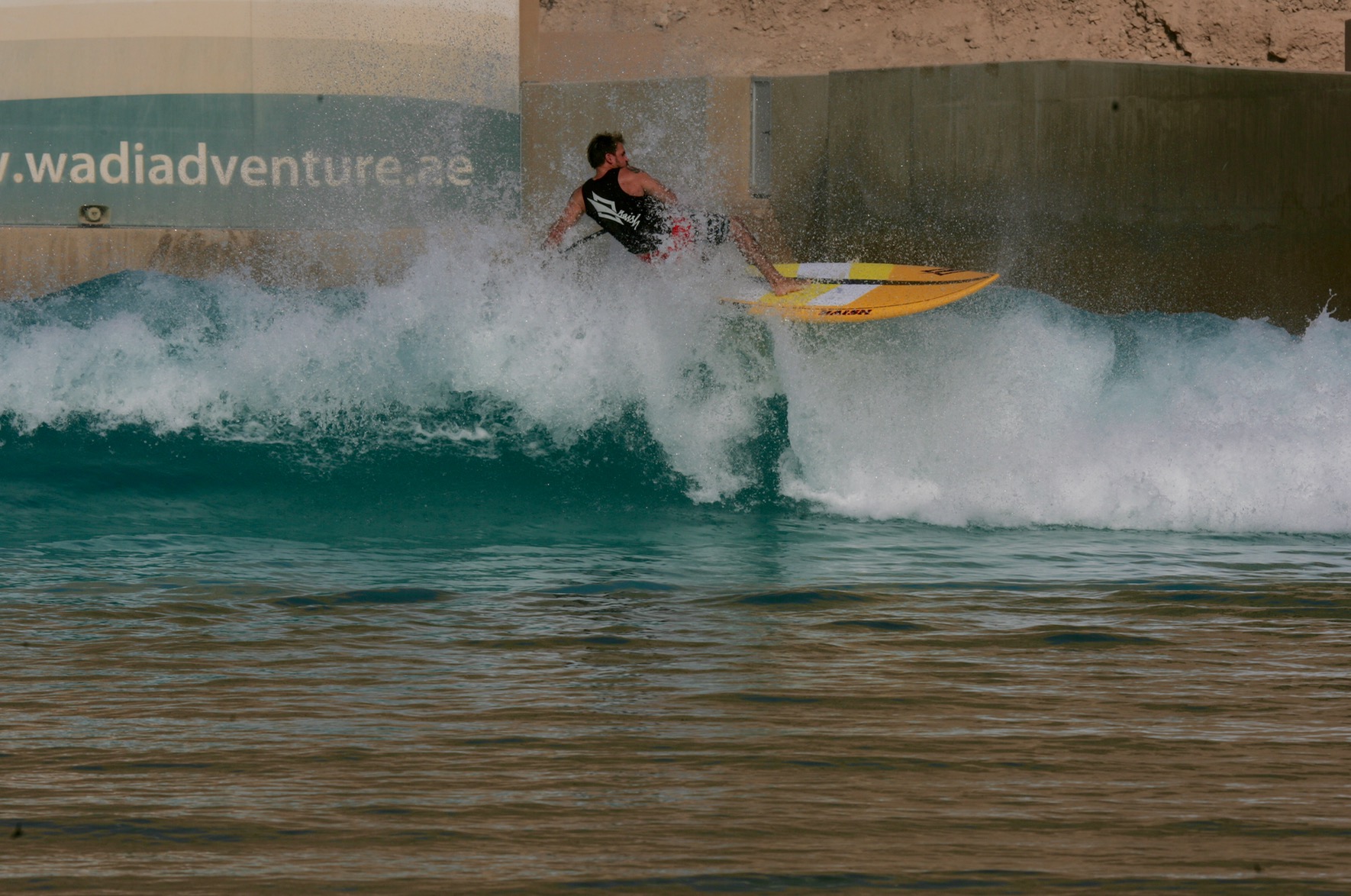 With two of us in the water for a half hour period we took it in turns to take waves, and changed the waves from lefts to right (and vice versa) for each half hour session. This set up worked well allowing me (regular footer) and Jan (the goofy footer) to get the same number of front side waves in, as well as forcing each other to take off backside and master the tricky backside SUP turn. Changing the wave direction took the pumping system some time to reconfigure and therefore alternating the wave between and not during sessions worked really well and prevented wasting expensive wave time,
Moonlit Memories
Probably one of the most insane moments of this trip was surfing in the dark, in the warm evening desert, on a perfect wave illuminated by multiple colours from beneath the water.  It was magical and unbelievable, and we were doing it, on a complete whim. It was incredible!
You can see some of the moonlit surfing and more in this short video;

Every wave is a school wave….
Wadi really did offer us all an incredible learning experience. Removing a huge variable from our surfing and making every wave identical allowed us all to significantly break down elements of our rides and focus on improving. We could experiment with fin set ups in more controlled environments and really see the differences. We learnt incredible amounts about how to generate more speed on the wave, how to effectively engage the rail for a radical turn and how to take off best to drive into that first powerful bottom turn. We videoed nearly all the waves we rode and analysed the footage between our 'booked' waves, knowing that within an hour we would be able to put changes into practice. It was easy to see why top pro surfers make the pilgrimage to this unusual surf mecca with the objective of improving their surfing.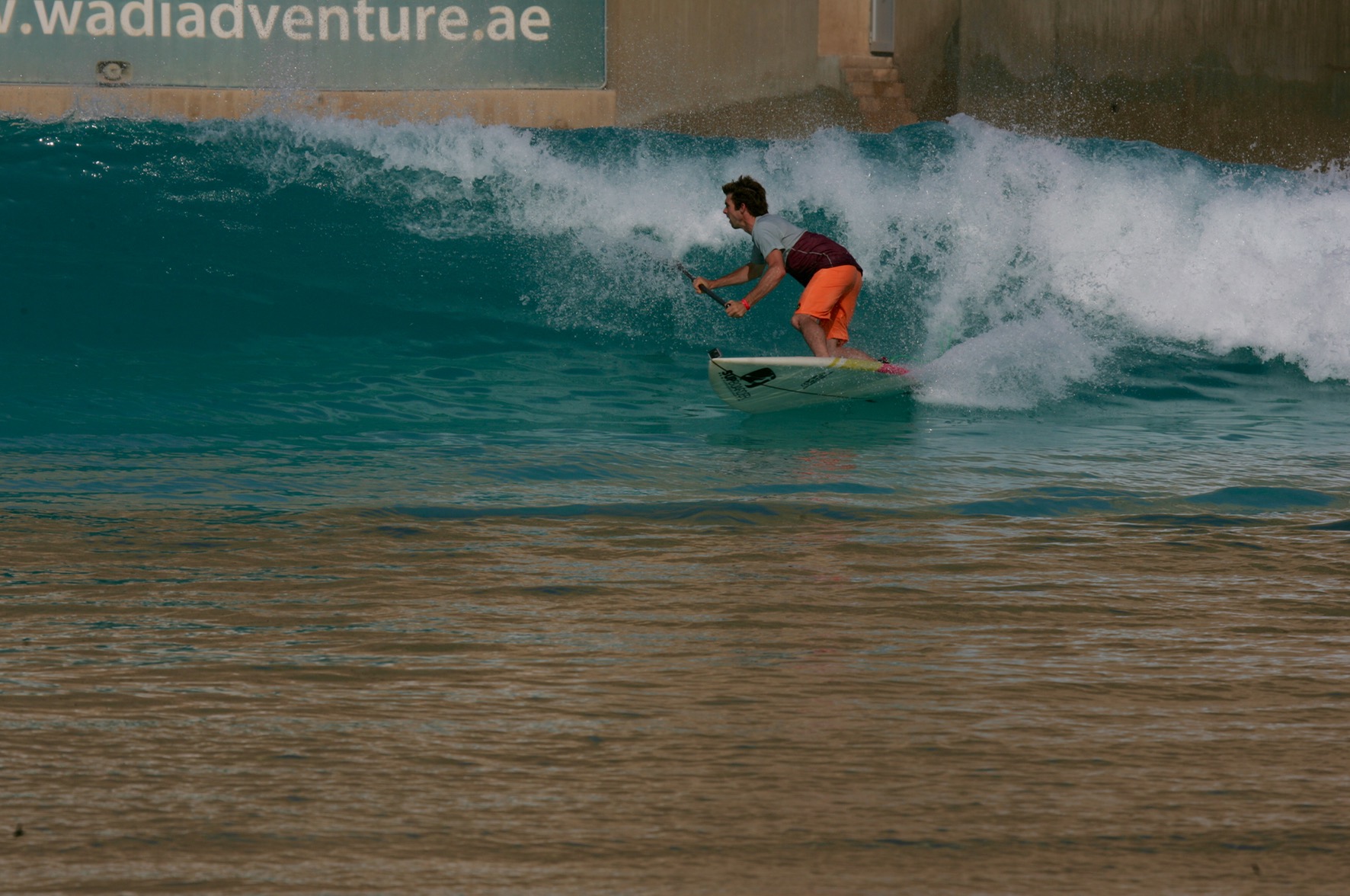 The costs
Lets be honest, this isn't a budget trip, but it is an incredible experience that all of us said we would happily put our hands in our pockets for again. We found great flights with Emirates for £400, hotels were less than £50 per night (can be booked by the team at Wadi), transfers were £20 each way per person (through Wadi), food was comparable to UK prices and there is a great restaurant on site. There are several ways you can book out the pool, but we opted for the most expensive 'private session' at about £200 per hour. With 4 in our group, we split this between us, surfing in pairs for half hour sessions, on perfectly peeling waves with up to a 3.3metre face, lefts, rights or closeouts – in fact what ever you tell the lifeguard to set it to!
The cost of this trip sounds extortionate, but when you consider a trip from London to Cornwall for a surf weekend, the costs can rack up extremely quickly… fuel, accommodation, food, car parking and you're NOT guaranteed a perfect wave!  When you do the sums, travelling all that way is actually very compatible, particularly when you consider the quality of waves you are guaranteed.  The cost to the environment is however not so cool, and this is a trip that is much more sensible as a warm up session, as you pass through the UAE, perhaps en-route to a surf trip elsewhere in the world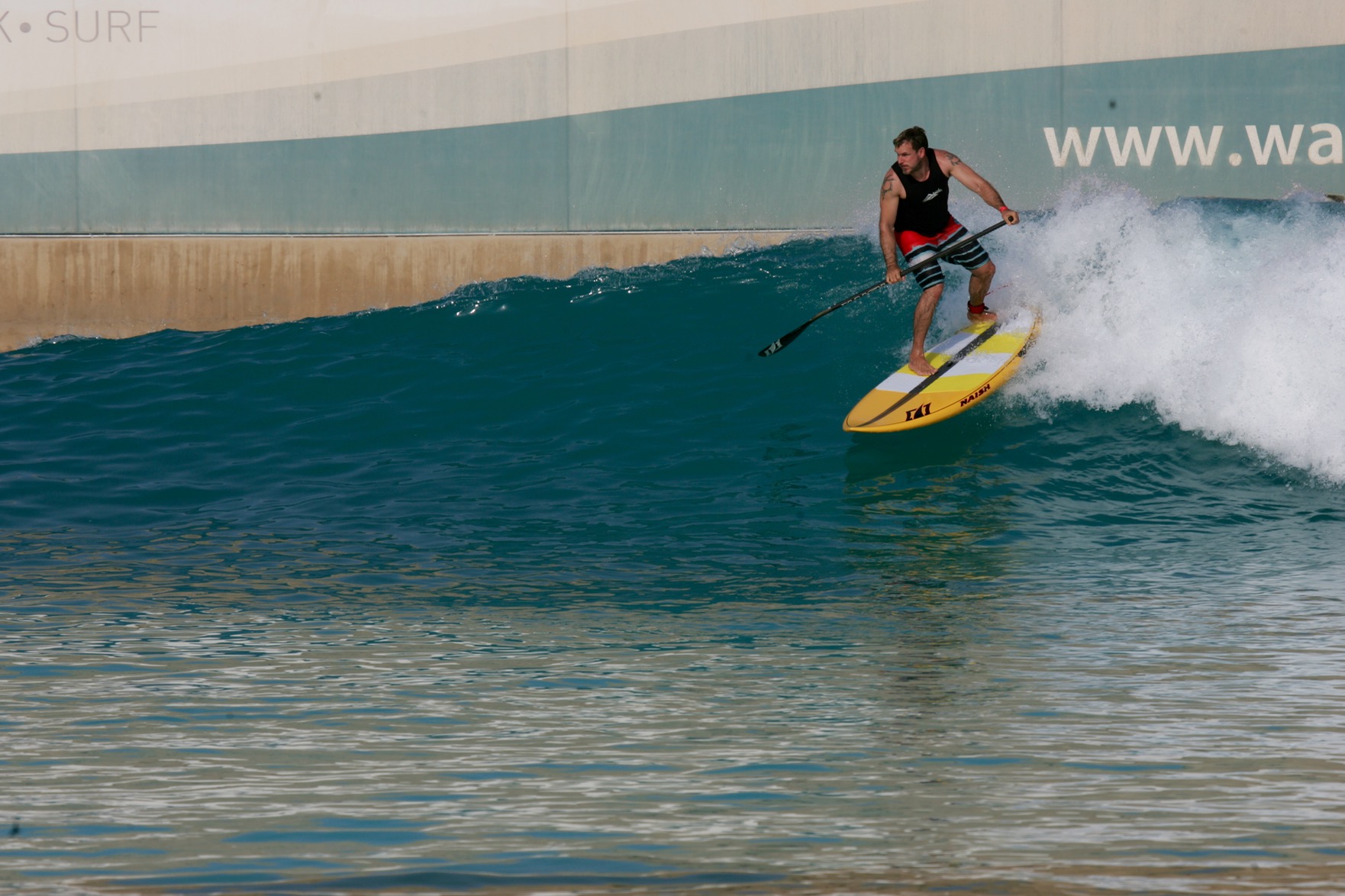 Wadi Adventure offers a truly unique experience. The far fetched idea of surfing a great wave in the middle of a desert that the best SUP surfers AND prone surfers in the world have also surfed is actually now something that you can do! Riding that wave I felt like Zane or Kai, and as I bottom turned and set up for the top I played back in my mind the videos of the talented guys ripping at Wadi that I have watched countless times. I was riding EXACTLY the same wave as these heroes of SUP! It may be a rather expensive way to surf, but its a rather unique experience as well. Applying a proactive approach while spending time at Wadi you can without doubt break down your surfing and improve. Next time you're passing through the UAE on your way to a surf trip or on business think about extending your time there and dropping in for a desert wave to make your 'real world' waves even better.

Top tips
Take a watch – this will make it much easier to know when the wave is coming – set it to 90 seconds – the wave comes like clockwork!
Practise being static – Before you go practice holding your take off position in choppy water – the backwash caused by the wave means the water never really fully calms. Try holding your position front side and backside on a buoy – do it on your smallest board.
Sub 9′ boards only – The wave is really only suitable for SUP surfers of a good standard surfing on boards of less than 9'. Its not as easy as it looks, you need to be of a standard that you can take a very steel drop and be able to stand on your small SUP statically in FRESH water.
Hydrate – The desert is HOT – in September it was 42oC in the shade. Keep drinking as much as you can and consider using electrolyte supplements for salts to enjoy your waves as much as you can.
Take roof rack straps – don't assume the taxi driver or transfer bus will have any.
Consider the Wadi 'warm up session' – consider a session at Wadi Adventure on your way to a surf trip elsewhere if your connection flight is through the UAE – its a great way to get quickly into shape and back in the zone ready for a long surf trip.

The Full Photo Gallery
Photos by Silver Surf Sports