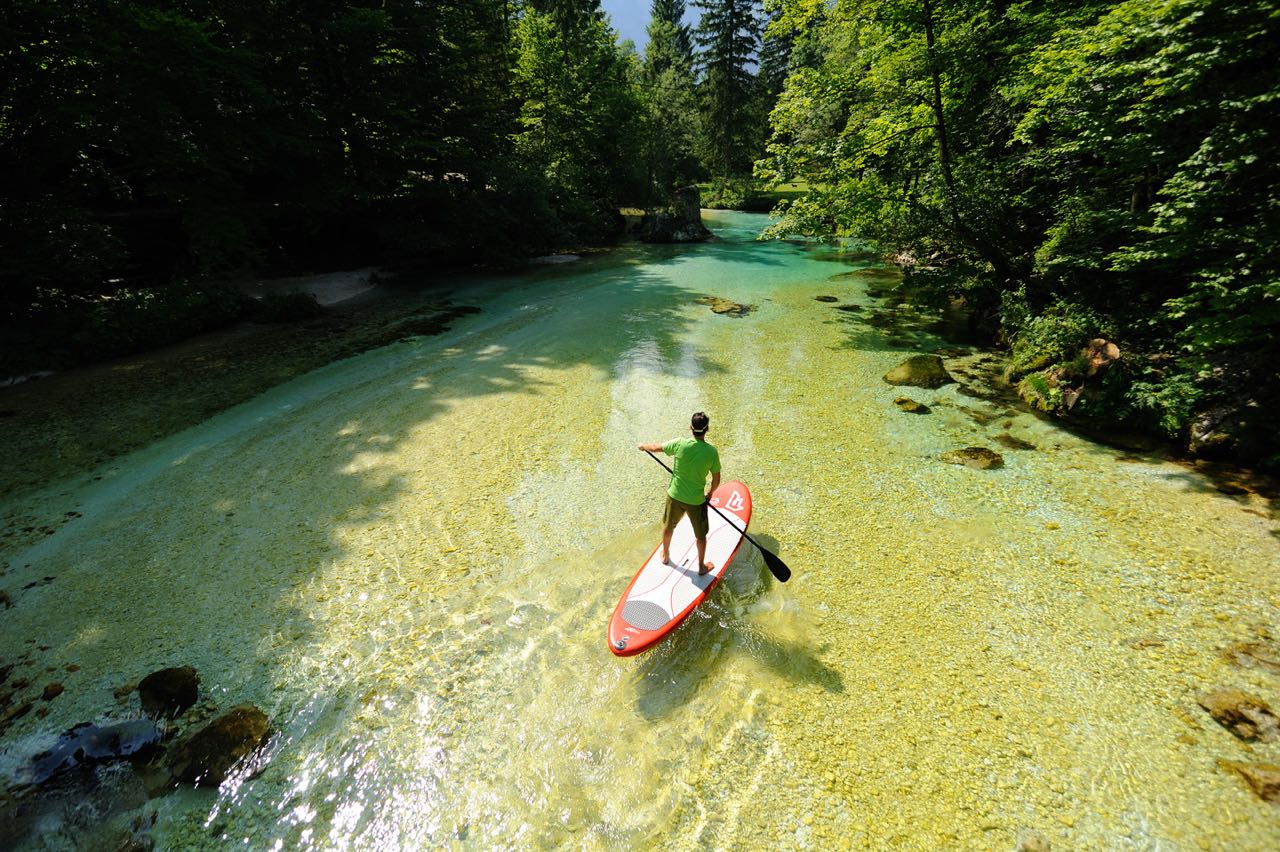 Truly beautiful, has to be words to describe Slovenia. It's a place that has so many different places to SUP, but is relativity unknown as a SUP destination around the world. The idea of escaping a winter, or making the most of summer, to explore and paddle this amazing country sounds like the perfect adventure for the whole family.  The SUPboarder team, like many other SUPboarders knew very little about this beautiful SUP rich country. So in our search to find out more about different places to paddle around the world, we asked the experts 'Sup Slovenia Discovery' about their perfect Slovenia SUP locations and more…
Stand Up Paddling In Slovenia
Slovenia is a miniature, picturesque country located in the heart of Europe between the Alps and the Adriatic sea. Due to its extraordinary geographic diversity and amazing water scenery it offers a huge variety of SUP terrains – from still Alpine lakes, emerald-green rivers, ever-changing intermittent lakes, to warm Adriatic sea and urban paddling in the capital's Old Town. An all-year-long SUP season and easy accessibility from UK and mainland Europe make Slovenia a perfect SUP destination.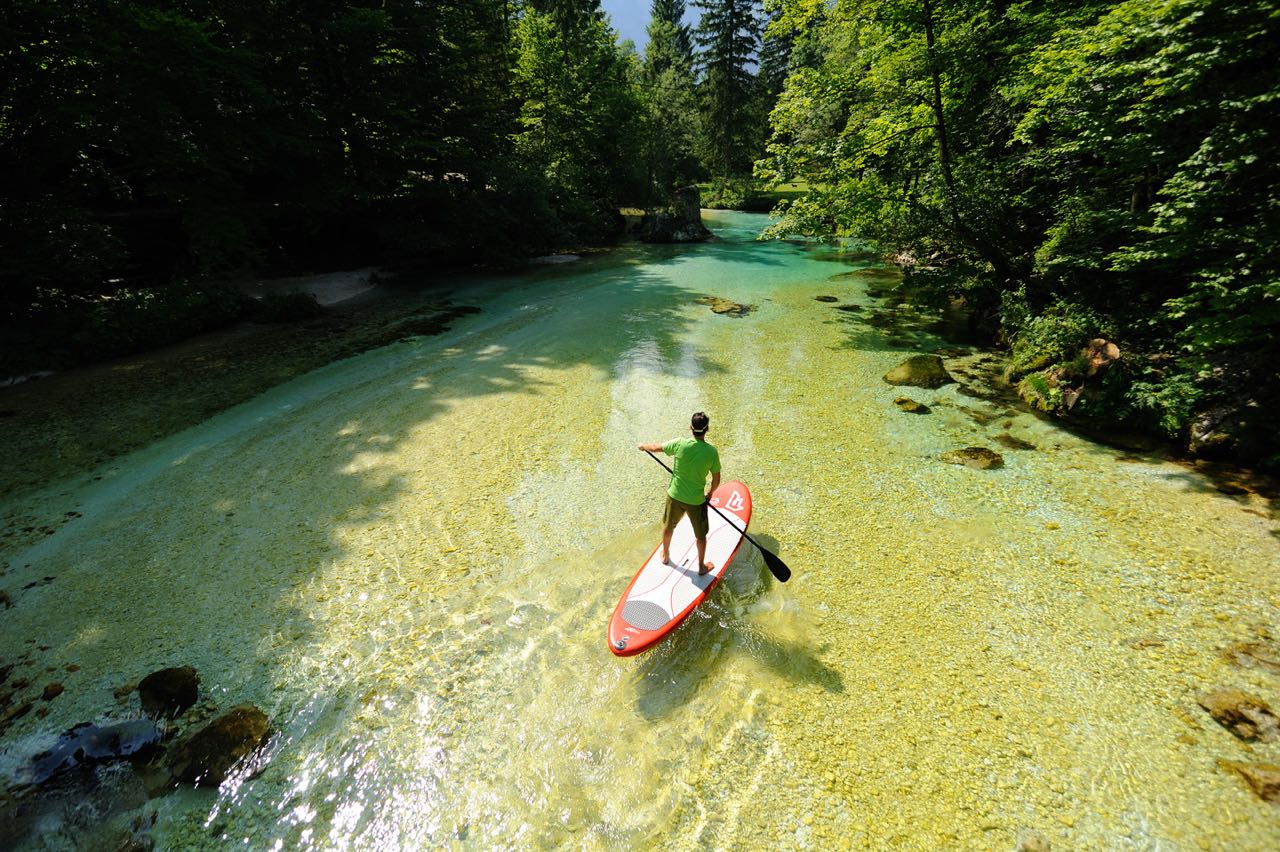 Each Day A Different SUP Experience
In Slovenia you can find some of the best SUP spots in Europe and the contrasting SUP conditions make each of them totally unique. The list of hot spots is long enough to fill a week-long holiday with a one-of-a-kind SUP experience day after day.
Alpine Lakes Bled and Bohinj
One-hour drive from the capital Ljubljana you will find Lake Bled, where you can take a scenic paddle around the little island with the church and walk up to the Bled Castle, perched atop a steep cliff rising 430 feet above the lake.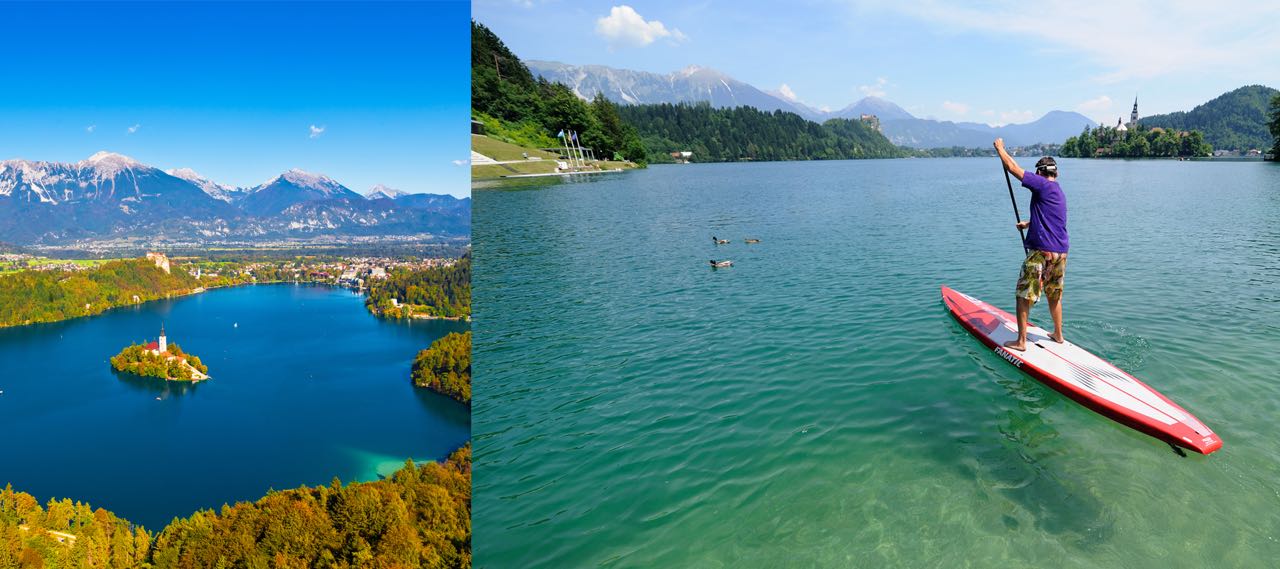 Just 18 miles further awaits Lake Bohinj, tranquil and perfectly untouched, surrounded by mountains and idyllic Alpine villages. A three-mile paddle across the lake takes you to the mouth of the emerald-green Savica River, the water source of the lake.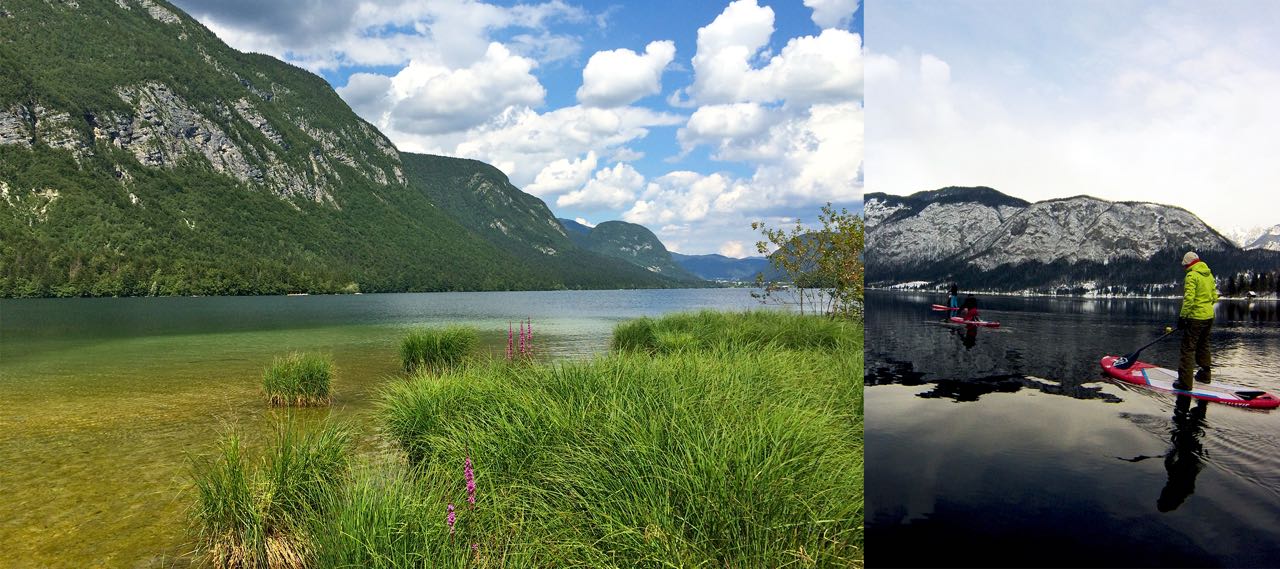 Piran coast & saltpans
Piran, a 1500-year-old town with narrow streets and compact houses offers numerous possibilities for short or long SUP tours along the coast. Visiting Saltpans of Sečovlje and the surrounding wetlands is one of them.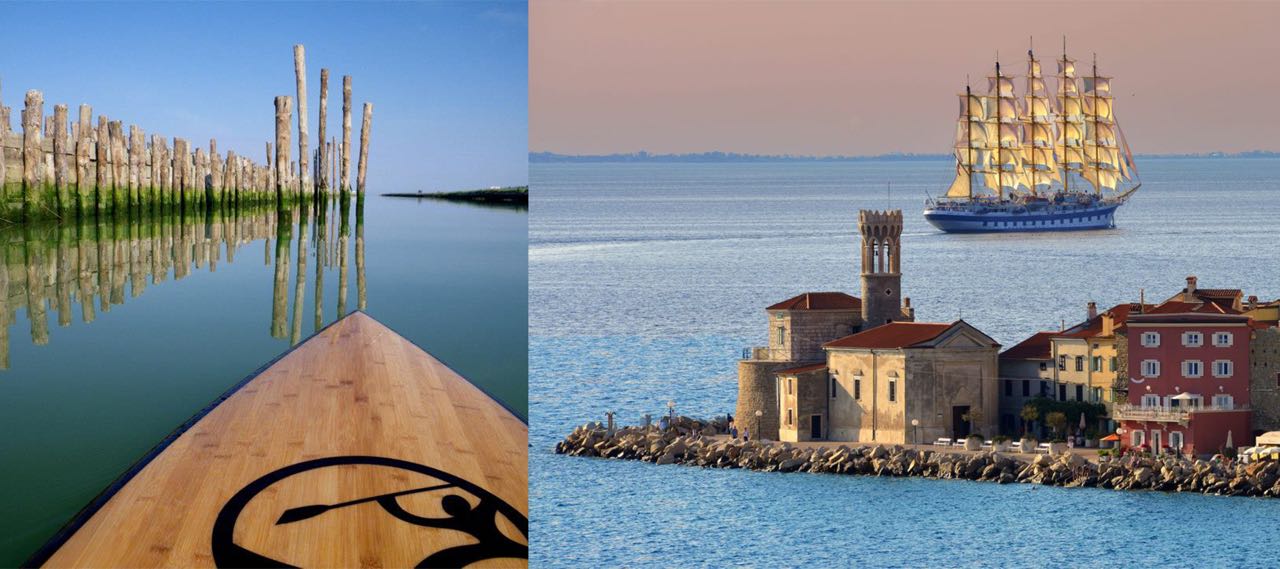 The Soča River
Because of the rapids on the upper part, Soča river is mostly too wild for SUP (except for whitewater experts). Great touring on emerald-green water is possible on the lower part of the stream. It is said to be one of the rare rivers in the world that retain such a colour throughout their length.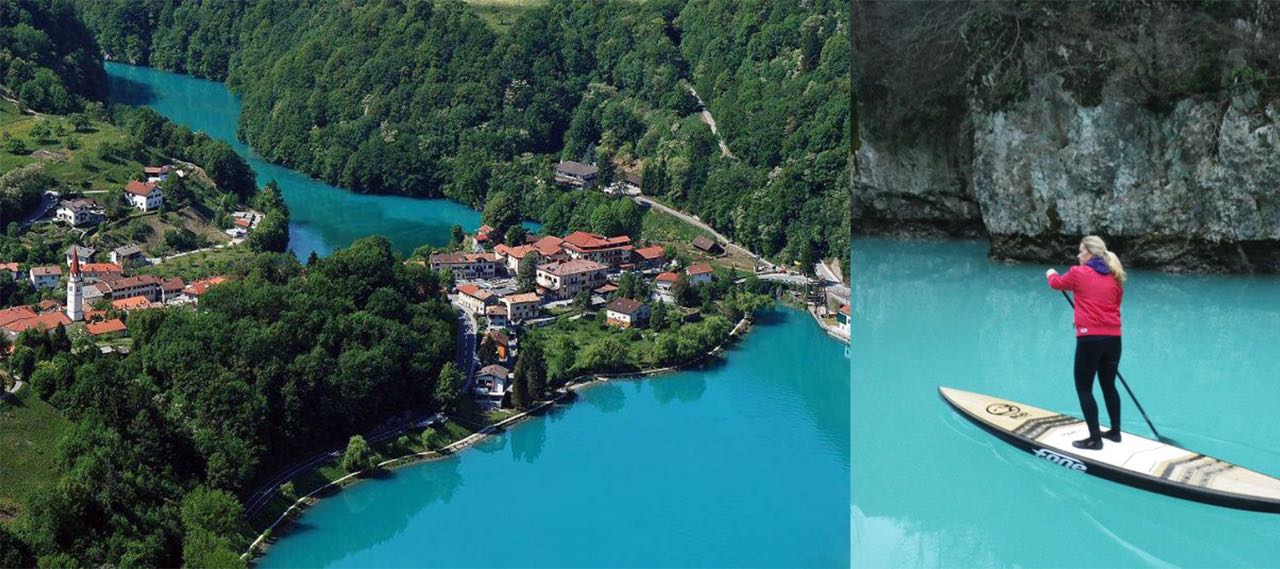 Lake Cerknica – The Lake That Vanishes
The illustrious Lake Cerknica is the largest intermittent lake in Europe, filled mainly by autumn rains and the early spring thaw. Paddling on the lake reveals a spectacular, ever-changing scenery, such as gliding just a foot above submerged green pastures.
Urban SUP in Old Town Ljubljana
In Ljubljana you can take a paddle on The Ljubljanica River to discover its lively Old Town from the water perspective. A night paddle under the numerous bright-lit bridges is especially magical.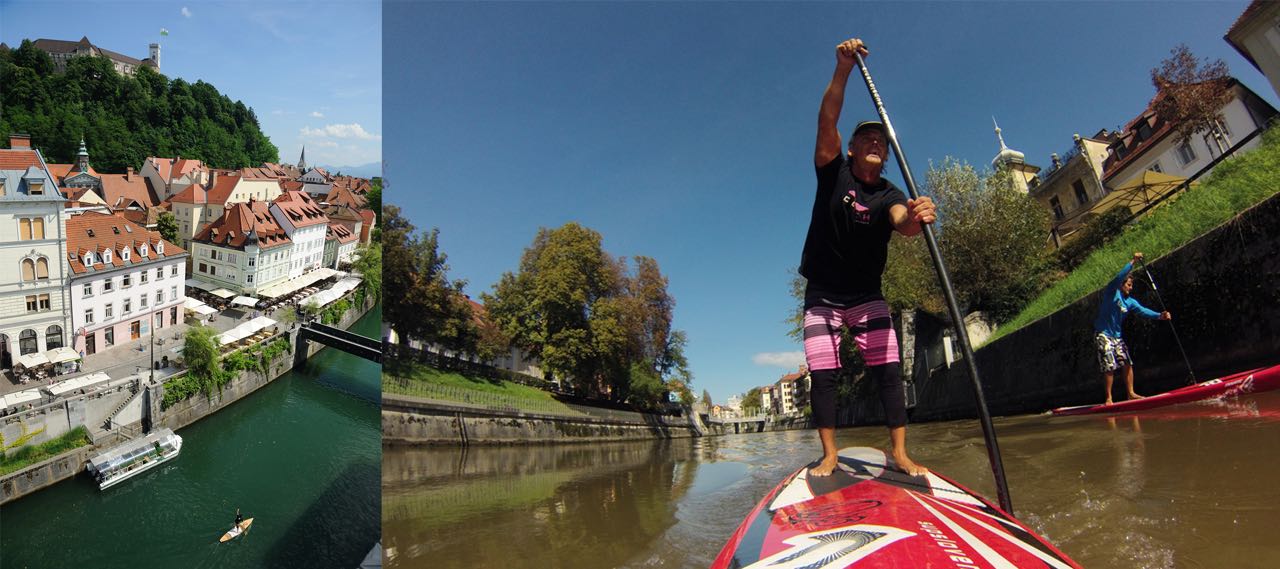 When To Go
The typical SUP season starts in March and ends in mid November. The average temperatures in summer reach 20-25°C, and around 0°C in winter. The weather near the coast is typically warm and sunny through most of the year. Winters tend to be milder and if there's no wind you can easily paddle for Christmas.
How To Get Here
Slovenia is easily accessible from all major European airports. Many low-fare airlines also fly to the nearby airports (Venice, Trieste, Klagenfurt, Zagreb), all within two-hour drive to Ljubljana.
SUP Rental, Lessons & Tours
There are quite a few SUP clubs where you can rent your gear or take SUP lessons. One of the most recognized is Sup Slovenia Discovery which specializes in SUP trips and holiday tours in Slovenia and Venice.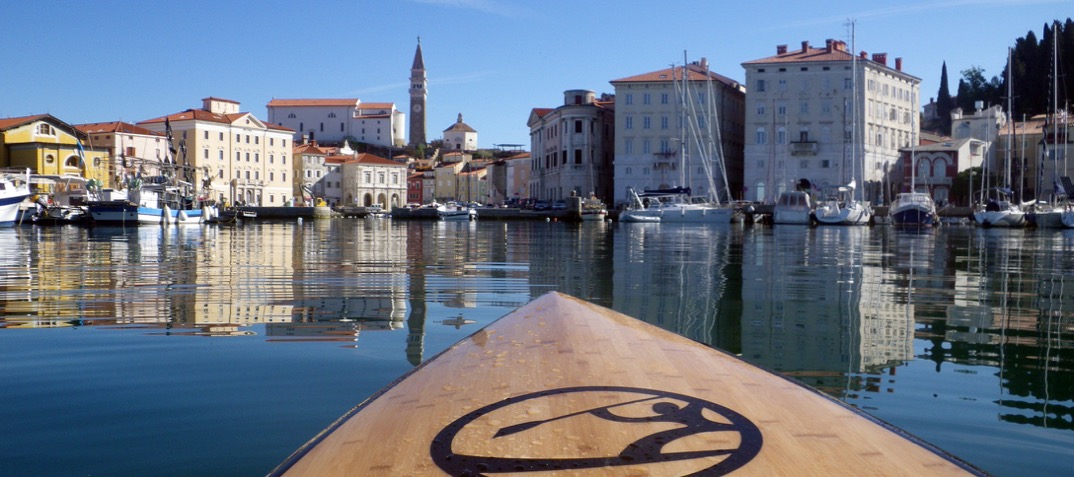 Top tips
Insider tips
While exploring Slovenia's SUP spots you can also discover its rich historical and cultural heritage, delicious local foods and world-renowned wines.
To get a quick taste of SUP in Slovenia, check out the SUPer Weekend Tour to discover six spots in just three days.
There are more things to do while you are here: mountain biking, canyoning, hiking, paragliding, climbing, horse-back riding, a trip to Venice, Italy …
English is understood and spoken everywhere in Slovenia.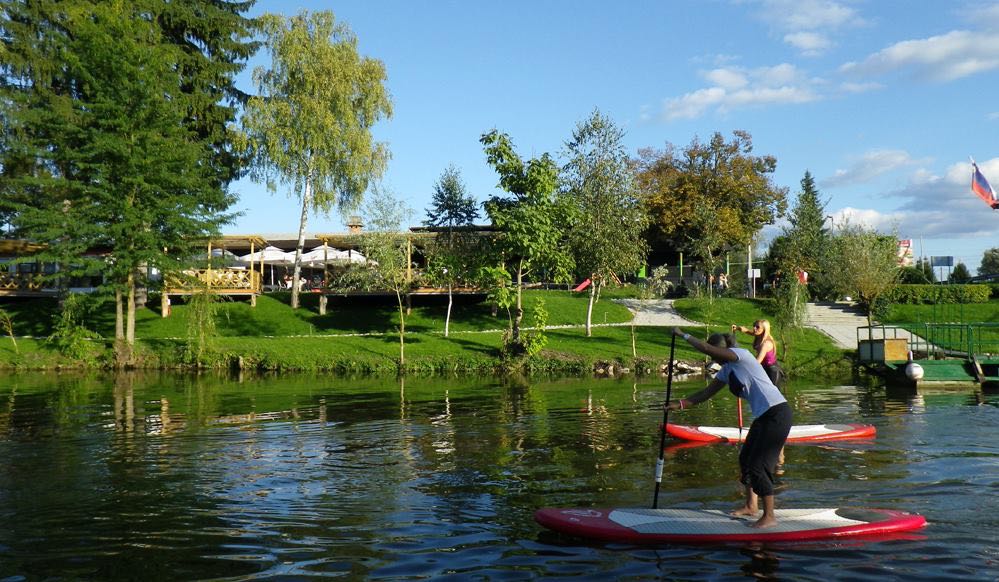 Wow…. Slovenia really does sound like an ideal SUP destination, and that SUP is the perfect way to explore this beautiful country . So if you haven't already got Slovenia on your SUP holiday bucket list it should be!
For more information about SUPing in Slovenia click here.