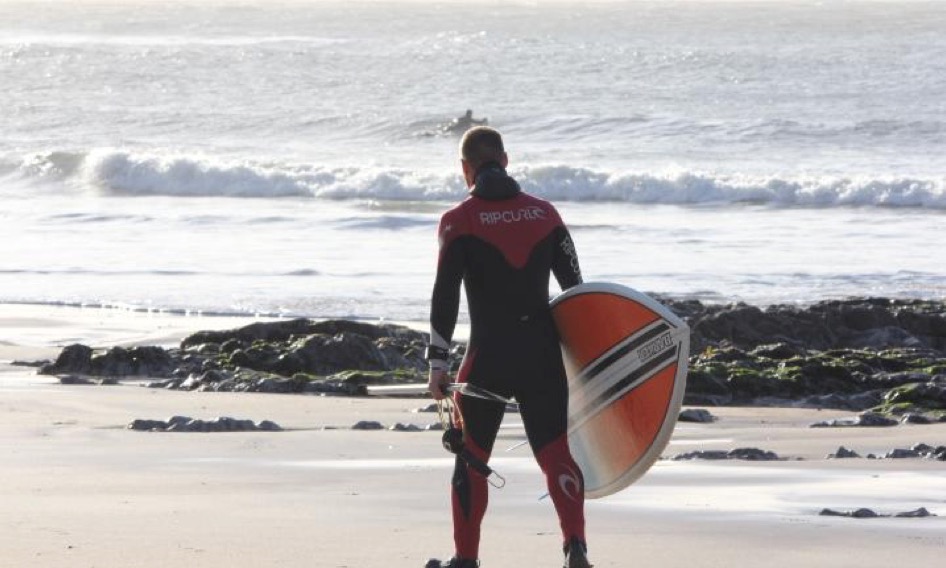 Challenges at the weekend
Two times British BSUPA SUP surf champion, and 2015 Team GB SUP surf representative at the ISA World Championships in Mexico, Matt Barker-Smith shares some simple SUP surfing tips on how to make the most of your surf session and get out to the lineup.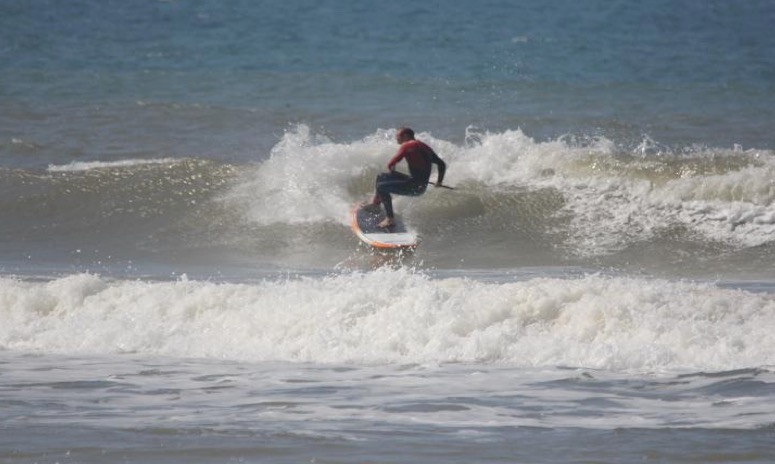 So you've had a hard week at work and at every free moment you've been mind surfing waves on youtube or watching the latest SUP contest and you're amped to get out and improve this weekend.
Friday night in the pub and your imminent session is fuelled even more by stories with friends talking about your new board which arrived earlier that day. So Saturday arrives and you get to the beach to be met with big and windy surf… how could MSW have got it so wrong !?
Getting out through waves in big or windy conditions can be a daunting exercise, so start assessing before you even get in the water.
Firstly it's important not to get frustrated by the conditions. I try and always have a free and open mind when heading to the beach (it doesn't always happen though!) Spend time looking at the conditions if only for 5 minutes… figure out where you'll paddle out to and sit, look for your entry and exit points and scan the area for dangers, check for tail tail signs of rock boils and submerged hazards if it's a new spot.  You may have heard of surfers say "Timing the sets." It's a hard thing to do, but sitting and watching will visually get you aware of how big the set waves are and where the smaller waves break.
If you've had a new board, try and get out on it in flat water to cement your new relationship, especially if you've gone down in volume or width. A new board needs enthusiasm so don't rush into things and get annoyed trying it for the first time in overhead waves.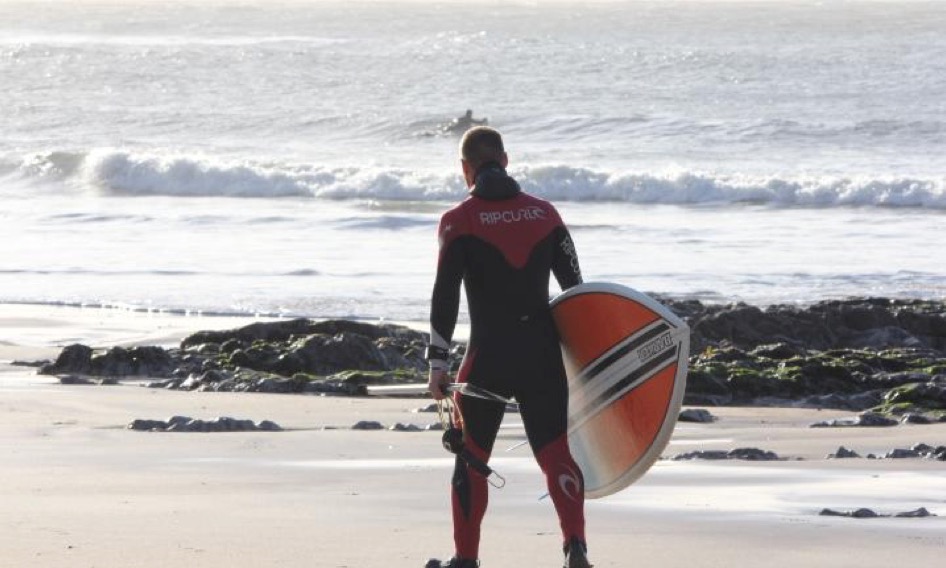 Your Equipment
One mistake made by many newbie SUP surfers is not managing their boards in the surf zone. Retrieving the board or paddle as its continually grasped and pushed by rolling whitewater is very demanding and tiring on your legs and core. The very muscles you'll need to be fresh for your imminent paddle out! If the sets are rolling in, one after the other and you're eager to get out – try and get as far out as possible standing on the bottom, whilst holding your paddle flat on the deck of your board and controlling the board by placing the other hand on the tail of the board. This way when a wave approaches you can sink the tail into the water, which will raise the nose and let the white water impact the bottom of the board, lifting you up with the swash. Continue to do this until you see your break in the waves.
Paddling out
There are various methods to paddle beyond the waves or lineup – the area we call 'out the back'. The method you choose dictates the conditions you're surfing in and the effort applied to achieving getting out to catch green clean waves.
Prone
You will see lots of SUP surfers lying on their boards as if its an ordinary surfboard, and lying on the blade of their paddle with the shaft pointing out over the nose. This is a great way to conserve your energy by paddling 'out the back' or if you've taken an earlier set wave and you're caught inside and getting pummelled by whitewater. By lying you are already more stable on the board and can easily manage the board by using your hands to keep forward momentum and your place in the lineup. You can splay your legs wide of the board for added stability (starfish) but try and keep toes and legs over the tail whilst paddling for speed. If you end up right back inshore and feel like you're not getting anywhere, come in and re-assess your plan.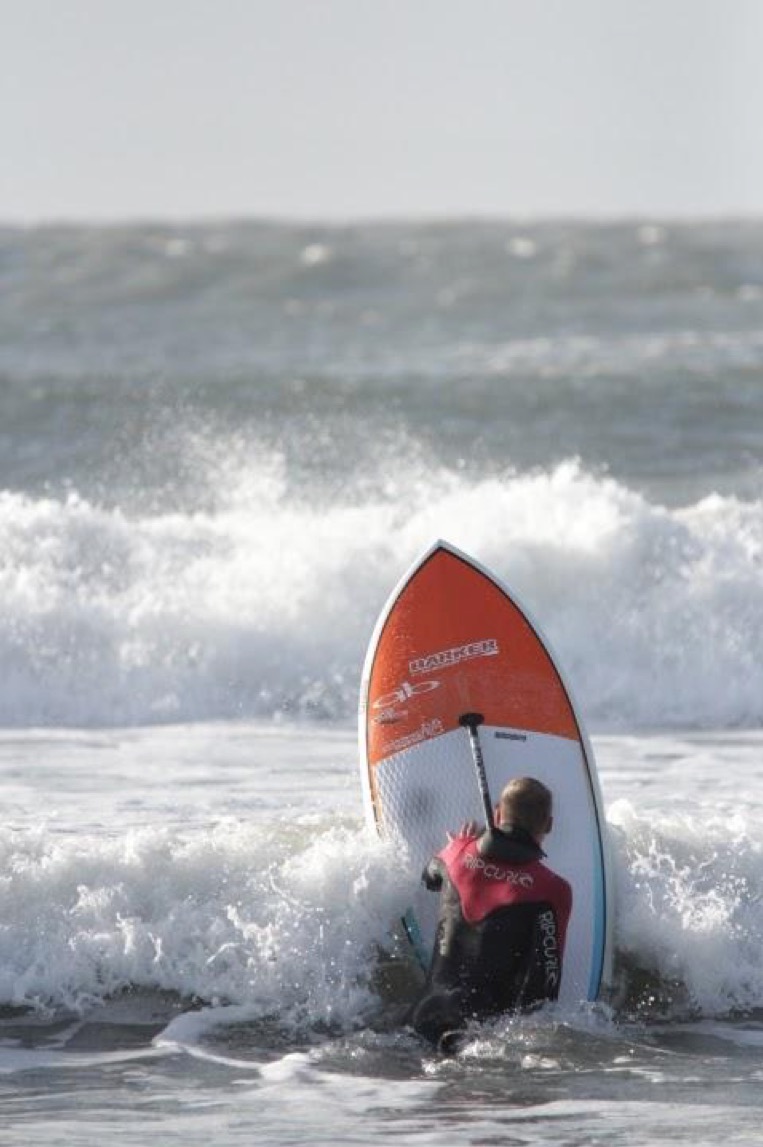 Knees
Lots of SUP surfers frown on kneeling out through waves, but it's a fast and easy method, to lay down the paddle power to get you out beyond the breaking waves. Try and get the board moving as fast as you can and apply your strongest stroke (either on right or left) just before impact with the whitewater. This will hopefully coast you through and you'll remain kneeling ready to navigate the next approaching wave. Contest SUP racing usually dictates you can not take more than 5 paddle strokes before having to stand on your board – so try and stick to these 5 if you're training to be competitive.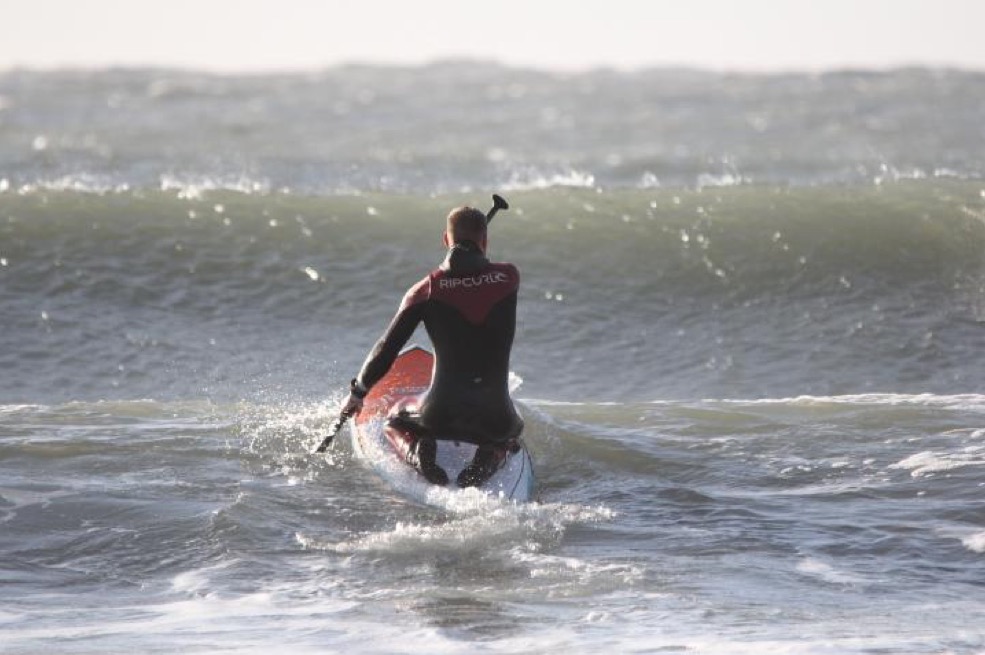 Standing
Standing and paddling out through any size surf takes commitment and practice. You will waste precious 'core energy' having to clamber back on to the board if you fall continually, so you should assess the conditions and decide on a game plan on how you plan to paddle out. You can always change the plan if you happen to not encounter any waves to navigate through. Try and look forward to where you're paddling to, and keep a good steady paddle tempo.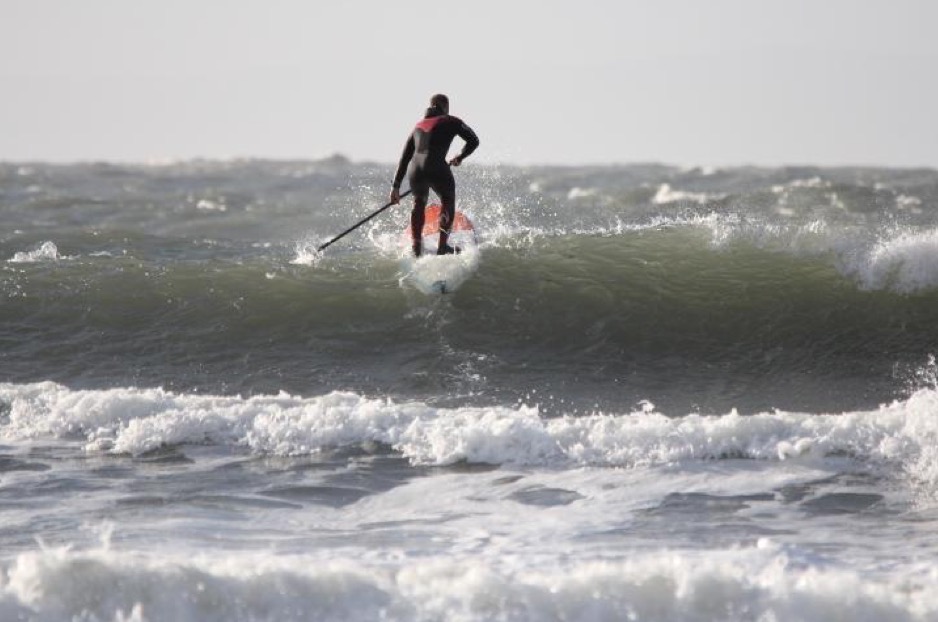 Getting caught inside
Every SUP surfer has experienced getting caught inside and there isn't a lot you can do but wait until the barrage of whitewater pushing you to shore has abated. One key rule in a busy surf environment is always be wary of people directly behind you when you are paddling out through waves, as its all to easy to lose your board when a wave approaches, sending it straight into the line of fire of others.
Fitness & Strength training
I have recently seen the benefits of using an old age but very effective training tool in my paddle training routine which combines modern technology with ancient science. A Clubbell is essentially a heavy baseball bat which can help build strength, increase stamina and improve agility. Heavy Clubbells build brute strength and lighter Clubbells build lung-searing cardio capacity, which is what usually burns when trying to get out to the lineup on a windy or messy day. By swinging Clubbells around the body in a variety of movements, muscles are targeted by resistance from angular, diagonal and rotary motions very similar to the forces the body is under when trying to paddle out during a not so pleasant session! These three dimensions of tension are not trained easily using conventional 'linear' exercises.
After recently become a Dad, I have really enjoyed swinging my 10Kg Clubbell around kung – fu style to help retain strength in my shoulders and core, when missing sessions due to sleep deprivation or family life. Just remember to maintain a good squat position and avoid the proverbial areas….!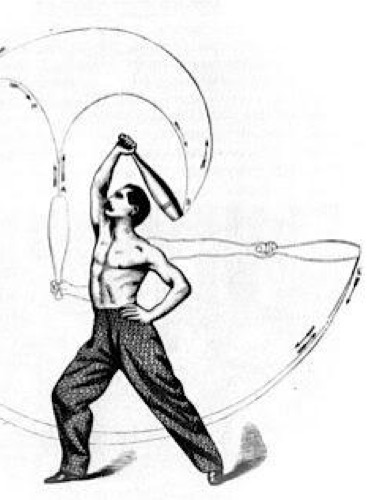 Words by : Matt Barker-Smith.
So if you see a SUP surfer out in South Wales, making the most from the waves whatever the conditions, or someone standing on the beach swinging something resembling a baseball bat, then don't run away, chances are it's Matt!
SUP Surfing Clinics – Matt will be running SUP Surf progression coaching workshops as part of the Water Skills Academy (WSA). So if you're interested in raising your level in the surf, from perfecting your bottom turns to blowing your fins out the back – send him an email to matt@supgower.com for dates & availability in 2015.