It was only last week that we posted a feature about White Water (WW) SUP basics, as many paddleboarders are being tempted by the challenge of this SUP discipline. However not all paddleboarders are new to WW. There are plenty of good paddlers across the country who already have a really good level of white water paddling experience, whether it's in a kayak, a canoe or on a SUP. Over the next few years we will definitely start to see more and more paddlers heading down rivers on SUPs.
Dave Jackson from Active Adventures SW is one of those WW paddlers who has found his way into SUP. Dave has recently been having fun running his local river on his new Red Paddle Co board. The interesting thing about watching the video filmed from Dave's head cam is that you can see the lines that you have to look out for when running a river. It's not all about just charging the river to get the the bottom! Dave tells us about his paddle and WW SUP in the UK.
"This is a quick run down the River Barle, that runs through the fantastic scenery of Exmoor. It's my local river and tends to only be at the best levels in the winter or during the summer flood or spate runs.
I've been desperate to run this section and finally found a suitable board for the shallow rocky flows of the SW. The board is a Red Paddle Co Flow 9'6″. I was introduced to the sport in Hawaii a few years back, as a surfer and canoeist for over 30 years. River SUP combines all the elements that draws me to each sport… the contact with the water of surf and the finesse style of a paddle through the water. River SUP is the future, and this sport will take off massively in the UK over the next few years." Words : Dave Jackson
For more information about Dave Jackson and Active Adventures SW click here.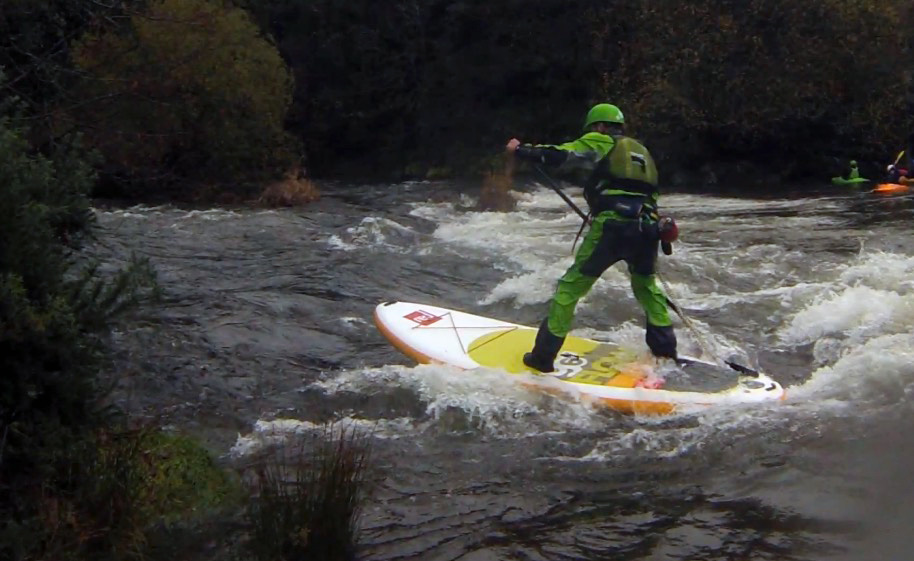 Are you a WW SUPboarder? Have you been river SUPing for a while now? If so we'd love to hear from you and share your experiences. What board are you riding and which rivers are you paddling? Together we can put UK white water SUP on the map.