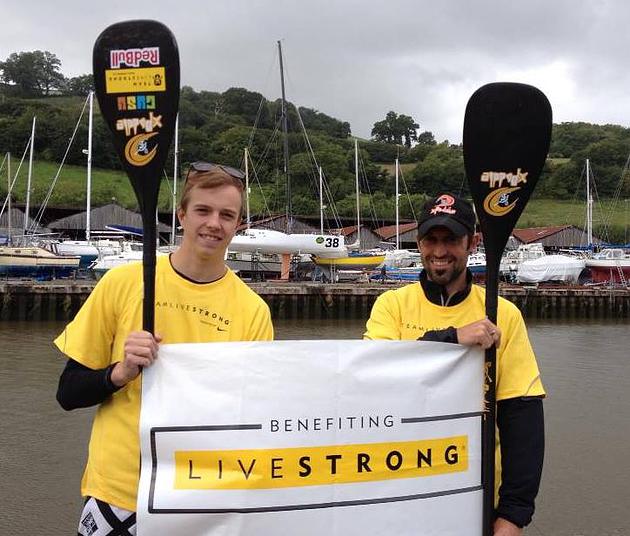 On the 9th/10th September two passionate SUPboarders who are always up for a challenge, Ollie Denton and Phil Sanders, will be attempting the first SUP challenge of its kind in the UK… 'The 3 Lake Challenge.' Where? Why? And what's involved? SUPboarder is proudly sponsoring the challenge and contacted Ollie for a chat about their latest challenge…
SB/ Who are Ollie Denton and Phil Sanders?
Both myself and Phil are keen SUPers. We both are SUP instructors and have paddled for around 5 years each. We enjoy nothing better than getting on our boards and exploring. I run my own SUP business 'Get Up Stand Up Paddleboarding' in Hampshire and Berkshire. Phil is starting his own SUP and watersports company called 'Coastal Nomad' in Torquay. We SUP Race, Surf, Yoga and do everything SUP. We are avid explorers and love a new challenge. Last year we paddled the length of The Thames for Livestrong cancer research. We raised £2000 that went towards helping cancer survivors in the UK. We camped along the way and managed to stay in some old ww1 and ww2 gun turrets along the side of The Thames!
SB/ Tell us about your latest challenge.
The 3 Lake Challenge is a 24hour SUP challenge paddling 3 of the largest lakes in the UK. We are keen to keep to the same theme as the 3 peak challenge and paddling a lake in England, Scotland and Wales. The lakes we will be paddle are Loch Lomond in Scotland (25miles long), Lake Windemere in England (12miles long) and then Lake Bala in Wales (4miles Long). In the 24 hours we will be paddling the length of all the lakes and driving between them as well. The challenge is going to be the 9th/10th of September. But if wind conditions look strong then we will look at moving the date. But that's what we are aiming for. We are predicting around 4-5 hours of paddling for Loch Lomond, 2-3 hours paddling on Windermere and hopefully we can blast across Lake Bala in around an hour.
SB/ What drives you both to do these challenges?
We are doing the event to raise funds for us to put i-pads into local chemotherapy wards. Both myself and Phil have been effected by cancer with family and friends passing away from the disease. Last year we raised £2000 SUPing the length of The River Thames Un-Aided for LiveSTRONG cancer research and we are raising funds for the charity again. I am a LiveSTRONG Leader in the UK and I am aiming to do a different SUP challenge each year to help cancer survivors in the UK. We were the first people to SUP The Thames Un-Aided and this year we wanted to do something else nobody has done on a SUP before.
SB/ What do you envisage being the biggest challenge?
The biggest challenge will probably be the night paddle across Lake Windermere. We have both done a lot of night paddling to prepare ourselves but will be trying to stick to the GPS to keep us on track across the lake.
SB/ How have you been training for this challenge?
Both myself and Phil are doing a 10k sprint per week and doing a 20k push once every two week. We both open water swim and that's helped a heck of a lot too!
SB/ What kit will you be using?
The kit we are using is an x-paddle ultra light paddle and a Nah Skwell 12ft 6 race board.
SB/ How will you be recording your challenge?
We will be blogging all of our training, the build up to the event and after the event here. A film crew will also be filming us along the way and tracking our progress.
SB/ Who are your sponsors?
We have sponsors Dryrobe, Nah Skwell, X-Paddle, Blueseventy, Nuun Hydration, Passenger Clothing and SUPboarder. They have given us some great kit that will help us out with the paddle.
To find out more about Ollie and Phil's '3 Lake Challenge' and to follow their progress check out their blog and facebook.
Are you planning a SUP challenge with a difference? If so SUPboarder would love to hear from you. Contact us here.