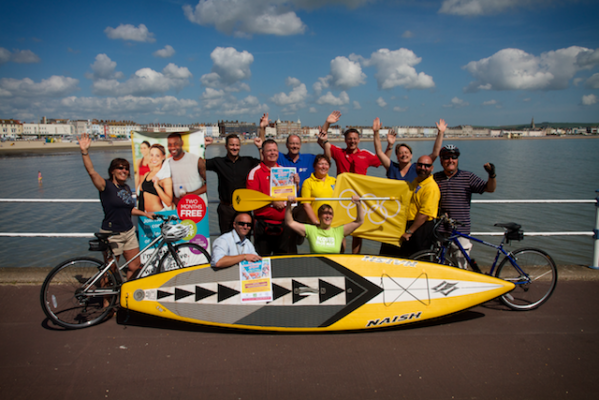 National Championships of 'Naish One' Stand Up Paddle Board in WEYMOUTH on Sunday 20th JULY
Naish will be holding the National Championships of the Naish One SUP in Weymouth on the 20th July during the Ecover Blue Mile event, held on the main Weymouth Town Beach near the Pavilion.  It is part of the 2014 Dorset Festival of Sports to mark the second anniversary of the London 2012 Olympic and Paralympic sailing events in the borough organised by Weymouth & Portland Borough Council and partners.
Racing is open to all and is strict  One Design racing on the 12'6″ inflatable 'Naish Ones'. This One Design Race Class has taken off world wide and the circuit is named N1SCO Racing, with national evens and European/World Championships.
N1SCO racing is designed to be accessible to all – with venues chosen to provide easy conditions and easy to use boards so everyone can take part, whether an experienced paddler or first timer.  N1SCO race format consists of lots of races in one day and all of a relatively short distance to keep things fun and exciting.  The UK national championships will be decided with the cumulation of results after a 750m race, Sprint racing knockouts and a 1500m race.  Entry is available for those with their own Naish One Board, or non board owners can enter and use one of the loan boards for the day.
Entry is online at:  www.thebluemile.com/enter-now/ecover-blue-mile-weymouth-2014/