https://www.youtube.com/watch?v=7ig-POxbQZk
The first stop for the Stand Up World Series was wrapped with an amazing long distance race yesterday. Congrats to Connor Baxter(Starboard) and Angela Jackson(Fanatic) for both taking 1st place in the Sprints and Distance racing.
Waterman League press release: Day 1 Spints Races
Stand Up World Series Alagoas Pro Grand Slam Sprint Racing 2014
Connor Baxter wins the World Series Sprints in a dramatic finish with Kai Lenny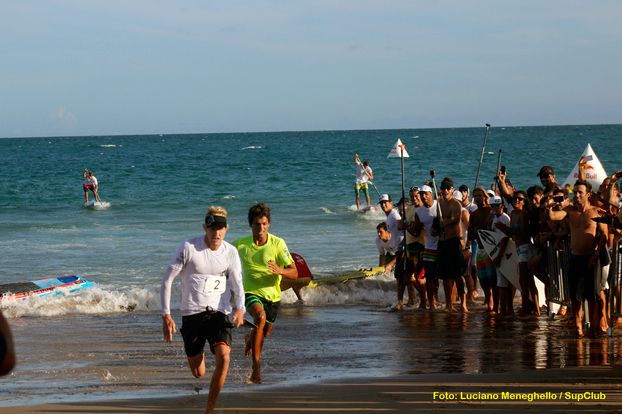 In another intense battle of the Titans, Connor Baxter (Starboard) and Kai Lenny (Naish) picked up where they left off last year with another battle for the ages.
Connor led through the first leg of the Finals, but Kai managed to catch him on the second buoy in the surf. Connor however succeeded in keeping the lead as they both battled around the next 2 buoys and into the home straight.
However, an incoming swell allowed Kai to pull back up to be neck and neck with Connor coming up the beach making for a dramatic sprint to the finish that saw Connor just get the better of Kai – a great start to what is destined to be another incredibly competitive year.
The battle intensifies throughout the fleet on the Stand Up World Series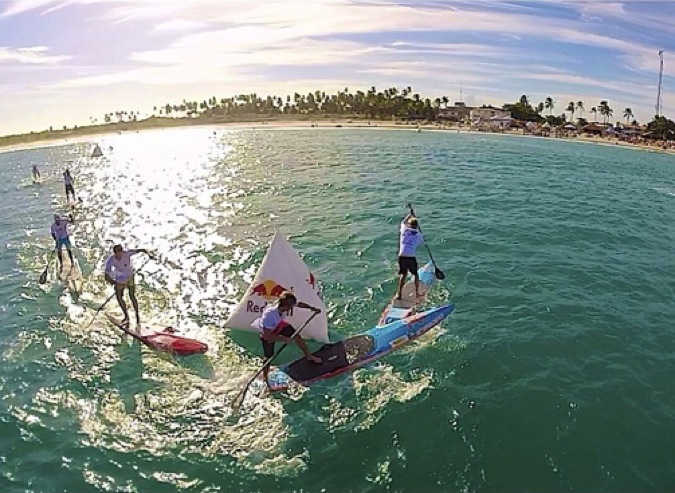 It was certainly not just a Connor vs Kai battle as Jake Jenson (Fanatic) and Zane Schweitzer (Starboard) were right on their heels, with Jake just getting the better of Zane on the home straight to take 3rd and Zane, 4th. In 5th, it was the Viking Casper Steinfath (Naish).
The depth of talent now on the Stand up World Series is mindblowing, as each and every event, the competition becomes fiercer and the spectacle even more exciting.
Check out the event standings so far after day one of action by going to: watermanleague.com/connor-baxter-wins-the-world-series-sprints-on-day-1-in-alagoas
Photo courtesy of Matty Schweitzer
Angela Jackson takes Gold on Day 1 of the Alagoas Pro World Series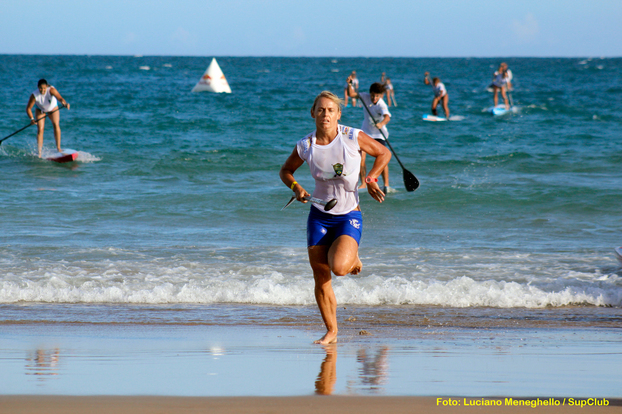 Angela Jackson (Fanatic) put on a dominant performance today at Day 1 of the Alagoas Pro World Series, sprinting her way to victory here at Praia do Frances.
After a full winter of training, Angie is looking on point and ready to take on the world, and will be looking to consolidate on her win from today, tomorrow in the Long distance Race.
Make sure to join us at www.watermanleague.com for the highlights, galleries and full recaps, but also throughout the day on our social networking channels @standupworldseries (instagram) and on the Stand Up World Series Facebook page.
The women's talent grows, with international & Brazil athletes stepping up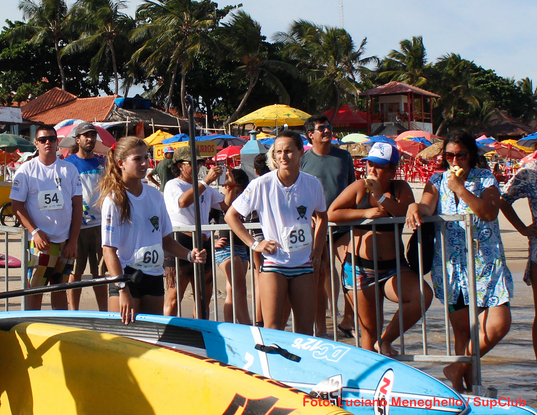 In second place, last year's stand out Barbara Brasil Nunes once again put on a solid performance, finishing runner up in the Final to the on form Angie.
Meanwhile in 3rd, Laura Quetglas (Fanatic) from Spain powered her way around the fast paced sprint course, notching a strong finish in advance of the long distance race tomorrow. Here are the standings after Day 1.
One thing is for sure, the women contingent are making their presence felt and 2014 promises to be an incredible year for the Women here on the Stand Up World Series.
Here are the standings after Day 1 of the Alagoas Pro World Series: watermanleague.com/angela-jackson-takes-gold-on-day-1-of-the-alagoas-pro-world-series