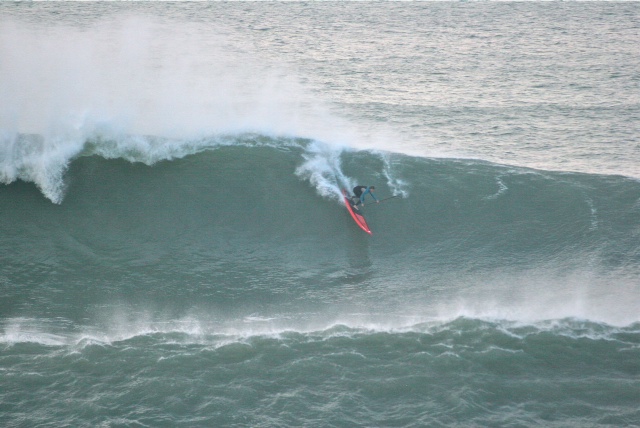 With some big swells battering the Cornish coast this week we thought it was time to talk about big wave surfing.
"The Cribber " near Newquay is Cornwall's big surfing wave. When it's on it's on… but knowing when it's on is a different matter! Nick Healey is one of the few guys in Cornwall brave enough to take on his home countys big wave spot on a SUP. Living in Falmouth Nick lives & breaths watersports. He started windsurfing aged 12, and then progressed onto surfing, surfboat rowing, paddleboarding and kiting. Whatever the conditions, however big or small, you'll find Nick out on the water making the most it. And when Nicks not enjoying the conditions in Cornwall he'll no doubt be enjoying them somewhere else!

Have you ever wondered; How you train for riding a big wave like the Cribber? What it feels like riding big waves? What SUP kit you need?
SUPboarder talks to Nick about his big Cribber session last year to find out just that!
SB/Hey Nick. In Cornwall you're well known for riding 'The Cribber' but where was the 1st big wave you surfed?
NH/I first challenged myself in bigger waves on the outside reef in Northern Morocco,  (wintertime), with my friend and local surfer Younnes. It was BIG, a long way out and no one would have been there to rescue us. That day was an education. I will always remember Younnes saying "Surf this like you have no leash, no one is going to come and get us."

SB/Tell us a bit about 'The Cribber' and your first time out there.
NH/The Cribber is a challenging spot, normally cold and you're a long way off shore. The peak shifts around with boils in the water on take off and when riding the face. The Cribber was always a box to tick and it didn't let me down. When I had my chance back in October 2011, I paddled out on my own, to be greeted by the set of the day that swung wide. I took those three set waves on the head. After that I thought it could not get any worse than that but I have to get a wave..!  I got a few bombs once the wind dropped, but I was buzzing. It was all a bit easier once I was joined by some of the tow in boys. It gives you confidence to have someone else out there.

SB/'The Cribber' only works in certain conditions. So how did you manage to hit it right?
NH/The Cribber is always a difficult place to forecast. You need to get a lot of natural elements to come together and mother nature to cooperate. I had been watching the forecast, and it was confirmed that day by a phone call from a friend in the know, saying "its on".

SB/What are your feelings leaving to surf 'The Cribber' and on first seeing it?
NH/Driving over there I will be calm, but as I get closer, anticipation will sink in.  It was taxing this time due to the harsh environment with strong winds and cold water.

SB/What do you have to consider before heading out?
NH/On arrival you have to decide if it's do-able. So many things influence it,if it's going to work or not… tide, wind, waves and who's up for it.

SB/How do you get your head together to surf a big wave like 'The Cribber'?
NH/It's quite a long paddle round to the break which gives you time to get your head together and work out what is going on. The Cribber is always a difficult place to predict as the peak moves around constantly, so you have to watch out for big sets. It's inevitable you're going to pay your dues!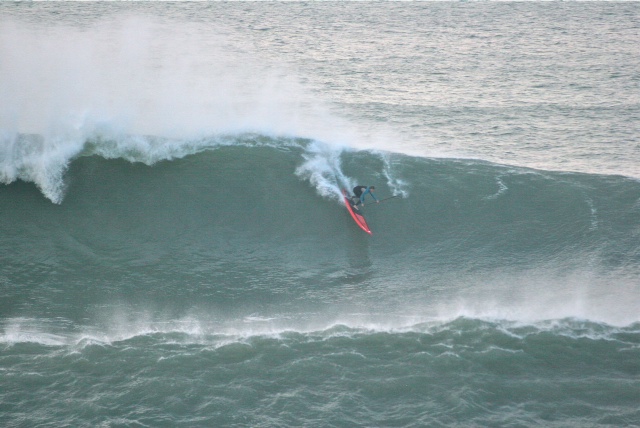 Photos of the Cribber above by Geoff Tydeman
SB/How was your session that day?
NH/Mental. The wind was strong and being on your own intensifies the experience. I was aware of the spectators that had amassed on top of the headland above. I did not want to become a statistic! The wind was very strong and blowing me back up the face! I kept paddling for waves and after about 45 mins caught my first left hander. It was a good one… I could relax a bit now. Tom Butler hollered me into another one. All was good.

SB/How does it feel to surf big waves?
NH/It's great to be a part of the very unique camaraderie that comes with surfing these waves. Afterwards we're buzzing and the adrenaline's pumping. I won't sleep properly for a couple of days from the high of the experience. That's the addictive part of it all. Getting that feeling is what keeps you coming back. It's good to be scared sometimes!

SB/Have you ever backed off a wave because it's too big?!!
NH/For sure I have backed off at times… on occasions you just don't get in early enough or the wind holds you up and the next thing the bottom of the wave has dropped out and your free falling. Much better to pull off and set yourself up for the right one.

SB/What's the atmosphere like out on the water when 'The Cribbers' on?
NH/It's generally the same guys out there, there's not many of us. And the standard of surfing is high. We have got to know each other well and there's a feeling of camaraderie. We would always look out for each other and chat about our experiences afterwards. Everyone's buzzing.

SB/What kit would you recommend to use for big wave SUP surfing?
NH/I use boards that are shaped like classic big wave Gun's or semi Gun's 9'9″ or bigger. You need plenty of speed to enable you to catch these waves as early as possible. Otherwise it 's over the falls which can be traumatic. My Fanatic semi Gun 9'9" has got me some of my best waves recently. Quick Blade 110 magic or Slim Jim, carbon paddles. Oh and of course a thick leash!

SB/What other big waves have you SUP'ed in the UK?
NH/The Cribber has delivered some of the biggest waves I have SUP'ed in the UK, but I have surfed waves equally as big or bigger in Morocco and Ireland.

SB/Where would you like to SUP surf next?
NH/Peru, Chili, Hawaii and back to Ireland are on the wish list.

SB/Do you do any specific training for surfing big waves?
NH/I have always been into keeping fit and eating well. I don't train specifically for big waves. I train for all the watersports I do, particularly surfboat rowing. In the wintertime, I generally do four sessions a week in the gym. I do exercises that work on balance, agility and being mobile and of course, get in the sea as often as possible.

SB/What advice would you give a SUPboarder wanting to get into big wave surfing?
NH/Fitness is very important. It will be the thing that gets you out of trouble one day. Get out there as often as possible and keep pushing the boundaries, progressively. Get the right equipment i.e. a board that has some paddle speed, a strong leash and a reliable paddle. Oh, and some like minded mates you can rely on. They'll push you.
SB/Whats in your SUP kit bag?
NH/I have a few different paddle boards for different waves. Currently I have the 9'10' Fanatic semi gun, a number of leashes, ION wetsuits, a Quick blade "Slim Jim" paddle and a selection of fins. It's important to have a larger centre fin for choppy days.

SB/We know you don't just surf big waves. Last year you went on an amazing 10 day wilderness SUP paddle in Alaska. What are you plans for 2014?
NH/We have just got back from Costa Rica, I paddle surfed with a local guy on his Surftech surfboards and with wooden paddles made out of cedar and rose wood. They worked really well, but the boards were a bit tippy. I'm off to Morocco very soon to find some warm waves. I'm excited to be having a baby in May. My New Years resolution is that If I don't go in the sea on a board I have to go in board shorts only, every day till 2015. I have done it so far and I can tell you it's cold, especially after Costa Rica. The aim is also for us (Porthtowan) to win the world surfboat champs, in Biarritz, in September!
Thanks Nick. Sounds like you've got a busy year ahead, on and off the water! SUPboarder looks forward to hearing all about your next adventure, and seeing you out in action in the next big swell to hit the UK.
Nick out on a small day at the Cribber. Photos by Mike Wilkinson
Nick's sponsors – K-66, Quick Blade Paddles, Fanatic, ION Apparel, Freeriders Surf Shop, WeSUP and FCS. All whose support he says goes a long way to getting him out there.