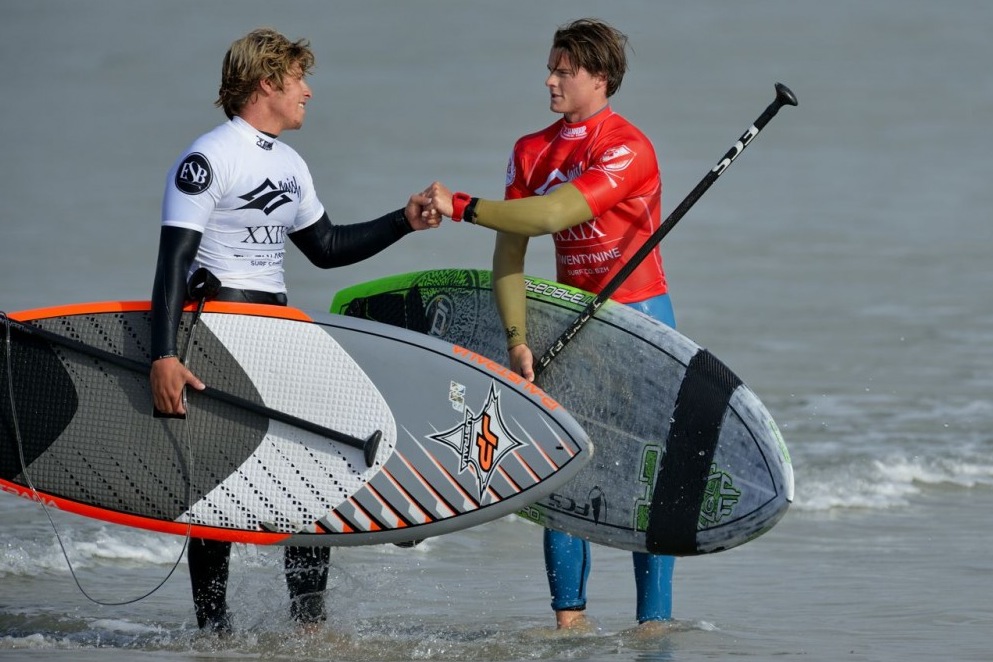 Where are we at now?
The 2013 Stand Up World Tour was an exciting and action packed year for performance SUP surfing. We have come a long way from the days when the top 20 in the world were riding boards approx 8'5″ x 29″ in the surf. The 2013 season saw many dramatic board changes including not only their smaller size but also the way they're ridden. The average board size on the World Tour at the moment is approx 7'5″ x 26″. But some of the smallest boards being ridden are approx 7′ x 23″! When the young Hawaiian, Mo Freitas is standing on the beach you could easily mistake his SUP for a surfboard. For many of us it is almost unimaginable to think of how it's physically possible to stand on a board this size with a volume of only approx 70L. Obviously there are two main factors which come into play when riding a board this small… the ability of the rider and the weight of the rider. The simple fact is that it's not physically possible for everyone to ride boards of this size… so don't worry! For example, the Aussie hotshot Keahi de Aboitiz, is riding a board at 88L as he weighs approx 80 kg. And this is also the case for many other riders including Leco Salazar and Sean Poynter. Most of the top riders are riding boards with around 5 to 12L spare volume, compared to their bodyweight. (i.e a 75 kg rider would be riding a board of approx 80 to 85 L). The reason why many riders are choosing to ride smaller boards, is to enable them to get tighter turns, more vertical and more control on a bigger wave thus allowing them to stay closer to the critical section of the wave scoring higher points. And also, there's greater chance of doing airs with a smaller, lighter board.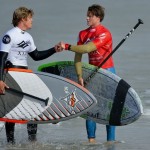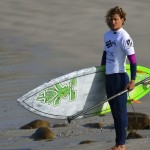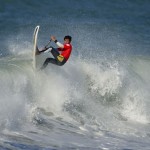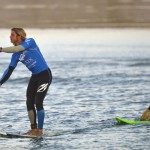 How do they paddle a board like that?
Although, yes, the majority of the time these riders are standing up paddleboarding, there's a high chance you'll also see them lying down at some point during a heat. When you are paddling a board with only 5 to 10L of volume to spare, the only part that is really out of the water is the nose of the board. So paddling a board this small out through big surf can be a problem. It's not impossible but it takes a great amount of skill and balance. And that's why many top riders are looking for other ways to do it! If you get a chance to go and watch a World Tour event live or on the webcast TV, you will see the riders paddling out, jumping on their boards standing up straight off the beach and starting to paddle with barely any board visible out of the water. You'll probably chuckle to yourself and say to your mates on the beach,
" Look at the size of that… you cannot be serious!"
You'll watch in awe and amazement as they pop over the first few waves with barely a wobble. But the chances are there will be a bigger one they can't paddle over. And this is where something strange now happens! Watch a rider like Mo Freitas… as he is paddling towards head high whitewater on his little board you'll say "he can't get over that", and get ready to see him get smashed or lie down. But instead he crouches down in a squat position, holding on to the rails at the front of his board, sinking the nose of the board underwater and forcing him into a duck dive under the whitewater. He then just pops out the other side, stands up and keeps on paddling like nothings happened, whilst you're likely to be saying "what the hell just happened?!!" I guess why go over when you can go under?!! Duck diving a SUP… is this the future for everyone on small performance SUPs? Will we soon all be going under rather than over when paddling out?
Is this the only future for performance SUP surfing?
At present, performance SUP surfing is all about small boards and a short board surfing style. But in the performance Surfing World there are two disciplines… longboarding and shortboarding, and both have a huge part to play on the Surfing World Tour. Is this the direction that SUP surfing will go and needs to go? Longboarding is a fantastic surfing discipline. It can be made just as performance orientated as shortboard surfing, aswell as allowing a wider range of abilities and styles of riders into the competition scene. Manouevers such as, walking the board and riding the nose, just to name a few, are all possible on a SUP. So surely in the future there should be 2 categories of SUP surf disciplines… 9ft plus, and sub 9ft for example? Opening up a longboard SUP category in all levels of competition, national and international, would surely give the sport so much more feasibility for everyone? They can both be as high performance as each other and impressive to watch. At present with the majority of competitions having only one SUP surfing category it is very hard to judge a fluid, dynamic long board style alongside a fast, aggressive short board style. Not to mention, how many points does a nose ride get compared to a vertical top turn?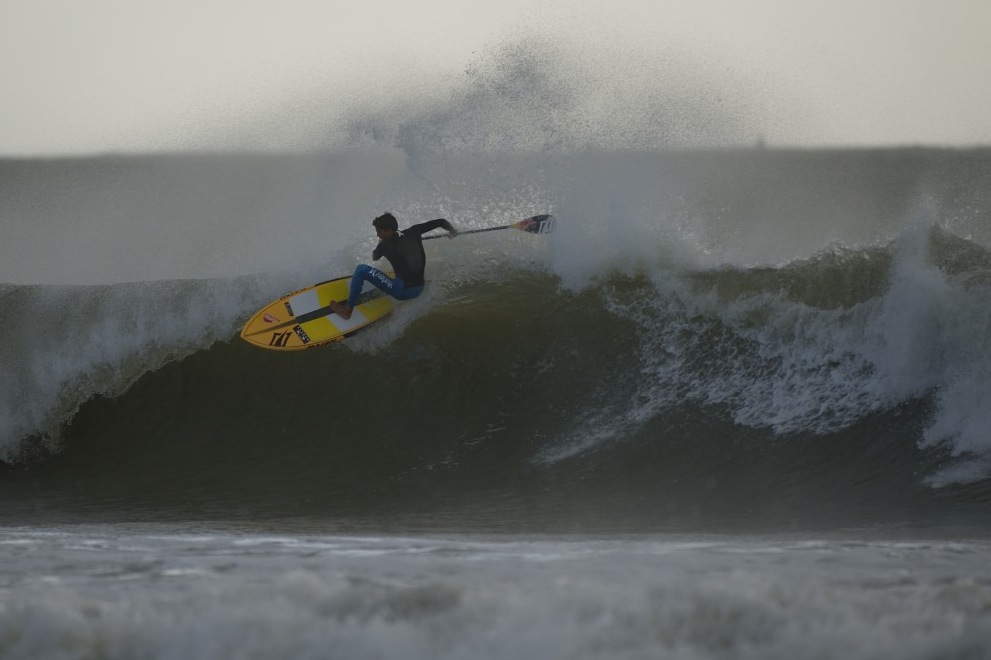 We make our own future.
SUP has evolved dramatically in the last few years but it won't stop here. It is obvious that short performance SUPs will be a huge part of SUP but surely the sport is too big and the board sizes too varied to just have just one discipline of SUP surfing in the competition scene? So have your say…
Would you like to enter an event on your local beach with your 10'5″? Would you like the idea of having different SUP surfing disciplines to enter? Have you been put off the idea of entering because everybody on the beach is standing there with 8ft SUPs when you only have an 11ft?
SUPboarders… what are your thoughts? What would you like to see happen in the future? Together we can make it happen…