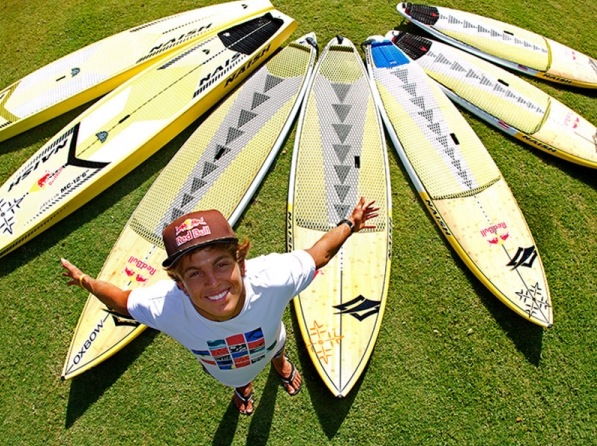 As SUP started to gain popularity it was only a matter of time before a group of likeminded individuals would step up to the plate, form governing bodies and establish global platforms for stand up dualists to face off against each other. Gladiatorial battles in any sport are extremely compelling, entertaining and exciting and just what stand up needed.
The Waterman League, and later the Stand Up World Tour, was formed in 2009 by Tristan Boxford. An ex pro UK windsurfer who had relocated to Hawaii; Tris immediately saw SUP's potential and realised the need for a competition circuit where SUP's elite could prove their worth.
In the early days, as the tour was just getting established, healthy numbers of noted watermen would show up to do battle. It was only when Maui born Kai Lenny and the new school arrived that things really switched on and the competitive side of SUP was realised.
Sunset Beach Pro 2011
Sunset Beach, Oahu, is the ultimate battle ground for anyone into riding waves. Many a reputation has been made while others have been laid to waste by the relentless pounding Pacific swells –Sunset's notoriously shifty peak is a tricky beast to tame. At the start of every year the Stand Up World Tour hits these hallowed waters for a SUP showdown of mammoth proportions.
During the build up to 2011's event Kai Lenny had been steadily making waves in the world of SUP –in fact he won the overall in 2010, his first year competing on the tour. Already a highly regarded windsurfer, kiter, surfer and now stand up paddler, Lenny took on the might of the Pacific and scalped a few well respected names in the process of winning.
With wave heights hitting the eight to ten feet (Hawaiian) mark, the fearless young charger put on an epic display of SUP surfing prowess, stamping his authority all over the comp and further enhancing his rep as a real SUP charger.
Kai Lenny
Lenny is now an established and recognisable figure within the world of watersports and is regularly seen out tackling big wave spots such as Jaws, Maui. A master of various craft, from SUP to windsurfing, the Valley Isle's number one son and his dedication to the ocean is unquestionable.
After his proven pedigree in waves it was a bit of a surprise to see how competent at racing Lenny suddenly became. Kai took top honours during 2013's Battle of the Paddle, which had long been the sole domain of other highly regarded racers such as Danny Ching and Travis Grant.
Connor Baxter had also been steadily moving up through the ranks and delivering endurance paddling feats and downwind exploits to the masses via his regular social media and blog updates. If any of the new school had been tipped to take the win it was surely Connor? Kai Lenny was there but nobody thought he'd steal the BOP trophy.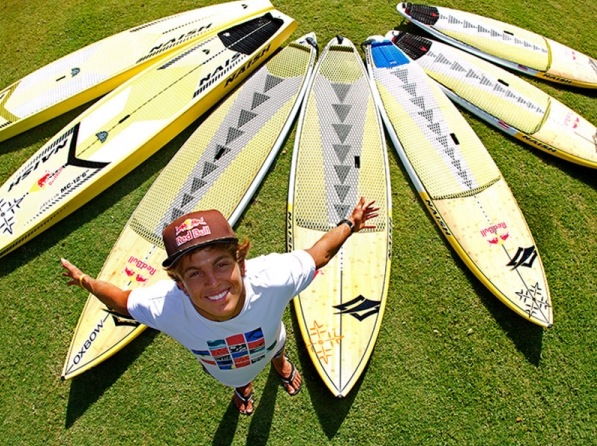 Stand Up World Series
As the Stand Up World Tour gained momentum it was only fitting the organises should establish a racing series of events. After all, first past the post style competition is what every paddler can easily relate and aspire to – avalanche chasing big wave SUP isn't necessarily everyone's cup of tea.
During a heated race to the finish it was once again Kai Lenny who showed dominant form. Before long he'd solidified his racing status and took the final event win, held at the Turtle Bay resort, which featured some seriously hectic surf racing.
The Maui boy wonder also invented a new move during his 2013 racing campaign that called on both his general paddling and surfing skills. Search Google for the 'Hammer buoy turn' and you'll witness pure poetry in motion. This technique is now copied the world over by anyone serious about SUP racing.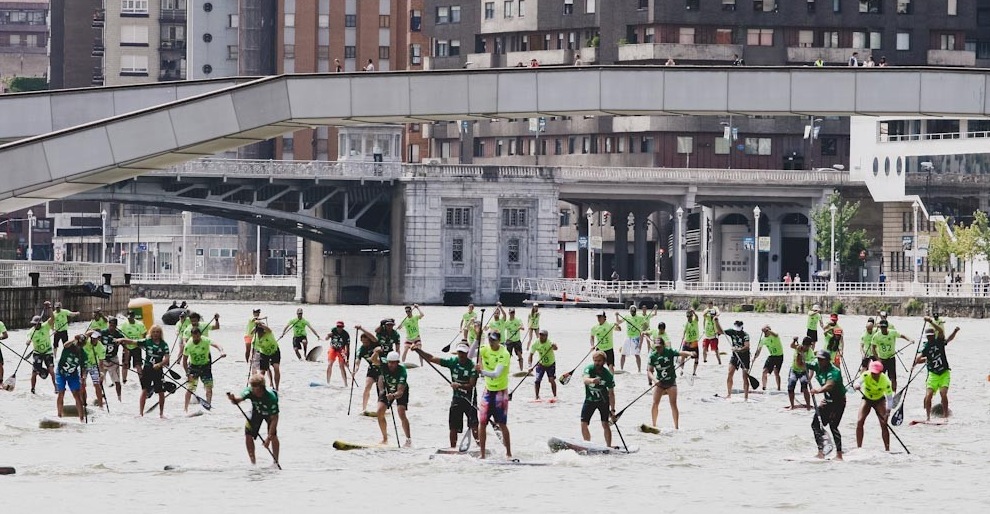 Baxter V Lenny
After successfully winning the Stand Up World Series a friendly rivalry between Connor Baxter and Kai Lenny emerged. Baxter is noted as being the fastest paddler on the planet and regularly ends up in 'to the death' sprint finishes with his arch rival (and friend) Kai Lenny.
Both paddlers are extremely diverse and talented in equal measure, across multi ocean sport disciplines. It's encouraging to see the new school bust down the doors and show the old guard a thing or two. Ground breaking techniques, competition savvy beyond their years and heightened ocean awareness all prove that SUP isn't just an old man's sport.
What about the women?
Women's stand up paddle boarding is also in great shape with the likes of Annabel Anderson leading from the front – dominating the men in some cases. But the female stand up story is for another time – watch this space!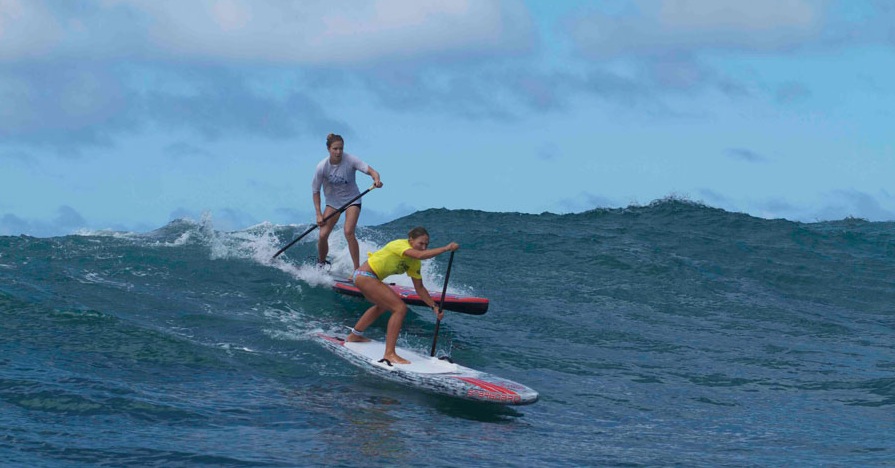 Moving into 2014; the Stand Up World Tour, Stand Up World Series, Battle of the Paddle and a number of other SUP events have become a lot more mainstream. With such inspirational young paddlers as Kai Lenny and Connor Baxter in the mix stand up is in a truly great place. If you're not on board yet then you ain't nowhere…
Words : Tez Plavenieks www.tezplavenieks.com
Incase you missed the previous 'Defining Moments in SUP' articles you can read them here – Part 1 – how we got here, and Part 2 – the second coming.