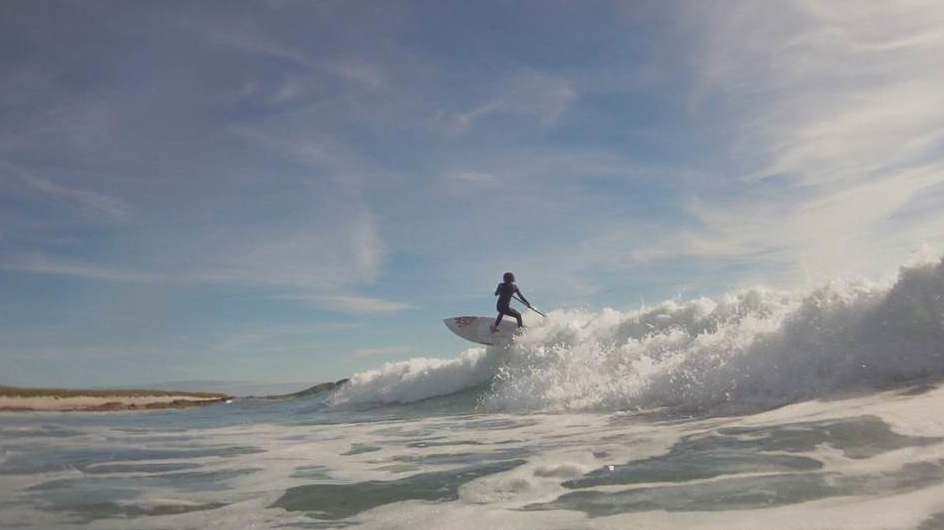 Tiree is the most westerly low lying island in the Inner Hebrides of Scotland. About 17 miles long, 10 km at it's widest point and 1 km at its narrowest its easy to explore and get around. Situated close to the Gulf Stream means winter temperatures are generally higher than on the mainland, and the summer months are pleasant. And because of it's position it picks up all the prevailing swells.
Young, SUP enthusiast Ollie Laddiman first went to Tiree in 2012 with his dad, SUPing, surfing and windsurfing. He had such a great time he went back again in August this year.  Ollie's 'Taste Of Tiree' will tell you a bit more about what the little island has to offer and help you to plan a trip if you haven't been lucky enough to visit Tiree yet.
Tiree may only be a small island and not the closest place for many of us to get to. But it's friendly and a watersport gem… so well worth a visit!
Getting there – There are frequent flights operated from Glasgow, and Caledonian MacBrayne runs regular ferries from Oban that can be easily booked online.
Where to stay – There is a campsite at Balinoe run by Wild Diamond for tents/campervans. Campervans used to be able to wild camp but now you'll need to book a campsite prior to travelling otherwise the ferry company won't allow you on! But it's still possible to wild camp with a tent, just no vehicle! If you don't fancy camping there are loads of other places to stay on Tiree. I've only been to Lilkeneth Cottages, which I can definitely recommend. Also the Mill Lodge is a good cheap alternative to a cottage.
Where to shop – Scarinish is the main town on Tiree. There is a co-op for food, and also another shop ran by locals with a bit of everything in it – ideal if you're camping. Next to the port there is a petrol station, bike and car hire. Bike is a great way to explore the island as there are only 3 hills!
There is a surf shop in Cornaig in the NW of Tiree owned by Wild Diamond. Willy Angus from Wild Diamond (who's usually can be found at either the shop or the lake Loch Bhasapol) and Suds from Suds Surf School (who's usually hanging around at Balevullin) are good guys to chat to, to find out about the local spots etc… However all the locals are really friendly and more than happy to help out.
Tiree offers great SUP surfing as well as beautiful flat water exploratory paddles. I've only been to Tiree in the summer months but I still managed to SUP surf 5 out of 7 days. Although colder during the winter months, I'm sure the swell would be bigger and more consistent, making it a great place to visit all year round. As well as taking SUP and surfing kit its well worth taking windsurfing or kitesurfing kit too if you're planning to go during the windy months, during December and January.
On Tiree there are loads of surf spots however the main spots are:
The maze – this is my favourite surf spot. The only problem with the maze is it's quite a trek to get there but it's worth it. At low tide the wave's shorter, punchier and steeper. But off low it's longer and slightly more mellow but great for SUPing either way! The maze works in NW to SW swells and is off shore in E winds.
Balevullin – My dads favourite! At low tide here it's a short and punchy short boarders wave. But off low the wave gets longer, so you can get a couple of turns on it and then a good smack. Balevullin works in all NW swells and is off shore in S to E winds.
Crossapol
– this place needs a big swell to work. For example when we got to Tiree, Balevullin was six foot, whereas Crossapol was only waist high at best. So it's only worth checking if the rest of the island is maxed out. Due to the prevailing westerly winds Crossapol is regularly offshore and it has long peeling rides.
Balephuil
– this place picks up a good westerly swell. And if it's high tide a westerly wind the hill Beinn Ceann offers great shelter to the right of the bay making it still surf able.
The Green
– the spot is apparently quite good but there are some access issues with vehicles because both entrances are marked 'private, no vehicles permitted.' So if you want to check out 'The Green' you'll need to be prepared to walk! I haven't surfed there as I've had too much of a good time else where!
There are plenty of other reefs and beach breaks but they're for another trip and for you to find for yourself!
So all that's left to do now is load up your van, book a ferry ticket and explore Tiree!
If you've got any other top Tiree tips that you think other SUPboarders might find useful please share them below.
To find out more about Tiree visit the Isle of Tiree website here.
To find out more about Ollie Laddiman check out the SUPboarder Young Gun feature here.