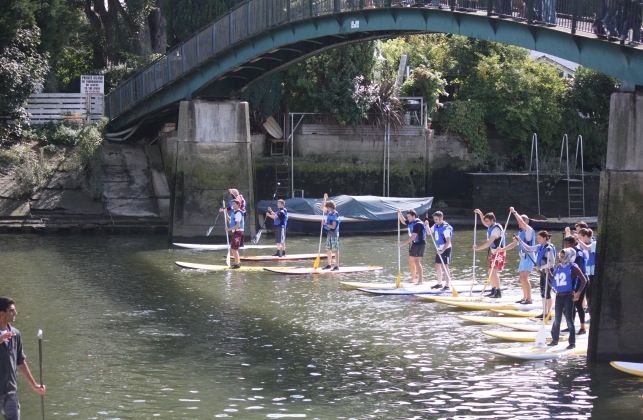 Paddleboarding on the Thames is a great way to see the sights and experience the thriving city from the water. In London, like much of the UK there is a growing SUP community, with many SUP clubs and schools setting up and getting on the water, along with other watercrafts. London Active 360 near Kew Bridge is one of the SUP clubs offering SUP lessons, groups and tours on the beautiful Thames.
Up until September this year London Active 360 along with other recreational paddleboarders, have been permitted to paddle unrestricted from between Teddington and Wandsworth, provided paddleboarders comply with the guidance contained within the Stand Up Paddleboarding guide. However following amendments to the SUP guidance (byelaw 13) paddleboarding has now been restricted past Putney Pier by the  Port of London Authority (PLA).

" The tidal Thames is not a safe place for unrestricted paddleboarding. It is therefore not permitted west of Shoebury in Essex (West of Sea Reach 1). However the PLA has agreed that if this guide is followed carefully, then paddleboarding is allowed between Teddington and Putney Pier. Paddleboarding downstream of Putney Pier is not allowed. In very exceptional circumstances, the PLA will consider one off 'Special Event Proposals' to paddle east of Putney Pier but no further than Wandsworth Bridge. Such event proposals would need to be submitted well in advance of the proposed event, together with full navigational risk assessment and passage plans. In any event, stand up paddleboarding willl not be permitted in any circumstances on the Thames in central or east London." – Port of London Authority.
So, if you plan to paddleboard between Putney Pier and Wandsworth Bridge on the River Thames you now have to apply to the PLA at least 4 weeks in advance and complete the required application forms and navigational risk assessments.
This does not apply however to kayaking, rowing, sailing or canoeing! The exact reasons for this paddleboarding restriction has so far not been made clear by the PLA. Paul Hyman from Active 360, along with other Thames paddleboarders have been in contact with the PLA in an attempt to find out exactly why paddleboarding is being treated differently and perceived a higher risk on the Thames than other paddle sports. This is ongoing and at present the restriction remains in place, as from September 1st 2013 when the new guidance came into place. 
Check out the document written by Paul Hyman to the PLA highlighting the safety of SUP compared with other tidal Thames watersports:

Safety of SUP compared with other tidal Thames watersports
As a relatively new watersport the risks and relative safety of SUP are not well understood by authorities and administrators outside the sport.
All watersports participants are at some degree of risk from injury or drowning, particularly when they are in fast moving or open water.  Risk varies  across each sport and depends on weather and tide conditions etc.  On the Thames Tideway and other slow moving waterways deaths or serious injuries as a result of involvement in watersports are very rare.  Most deaths on the Thames tideway are suicides or from intoxicated people and weak swimmers falling into the river.
Generally in all established watersports the risks are accepted as reasonable and manageable to the participants.  However as people die and are injured in watersports from time to time it is right to regularly assess and review safety and risk management.
This note reviews the risks of SUP on the Thames Tideway and compares them to risks in other watersports prevalent on this part of the river.
The risks to participants in each sport are:
Kayaking
A good advanced / intermediate kayaker able to roll and brace a kayak is able to self rescue easily and deal with risks from within the kayak.  A sea or high volume whitewater kayak paddled by a skilled kayaker is a very safe craft and can deal with most hazards on the Thames Tideway.   Being pinned against moorings and trees is the main hazard.
A beginner / intermediate kayaker is unlikely to be able to roll or self rescue confidently and would require assistance from a more experienced kayaker following a capsize.  Novice kayakers are at greatest risk in the tideway when the current is strong, particularly in the first hours before or after high tide when there are few egress points.
Kayak rescue by another kayaker usually takes a few minutes and during this process both the rescuer and rescued kayaker are at increased risk from drifting into moorings, overhanging trees and other river users.
Unskilled kayakers not trained to escape quickly from their boat can be temporarily trapped in a capsized kayak.  This can be an uncomfortable and potentially dangerous situation as the kayaker can drift into trees moorings etc still underneath the capsized kayak.
Racing kayakers require a high skill level to be safe on the tideway because of the instability of their craft and inability to self-rescue.
All kayakers have quite good all round vision on the tideway and can move easily away from danger provided they have a high enough skill level.  They can move into shallow water to avoid larger craft.
The rate of beginners capsizing is quite low and most novice kayakers can expect to stay dry on their first session but this will vary depending on the type of kayaks used.
Rowing
Rowers are unable to self-rescue easily and have limited view of the river in front of them (unless coxed).  Some rowing boats are unstable and they are difficult to turn and change direction in strong currents.   Rowers tend to collide with moored boats, the shore and other river users from time to time because of the difficulty in seeing ahead and maneuverability. Some rowers increase the risk by failing to look around regularly to see what's ahead (behind) them.
In addition to being a risk to themselves rowers can be a risk to other river users as collisions happen from time to time.  In my experience these tend to be minor although I have witnessed a teenage kayaker suffer a head injury from an oar by careless scullers.
Sailing
The narrow width of the Thames makes sailing a difficult and quite hazardous sport requiring high skill levels or good supervision.      Capsizes are fairly frequent in high wind conditions.  Self rescue is a requirement and is taught to everyone involved through clubs. During strong current conditions there is a significant risk of capsized sailors being swept into moorings etc.
Maneuverability is limited and very dependent on skill level and conditions.
Canoeing (open or Canadian canoes)
An open canoe fitted with buoyancy bags can be rolled only by a skilled canoeist.  Boats used on the Thames Tideway would not generally be fitted with buoyancy bags. They can be rescued by a skilled canoeist trained in rescue techniques .  This generally takes a few minutes as the capsized boat has to be emptied by the rescuer before it is re-entered.
There is no risk of entrapment in the canoe and the capsized canoe is a useful but not ideal flotation aid.
Although generally quite stable craft, open canoes are difficult to steer safely in windy and choppy conditions and are susceptible to being swamped by wash.   They are difficult for a novice paddler to steer in strong wind conditions and only a good canoeist can progress against the current in mid tide. Unless paddled by a skilled canoeists open canoes they only suitable for Thames Tideway use in fair weather conditions near low tide.
Stand Up Paddleboarding (SUP)
An advanced paddleboarder has very good stability in all Thames conditions.   Stability of beginners on the Thames is generally higher than most would expect.  I our experience around 20% fall in on the first lesson on the Thames but partly because of wash from passing boats but this quickly reduces to less than 5% after one lesson.
When conditions become difficult with gusting winds or wash from boats paddlers can kneel paddle or sit in a similar position to a racing kayaker to achieve very high stability.  Stability can be further increased by prone paddling but visibility is greatly reduced.  Very high gusting winds increases risk to paddleboarders and such conditions are best avoided by novices, particularly when the river is busy and near high tide. Experienced and skilled paddleboarders can cope well with windy and choppy conditions.
Paddleboarders can move into shallow water (as  30-40 cm) without risk so can use the shallows to avoid larger craft when appropriate.
All paddleboarders can self-rescue quickly (generally a few seconds).  The board provides very good flotation when the rider is swimming alongside it.  If the rider temporarily loses her / his paddle it can be recovered by prone paddling.   A knee leash can help to recover the board quickly although this would slightly increase the risk of becoming temporarily entangled with a moored craft or overhanging tree.
Paddleboarders can turn quickly and easily after a few hours of coaching.   They have the best visibility of all watersports and can see and be seen easily.
Speeds are similar to kayaking   A fast raceboard travels at a speed slightly slower than a sea kayak but much faster than a shorter or whitewater boat.  An intermediate paddleboarder on a long cruising or race board can make good progress against a strong tidal flow.
Because basic SUP skills (self rescue, kneel paddling, turning and paddling in a straight line) can be learned very quickly (within the first few hours of coaching for most people) the transition from complete beginner to competent / intermediate paddler is generally rapid.  Progress after this is at a similar level to kayaking / canoeing.
Conclusions
Paddleboarding on the Tideway is inherently safer than rowing at all levels.
It is slightly safer than kayaking at all levels except for advanced when it is at a similar level of safety.   It is significantly safer than canoeing at beginner level and similar at advanced level.
Although the likelihood of an SUP beginner falling in the river is higher than a beginner to kayaking this is more than compensated for by the ease and speed of self-rescue.  The ability to clearly see approaching craft and to be seen from a longer distance also increases the relative safety of stand up paddlers.
The growth of SUP on the Thames Tideway is unlikely to increase the number of safety incidents.  There is evidence that it will increase river safety.  Having more skilled and water confident people around the river can generally increase the safety of the river environment.  In 2012  SUP coaches on riverside clearing up after an event on the river rescued an intoxicated  drowning girl following her suicide attempt at Twickenham.  This was recently repeated with an intoxicated  16 year old girl who attempted suicide at Strand on the Green and was rescued by two novice SUP paddlers under Active360 coaches supervision.
This paper is not advocating any restriction on other watersports on the Thames Tideway. It is making a case for all watersports to be treated rationally and in a way commensurate with the risks involved.
As well as making the Tidal Thames a more interesting, lively and safer place the availability of watersports increases opportunities for Londoner's to be physically active.  This should also be a consideration when placing any restrictions on their development.
Paul Hyman   Active360   July 2013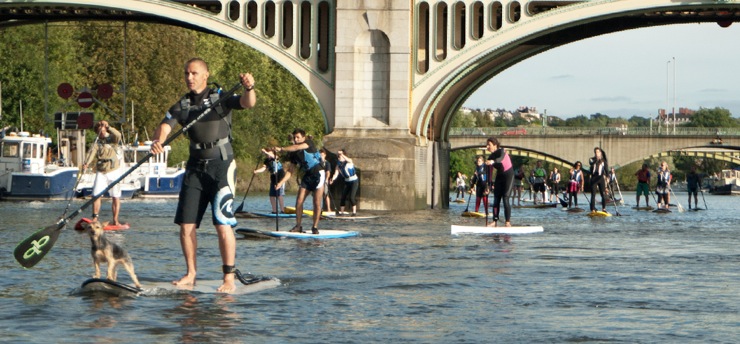 If allowed to remain in place, this restriction currently effecting paddleboarders on the tidal Thames, may also come into effect in other tidal areas across the UK. This means where you're paddling now, you may not be allowed to paddle in the future.
LET SUPBOARDER KNOW WHAT YOU THINK about the restriction, and whether you agree with Paul Hyman re; the safety of SUP compared with other watersports. Your views really do count and will have an impact on the future of tidal paddleboarding.
SUPboarder will keep you updated with the latest news from the Thames as it arises!
If you would like any further information re; paddleboarding on the Thames please contact Paul Hyman at London Active 360.