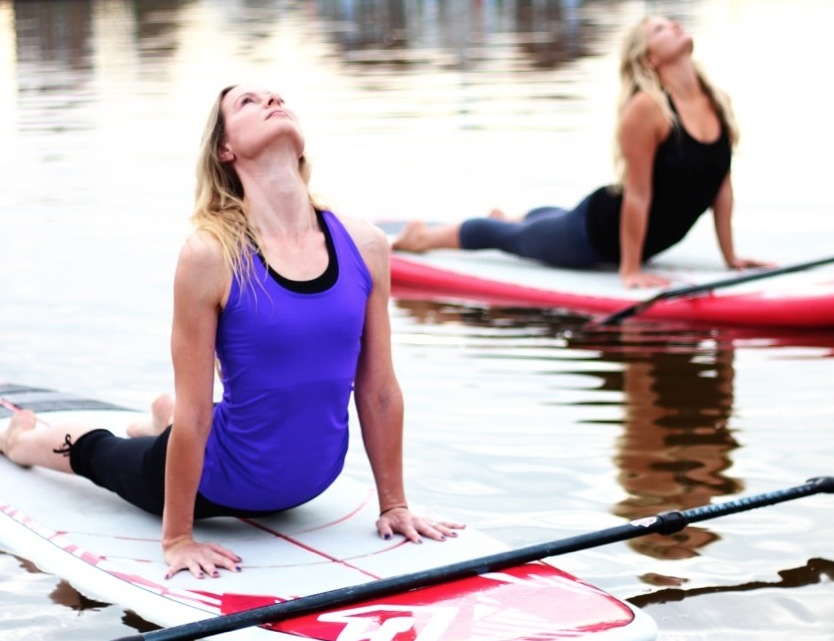 SUPfit is a new resource and training provider for all things Stand Up Paddle Board Fitness in the UK launched in September 2013.  SUPfit is taking fitness to the water… with the use of SUPs. It is aimed at fitness and yoga instructors who wish to use SUP as the tool to improving their client's health and fitness. The SUPfit and SUPyoga instructor courses and workshops will provide you with all the necessary skills and knowledge to run classes wherever there's water!

 Lucy McCormick, the founder of SUPfit explains more;
"SUPfit aims to take Stand Up Paddle Board Fitness to the next level by training fitness and yoga professionals to teach safe, effective and fun 'SUP Fitness Classes' throughout the UK. We will provide instructors with extensive training using up to date knowledge and the latest developments in Stand Up Paddle Board fitness, as well as providing ongoing support and assistance to ensure excellent quality SUPfit classes. Over the past year we have been working on a training programme, which would allow us to train Fitness Professionals and Yoga Instructors to teach SUPfit and SUPyoga classes throughout the UK. After a lot of work we are extremely pleased to say that our courses have now been REPs accredited meaning that our training has met strict criteria, and undergone a rigorous evaluation process by a panel of experts, giving it added value to both employers and potential students. On successful completion of our Instructor Courses you will gain CPD points towards your ongoing education.
We have also lined up some exciting SUPfit and SUPyoga Workshops that you can get involved in once qualified as a SUPfit Instructor, which will allow you to teach a variety of classes to your clients, keeping them interested and coming back for more! We'll also be running SUPfit and SUPyoga Pool Instructor Workshops to ensure you can keep your sessions going throughout the colder winter months!" – Lucy McCormick
So if you're a fitness or yoga instructor looking to incorporate SUP into your classes, then check out SUPfit and the instructor courses available.  Or if you want to get fit but are fed up of the gym keep an eye out for SUPfit & SUPyoga classes near you. The fun way to get fit!
The first SUPfit and SUPyoga Instructor Courses will run on Sunday 20th October 2013 at Hove Lagoon – spaces are limited, so book your space now.
To find out more check out the SUPfit website and facebook page.
To book a place on a SUPfit/SUPyoga instructor course email supfituk@gmail.com or call 07889041871.