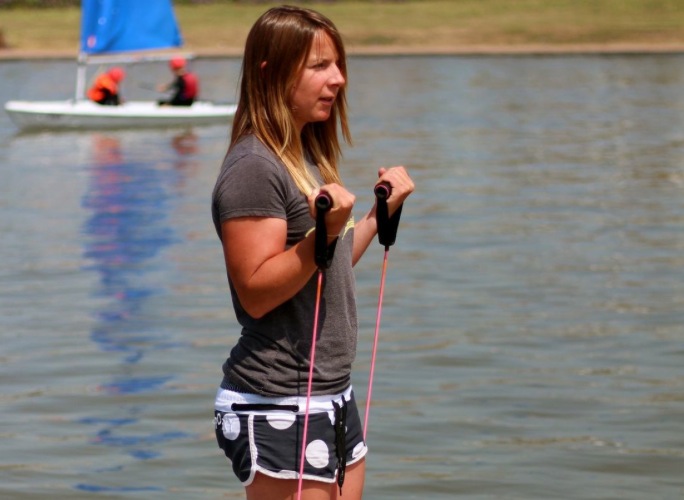 Throughout the summer, SUP fitness guru Lucy McCormick will be introducing SUPboarders to a new 'SUP Move of the Week.' So why not get a SUP fit body this summer and have a go at the;
Bicep Curl with Resistance Bands
Resistance Bands are a great exercise tool to use on a SUP. There are a massive range of exercises that you can perform with them to add a different dimension to your SUP workout. Resistance Bands are available in different resistance, so you can make your workout harder or easier. This is a great workout for the bicep muscles.
Position yourself in a standing position over the carry handle of the board.
Place the resistance bands under both feet, you should be standing with feet, hip width apart.
Hold a handle in both hands and extend your elbows.
Keep wrist and elbow alignment and elbows into the side of your body.
Depending on your fitness level, try to do between 2/3 sets of 12/15 reps.
REMEMBER: With all exercises, technique is the most important aspect – don't rush through the exercises, make sure you start slowly ensuring the correct technique.
Consult a doctor if you are unsure whether you should be taking part in a particular physical activity.