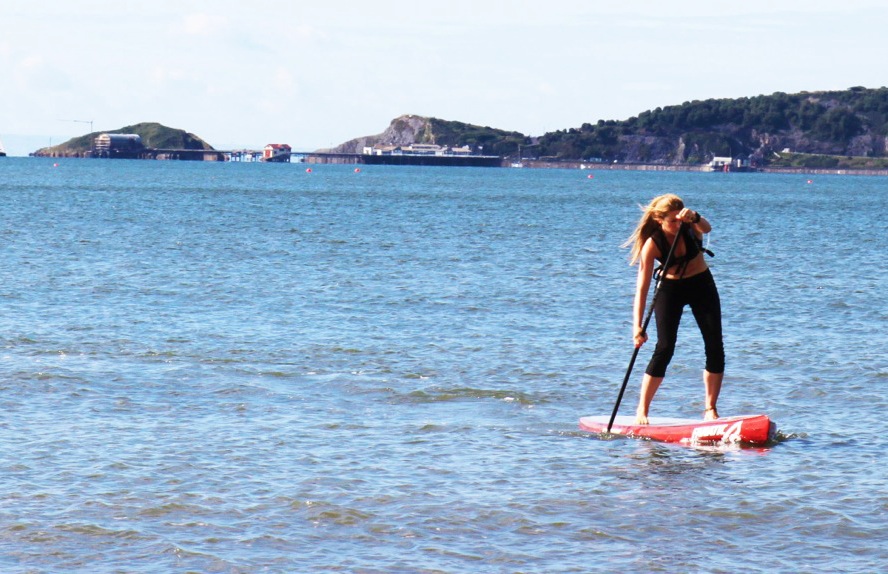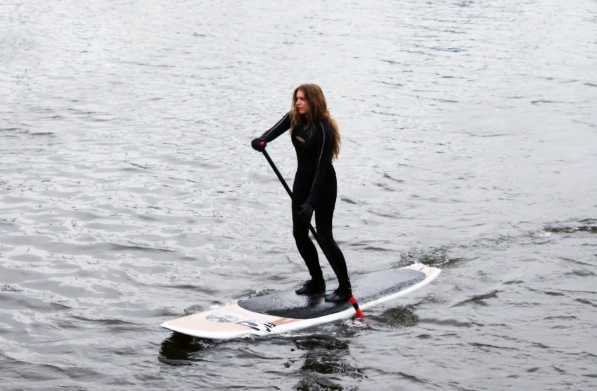 Jay Doyle is back with part 2 of her inspirational story of the personal SUP challenge ahead of her. If you missed part 1 read it here.

5 months ago I decided to set myself the challenge of competing in the British national SUP race in October this year. For an exercise-shy, moderately fit SUP boarder with no race experience, no race board, a broken paddle and no real clue, this was kind of a big deal!
I was naïve and clueless, but this turned out to be a blessing. If I had really known what was involved I might not have entered into it. I've received wonderful support and encouragement from friends – and strangers – in the SUP community and beyond. I'm nowhere near the level I want to be, but I feel fitter and healthier than I ever have and I've found exhilaration and passion in something which is good for me physically and mentally. But it's taken blood, sweat and tears (literally, all three), a shift in life priorities and a self-discipline I didn't know I had. I've been chased and attacked by swans, tumbled over reefs, battered by my board and reduced to tears of frustration when I've performed badly, but it's all been a great experience.
Accessibility to SUP racing isn't easy as the equipment is very expensive. For the first few months I had to train on my old 9'6 all-rounder SUP board using a paddle that wasn't up for the job. Some would say that it's the training which is more important than the equipment – after all, struggling on a 9'6 could only put me in good stead for when I finally progressed to a race board. This is true to an extent, but not having the right equipment can have a negative impact on your training because you can't gauge your progress against others using proper race boards, and it becomes de-motivating.
Through a good friend and a bit of luck I was able to trade my 9'6 for a proper race board, a beautiful all-carbon Fanatic Falcon 12'6 x 30.
I am in love with this board. If it would fit in my house I would sleep on it!
It's transformed my training and performance and makes me want to get out and train more. I was also helped out with a Quickblade carbon paddle and this made a huge difference too. Having a race board was transformative not only in terms of performance but how it made me feel – it was exhilarating and training finally felt rewarding. It turned out that even on a decent race board I was still lagging in training sessions, but at least now I had a more accurate indicator of my ability, and that made me want to work harder.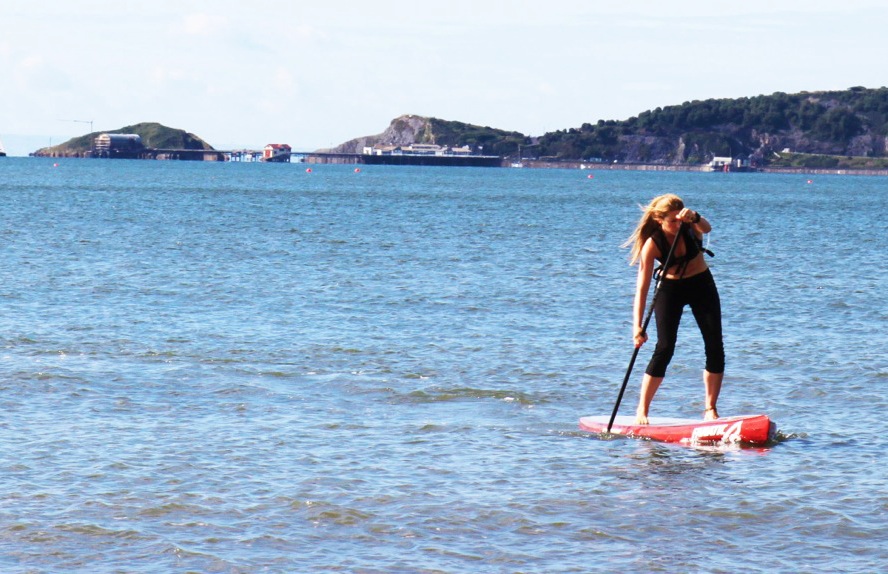 Training and technique
At the beginning of the challenge I would class my fitness as fair, but I was certainly no fitness fanatic. I had a big shock coming to me and it was painful. Frequent osteopath visits kind of painful!
My initial plan was to get a race board, get fitter and paddle really hard, really fast. I was quickly salvaged from this innocence through the advice of more knowledgeable and race-experienced friends, and endless hours of internet-trawling for articles and videos. I felt as embarrassed by my naivety as I felt panicked by the prospect of what was ahead. I felt intimidated by the impressive talent in the SUP racing community and I had grave doubts about my own ability to stand among them. As the training programme built, the doubts grew, but now I realise that my approach to training and the actual training itself has been unstructured, haphazard and a mess. I'll also admit that sometimes I would feel reluctant to get out there and paddle because the paddling itself was a blatant and unarguable indicator of my state of fitness and ability, and I didn't want to face it. There were also other mental barriers such as lacking the confidence to venture out solo in rough sea conditions. On one occasion I fought my way down to the shore with my board in high winds and just stood there for about 20 minutes watching the big, messy swell, debating whether I should venture out. Finally I convinced myself that going out in those conditions would not only be dangerous but selfish and reckless as I'd risk orphaning my poor dog who was waiting loyally in the car.
The internet is a wonderful resource for knowledge and advice on SUP racing, but it's easy to get overwhelmed with varying opinions and methods, and I constantly had to remind myself that it's a case of horses for courses. What works for 6ft Joe Bloggs won't necessarily work for me, but I learnt that there are some basic principles in SUP racing which are constant.
If I think about how I used to use a paddle, it's obvious why my paddling was so ineffective and why I'd easily exhaust and injure myself. I had no concept of the technical principles. Things like positioning your arms at optimum distance on the paddle shaft, keeping the paddle vertical during the stroke, being mindful where your blade enters and exits the water – all these things made a significant difference to the effectiveness and efficiency of my paddling. I remember the first time someone used the term 'biomechanics' and explained its application in SUP racing. I thought it sounded a bit extreme, like something from an Iron Man film. But now I get it. 'Torque' was another word I heard frequently, and when I finally looked this up in a dictionary I kind of got the idea, but it still took a while to apply the principle to my training.
Some say that a SUP race is won at the beginning, and your first few seconds are critical. Nothing can prepare you for how fast your competitors set off; I have been left at the start line floundering in the other competitors' wakes wondering what the hell just happened, watching them set off at cyclonic speed while I struggle to assemble my coordination.
Something which was in dire need of addressing was my upper body strength. I think it was around week 6 of the training when I decided to join a gym. The trigger was browsing the web for some training inspiration and seeing Candice Appleby's impressive biceps, and then looking at mine. I didn't seem to have any. So I joined the gym and rose at 5am every day religiously to go for a workout. This lasted about 5 days before the familiar realisation returned: I hate gyms. I have dabbled with other ways to build up my strength such as at-home workouts, but without an organised regime it's hard to be disciplined and I need to find something that works for me. I've just discovered a local boot camp which runs on the beach at 7am, and I've committed to a taster session. I am conscious that my inconsistent training efforts will not do. I've come a long way but I know there is still a long way to go. I run long distances to build my cardio strength, but not frequently enough. I go for regular paddle training sessions but sometimes I let my mood dictate the distance; I can set out to paddle 6k but convince myself after 3k that to push myself further may be overdoing it and I wouldn't want to risk injury…
While I've surprised myself by how far I've come, I don't know if I'll ever be the kind of person who sacrifices enough (wine, cake, Ben and Jerry's ice cream (the whole tub)) and maximises every opportunity to train. But it may be in me. I have experienced periods of extreme intensity and self-discipline in the training, followed by lazy lulls, and I'm trying to figure out the secret to maintaining momentum.
The rewards
One of the best things to come out of this experience is that it's encouraged others to get into racing too. I have two wonderful female friends who decided to give it a go, and together we recently won the Paddle Round The Pier 7 mile team race at Brighton. This was an amazing experience, a confidence boost and great incentive to keep training for the big race in October.
The Brighton race provided me with a valuable lesson on the importance of good race preparation. I've never really paid much attention to things like hydration during physical activities, but this was different as the pace had to be optimum and constant to maintain team formation, and the race happened to fall on one of the hottest days of the year. We arrived at the race prepared with hydro-packs of energy drink for what we estimated would be a 2 hour deal. The conditions at Brighton were great: calm water, sunshine and blue skies. Unfortunately, on the way to the race my dog had used my hydro-pack as a cushion in the boot of the car, and the contents had leaked. I refilled the bag with just water but I didn't realise that the bladder had actually split and the water was slowly trickling out.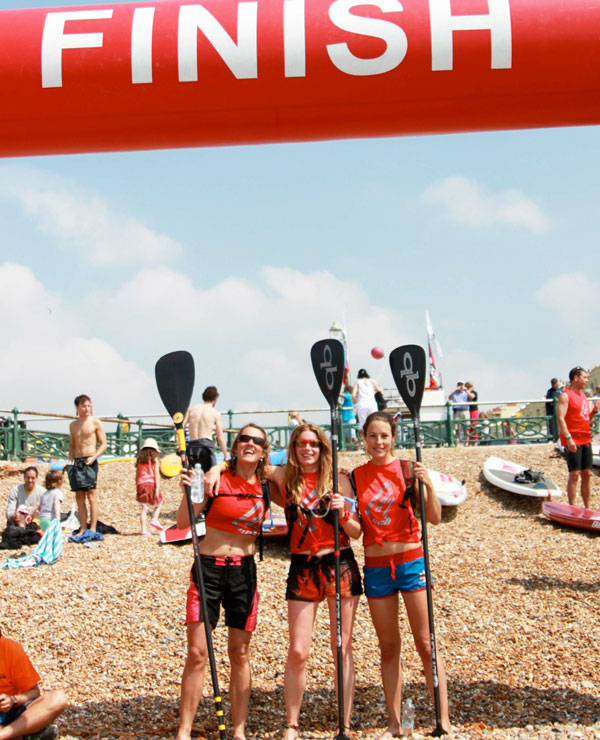 About half an hour into the race I tried to drink from my hydro-pack and realised it was empty. As time went on and the temperature rose I started to feel dehydrated, sick and dizzy. I wasn't keeping up with my team and our plan to draft behind each other to conserve energy had gone out of the window. I managed to grab some water during shore dashes at set stages, but I couldn't take enough in. I was about half way through the race when I decided that when it was all over and I made it back to shore, I would pitch my board on the beach with a for sale sign on it. At that point I hated my board and I hated SUP racing.
On the final leg as we made another shore dash, my team mate encouraged me to take some of her energy drink from her hydro-pack and I gulped down as much as I could. Almost immediately I felt an amazing surge of energy and it completely revitalised me, and I just went for it! On the final stage of the race my team mate said she'd heard we were in the lead. I didn't believe it then, but when we got to shore and reached the finish line to be met by congratulations, the elation hit. It was an amazing experience. I loved racing again and I loved being part of a winning team.
My less than optimum performance that day wasn't just down to the poor hydration. I owed it to myself and my team mates to bring an optimum contribution to the team, and I could have and should have trained harder. Lesson learnt.
The challenge ahead
The big race in October is looming. I have pulled my head out of the sand and increased my training, but with echoes of my old school reports, I know I must try harder. A big incentive is wanting my next blog instalment to report a successful performance in the big race, and hopefully encourage others to get out there and give it a go too. If I can do it, anyone can.
Amidst the boundless race training advice out there, there is one pearl of wisdom I always keep in mind and I would pass on to others: "If you get out there and paddle as much as you can using the right techniques, you will become fit and fast. If you don't, you won't".
See you in October! – says Jay.
Want to share your SUP story? SUPboarder is looking for people who want to share their SUP life to inspire, encourage or just simply share.  Do you feel like you have what it takes?  If so, contact us…