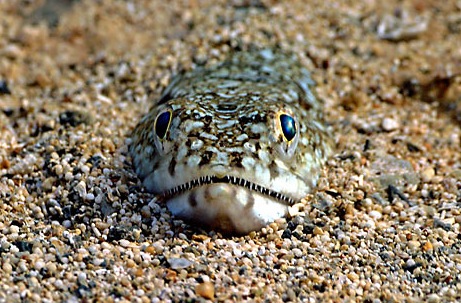 It's the perfect weather for paddleboarding… but it's also the perfect weather for weevers! They may be small but they have a nasty sting if you stand on one. So beware next time you're heading out for a paddle as a weever sting is a sure way to ruin your SUP session. Sitting on the beach with your foot in a bucket whilst watching your mates having fun, is far from ideal!
What are weevers and what do they look like?
Weevers or Weever fish are small fish (less than 20cm long) brown/sand coloured, with a grumpy looking upturned mouth, and eyes on the top of their head. They have poisonous spines containing a venom on their first dorsal fin and gills, used for protection against predators. Weevers like to bury themselves in the sand showing just their eyes, hiding from their pray (shrimps & small fish). There are a number of different types of weever but it is the 'Lesser Weever' which paddleboarders and other water users are likely to encounter as these are the type more commonly found in the shallows (unlike the greater weever which prefers deeper water).
Where and when can they be found?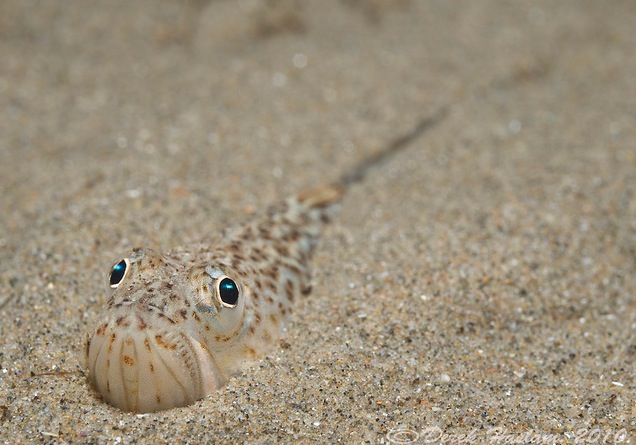 The lesser weever (less than 14cm long) is common around the south coast of the UK and Ireland, the Atlantic Coast of France and Spain. and the northern coast of the Mediterranean. Weevers are most commonly found in the warm shallow water over sandy, muddy and light shingle seabeds. They are well camouflaged and therefore rarely actually seen (just felt!) Stings are most common in the hours before and after low tide (especially at springs), and during the summer months when the weevers move into the warmer shallow waters. The frequency of weever stings appears to increase during the summer (Aug in particular) Although this may have something to do with the warmer waters, it may also just be as a result of the greater numbers of people in the sea.
What are the symptoms?
At first you will probably think that you've just trodden on a sharp stone or object, as it will make you jump but barely hurt. However after approx 2-3 mins you will experience significant pain, increasing in intensity over time. Other symptoms may include itching, swelling, heat, redness, numbness, tingling, nausea, and lightheadedness. Other more serious symptoms may also occur, for example abnormal heart rhythms, weakness, shortness of breath, and decreased blood pressure, however these are rare. And for most people the main symptom is pain and general discomfort.
What's the best treatment?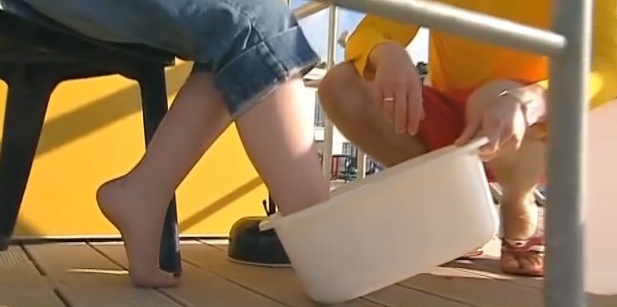 First aid treatment consists of immersing the affected area in hot area (as hot as can be tolerated). This helps to accelerate the denaturation of the protein based venom and reduce the pain experienced within a few minutes. Heat should be applied to the effected area for approx 15 mins, however generally the quicker the effected area is emerged in hot water the quicker the pain will ease. So although you may not feel like walking anywhere, (especially if you got stung on your foot) get yourself up the beach to the lifeguards hut, or nearest place with a kettle as soon as you can! Lifeguards have been well trained in dealing with weever stings so will more than likely have a bowl and kettle at the ready by the time you arrive, having seen you limping up the beach (and maybe even a cup of tea if you're lucky whilst you sit it out!). Once the pain has eased it's worth checking the effected area for the remains of broken spines as these will need to be removed also. Although extremely unpleasant weever stings are not generally dangerous and the pain will ease considerably within 10-20 mins if treated, or within a few hours if untreated. Complete recovery may take a week or more, and occasional swelling or stiffness in the effected area may last longer. If any of the symptoms persist or if swelling spreads beyond the immediate area of injury, or any other factors cause concern, medical advice should be sought.
How to prevent being stung
Be more aware when entering/exiting the water around low tide (especially at spring tides and during the warm summer months)
Wearing wetsuit boots may help to prevent the spine penetrating into your foot (but to be honest who wants to wear them in the summer! Save them for the winter!)
Shuffle your feet slowly through the sand when walking instead of lifting them. The constant vibration and dragging of your feet will hopefully make the fish move out of the way, preventing you from standing on them. After all… I'm sure they'd rather not get trodden on!
The great thing about being a SUPboarder is that you have a paddle, which can be very useful for scaring weevers! Place your paddle, handle down into the shallows and push it along through the sand in front of you as you walk. The sand (and hopefully weevers too!) will be disturbed in front of you leaving you a weever free path. This is a great technique to use when both entering and exiting the water. You might get a few funny looks from those on the beach,.. but its worth it! One thing worth noting is although this is a great tip for those with plastic handles it's not so great for those of you with an expensive, pretty carbon handle because you'll find that it won't be looking quite so pretty when you get home! (that's why its called sand paper!!)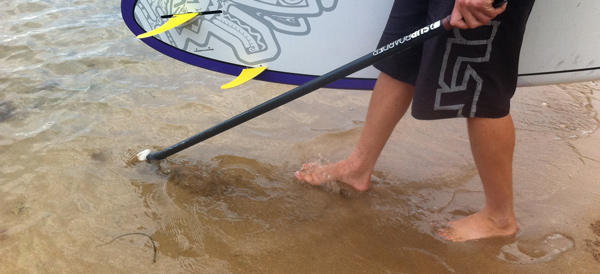 Walk as little as possible in the shallows i.e get onto your board and start paddling as soon as you can when heading out. And ride as far into the beach as you can when coming in.
When you're paddling in the shallows try not to touch the sea bed when you fall off. You'll have less chance of being stung on your hand/foot or even worse…bottom! If you do have to put your feet down, put them down slowly, so any weevers have the chance to move away.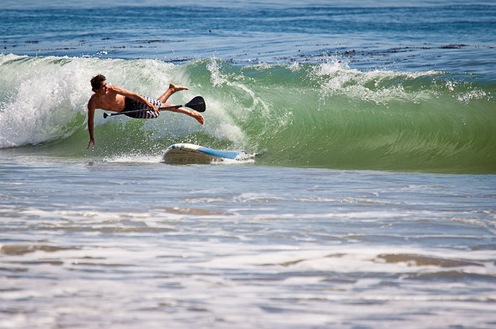 Don't let weevers ruin your SUP fun this summer. Follow these simple tips and spend more time out on the water rather than with your foot in a bucket!