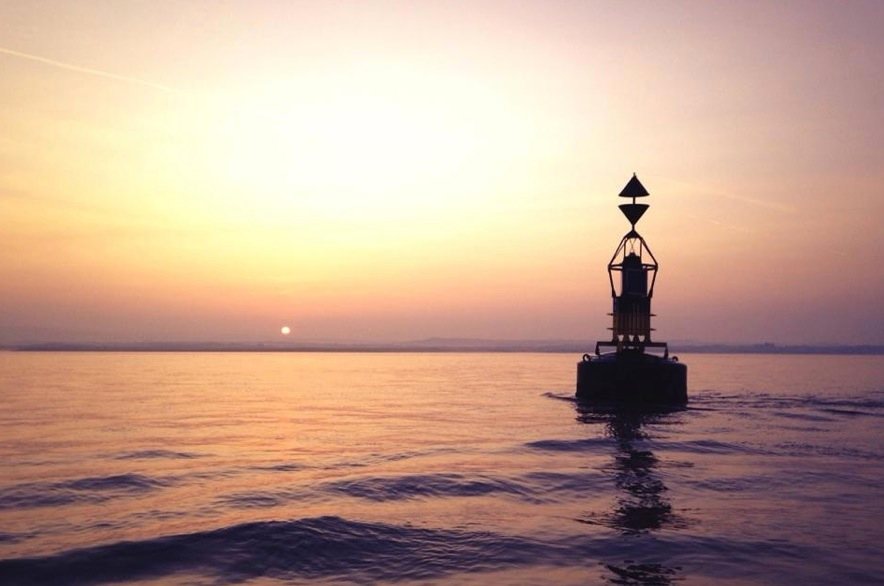 Earlier this year, two colleagues Dan Willmore and Kerry Baker, from Ashgrove School, Cardiff set themselves the challenge to SUP from the Mumbles Harbor in Swansea, to Penarth Pier near Cardiff. (read more at paddle-for-a-purpose-sup-challenge-wales) Dan and Kerry not only set out to challenge themselves, but also to raise money for 'Coastal Connections' – a project they set up at the school with an aim to encourage and inspire young people with Autism, through positive outdoor experiences. Ashgrove School is specificallly for children with Autism, and the money raised will be used to buy new equipment for the school project as well as help to start up a new stand up paddleboard program.
On Saturday 13th July 2013 Dan and Kerry completed their challenge (with the water safety assistance from Jim Brookes-Dowsett and Gareth Stephenson). Here Dan tells the story of their 10 hr, 42 mile + SUP challenge along the South Wales coast.
Its 1 am and we (Dan, Kerry, Jim and Sam) are setting the curtains twitching as we get the last of the gear ready and loaded it into the Puravida van.  None of the team has really slept in anticipation of todays launch.  It's been 6 months of planning and hard training and it has all led up to this point. Everyone is feeling excited and anxious all at the same time. The weather reports were forecasting the ideal conditions we had hoped for and at this point everything was running like clockwork.
We pulled up to the Mumbles harbor at around 2am after an unplanned drive by (it's harder to spot in the dark so we will let Jim off!) We reversed the van down the slip to the waters edge. Up to this point we had only ever done this in full daylight so getting the jet ski, boards, provisions and all the other equipment off in the dark was going to be interesting. Our safety boat, driven by Gareth Stephenson was already anchored just off shore waiting for us. Gareth had driven the RIB down the evening before to get a little late night fishing session in before the big day. Once we were changed and in our gear Gareth got the boat as close to shore as possible and we waded and paddled the gear the rest of the way to the boat. Again all these things we have never done in the dark. It was all a bit covert!! Even at this point with the head torches the water was glassy and clear so we could see all the wildlife on the sea floor. It was really amazing and eerie at the same time. Once we had launched the jet ski it was time. None of us had paddled in the dark apart from Sam (Ross) who was joining us for a couple of miles before paddling back, so the experience was a bit unsettling for the first few strokes but because the night was so clear and calm the head torches went off within the first 5 minutes and we were off!!!
The water was completely still and glassy and we slid through the water with ease. On one side we could see the lights of Swansea dancing off of the water and dark shadows to our right of the RLNI station and other dark strange shapes in the water. It was an amazing experience.  The boats and jet ski hadn't set off yet so for the first 10 minutes or so we could hear nothing but the boards and paddles moving water around us.
The plan for this part of the route was to paddle out into open water to catch the current and paddle with it from there to Porthcawl. So this is what we were doing. At one point as we paddled we could see florescent lights in the wake of the boards and paddles and assumed it was reflections from the land but as we continued we noticed that the fluorescent light was landing on the boards. We were paddling through phosphorescence, which was incredible and unbelievable. I had made a joke whether we would see any on the drive to Swansea but didn't actually think we would see any in British waters. Its one of those things you only ever imagine happen in tropical places.
The pace from the outset was pretty quick and I was already getting hot. Before we set off myself and Kerry weren't really sure what to wear on the this night time part of the paddle but at this point I was glad to just have board shorts, rash vest and impact vest and Kerry was in her shorty wetsuit so we had definitely made the right choice.
As the sun began to throw its first hints of light over the horizon we were still buzzing and chatting away from the adrenalin. We had been using the boat as our point of guidance and Jim had been our drone going out and checking the current so we could find the fastest sections along the route. We had noticed early on that although the conditions were near perfect there was no breeze and the water didn't seem to be flowing like we had seen it during our training runs. However according to the clock we were getting across in a quicker time than the previous run. At regular points we were stopping to take on food and ease the pressure but 3 hours in and we had reached Porthcawl, but I 'Bonked' big time!! We had just made a stop and had a bar but as soon as we set off again I felt dizzy, wobbly and sick. I had made a bit of a school boy error by not eating anything before we jumped on the boards thinking that the mountain of pasta the night before would see me through.  Obviously not!! It was a scary realization as if I continued to feel like this I wouldn't be able to continue which started to make me feel even worse. I stopped the team and dived into my food storage hammering a couple of sandwiches, energy bars and a bottle of sports drink. Instantly I started to come around but from that point on I kept a bottle of sports drink in my pocket and ate every time we made a stop.
Due to the nature of the currents and chasing the quickest ones we were a mile or so off shore. So at first, Porthcawl was hardly recognizable, but as we neared the main town the harbour wall that protects Coney Beach from the wind and makes it a safe haven for surfers, came into view. We had reached our first major checkpoint.  The team was feeling good! Next stop Monk Nash and the Nash Banks!! Paddling past Ogmore-by-Sea was a little strange. The last time we had paddled this area of coast as part of our training it had been raining and windy and pretty horrible to paddle but today it was serene, calm and glassy. Jim had sniffed out the next paddle point and we were paddling towards the Tusker wave buoy where the current was running at around 5 knots.  During this section of the paddle the excitement had passed and the reality of the task ahead had set in. We had our heads down and were paddling hard. The pace we had set off with was the pace we were sticking with so at this point headphones went on and we got down to business. This was a really hard stretch. The wind that was forecast was nowhere to be seen and the water wasn't moving as fast as originally thought regardless of it being a spring tide.  Every mile was hard earned and even though Jim and Gareth hadn't said anything we new it wasn't going to get any better. If anything it was going to get harder. On the up side the music was giving us both an extra boost and the pace was good. I had a couple of drink stops and before I new it Kerry had gotten a good distance in front of me which didn't bother me but as time went on it was mentally hard to handle. It wasn't a race but when one person is in front mentally the person behind feels the need to catch up which means you paddle that little bit harder and when you don't seem to be getting any closer that's when the frustration sets in. We eventually reached the Nash Banks and slipped through the bottleneck without any dramas. We regrouped and looked towards our next checkpoint, which was Llantwit Major. We new that from this point going on our previous experience we would be back in Penarth in around 2 and a half hours. However on this occasion we couldn't have been any further from the truth. The fact of the matter was that there was absolutely no wind. None! And the 5 – 7 knot currents that should have been there weren't! So in the past training sessions we would be travelling anywhere from 6 to 9 miles an hour but today we were barely making 5MPH.  Our average speed was 4.1 miles an hour. The problem with having no wind is that it means there is less water moving, especially in our direction. Which means things change earlier that normal which we found out the hard way. We set off from Monk Nash and headed for Llantwit Major. The water was amazing but we were all now too aware of the time it was taking to gain any ground. There were some really good sections of current and we would feel a little lift in our spirits as we felt that little surge of speed but then it would disappear and it would get harder again. It was around 8 or 9 am and the sun was getting hot. So now as well as stopping to rehydrate and eat we were stopping to jump in the water and cool off. This part of the paddle was pretty uneventful considering the last time we paddled this section we needed to grab a lift from the RLNI due to rough conditions.
Llantwit Major came into site and regardless of the conditions we all felt great and it felt like we were just around the corner, but what we didn't know was that the challenge hadn't even begun.

From Llantwit Major the next checkpoint was the Aberthaw power station water intake. We new the water would be running fast along this section as the channel was beginning to become thinner which meant more rushing water. To be honest the water intake looked a really long way away and although the scenery around us was breathtaking it became hard to look at anything other than the point we needed to get too.
When we were planning this challenge we all had romantic notions of stopping off and saying hello to locals, telling them what we were doing and why. Taking in the amazing south Wales coastline and just making our way back to Penarth. In reality we were hot, aches and pains were setting in, and we were painfully aware that the tide was going to turn, which would mean we would have to wait for the next one or pull the plug. Kerry and myself didn't want to do either!! I think initially we were both of the mind "yeah we can wait blah blah blah…" but now we were in it we wanted to finish in one go, no matter what. For a while we were all feeling a little better making it to Llantwit Major and in our minds the current was going to pick up and we would start making great time again. But the closer we got to the water intake the more we realized the water was just not moving with the force we expected or needed it to. At the water intake it was barely making a wake pattern and the water wasn't rushing with any gusto. At this point we realized that it was going to be a battle. I had kind of figured out that we were now behind time. It was around 10 am and we had planned to be coming into Penarth at this time and we were nowhere near and even though Jim and Gareth hadn't said it, we could see by their expressions that it wasn't looking too optimistic.
As we paddled into The Knap, Barry we were pretty much at high tide around 10:30. We were greeted by two members of the South Wales Paddleboard Club, which was really nice. It gave us a little spurt and lifted our spirits (thanks guys). We chatted as we paddled but we couldn't stop as we were up against it now and every second counted. So after about 5 minutes we said good-bye and they faded into the distance. We should have had a good hour of slack water at this time but due to the lack of water movement we could see that the water had already started running out, which was very visible at the different points along the Barry section of the paddle. The water by this time was getting more confused and as we headed past the harbor it had become quite challenging not including the boats that would come too close and make it even harder to stay on our feet. Once we got into Sully Bay it was on. The currents that were helping were now going against us and we didn't seem to be making any ground what so ever. For me this was the hardest part of the whole day. On more than one occasion I didn't think I would be able to keep going. I had also moved out a considerable distance in front of Kerry, which I new would be making it harder mentally for her but I thought if I stopped I wouldn't be able to start again so we were paddling blindly forward never seeming to get any further.nThe safety boat was about 500 yards away and Jim had gone to speak to some paddlers that were waiting for us at The Captains Wife. By this time we were half way across Sully Bay, which wasn't even a mile from Barry docks, but it had taken us 45 minutes to an hour just to get this far. Jim came and spoke to us and said that we should paddle in to the coast and consider taking a break at the Captains Wife and maybe even wait for the next tide. Kerry caught up and we decided we would stick together now so we paddled in towards the coast. Incredibly we found a current and as if out of nowhere we were suddenly at Sully Island. The other paddlers had come out to meet us and there was a sense of excitement. Kerry and I decided right then that we weren't going to stop for anything we were going to go for it. Penarth was just around the corner quite literally!! As we came through the gap between Sully Island people were waving and giving us whistles which really gave us a lift and then we hit another current which boosted us forward and I can't tell you how good it felt. The end was so close.
When we eventually got closer to Lavernock Point our hearts dropped. The tide had well and truly turned and the point was a raging torrent going the wrong way. We're not sure how fast it was moving but the boat and the jet ski had to really give it the beans to get through. At this point we had a decision to make. We could jump off and walk around the corner or Jim offered to tow one of us round. Kerry, with the help of Sarah (One of the B.W.A SUPer's) and some of the other paddlers helped Kerry to start walking across. I opted to try the 50 yard tow required to get around the point. I slid the board onto the back of the jet ski's rescue matt and we set off. Instantly the current grabbed us and my heart was racing faster than the current we were in. I have never felt water move that fast with that much force in my life. It felt like if I came off I would end up in Cornwall in about 10 minutes. The jet ski wasn't making any ground. If anything we were moving backwards. At one point the board and myself slipped off of the matt and Jim had to race around to grab me. This time I held onto the side of the ski. My arms were burning from the day of paddling and it was impossible to hold on. Again we started moving backwards. It was no good. We called Gareth over and had to throw the board in the back of the boat and I jumped onto the jet ski. I could see Kerry and the others struggle to get over land and to be honest I didn't know what was going to happen. Luckily without the board the jet ski got me back to shore on the right side of the point with not too much bother. I was just glad to be in one piece. Jim went back and grabbed Kerry and I waited there. While waiting Gareth and I realized there was still a pretty strong current going the wrong way and said we would probably have to walk back to the pier. But in my mind I was paddling back even if my arms fell off! Once Kerry was dropped off we took a minute to get our breath back and then took a few tentative paddles and to our relief we moved in the right direction. We would have to stay close to the shoreline to even consider getting back but we could see the end.
As we paddled along the last stretch of coast it seemed to go much quicker even though we were going against the current. As we neared the slip people had walked up the coast to meet us. They started cheering us on and congratulating us. It was a really special moment. I think we both felt tingles of excitement as we neared the end. We both seemed to pick up the pace and start gunning for the finish line. All I can say is, its one of the most exhilarating experiences of my life. We got to the slip and friends and family were there to greet us. We had finished! It was hard to believe considering the last few hours. We stepped off of the boards and touched dry land, for the first time in over 10 hours. It was a very strange feeling and I think we had a bit of land sickness as our bodies had been so used to maintaining our balance.  I must add we never fell in, throughout the whole challenge and that is an achievement in its self!!
It still hasn't fully sunk in that we have completed the challenge we set out to paddle all those months ago. I also think to my knowledge that we are the first people to stand up paddle from Swansea to Cardiff. The whole journey, not just the paddle but the planning and training have all been such an incredible experience.  We got to see what Kerry described as "the secret gem that is the South Wales Coast line." We saw possibly one of the most incredible sunrises we have ever witnessed and it was all in British waters. The paddle challenge has, and will offer so many young people so much. From the personal achievement it offered Kerry and myself, to the awareness it raised for the project and the difference it will make to so many young lives.
If you still haven't donated please go to – www.justgiving.com/welshSUPchallenge
We just want to say a huge thanks to all of the people that have supported us throughout this challenge. Without you it would not have been possible.
Thank you all so much
SUP Challenge Wales Team