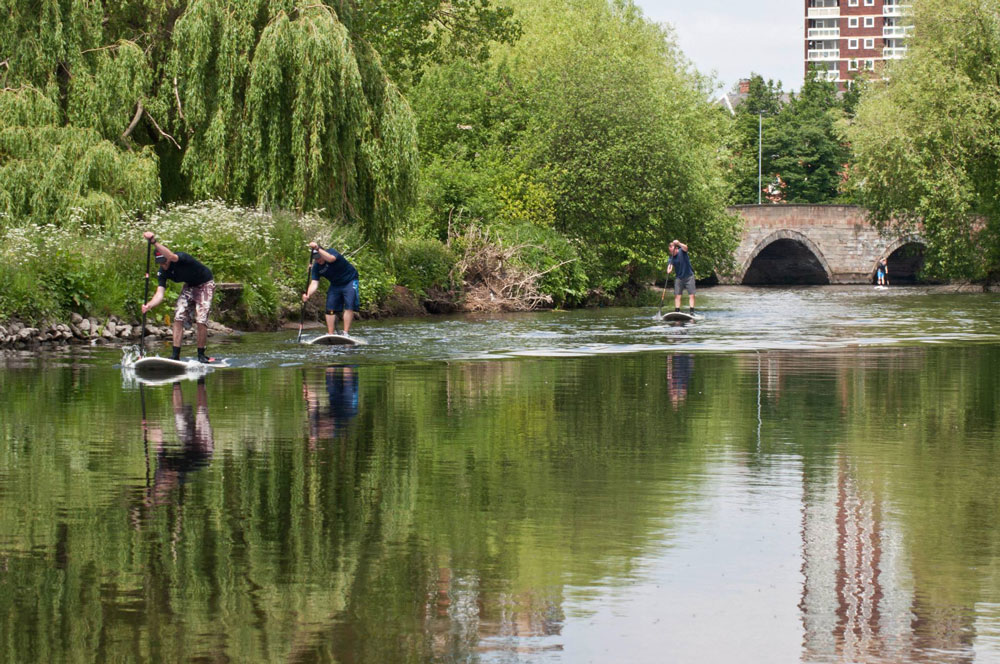 After a cold but great winter series that introduced the Midlands SUP community to racing and of course discovered reigning champ Ian 'Nocka' Tyers it was time to begin our summer race series, and last Sunday we had the first race. The course was slightly altered to make it more of a challenge to our racers but was just as exciting non the less. With a lot of the regular paddlers committed elsewhere it was a small race with 4 competitors. Adam 'Bod' Dawson, Neil Myers, both Central SUP instructors , Keith Wraight from Inland SUP and newcomer James Clark, at only 13 he is one to watch out for !
With a smaller group the plan was adapted for a 2k course up the river and back again with all competitors going for the all round hard board category. It was a sunny day and just past 12 the race was underway. Everyone went off at a pace with Keith, Bod and Neil neck and neck for the first leg of the race. As they disappeared under the first bridge towards the race buoy we all waited on the banks with anticipation to see who would be heading back first.
We also wondered if the rogue swan might pay them a visit too !
About 10 minutes or so later the racers appeared under the bridge set back against Tamworth Castle with Bod holding the lead. Keith was not far behind and Neil in third after that. James was closing in on the pack the closer they got to the finish line. We could see the pain on the racers faces as the last few hundred meters approached. Keith pushed it one last time giving him that solid second place but Bod held his lead giving him the win that day. James came in fourth but considering he has not paddled long and was only a couple of minutes of the main pack he had an absolutely awesome race. Like i said before James is one to watch, his paddle stroke was top notch and his stamina unquestionable during the race. It's also a great thing to see a new generation of paddlers hitting the water and racing too.
With the race over it was a well earn't rest from all and time to soak up the rest of the sun. Not  a bad start to the summer race series. Our next race will be on the 21st July with a 4k and 2k option.
Write up by : Chris Kenyon Central SUP