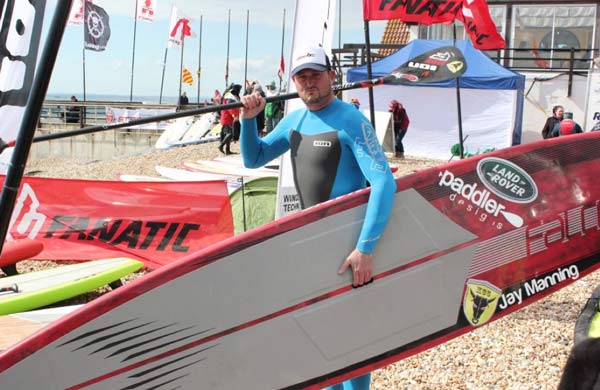 A warm long Easter weekend was unfortunately not be be for 2013. Freezing temperatures and icy winds meant getting on the water around the country was only for those with a true love for SUP or a damn good pair of 5mm+ booties!  Good Friday 29th March saw some challenging SUP racing as a part of the Round Hayling Island Windsurf Race.  And on Sunday 31st March, Round 4 of the Midlands 5ive winter SUP Series took place at the Central SUP Headquarters in Tamworth. Despite the weather there was an impressive turn out for both events and it sounds as though everyone had fun and made the most of the opportunity to get on the water. Well done to everyone who braved the conditions and took part.
STAND UP PADDLEBOARD CHALLENGE – PART OF THE ROUND HAYLING ISLAND WINDSURF RACE
20 + paddleboarders took part in the 4.25 mile SUP challenge.  The islands bays and creeks offered some shelter from the icy winds, but the chop and strong headwind on parts of the course made challenging paddling conditions, and meant some got a bit wetter than planned! Men and Women competed in both the SUP 12'6 and 14′ classes, and some regular SUP paddlers opted to compete in the outrigger canoe fleet just for a change (or they were just too cold to stand up!) With many of the large brands present with demo kit, there were all types of SUP boards on display, from iSUPs to carbon race boards and even custom boards. So there was lots to look at and talk about, even for those not taking part.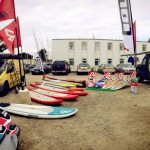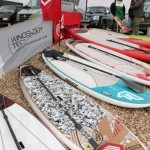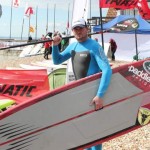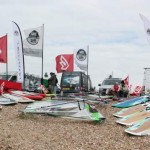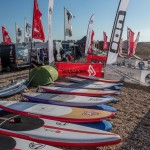 SUP Results
14′ Womens
1st Marie Buchanan (01:00:41)
2nd Joanne Hamilton-Vale (01:11:46)
3rd Sandra Elston (01:51:33)
14′ Mens
1st Paul Simmons (00:52:13)
2nd Mark Slater (00:54:09)
3rd Sonny EZ (00:55:41)
4th James Hardy (00:56:35)
5th Adam Stirling (01:04:01)
6th Marco Amat (01:04:50)
7th Jay Manning (01:07:25)
8th Robin Williams (01:10:28)
12'6 Womens
12'6 Mens
1st  Charlie Grey (00:56:27)
2nd Phil Plume (00:58:08)
3rd Zac Wharton (01:04:31)
4th Kent Perry (01:06:36)
5th Colin Elston (01:09:43)
6th Karl Hobbs (01:51:33)
MIDLANDS 5IVE WINTER SUP SERIES – BY SCOTT WARREN – CENTRAL SUP
As Round.4 of the Midlands 5ive winter SUP Series approached the weather looked cold, overcast and very windy. Like most people just getting out on the water this winter has been a challenge for the paddlers in the Midlands, and this winter looks set to drag on a little while longer yet. However there were the odd signs of spring in the air, with clear skies and the river in good condition for SUP, it looked at least on paper a good weekend for Round.4. Needless to say the week before the event we were actually thinking we might need to cancel with a very strong, bitterly cold wind blowing straight down the first leg of the course. This didn't seem like such a bad thing, with a good looking swell due to hit most of the Southern end of the country, there were a few among us who perhaps hoped for a surf trip instead.
On the morning of Round.4 all seemed set for a great day as even the wind had stopped to allow the sun to shine giving us a pleasant club paddle. However we didn't have it all our own way as by the time 12pm had come and our racers had arrived so had the wind and the clouds. Despite the fact that it was Easter Weekend, the Midlands 5ive still drew a good crowd with eight competitors and many more spectators braving the icy cold wind. Things are really coming together now in the series as we try to find the Midlands first ever SUP champion, and the leader board after Round.3 was setting up a close group all looking to claim the top spot. This weekend's action only proved to enhance that with some brilliant paddling in tricky conditions yet again. After organising kit, talking through the course, explain the new start procedure we were all set to go and get out on the water.
Whilst everyone gathered around the start line the wind began to pick up blowing straight into our faces, and with the first leg being against the flow it looked set to be a tough slog up to the road bridge were we hoped to find shelter in amongst the trees. With everyone fighting to hold their position on the start line there was plenty of jostling for position, resembling something closer to the start of a Grand National than a SUP race. Central SUP's very own Chris Kenyon was taking part in his first race of the series and he looked super keen, even trying to get ahead of the game and put his board half a length in front of everyone else, but Sean our starter for the day was having none of it a duly called everyone back into line. As things got underway and we rounded the first little kink in the river, the strong cold wind hit us straight on. There as an interesting choice of tactics at play, with one half of the pack sticking to the left bank whilst the other tucked over to the right. As we passed under the road bridge our hopes of shelter where smashed by the big gusts of wind blowing through, now it was a grind all the way to the half way buoy.
As we began to make our turn back for the sprint and welcome relief from for the now string tail wind, Chris decided to make the turn the opposite way to the course layout. Fortunately there were no collisions as he and James Adamson battled for the lead, and there were similar battles right through the field. Ian 'the beast' Tyers was having a flyer, doing his turn on a Red Paddle Co. Inflatable for the series championship. He was closely followed by Simon Dunton from SUP North-west getting to grips with a 12'6 Race Board for the first time. Paul Williams, the current overall leader of the series was in his own battle with Keith Wraight from ISUP both taking part in their fourth race of the series, with Stacey Smithson taking on the gigantic Big Easy board, producing a stunning effort in the conditions.
As we neared the finish, Chris managed a turn of speed taking away any chance of a fight back from James as they finished first and second respectively. Ian came home in an incredible time on the inflatable, proving he could one to watch for the overall champion taking third this time out. Simon nearly caused an upset with a sprint to line chasing down Ian to finish just three seconds behind after the gruelling paddle. Next up Keith had his own challenge holding off a late charge from Paul but it wasn't quite to be for the series leader as Keith crossed the line just five seconds ahead of him. Stacey finished strong on a difficult day and notched up another class victory, this time in the ladies all round category putting her in contention to challenge Paul for the title.
After a windy and difficult paddle back up to HQ, I think everyone was glad for a hot drink and warm food inside the club house. With the spectators reliving the action and the competitor's unwinding, we are all looking forward to another race in April, and finding out who will be the first ever Midlands SUP Champion.
Round 5ive takes place of April 21st and I for one cannot wait to see what the outcome might be.
If your SUP club/school held an event last weekend make sure you let the SUPboarder readers know about it… so they don't miss out on the next one! Find out how your SUP club/school can contribute to SUPboarder here.
Or if you want to find out where your nearest SUP club/school is… check out the SUPboarder SUP Club/School Directory.
The SUPboarder Event Calendar is a great way to find out about all the SUP events happening this year.