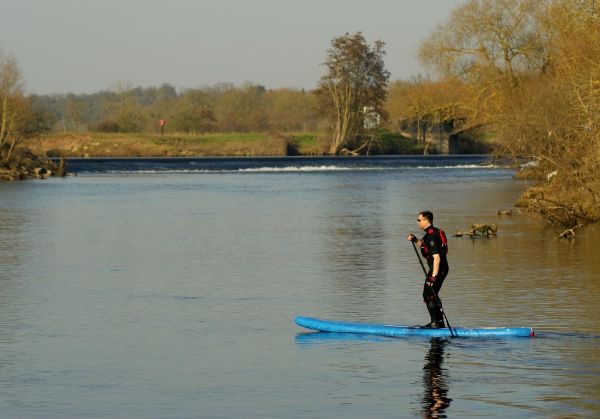 On the 20th April 2013 a team of 5 will be attempting to paddle the length of the River Severn, from the source to the sea on Stand Up Paddleboards. The team aims not only to complete the 321kms (200 miles) length of the River Severn (Welsh: Afon Hafren, Latin: Sabrina), but also to try and record, highlight and advertise the importance of the river and the wildlife they will encounter. They will start the challenge at the source of the River  Severn and follow it on foot and then by bike until it is deep enough to jump on their SUP's.  The aim is to make it to Sharpness Docks at the head of the Bristol Channel, 9 days later. They are also aiming to break the British record for SUP distance, as well as raise funds for four charities close to their hearts.
SUPboarder have been in contact with Dean Broad, one of the team members planning the Source 2 Sea event to find out more about their exciting SUP challenge.  Here's what Dean had to say;
We're a team of five, dare I say, ordinary people who have simply decided to have an adventure.  We are Tony Bain (48, originally from New Zealand but now lives in Llanwrtyd Wells), Tristan Bawn (34, from Bristol), George Bush (31, Worcester), Dean Broad (40, Worcester) and Rob Yates (43, Bristol).

The idea started last year when I mentioned to Tristan whilst we were surfing the Severn bore that one of my goals was to complete the length of the Severn on a prone/knee paddleboard. From there the idea was born that we should attempt to do it on SUPs.  Tony and Rob became involved as we all share a love of the outdoors and adventure.  We had very limited SUP experience between us, but since then both Tristan and Tony have become instructors.
We want to highlight how accessible our waterways are, with the right license and permissions.
We'll also be noting what wildlife we see along the way and hopefully showing how important the river and it's surroundings are to us. We'll also be raising money for 4 charities close to our hearts; Severn Area Rescue Association, Parkinsons UK, Macmillan Cancer Support and Cancer Research UK.  All monies raised will be split equally between the charities.  We also hope to break the British SUP distance record which we believe to be currently held by John Hibbard for over 125 miles on the Thames.  Interestingly John works for Red Paddle Co UK and has provided no end of help and support in terms of equipment and flatwater/river advice.  A thoroughly good chap all round! Red Paddle Co have been amazing.  They've really bought into the idea of four ordinary blokes, who certainly wouldn't call themselves athletes, SUPing Britain's longest river.  They have sponsored us four inflatable 12'6" Explorer boards. We've also had some great help from Palm, Green Dragon Activities, UK Active Outdoors and Midshire Communications Ltd.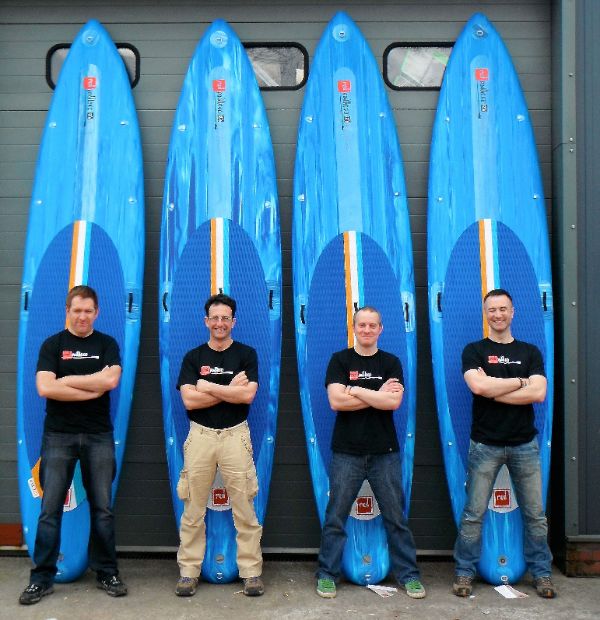 When we start our challenge at the source on 20th April, we will carry our paddle boards on our backs: walking for a few miles before getting on our bikes and travelling to the nearest 'get-in' point on the river, slightly below Abermule in Wales.  We'll then store the bikes with friends in Wales once we get the SUPs on the river. From there, it's stand up paddleboarding all the way to Sharpness Docks, to finish on 28th April.  The distance is just over 200 miles.  We have been advised by the Severn Area Rescue Association not to go further than Sharpness due to the constant change in currents below that area – advice that we are very happy to respect! We're expecting to travel up to 25 miles a day, taking between 8-10 hours to do so. Splitting the river into three sections, the higher part will pose dangers such as rocks, overhanging trees, and rapids.  The middle section from Stourport on Severn to Tewkesbury will be hard due the river slowing considerably.  Whilst the lower section from Tewkesbury will pose dangers of shifting currents, daily tides and of course the Severn Bore! While the four guys will be tackling the river, George is acting as our support driver; an important task as she will be meeting us at certain points and making sure we have permissions to camp overnight along the way.  She'll also be going to the local supermarket for us.
Our training has consisted of river runs and gym work, but over winter we used canals as rivers were in flood. Rob and I get out on the canal and rivers whenever we can just to get the miles in and 'perfect' our technique. It's amazing how accessible our waterways are, with the right license and permissions of course.  This is one thing we will be highlighting on the journey.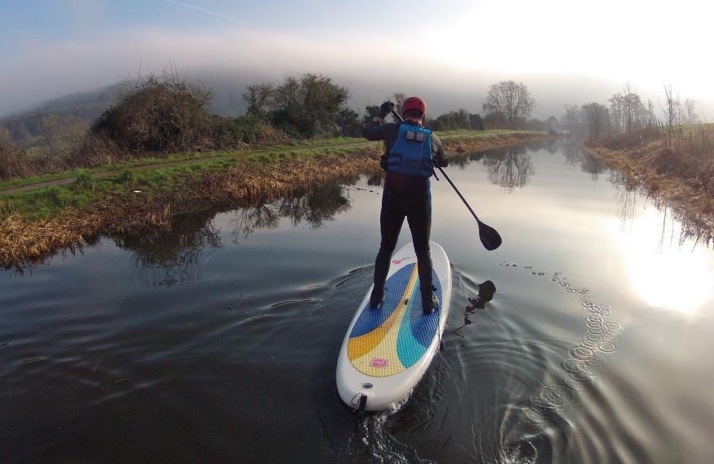 We envisage the biggest challenge being paddling for the 8-9 days.
Although it'll obviously be fun, and we'll see all manner of things, standing up for the length of time needed per day will be pretty immense.  We're all developing our techniques but mine in particular has involved moving my feet whilst paddling and stretching whilst on the water.  I'm particularly proud of my on-board press ups and leg stretches!
We'll be posting on facebook our journey as we go along, and uploading photos and non edited videos also.  We are also sorting out a way with ViewRanger how to show a live journey on the site so that people can follow our progress every minute.
If you're interested in sponsoring the team, don't worry it's not too late. Just click on their fundraising link; virginmoneygiving.com
To find out more about the Source 2 Sea Challenge;
Facebook: facebook.com/Source2Sea2013
Twitter: twitter.com/Source2Sea2013
Blogspot: sourcetosea2013.blogspot.co.uk
If you're interested in organising your own SUP challenge, take Deans advice…
Don't just talk about it… do it.
There is a tremendous amount of planning to do – equipment, media coverage, fundraising, training – and it is all very important.  But that only comes from the decision to do something.  We can all talk about things, but sometimes why not just try it and see what happens?  It's about having the attitude. One of our motivators is a guy called Alastair Humphreys.  He does all manner of adventurous things.  On one of his talks (on YouTube, entitled 'The Importance of Jumping in Rivers'), he summed it up for me: "…somehow I summed up the energy and the nerve to set myself an outrageous goal and the hardest part……was to actually begin it."
A great challenge for a great cause. SUPboarder wishes the Soure 2 Sea Team all the best.
SUPboarder will be keeping you updated with the teams progress on the SUPboarder Facebook from the 20th April until they finish! So stay tuned…