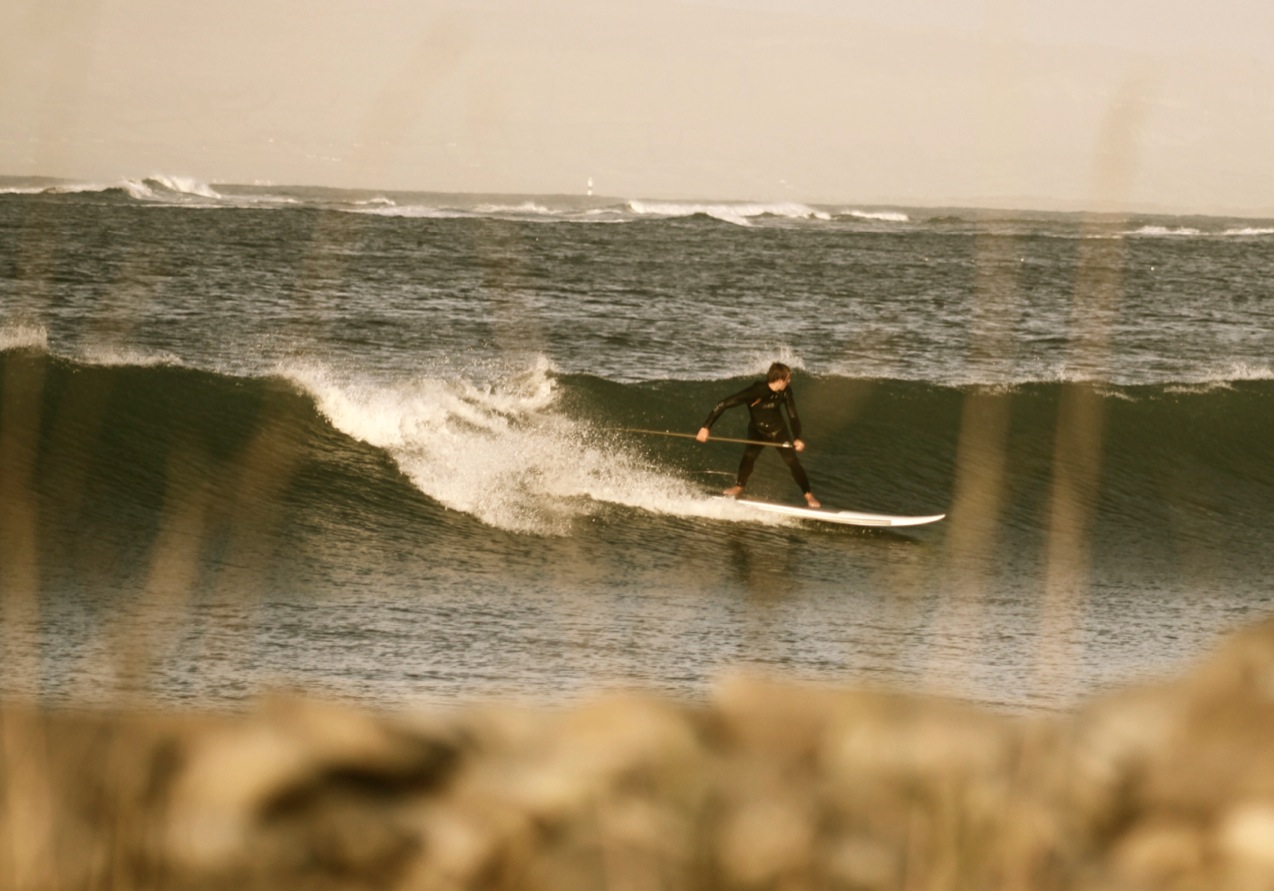 The next up and coming SUP competition star to be interviewed by SUPboarder in their Young Guns Feature, is Peter Kosinski. Could Peter possibly be a SUP champion in the future, and representing Team Ireland at the Worlds?… we'll just have to wait and see! But just now, lets find out more about the man himself…
 Peter Kosinski / The Irish Ripper
16 year old Peter, from Maynooth, Ireland is what you'd call a passionate waterman. Windsurfing from a young age, Peter got into SUP to enable him to get on the water on those no wind days. Admitting that initially he thought SUP looked like an 'old man's sport' Peter's now totally addicted to the sport and says he even often chooses to go out for a SUP downwinder rather than a windsurf now! Peter enjoys all paddleboard disciplines and just getting out on the water as much as he can.
In Summer 2012 Peter joined the Surfdock Team and started competing in the National SUP Events (in both race and surf). He has already achieved some impressive results, nationally and internationally, and established himself as a serious contender in SUP racing as well as SUP surfing.  And to top it off, in 2012 Peter also scored a sponsorship deal with Starboard, which understandingly he's super stoked about!
So over to Peter…
Hey Peter, thanks for taking the time to talk to SUPboarder. To start off with, here are some standard questions we ask all of our 'Young Guns'…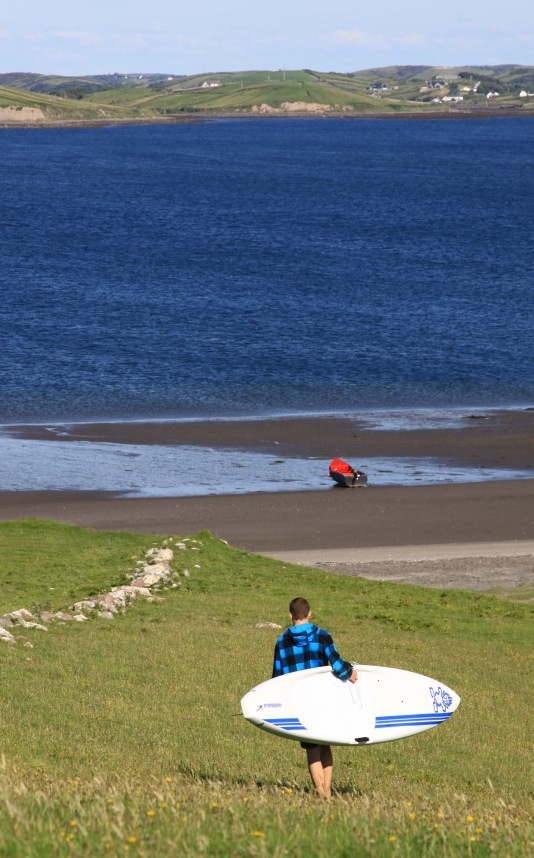 SB/ Where are you from?
Peter/ I'm from Ireland
SB/ How old are you?
Peter/ I turned 16 a few weeks ago
SB/ Which SUP disciplines are you competing in?
Peter/ Surf and Race
SB/ Tell us how you got into SUP?
Peter/ I windsurf as well and had a few bigger boards, so after watching the windsurfing movie a thousand times I saw Kai Lenny doing it with a canoe paddle and longboard. A few weeks later I was hooked and went suping every day for months, after school and on the weekends after buying a cheap board and paddle with my savings.
SB/ Where is the favourite place you've paddled?
Peter/ On the west coast of Ireland during the summer last year. I think I got on the water every day.
SB/ Where is the place you want to paddle the most?
Peter/ I really want to go to Hawaii to Paddle the Molokai. The footage that comes out of the race is amazing and looks like the best day in Ireland downwinding with warm water. Hopefully I will get to do it soon enough.
SB/ Do you have any nicknames?
Peter/ Many but I don't have a one that sticks. Thankfully!
SB/ Who is your biggest influence in SUP?
Peter/ All the guys in the waterman league, pushing the limits of SUPing in both the race and surf. Guys like Connor Baxter, Kai Lenny, Sean Poynter, Zane Schweitzer and Mo Freitas plus the legends like Kelly Slater, Laird and Robby Naish
SB/ Who are your sponsors, and what are you riding?
Peter/ My local watersports shop Surfdock in Dublin and Starboard U.K. In 2013 I will be riding the 8,5 pro wave, 8,10 widepoint , 12,6 sprint and 12,6 surf race.
SB/ What paddle length are you using?
Peter/ It depends… in the waves an inch above my head and in racing 7 inches above my head. It seems to work for me but I prefer to paddle with a shorter paddle in sprint and short distance races.
SB/ Goofy or Regular?
Peter/ Regular
COMPETITION

SB/ What made you decide to get into SUP competitions?
Peter/ It's just another reason to get on the water and keeps the sport interesting with the limits being pushed all the time.
SB/ What is the race scene like in Ireland? Are there many other 16 year olds competing?
Peter/ It's just started out, with a full race tour last year and many other race series. Hopefully in 2013 more and more people will get into it. There is a few other younger guys competing and hopefully more to come.
SB/ How do you do train on and off the water for your upcoming SUP events?
Peter/ Lots of paddling, windsurfing, swimming, cycling, longboarding and I try to eat healthy. It depends on what SUP events I have coming up, Surf or Race.
SB/ Having only started competing at SUP national level last year you've already made it onto the podium. Tell us about your best results for 2012…
Peter/ I won a few race series races at the start of the year and then 1st in the Technical race(2-7km) at the Dublin Bay Sup Classic in front of a huge crowd. I got Joint Irish technical(2-7km) champion at the end of the year. Plus to finish off my race season I won both the Technical(2-7km) and Marathon(10-18km) at the Mullaghmore BOP. In November we had our first SUP surf event and got 1st in the sub 10ft and 2nd in the londboard style above 10ft.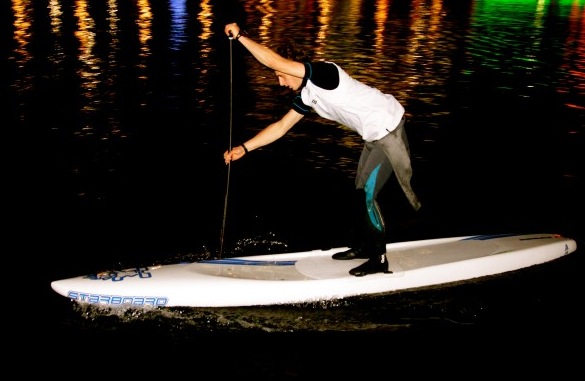 SB/ You entered the SUP Nautic Paris Crossing in Dec 2012 and came 40th/100. Thats an amazing achievement as we heard it was a pretty tough and cold event! – tell us about your
experience.
Peter/ The race in Paris was a cool experience despite the freezing temperatures. The race start was very funny as all the competitors were facing the wrong way and had to do a quick 180 turn before getting going. I am used to paddling in the cold but the strong flow on the river made it pretty interesting near the bridges and around Norte Dame. Everyone was stoked after the race and had lots of fun in the pool after the race with the sprints.
SB/ What are your SUP goals for 2013?
Peter/ To try and win the irish national racing title, try for a good result in the sup surf, compete in more international events and land some ariels on the 8,5 pro.
SB/ What tips would you give to someone wanting to get into SUP competition (Race or Surf)?
Peter/ Just go for it. We all have to start somewhere, so the sooner you start the more fun you are going to have improving and pushing the limits of your supping. You learn a lot in your first few events and seeing other people supping at a higher level is the best thing in the world for a bit of inspiration.
PETER'S SUP WORLD

SB/ Where in Ireland is your favourite spot to SUP surf?
Peter/ The reefs in Sligo early in the morning before the surfers arrive.
SB/ Why should Ireland be on the SUP map?
Peter/ Irelands coastline is rugged with lots of bays, reefs and beaches. This makes it ideal for supping as you can go surfing, downwinding and flat water paddling all on the same day. Plus the good old irish hospitality never fails when you are cold, wet and tired.

SB/ Windsurf or SUP? – if you had to choose just one!
Peter/ I always get this question from people and still can't decide. I love both sports.
SB/ How do you have time to do it all? i.e train, compete and go to school?!
Peter/ Its getting more difficult trying to balance everything. My parents are very supportive of everything I do which helps.
SB/ What do you do when you're not on the water?
Peter/ I am in school, eating, training and thinking about the next session.
SB/ Have you got any of your mates into SUP? If so, why do you tell them they should give it a go?
Peter/ Its hard to convince people to fool about in the freezing water for a few hours but when they get standing they get hooked on it.
SB/ What's next for Peter Kosinski?!!!
Peter/ Who knows, all I can say is… keep on having fun on the water.
Thanks Peter –  Sounds like 2013 is going to be a busy year for you with school, training, national and international SUP events! Good luck and hope you find time to fit it all in! We'll be keeping an eye out for you at the ISA World Championships in the future!

Peter would like to say a big thanks to the following – Surfdock, Tushingham, Cian T Murphy Photography, and Katharina Harris Photography.
To find out more about Peter and what he's been up to, check out Peter's Blog  www.PeterKosinski.com