On February 10th 2018 over 230 competitors making up 58 teams came out to the first ever Red Bull Privateers Stand UP Paddle Race in the Ten Thousand Islands, Florida. But this was no ordinary SUP race. It was all about map reading, hidden treasure, and team work. Competitors from Florida, California, Costa Mesa, Cleveland and England were all out racing against the clock. But it was Team Choinski that made it home first to take the podium win in 2018.
David DeLooper at Red Bull tells us more…
In this unique racing event, teams of four paddlers had two and a half hours to navigate through the mangrove mazes of the Ten Thousand Islands to retrieve treasure from fifteen hidden treasure chests.
"The team to collect all fifteen gold doubloons (treasure coins) and cross the finish line in the shortest amount of time wins."
The race format and theme was inspired by Native American Tribes, Buccaneers and Outlaws that called the Ten Thousand Island area of South Florida home in the early 1700s. The most famous of which was Captain "Calico Jack" Rackham. Inspired by Calico Jack's knowledge of the area and his tales of hidden treasure, there are legends of treasure still buried somewhere in the Ten Thousand Island/Cape Romano area.
In the end, Team Choinski became the inaugural Red Bull Privateers champions. Their local knowledge of the area and planned strategy put them ahead of all competition.
"There was some tough competition but we gave it our all. Once we received the map, we split based on our speed and endurance to target specific treasure chests," said RJ Choinski the captain of Team Choinski. "To be honest, this was our first stand up paddle race, but definitely won't be our last. The setting and event course was beautiful along with the community of paddlers that came out today."
Additionally, a portion of the entry fees will be donated to the Rookery Bay Estuarine Research Reserve whose mission is to provide a basis for informed stewardship of estuaries in Southwest Florida through research and education.
"The relationship Red Bull has formed with the Rookery Bay Estuarine Research Reserve is very special and has been in the works for over two years. Before the event, there was even a Rookery Bay 'Clean Up' day to help remove debris from the reserve caused by Hurrican Irma," said Race Director Rob Alfeiri.
"Red Bull Privateers really is the most unique and fun SUP Event format out there that takes place at a historically, beautiful setting of the Ten Thousand Islands." – Rob Alfeiri (race director)
Champion Results:
1. Team Choinski
• RJ Choinski – Fort Myers Beach, FL
• Sara Falkowski – Naples, FL
• Nick Metcalfe – Kingham, England
• Sefanie Spear – Cleveland, Ohio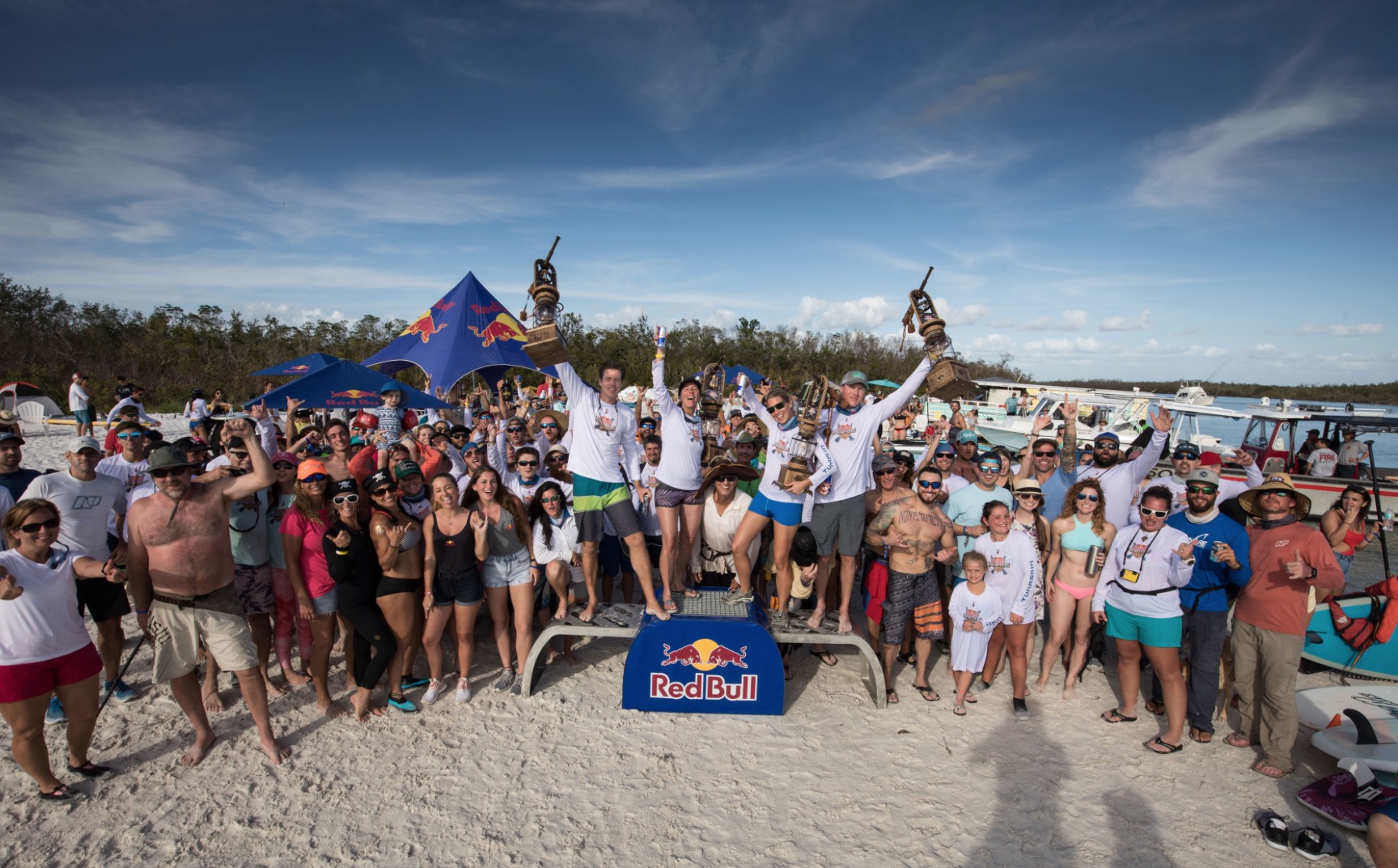 The Red Bull Privateers Stand Up Paddle Race looked great fun and a big success. A nice change from the usual race format! We hope to see it on the SUP events calendar again next year.