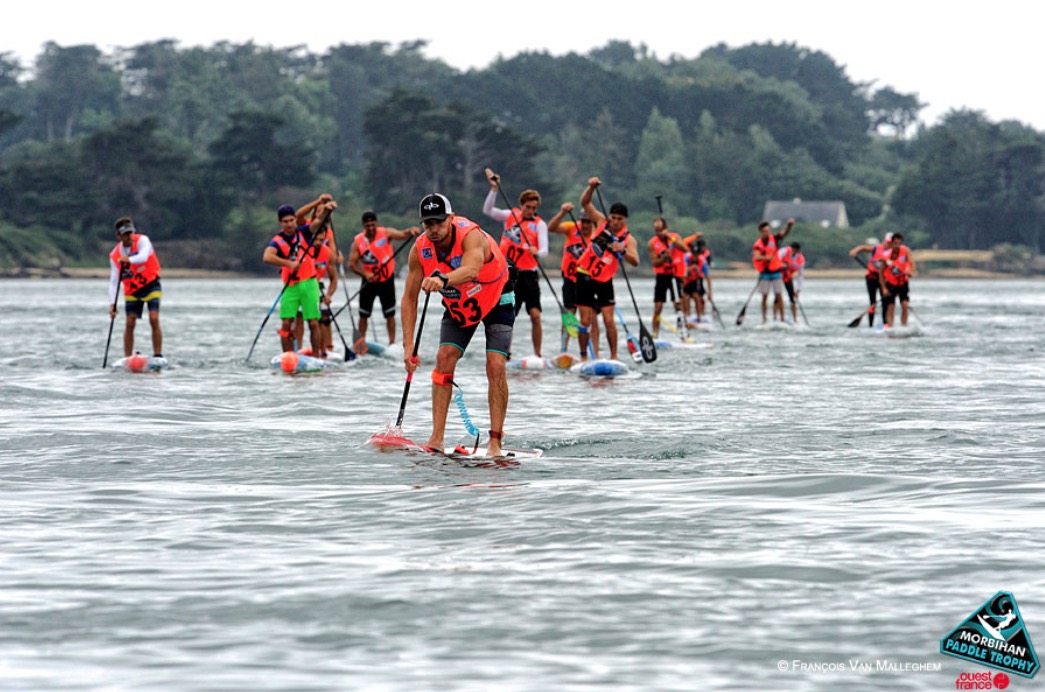 The fourth edition of the Morbihan Paddle Trophy Ouest-France recently took place on the 1st-2nd July 2017 in the Gulf of Morbihan, Brittany. Racing included an elite 25km category, the 'Great walk on water' 5km and 'Raider' 14km category open to all, as well as an under 15yrs 7km category. There was also sprint races, SUP trials, SUP yoga sessions and lots more taking place in the harbour after the main racing. Suitable for all ages and abilities the event attracted a huge turn out of 500 competitors as well as many spectators lining the shores to watch all the action.
Here's an event report from the organisers…

From beginners to champions… The 500 competitors of the 4th annual Morbihan Paddle Trophy Ouest-France thrilled by the new races in the Golfe du Morbihan – Southern Brittany – France.
Both Boris Jinvresse and Amandine Chazot, the great winners of the fourth edition of the Morbihan Paddle Trophy Ouest-France, were really enthusiastic. Not only did they win all the long distance races and the sprints in the harbour of Saint Goustan (Auray) but they also did it with all the enjoyment a great course can bring, even under strain. They loved all the subtleties of riding between the islets and playing with the wind and the currents.
The 'Raiders' were more numerous with 244 competitors registered and had a wide range of levels. However, the wind direction did not put off the less prepared and the last ones who fought their way up the river for about 3 hours and a half must not be denied their courage and determination. It took Alexandre Gault, the winner of this category, 1 hour and 32 minutes to finish the 14-km race while the young rising star from Morbihan, Matisse Cloarec aged 15 completed it in 1 hour 34.
The competitors came from all over France but also from Belgium, Ireland and Switzerland. They all loved the Golfe du Morbihan, the arrival in the historical harbour of Saint Goustan (Auray), the beautiful departures from different areas that dot the Golfe : Port Navalo, Locmariaquer, Crac'h and Le Bono. Beginners took part in a 'Great Walk on Water' and they were delighted to see the Elite from the French cup pass by as they were heading to Saint Goustan. The Walkers' clapping joined the music played by the Bono brass band who was opening the 'Walk' on traditional yachts.
The success of this fourth edition of the Morbihan Paddle Trophy Ouest-France together with the steady rise in the number of competitors shows how this phenomenon is on the increase and lasting in France. The Golfe du Morbihan proves it is one of the hottest spots to practice Standing Up Paddling.
If you missed this years event, don't worry it will be back again next year no doubt even bigger and better!
To find out more about The Morbihan Paddle Trophy check out their website here.