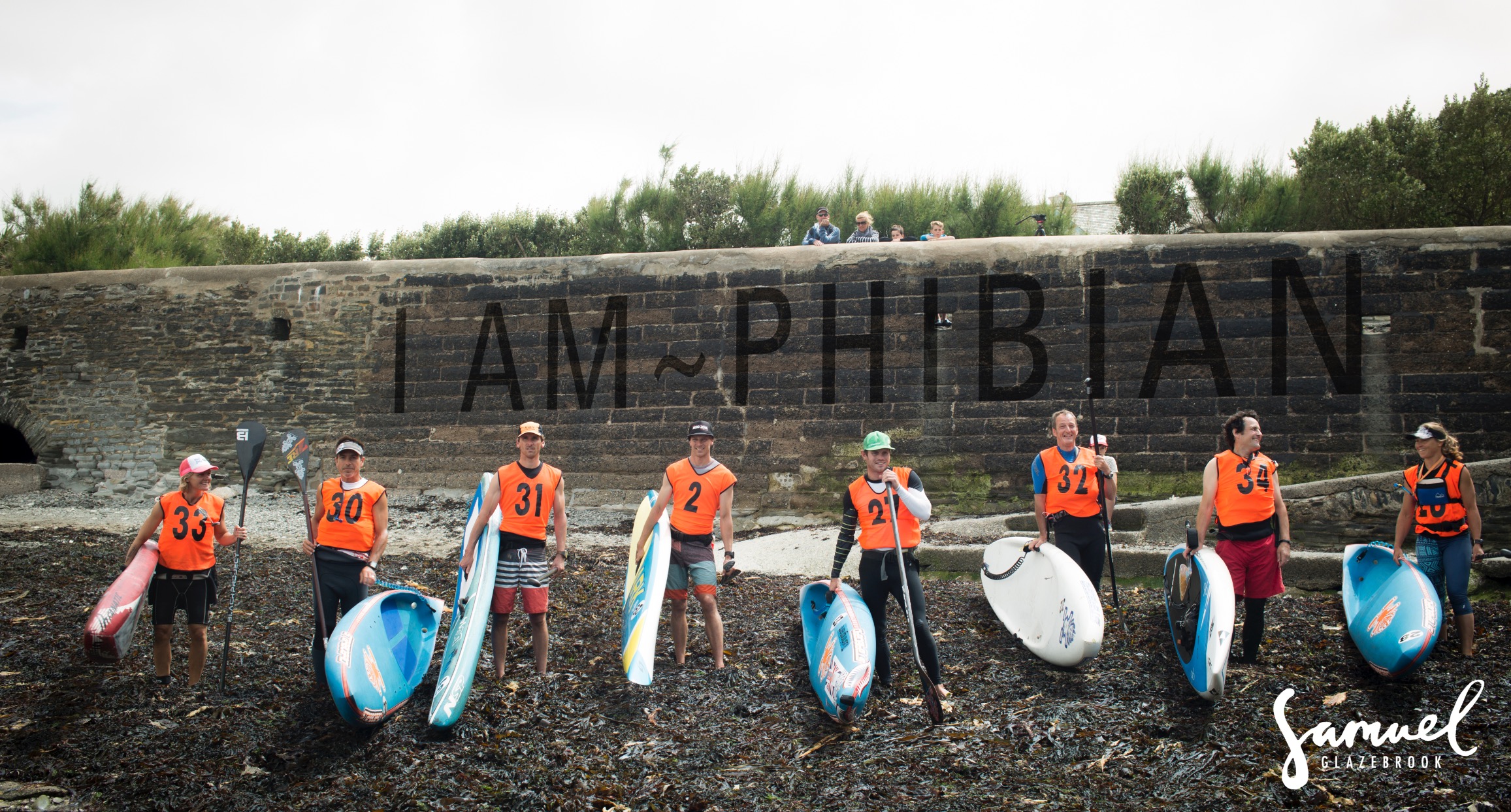 The 8th Icon downwind event recently took place in N.Devon, UK on Sat 20th May. The first Icon surf ski race has evolved to become a race for many different crafts all of whom share a passion for downwinding. Ski, SUP, Prone, Oc1 and OC6 not only made this the most varied race on UK shores but also one of the best attended with over 110 competitors taking to the water this year. 
Icon event organisers and participants give their account of the day…
In a climate that has (IMO)  promoted SUP to a leisure activity its good to find an event that leaves all entrants challenged by the conditions. This event was classic Icon with a F4 pushing the craft along with the tide racing you up the Bristol channel. Of all those that entered only 4 pulled out (one SUP) but many remarked on how humbled they were by this event. The stunning backdrop and the hard work of Mark Ressel (Icon surf Skis) Surf Lifesaving GB and Saunton's Surf Lifesaving Clubs 38 volunteers paid off as the communities of Woolacombe and Coombe Martin rolled out the red carpet for riders that had travelled far and wide to compete.
The usual suspects turned up and with only two dropouts a field of 19 Sups one prone and 6 OC1's left Lee Bay at 12:15 for an hour or so hard racing over approximately 12Km. There are no rules about board classes and the event is therefore unlimited, with this year seeing the first 17ft being raced by Paul Simmons (winner mens SUP).
Here's the riders points of view:
Paul (pj) Simmons:
It was great to see favourable wind for the third year consecutive year for the Icon event; someone must be doing whatever is required to keep the weather gods happy!
Off the start line, keeping eighteen feet of board going straight with 15knots of side wind was tough, with my right arm pumped up and on fire halfway to the turn at the mark boat. Rounding the boat brought such relief as the board naturally found its way on a downwind path along the coast to Combe Martin. With my new downwind-specific board making its race debut, I was hoping for some good bumps in order to maximise its downwind efficiency.
ta very much…
GeoSUP app track from Paul Simmions. Click to enlarge images. View Paul paddle here : www.geosup.com/app/www/ext/share.php?sid=407&wid=58
Ollie Shilston was paddling his pants off on his 14ft and quickly pulled level. It was a tussle for the lead for around the first half of the race and aware of Ollie's frantic work rate, I tried to hold back, conscious that my 18ft board would glide better on the good bumps. For the first half of the race the chop just wasn't really helping and I was starting to fear Ollie would simply out-paddle me to victory. A couple of dinghies crossed our path and from this point on the wind seemed to increase and the bumps got slightly steeper, allowing me to score some excellent bumps and build a good lead on Ollie.
Rounding the final headland into Combe Martin the water state was quite flat so it was down to hard work to keep ahead. With relief I hit the beach over a minute ahead and I could take a relaxed exit from the sea and across the line. I was prompted by a new app on my phone to take a photo (as it had recognised that I had stopped paddling). The guys at SUPBoarder Mag have produced an excellent app called GeoSUP, which allows paddlers to not only log and analyse their sessions but also post them in order to share locations with other paddlers. It prompts the paddler to input info about the location so with more paddlers coming onboard and using this it will encourage people to paddle in new locations, making new places (and events) less intimidating.
Featuring paddlers with varying degrees of downwind experience, pre and post-race there was plenty of chat and encouragement between the participants, making the Icon one of the most welcoming events on the UK scene. Marie and I must offer a big thanks to both Mark and Tids for organising and jumping through all the hoops that event organisers have to these days. Also Jo Pye made our lives heaps easier by driving us back to Lee Bay after the finish.
Will we be back for more? Yes of course! I only wish this kind of event could happen monthly rather than annually!
Ben Pye:
The Icon, an epic downwind race from Lee Bay to Combe Martin. I did this race last year, and it was good fun, and this year was even better. The wind and swell direction was better, and this year I was on my new 14ft Starboard Allstar, compared to last year on a 12'6, the glides were longer, and it just made the race that much more enjoyable. The race started with a 1km dash upwind to a boat out to sea, and a turn downwind at the boat. It was a tough one for sure with the wind and bumps against us at the start, but my board seemed to handle it very well. Once we got into the bumps, it was so much fun, the glides, combined with a bit of swimming, made it all great fun. I had a little battle with Scott Warren, I had a great battle with him last year, which was repeated again this year. I really focused on making the most of each gust, and each bump. This coastline is my local area, which I often paddle on my own, it was great to paddle it with lots of like-minded paddlers.
As we came to the entrance to Combe Martin, could see two people in front of me, and I decided to take a tighter inside line, to try and catch them. They both chose a wider line, but I just couldn't catch them in the closing yards. The race finished with a quick run up the beach and through the flags.
Thanks to Tids and all the organisers for another great event, can't wait till next year.
Ollie Shilston Winner 2015/16
"I got to the point about 1 minute behind PJ. I was too close in I think the wind kept us inside this year."
Marie Buchanan Ladies Wins 2015/16/17
"every year I do something different"
Jack Coop Prone Paddler First Ever:
"I'm tired I peaked early, it'd be good to get a prone section here next year"
Pete Holiday OC1:
The icon classic was indeed a classic. With near perfect conditions oc1, va'a, oc6, sup, prone and ski all raced together. A spectacle of ocean paddling. I paddled va'a (Tahitian rudderless canoe) along with two other local Bournemouth paddlers. We set off from Lee Bay to avoid Woolacombe shore break. Paddling 1km out we turned and headed almost straight downwind to the finish. Ryan James took the 1st turn in the lead but as we swung downwind I managed to push past and crept away in the technical conditions. I put me head down and focused on keeping the va'a going straight but catching as many bumps as I could. Its easier said than done with no rudder to control direction. After 30 hard minutes I stopped for a look around and couldn't see anyone. (Great news). The next challenge was finding the finish. The coastline is rugged and imposing with little in the way of landmarks. There was no lead boat as I don't think they expected us to be so fast! At about 8kms I stopped and tried to get my bearings and waiting to see if anyone was still following. Eventually I could see paddlers so figured I hadn't passed the finish yet. I pushed to the next headland and spotted the tent on the beach signalling the finish just 2kms left. With the guys now close having stopped I put the hammer down to the finish taking 1st place and line honours. The organisers were barely ready on the beach as I don't think they expected us so quickly.
This was a properly good ocean event. Challenging, fun and technical. Great to see so many disciplines racing together. Thanks to Icon Sports for a great event and Tidds for running the SUP and OC start.
Steve Carter OC 6 from Ocean sports Centre Carbis Bay:
The mixed crew from Ocean Sports Club had a great experience , we would have loved to have been able to race a few more crews in 6's but we set our sights on chasing down ski paddlers so still managed to. Keep a race pace
It was a full on day leaving Carbis at 5.30am , arriving at Woolacombe at 8.30  to rig the canoe , we just made it to the Briefing at 10.30. then we had a mad dash to get the trailer to Combe Martin in time
To be back to the start for 12.15. Due to a herd of dairy cows crossing the road. Glen & I were dropped back at Woolacombe at 12.13. we sprinted down the beach , put on our vest & buoyancy aid & the start horn went. Frantic indeed.
Pushing out through breaking surf was great fun but hard work , despite our spray decks we took on some water. Once out the breaking surf we set a pace to morte point and had to work hard to stay upright & protect the Ama. This saw us take a slightly longer line than the skis.  Once round Morte Point the swell came more from behind & we could settle into a paddling rhythm & start riding the swell. It was the first time this crew had paddled together but we soon found a race pace and started to pick off some ski paddlers as we moved up the pack.
The last leg into Combe Martin found us hugging the cliffs & gaining pace off the swell & current. In the last few hundred Yards a double ski started to draw level & it was a full on paddle to the wall effort. To race them to the finish.
A superb event, really well organised, friendly & supportive atmosphere and we were stoked to be able to pioneer OC6 inclusion. We hope that next year that a few more OC6 crews can participate.
A huge thanks to Icon , Mark Ressel & Tids for all the organisation & proactively including a multitude of ocean craft. The Icon is truly a paddle festival now.
Most importantly a massive thanks to all the volunteers who made tea & Scones, absolute life savers post race . However,  being a crew from Cornwall it was a little perplexing having the cream on the Scone before the jam.As every Cornish paddler knows the cream always goes on top of the jam J
The crew
Seat 1 Damo Warner
Seat 2 Tarryn Brown
Seat 3 Holly Henderson
Seat 4 Steve Carter
Seat 5 Glenn Eldridge
Seat 6 (Steerer) Steve Kirton – ( Lewis Kirtons dad )
THANKS:
Mark Ressell Icon Skis, David (tids) Tidballl  and all the paddlers would like to thank the 38 volunteers the RNLI, Surf Lifesaving GB and  the communities of Woolacombe Beach, Lee Bay and Combe Martin for their support and help, without which this event would not be possible.
Full results can be found here : iconsports.eu
Photo credits : Jo Pye
This slideshow requires JavaScript.
Check out 2015 video of the event below.
FUTURE EVENTS:
– Entries are being invited for the Looe race on 22nd July. If you would like to enter email tids e: iam@phibian.org
https://www.eventbrite.co.uk/e/gb-ocean-ski-2017-looe-tickets-31203006031?aff=eac2
– The longest day Ski Sup and Prone competition in Sidmouth 25th June
https://www.eventbrite.co.uk/e/the-longest-day-ocean-challenge-tickets-32323496448