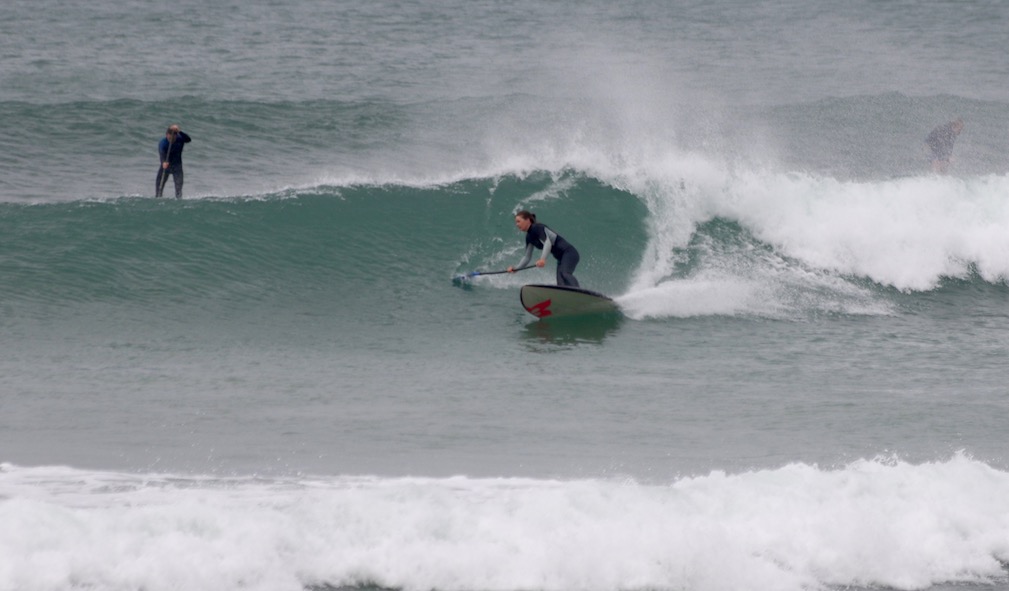 Passionate SUP surfer and SUPboarder editor Lucy Ellis tells her SUP surfing journey and explains why every girl should give SUP surfing a try, even if they've had little success with surfing in the past…
Many girls catch the SUP bug because it's simple, sociable and the perfect sunny day activity to do whilst catching up with mates or to help burn a few extra calories. Or in my case it provided the perfect activity when there was no wind or waves for wave sailing (windsurfing). I loved the fact a SUP still allowed me to get my water fix and make the most of the outdoors whatever the conditions. It was another great toy to have in the van and it could take me anywhere there was water. Like many girls I'm sure, in my head I always presumed I'd just SUP on the flat, because a) I could do it and b) I'd tried standing up on a surf board countless times before but with little success, only ever getting as far as my knees followed by a big splash! But I was wrong! After discovering SUP it didn't take me long to discover waves on a SUP… and I've never looked back. Infact now I search for the wavy stuff more than the flat stuff. And have even stopped looking for the windy, wavy stuff! I guess I'm lucky to have a husband with the same passion to enjoy it with too (when he's not running around after our toddler on the beach!) But to be honest, I love it that much I'd still go on my own, when it's raining, when it's cold and even when I should really be somewhere else!
So I guess what I'm trying to say is… if you've already discovered SUP and love it, then that's great… but don't stop there! SUP surfing is a whole new bag of fun and I can guarantee will take you and your SUP places you never imagined. Whatever you may think, SUP surfing is not for the hardcore surfer, it doesn't have to require expensive specialist kit and it's not scary! You just need to try it. But if like I was, you're still unsure as to why you really should leave the comfort of the flat stuff and give SUP surfing a try, then read on and I'll try my best to explain…
It's easier than 'traditional' surfing
I don't know why but many girls (me included) just never get the hang of surfing on a surfboard. They either never make it to their feet or never progress further than catching the white foam into the beach. Walking back up the beach feeling disheartened and with arms like jelly after an unsuccessful surf attempt is unfortunately a common sight, and for many girls is what puts them off venturing into the surf with a board ever again. Well unless they give SUP surfing a go that is! SUP surfing really is the perfect way to experience riding your first waves. Obviously it's important to learn the SUP basics on the flat first but even with only a little bit of paddling experience most people soon find themselves riding a wave in towards the beach standing up. Something that may well have taken them years (if ever!) on a surfboard. So once you've mastered basic flat water paddling there really is nothing stopping you heading into the surf.
You won't be cold!
Being continuously on the move, and on rather than in the water the majority of the time will definitely help you to stay warm. So if you're one of those girls who feels cold in a 5.3mm wetsuit in mid summer, or when just looking at the sea, SUP might just be the answer to tempt you into the surf again.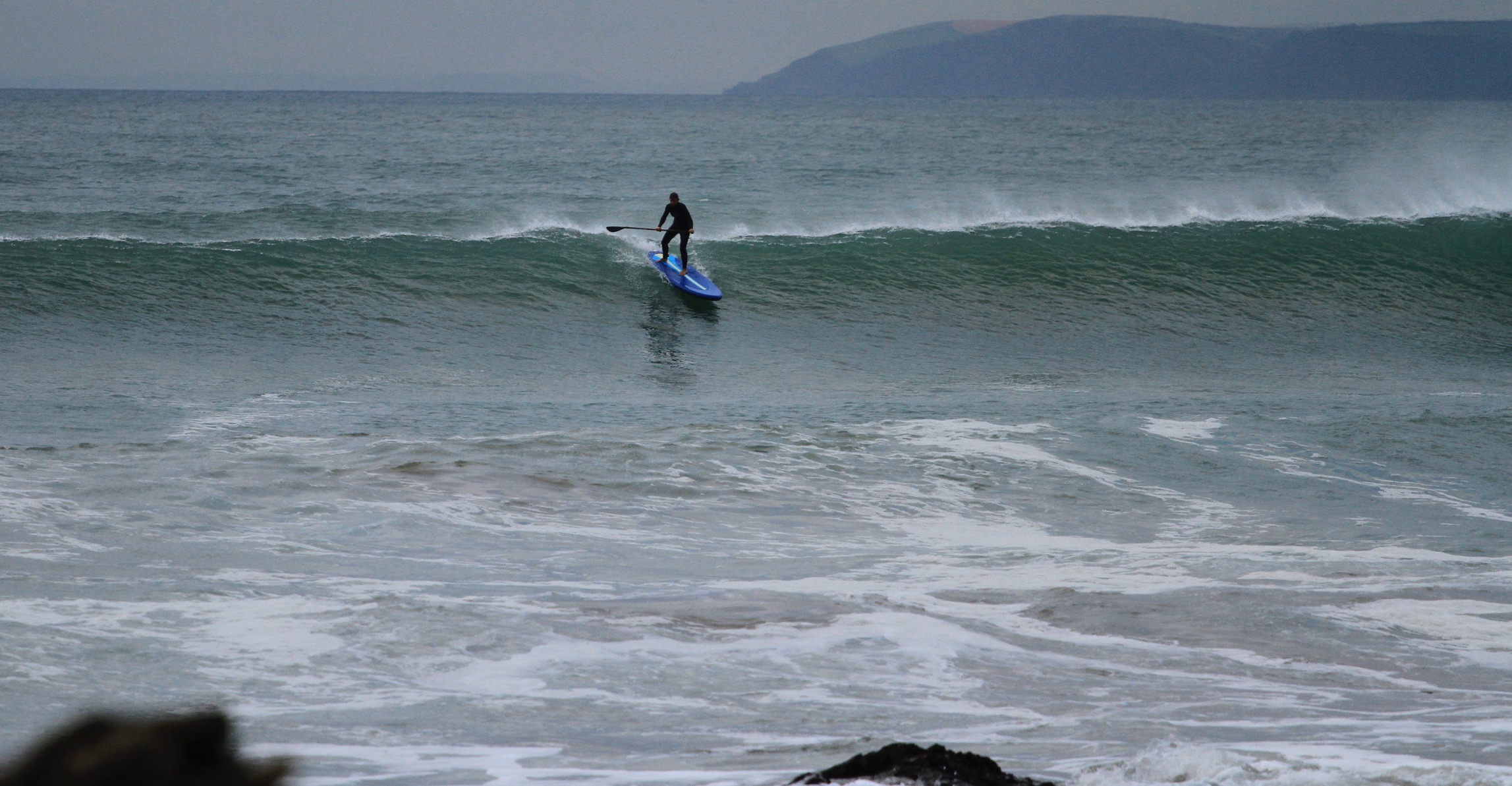 No need for new kit
The great thing about a SUP is that you can use one board for everything, so it doesn't have to be expensive getting into the surf. You don't necessarily need to have a garage full of different boards (but I can guarantee that once you catch the SUP surfing bug you'll soon be adding a shorter surf SUP to your collection!) So whatever board you've got, just make sure you've got the appropriate length and type of leash (approx the length of your board and straight not coiled) and give it a go. You can always add your ideal surfing SUP to your wish list at a later date!
It doesn't have to be BIG!
The great thing about SUPs is that they really can catch any sized waves. Infact the smaller the better when learning. So don't let your boyfriend put you off surfing for life by persuading you to go out in the chunky stuff when the surfs going off! Find a fun sized wave at the beach, or river mouth and experience that glide yourself. You'll be amazed what you can catch and it doesn't have to be big and scary!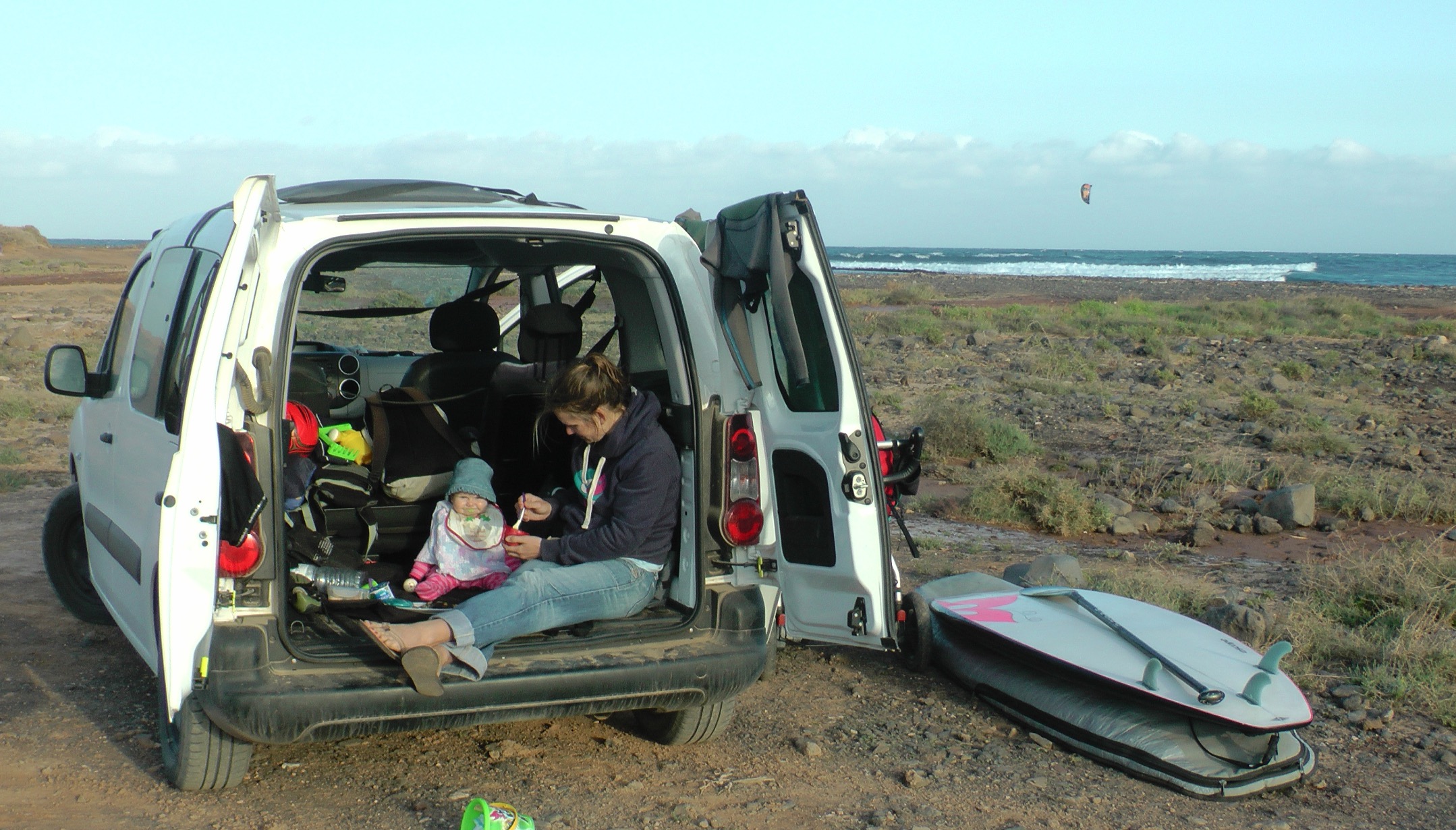 Lots more SUP fun
Adding SUP surfing to your SUPing activities gives you another way to enjoy your SUP. So on those days when the tides wrong for an estuary paddle, it's a bit grey and dull for a social SUP or you just fancy a bit of an adrenaline rush then SUP surfing ticks all the boxes.
Help build your confidence in the surf
For me, being hit on the head by a big hard board a few too many times was almost enough to put me off surfing for life. But then I took an inflatable SUP out into the surf and it became fun rather than fear! When waves are involved it's inevitable that there will be some collisions, so iSUPs are perfect for helping you gain that confidence in the surf in those early days.
"I will always have a soft spot for iSUPs because if it wasn't for them I know I wouldn't be enjoying surf the way I do today."
Lots to learn
Learning to SUP attracts many of us because it's simple and easy to learn. But once you've learnt the basics (of anything in life!) it's only natural for most of us to want to push ourselves and our skills that little bit further. Learning to SUP surf is an ideal way to not only stay having fun but also to keep learning. And if you keep your goals small e.g learning to do a tighter bottom turn or make spray on your top turn! then they are easily achievable so you won't be left feeling disheartened. Take it from me, there's always something you can learn whilst out there catching waves and having fun! But thats why I love it!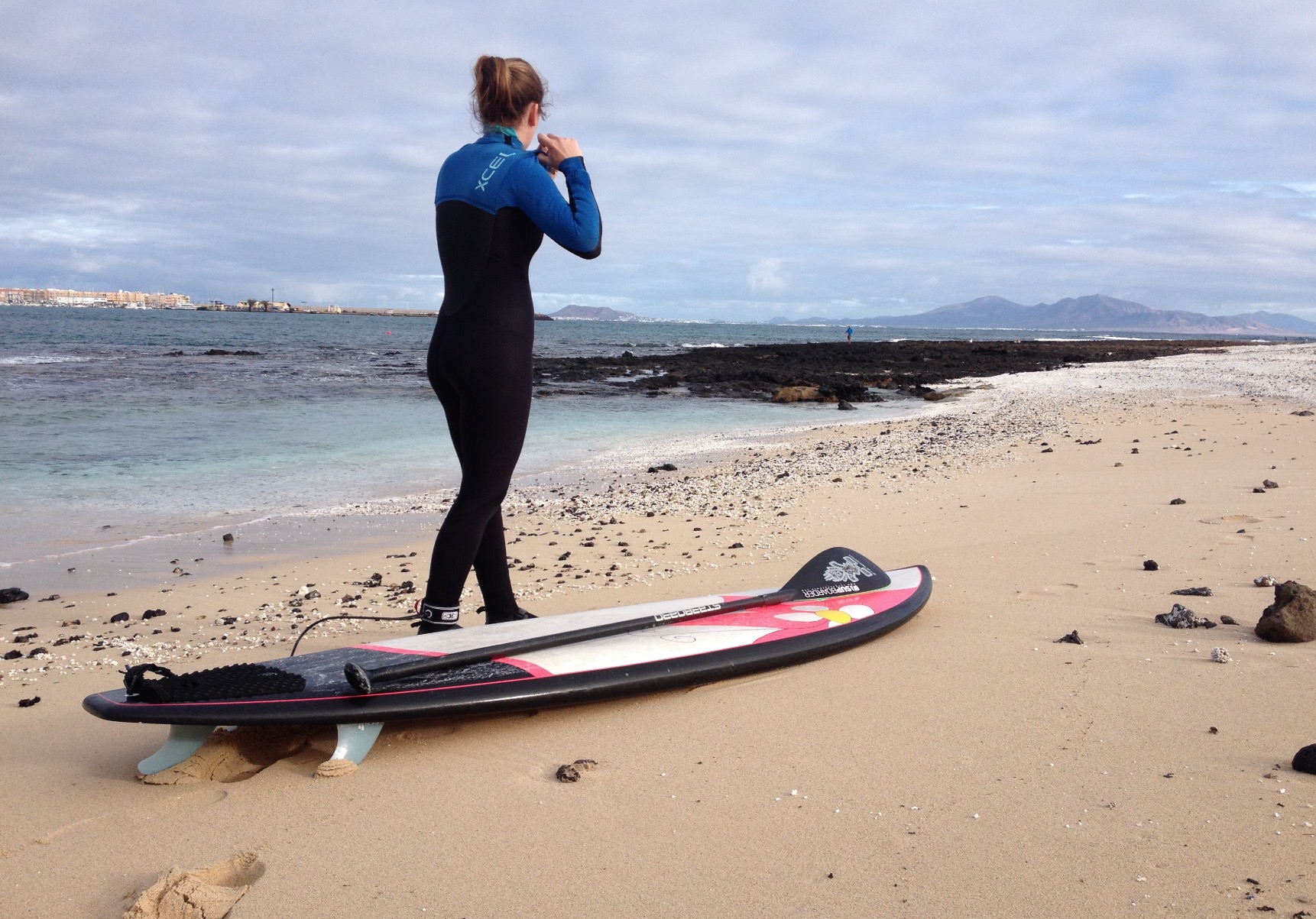 Escape the crowds
Another thing that put me off surfing was other surfers! I found it hard enough catching waves and getting my board to go in the direction I wanted it to go, let alone having to dodge other surfers in the water too. But having a SUP allowed me to paddle off down the coast and find my own waves, so I only had me to worry about. No stress, just me and my SUP.
Catch lots of waves
Being on a SUP in the surf definitely has its advantages. Standing up allows you to easily see the waves approaching far out back leaving you plenty of time to get in the perfect position to catch lots of waves. And also as I still do sometimes… escape the monster waves approaching by paddling further out!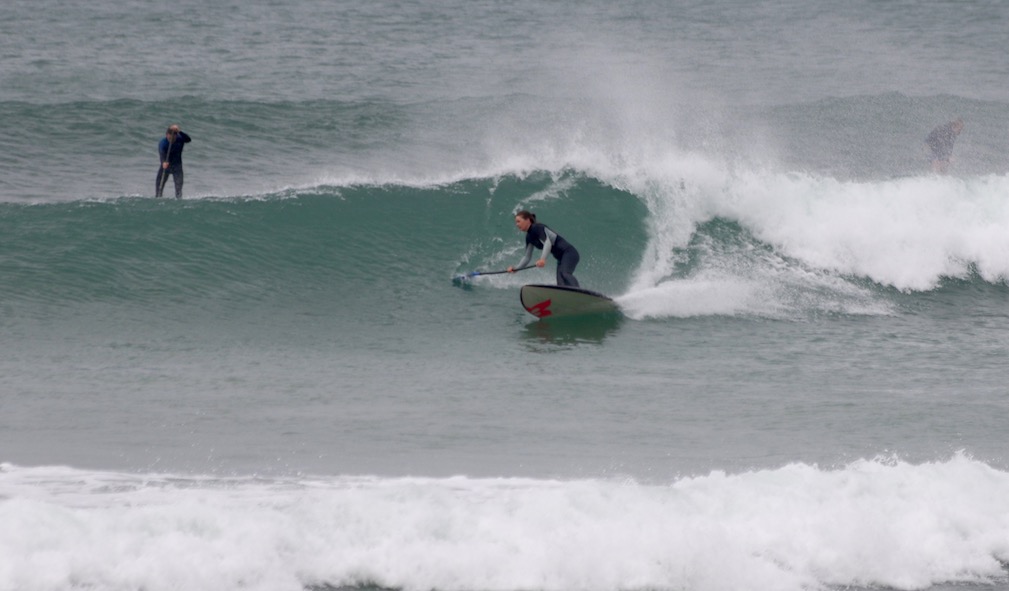 Below is my progression of surf SUPs to hopefully give you an idea where to start…
Inflatable Red 9'6 – The board which helped to gain my confidence in the surf and first allowed me to travel and experience surfing around the world.
Starboard 8'5×30" Pocket Rocket – The board which allowed me to catch everything and anything (much to my husbands annoyance!) but gave me my first experience of real turns!
Custom 8'x29" – My first smaller board which allowed me to learn proper bottom turns and get more from each wave with cutbacks etc…
Custom 7'11"x28" –  Fun! Now I know why people ride smaller boards in the surf!
Next Board? – No idea but know it will be even more fun!
I hope you found this article useful and it gives you the little nudge you need to dip your toe in the surf with your SUP this year. I guarantee once you give it a try you'll be hooked and never look back.
Happy surfing Lucy.
If you have any questions ask away and I'll do my best to help.